While every single wedding in the world is different in its own way, there are often similarities based on traditions that have been passed down from generation to generation. Weddings are so heavily rooted in tradition that society begins placing rules on couples before they even get engaged. From how you propose to the way you walk down the aisle to how you celebrate your reception, the road to marriage is filled with what seems to be countless traditions, etiquette and unwritten "rules."
We'll be the first to let you in on a big secret – a marriage is a marriage no matter what traditions you do (or don't) honor leading up to it. There is absolutely no right or wrong way to have a wedding and a tradition isn't any less of a tradition if changes are made to it, that's actually how new traditions get started. What your individual marriage looks like for the rest of your lives is in no way based on what traditions you do or do not incorporate into your wedding day.
Asking permission before proposing
Society-imposed wedding rules begin long before there's even a wedding to plan. Starting with the marriage proposal, unwritten rules are put into place but that doesn't mean they need to be followed. One time-honored tradition is men being expected to ask their partner's father for permission to have his daughter's hand in marriage. Over time, this practice has been called into question for its implications that daughters are property that is owned and that fathers have the final say in the decision of who their daughters marry. It is also a practice that is completely heteronormative.
For many couples, the tradition of asking permission is sentimental and is not something necessarily limited to father-daughter relationships but rather any relationship between one partner and their father, mother, siblings, grandparents, chosen family or own children. It can also be reframed as getting the partner's family involvement (you may want their help executing the proposal) and less as an explicit ask for permission, especially if you plan to propose whether or not you receive a blessing to do so.
Asking permission is just one of the countless wedding proposal traditions that can be modified to better fit you and your partner's relationship or just kicked to the curb entirely. This list also includes spending three months of salary on an engagement ring and needing a ring to even propose in the first place along with several other heteronormative ideas such as leaving the proposal up to the man, only one half of the couple receiving a proposal and only one person wearing an engagement ring. Having a proposal is not even a requirement for marriage as some couples begin planning their wedding before they officially get engaged.
To summarize – gender roles need not apply to proposals, family permission need not be asked and rings need not be used for a proposal to be considered a proposal. Like with any and all traditions, you need to do what suits your relationship best whether that means honoring the practice, adapting it, or eliminating it.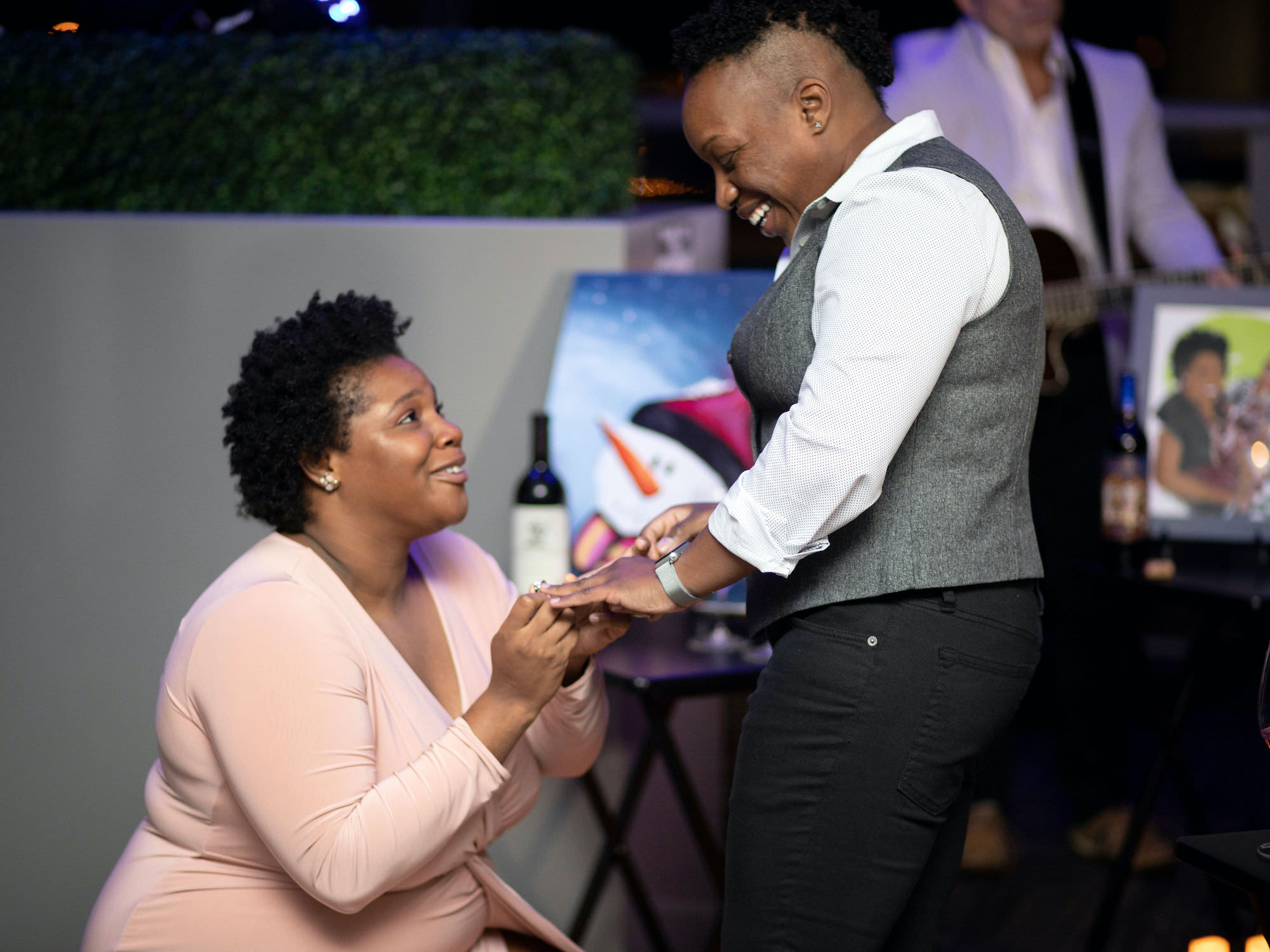 Having the bride's family pay for the wedding
By now it goes without saying – wedding traditions are inherently heterosexual and outdated. Even for relationships with a bride and groom, it should never be expected that the bride's parents will pay. Family financial status should never be assumed and even if one or both families have the means it does not automatically translate to them contributing to the wedding.
Many couples also choose to pay for their wedding themselves. Before beginning your planning, have a serious conversation with your partner about your wedding budget and what it would look like if you paid exclusively on your own. Then discuss if you are interested in accepting family financial help and if you think your families will even be willing to contribute if they have not already offered.
If you have family interested and able to pay — seriously, no one should be going into debt over a wedding! — sit down and have a conversation about where the payment could best be used. For example, perhaps one person's parent pays for the photographer, the other pays for the rehearsal dinner and the couple pays for the rest. There are limitless variations of how contributions can be allocated.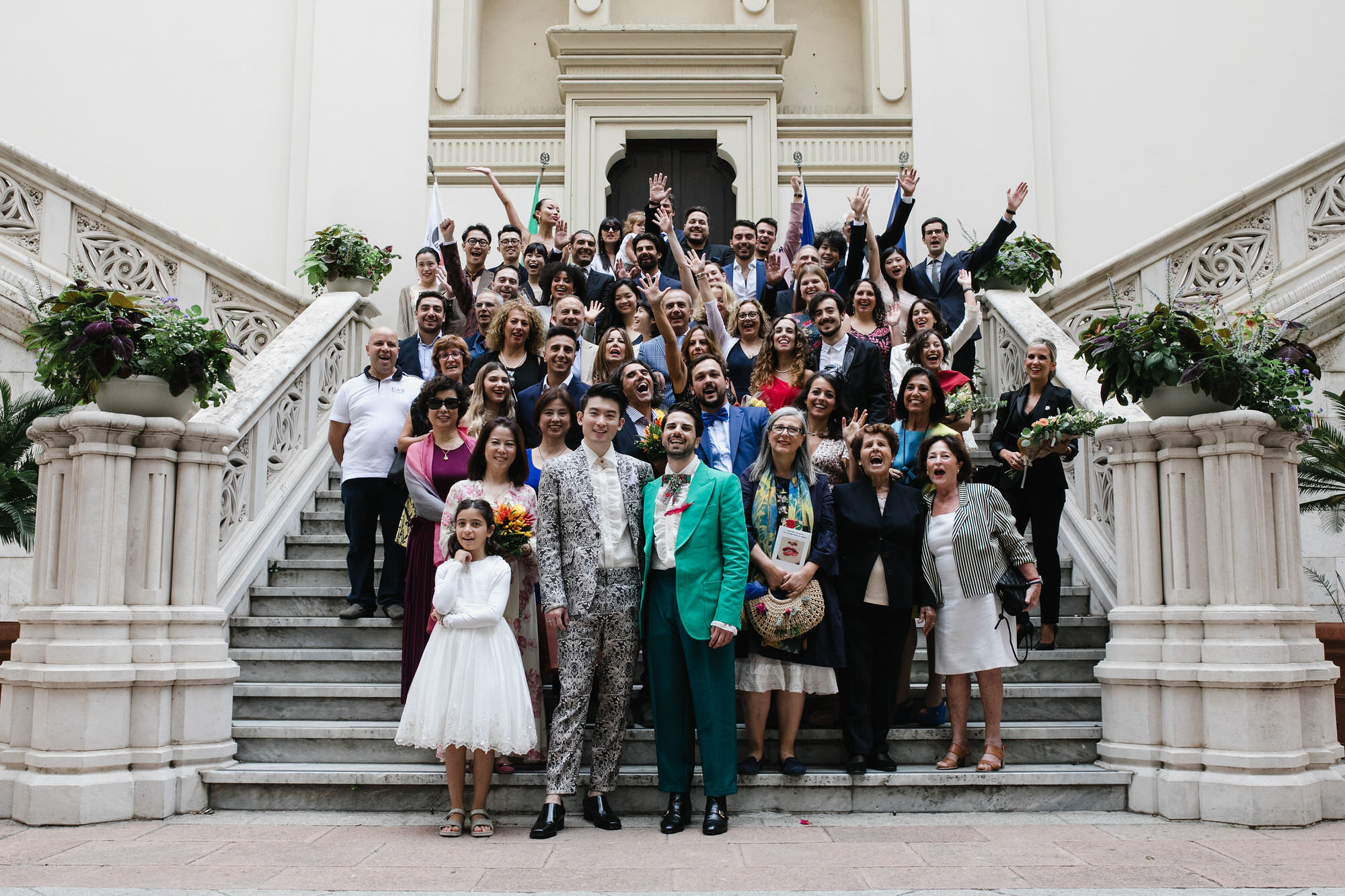 Including ring bearers and flower girls
Traditionally, little girls have spread flower petals down the aisle to signal that the bride would be making her entrance and little boys have walked down the aisle carrying the wedding rings. While this tradition comes with no shortage of adorable awws from guests, it is not always a tradition that couples can or want to uphold. Not everyone has children as part of their family or friend groups, not only girls want to sprinkle flowers and sometimes you can't trust any child to go from Point A to Point B with your rings safely guarded.
These roles aren't mutually exclusive, meaning you can have a ring bearer and no flower girl (though we prefer the term flower attendant). Age is but a number when it comes to these traditional wedding roles as we've seen plenty of grandmothers and grown men make their way scattering petals through the air. Don't let age or gender be a factor for who you include in your wedding party.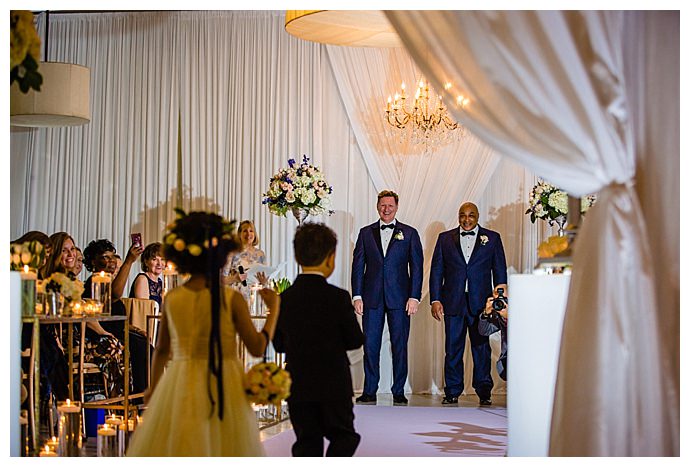 Seeing each other before the wedding is bad luck
Superstitious couples spend the night apart before their wedding to avoid bad luck and make the first look even more special. No matter when you see your partner for the first time, whether you've been separated a day or a few minutes, it will be a moment you won't forget. You also may want to spend every moment of your special day with the person who makes it so special. Some couples choose to get ready for the ceremony together, either alone, with family and friends or with their wedding parties alongside them.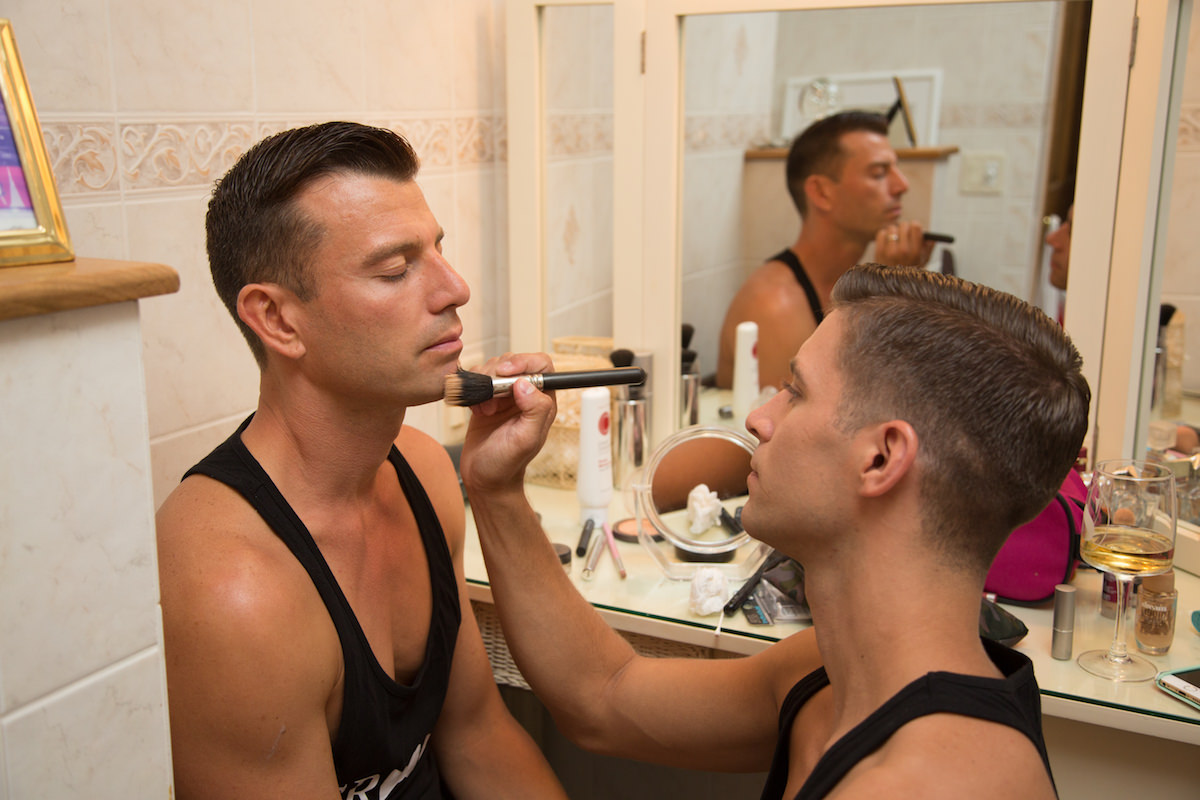 Something old, something new, something borrowed, something blue
A tradition stemming from a Victorian English rhyme, this checklist includes everything a bride should have with her on her wedding day for good luck. The something blue was used to protect the bride against the Evil Eye when it was believed that one bad glance could leave her infertile.
This tradition has evolved over time and is one that couples often adapt without knowing its origins. It is definitely a rule that was made to be broken and is a flexible tradition, as these symbolic items can be woven into your wedding day in countless ways, not limited to just the wedding outfit. And, fun fact, if you're only checking off those four "somethings," then you're already altering the tradition as the original rhyme ends with "and a sixpence in your shoe."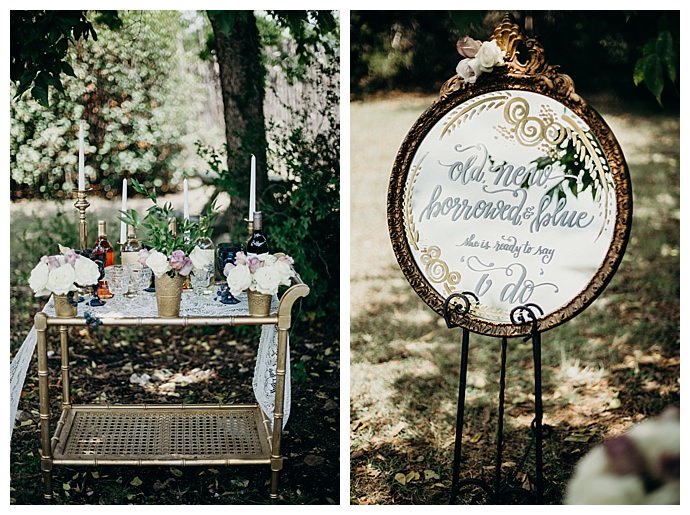 Attire
It is your day to wear whatever you want, full stop. Don't let anyone tell you about any suits, tuxedos, gowns or veils. Your day, your way.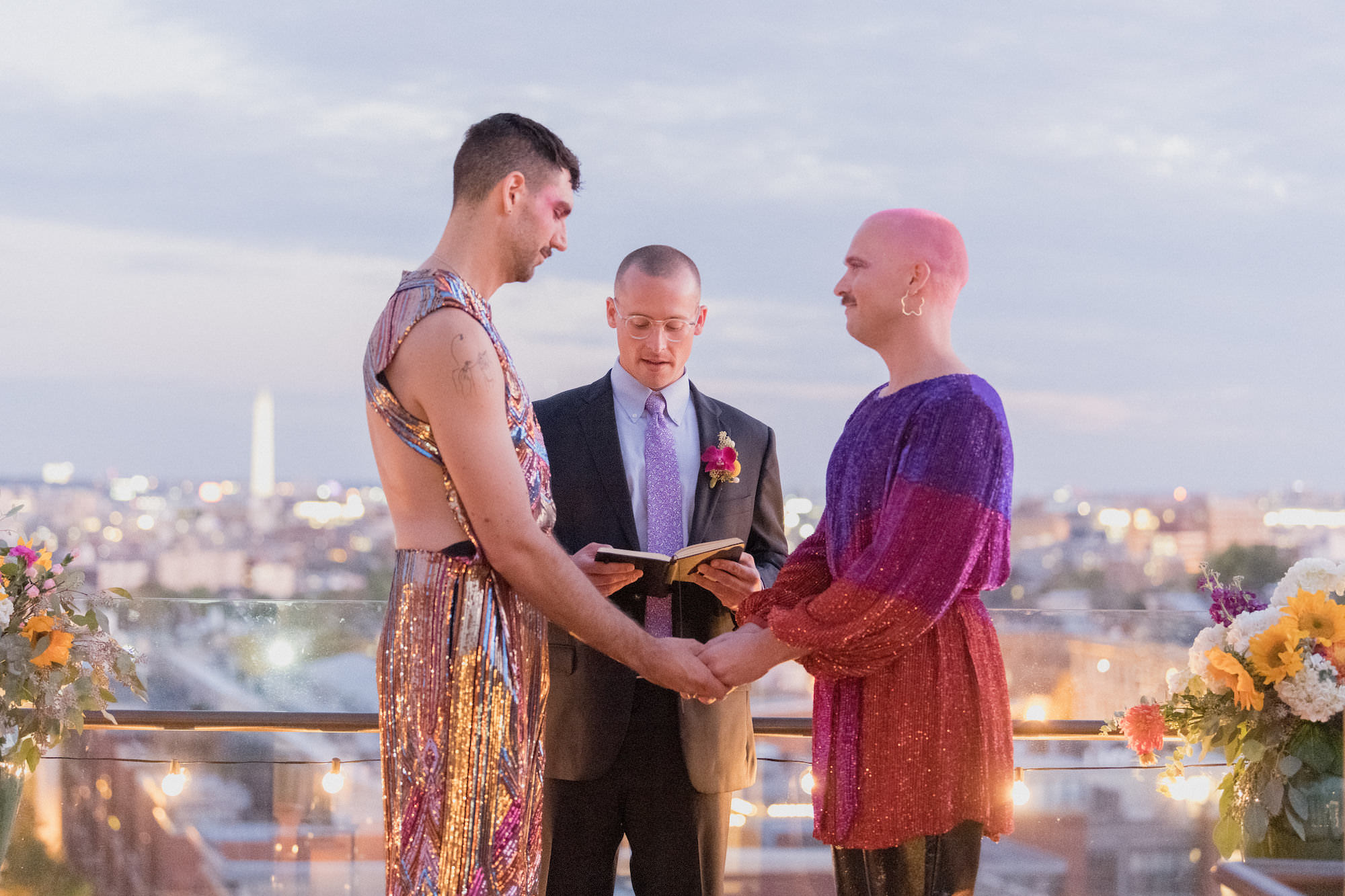 Walking down the aisle
Tradition, and about a million movies, portray a bride walking down the aisle arm-in-arm with her father in a time-stopping moment that leaves her groom tearing up as she approaches, all so dad can give his bride away to the new man who is going to take care of her til death do them part. While this may be the fairytale you've always dreamed of, there is also a great chance that your wedding doesn't look like this. For starters, you may not be a bride and you may not be walking down the aisle to a groom. You may not even want to have a procession down an aisle. Dad may not be in the picture, or both your dads may be walking on either side of you. You may be walking alone and hate the idea of someone "giving" you away like you are property to be shared. You and your partner may be heading down the aisle side-by-side to symbolize your new life together. There are several ways to get to the altar and, no matter how, where or with who you choose to enter, the end result is going to be the same, you'll end up in front of your officiant who will perform a ceremony so go ahead and create your own fairytale.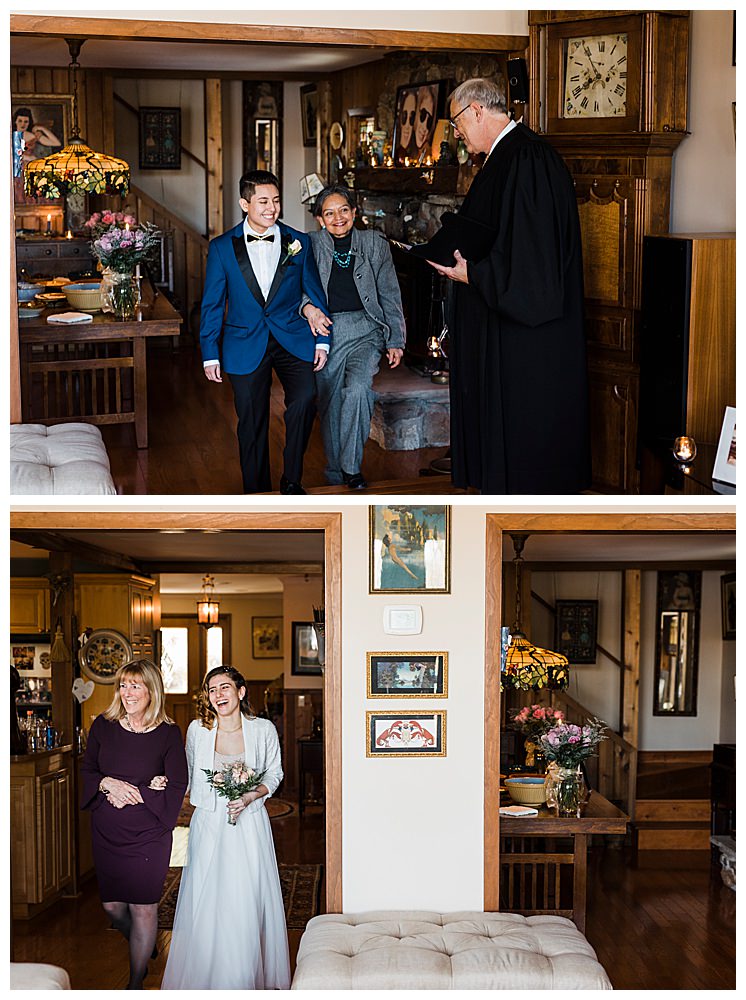 First Looks
Coupled with the tradition of walking down the aisle is the idea that the first time a couple sees each other should be when the bride reveals her dress as she walks down the aisle, which we know to be antiquated, heteronormative and not something couples necessarily even want. Having a first look moment before your ceremony starts creates an intimate moment and can save you lots of time, allowing you to enjoy more of your reception alongside your guests. Once you have seen each other for the first time, you will also be able to take your wedding portraits with attendants and family members prior to your ceremony instead of cutting into cocktail hour. Even if you got ready alongside your partner, there will still be that special first look moment when you are both ready and take each other in for the first time. The emotional reactions don't need to end there, you can also have sentimental first look moments with your wedding party or family members.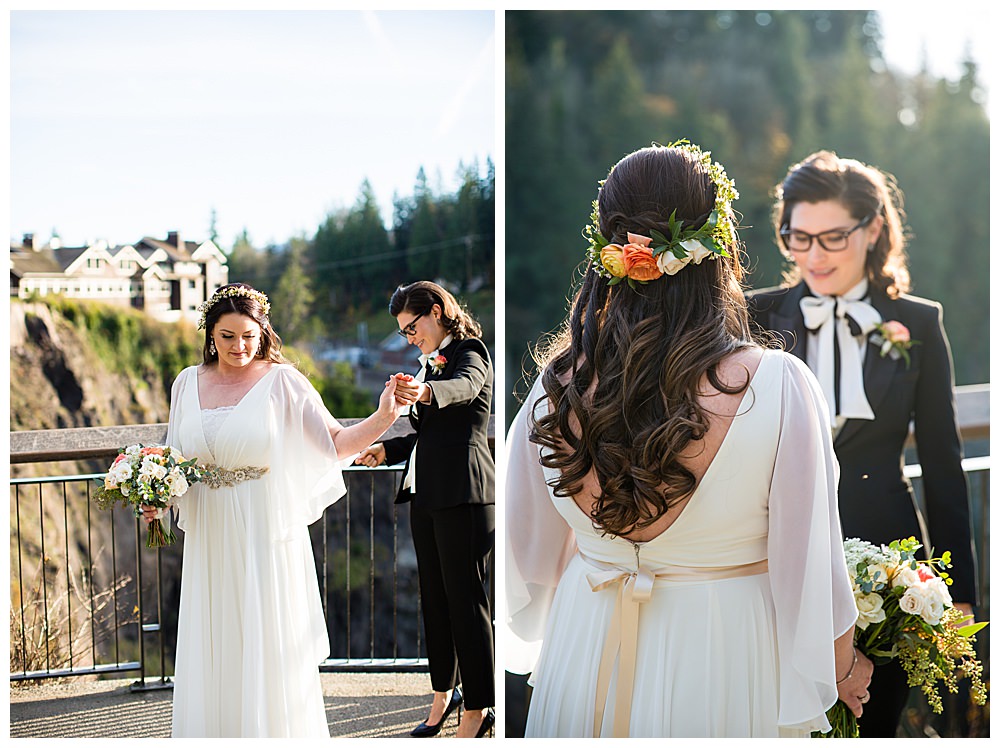 Rice toss
Traditionally, rice was tossed on couples as a symbol of wealth and good fortune. This post-ceremony practice has been called into question for its environmental impact. That's not to say you need to delete this tradition entirely (unless your venue's police says otherwise) just make sure you have someone appointed to clean up whatever guests toss whether it's rice, sprinkles, confetti or other items. For an environmentally friendly alternative, look into a birdseed toss, which will produce the same aesthetically pleasing results as rice, or have a sparkler exit.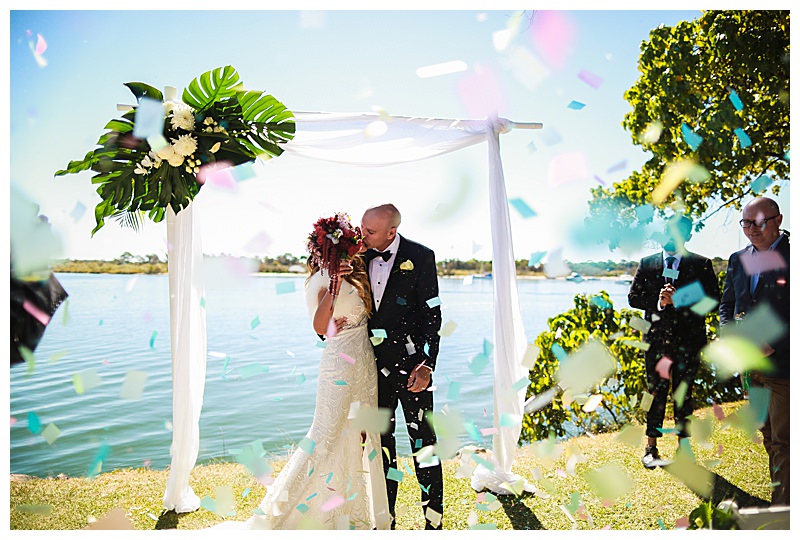 First Dances
Wedding reception timeline templates always seem to include the same slate of dances. First, the couple dances together, then there's a father-daughter dance, then a mother-son dance. A lot of assumptions go into this tradition ranging from heterosexual relationships to family relationships to even wanting to dance in the first place. Some couples don't want the focus to be on them or don't like dancing and all of that is ok. You can skip all the dances, have a first dance with your partner, have one partner dance with a parent, bring family and friends together to perform a choreographed dance, the list is endless. P.S. There's no "correct" first dance song either. Fast, slow, long, short, any genre, everything works.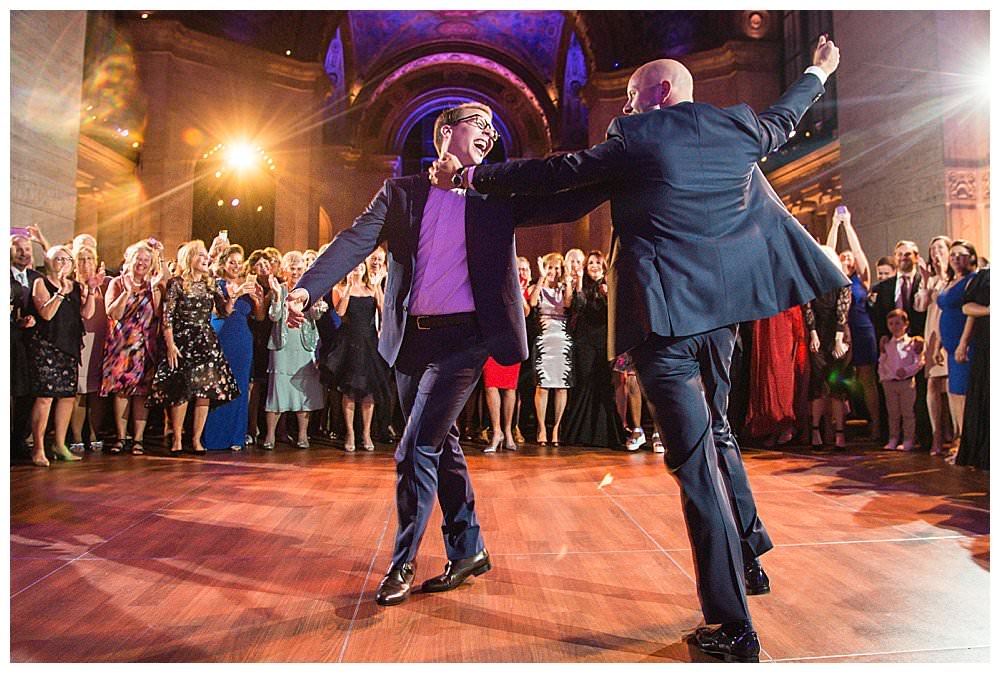 Cutting the Cake
Newlyweds have been cutting cakes together, hand-in-hand, and then feeding each other as a long-honored tradition. This is a rule that was meant to be broken, starting with the fact that not every wedding has cake. Even if you do offer a pastry table, ice cream or some other dessert, that also does not mean that you and your spouse need to skip out on cutting a cake. You can have a small cake that the two of you cut into or order a dummy cake that gives the illusion of a multi-tier wedding cake but only has one cuttable layer.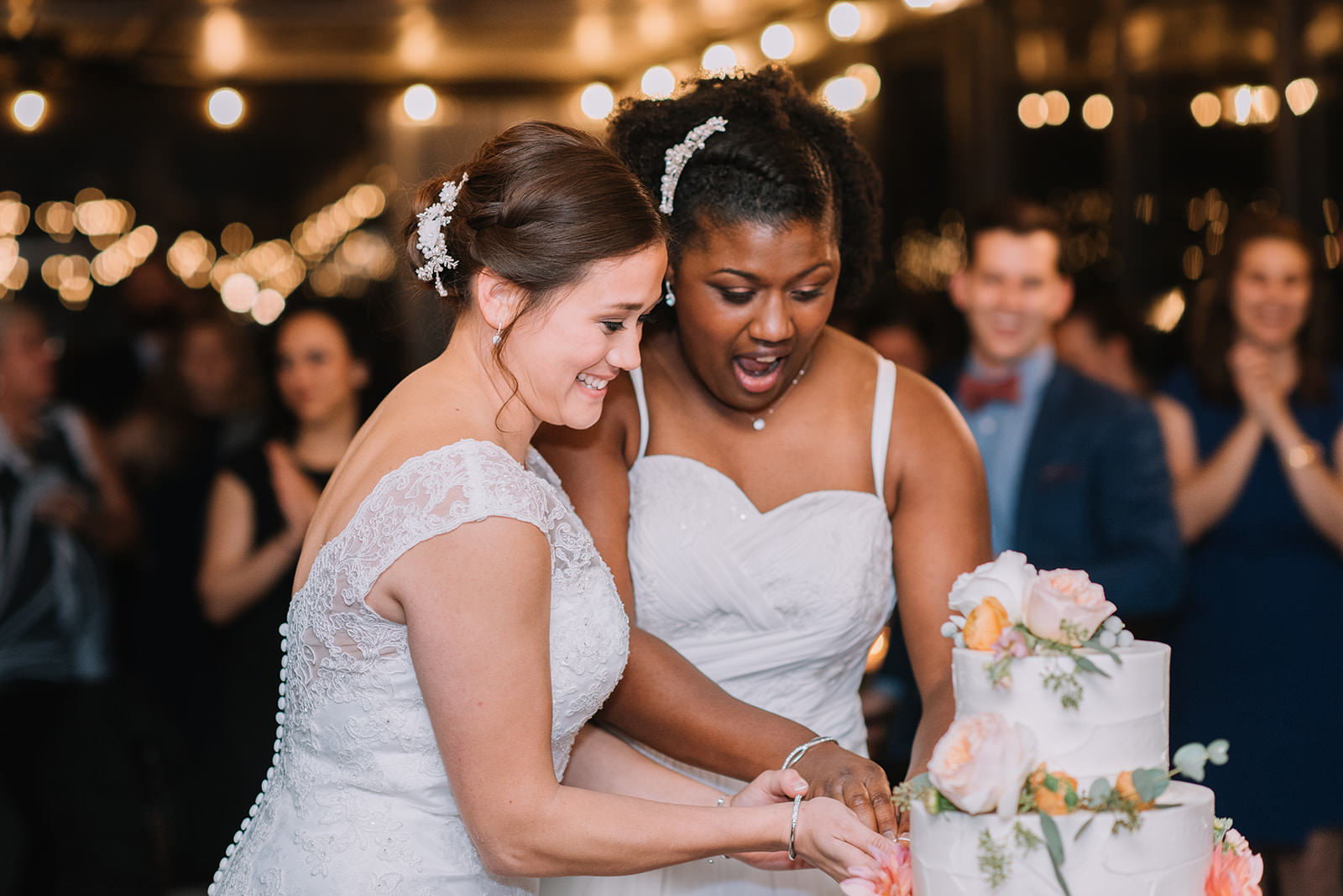 Photo: Anne Spires Photography via "An Elegant Estate Wedding in Cleveland"
Bouquet/Garter Toss
The concept of tossing a bride's bouquet and garter are traditions rooted in antiquated ideas. A bride would toss her bouquet to all the single women with the catcher being the woman who would get married next. Having the groom remove the bride's garter to toss was symbolic of him removing her chastity. These are not only out-of-date standards to hold women to, they're also not inclusive to guests either. Tossing a bouquet not only means that you chose to have one for your wedding (not everyone does) but also implies that everyone has their sights set on marriage and that someone is single when they aren't married. Couples can commit and spend their whole lives together without legally marrying and guests who are single may not have their eye on marriage.
The good news is that there are so many ways you can make this tradition your own. For starters, you don't need to use a garter or a bouquet if you want to do a toss. This couple used a rugby ball. If you want to use a garter or bouquet, go ahead, you can have one specifically for the toss without having worn or carried one at your ceremony.
And if you are thinking that this tradition is incredibly exclusive to LGBTQ+ couples and LGBTQ+ guests, you are absolutely correct. To make this a more inclusive activity, toss whatever you want to whoever you want. It doesn't need to be single women get a bouquet and single men get a garter. Even if that is what you choose to do, you're excluding your married friends from an activity and singling out those who are not married which can make guests feel awkward, especially if you only have one or two single friends in attendance who may not even want to participate or be the center of attention. If you are just having a toss because you want to fill time on your reception schedule, opt for an activity everyone can participate in such as a group photo of all your guests.
A toss is tradition that can get competitive so if you are partaking do it earlier in the schedule before excessive alcohol has been consumed and make sure to leave plenty of space to avoid elbowing and injury (trust us, it happens).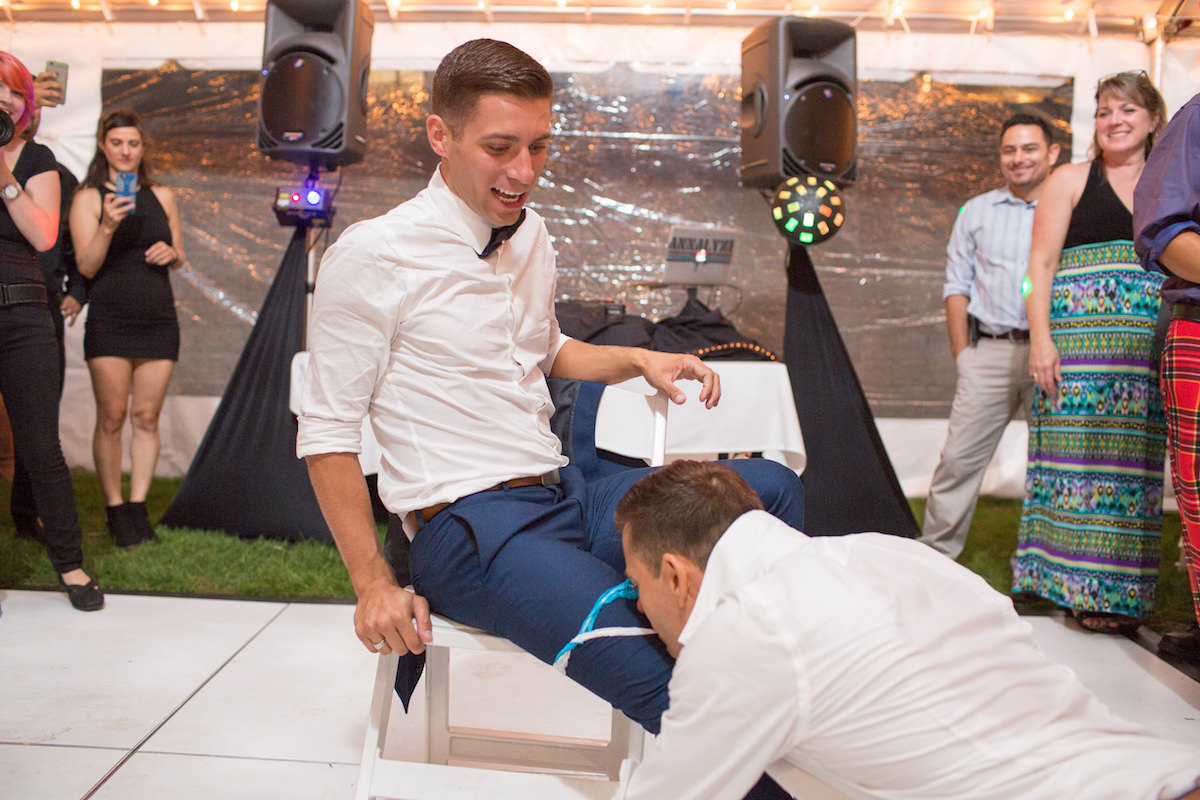 What wedding traditions are you choosing to make your own?
Written by Emily Rochotte