Joe and Will's modern day love story started on Scruff, though the couple had crossed paths years prior at their favorite gender-bending party, Butch Queen. Will proposed on Joe's birthday during sunset at a park where they couple picnicked the summer they started dating. After the proposal, the newly engaged went for dinner and then back to their apartment where a party with 50 of their closest friends and family was waiting for them. The crowd continued the party by making their way up the street and taking over the lobby of The Line Hotel.
With a proposal celebration like that, it is no surprise that Joe and Will's wedding was also quite the party. The two tied the knot in Washington D.C. to commemorate the city where their love began. Joe and Will wanted their wedding to challenge everything they had experienced weddings to be. No wedding party, no church, no tuxedos. Instead, there was an emphasis on guests coming completely as themselves (or in a different hat or dress if they wanted). Gender rules were out the window for the big day. After all, drag and fluid expressions of gender were how Joe and Will found each other at Butch Queen.
"Decide which elements are most important to you," Joe and Will advise other couples who are planning a wedding. "Think about what you want, not the traditions we are told to value based on pressure from social norms — and social media — Say Yes to the Dress, Four Weddings, etc. heteronormative and religious interpretations of marriage, pressure from family, or the dozes of elements, most of them needlessly expensive, that have become the standard."
The pair took their own advice and incorporated only the traditions they wanted while making their own. Joe and Will had an intimate wedding ceremony officiated by Joe's twin brother, who also led a rooftop yoga class focused on opening up your heart and setting intentions for the day. The small ceremony was followed by a mini-ceremony on the steps of The Line for a larger group of guests. Everyone cheered as Joe and Will celebrated a hand-fasting ceremony with their favorite vintage silk scarves.
"Sequins, sequins, sequins!" is how the newlyweds best describe their wedding attire. Travis Oestreich, designer to stars like Billy Porter, is a close friend of the couple and created Will's custom Art Deco jumpsuit with materials found in New York's Garment District. Joe was inspired by the up-and-coming gay, Indian clothing designer BOBO Calcutta and commissioned a custom sequined tunic. When it did not arrive in time for the wedding, the couple trekked through D.C. and stumbled upon a bright, tricolor sequined dress that was perfect for Joe. At the request of his mom, Joe slipped his hospital bracelet from the day he was born into his outfit.
The reception was decorated with DIY floral arrangements that Will arranged in antique vases from Good Wood with all the flowers Will and his mom could get at Trader Joe's the morning of the wedding. Everyone had three flavors of cake to choose from – Earl Grey, a mystery flavor and a cocoa, banana and coffee-flavored cake. Guests were gifted bags filled with incense, crystals, matches and a card filled with gratitude for sharing such a special day with Will and Joe.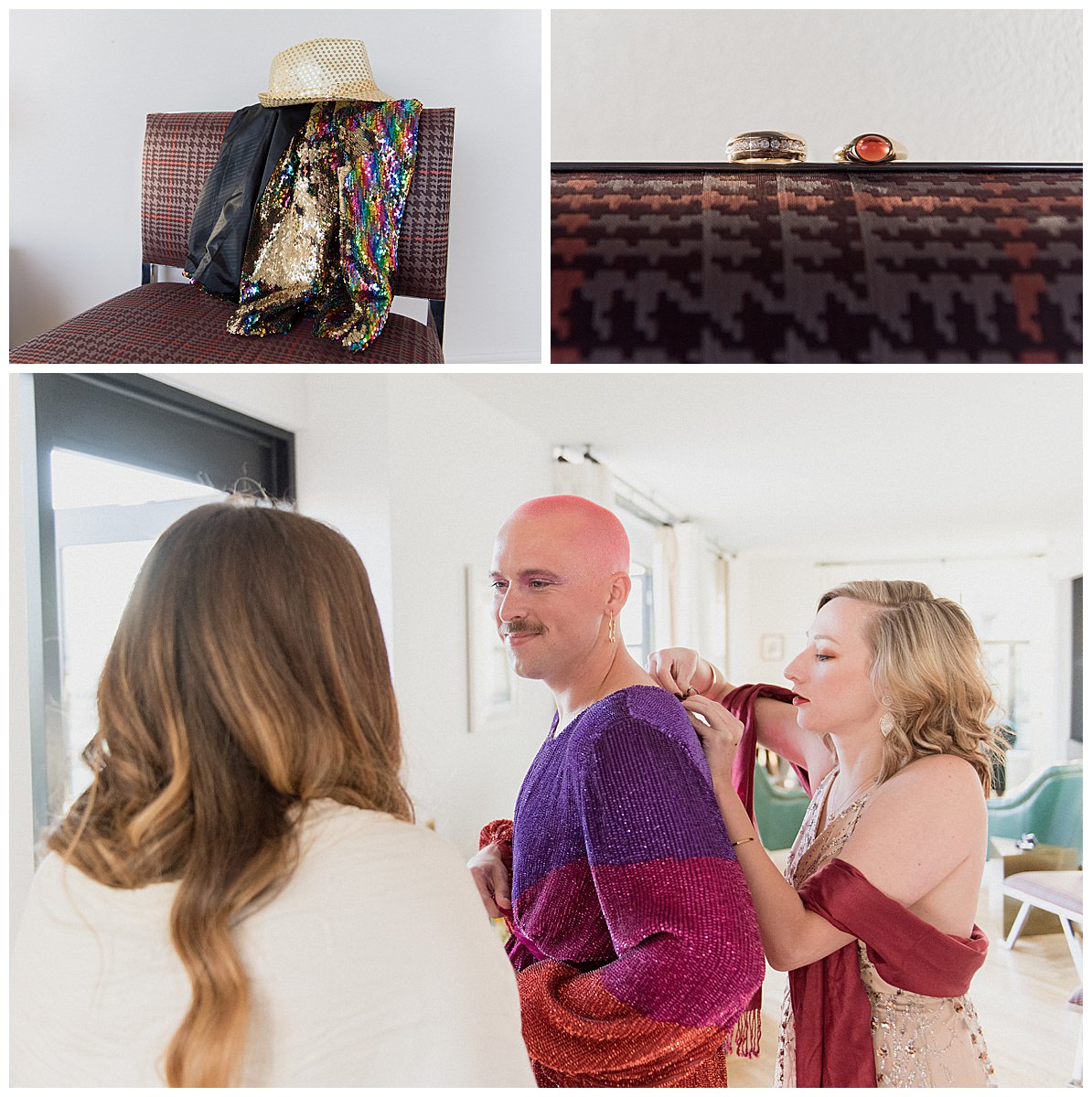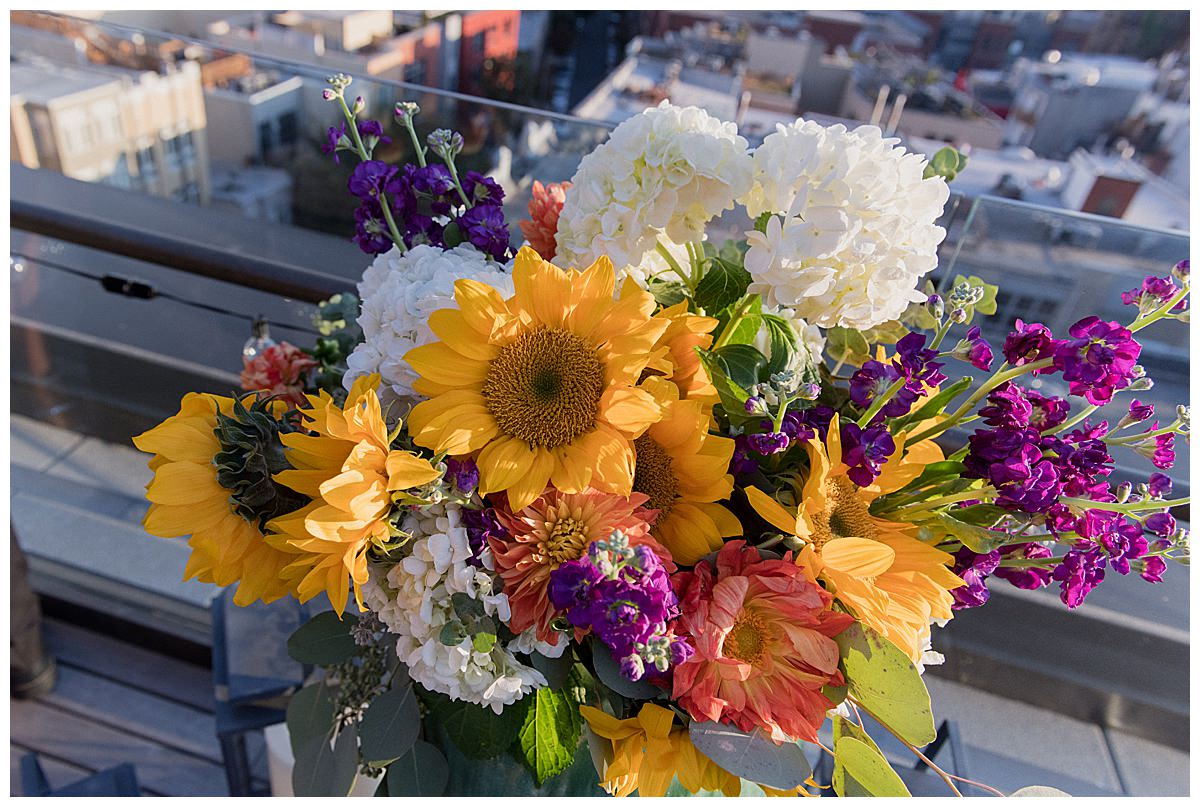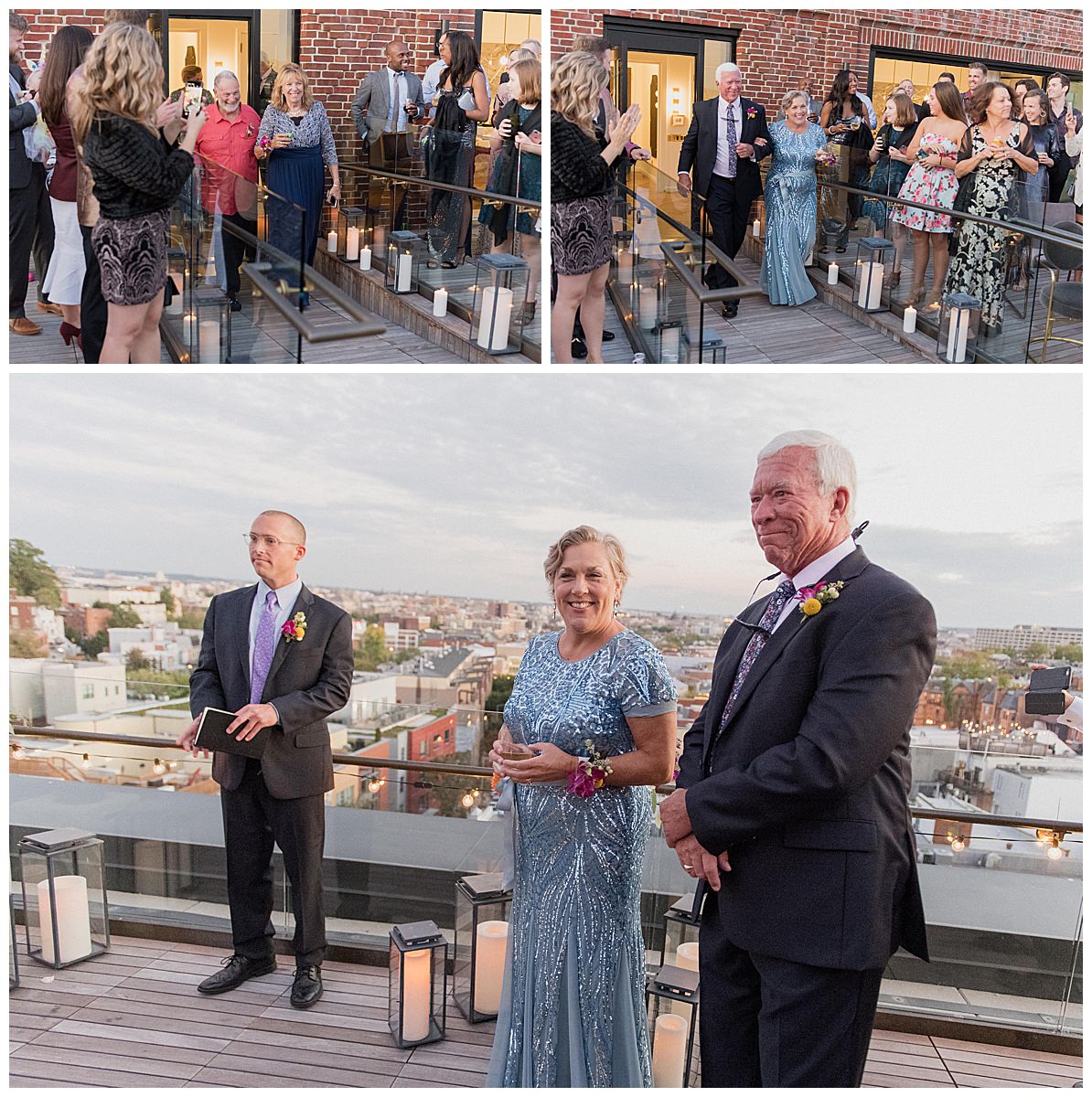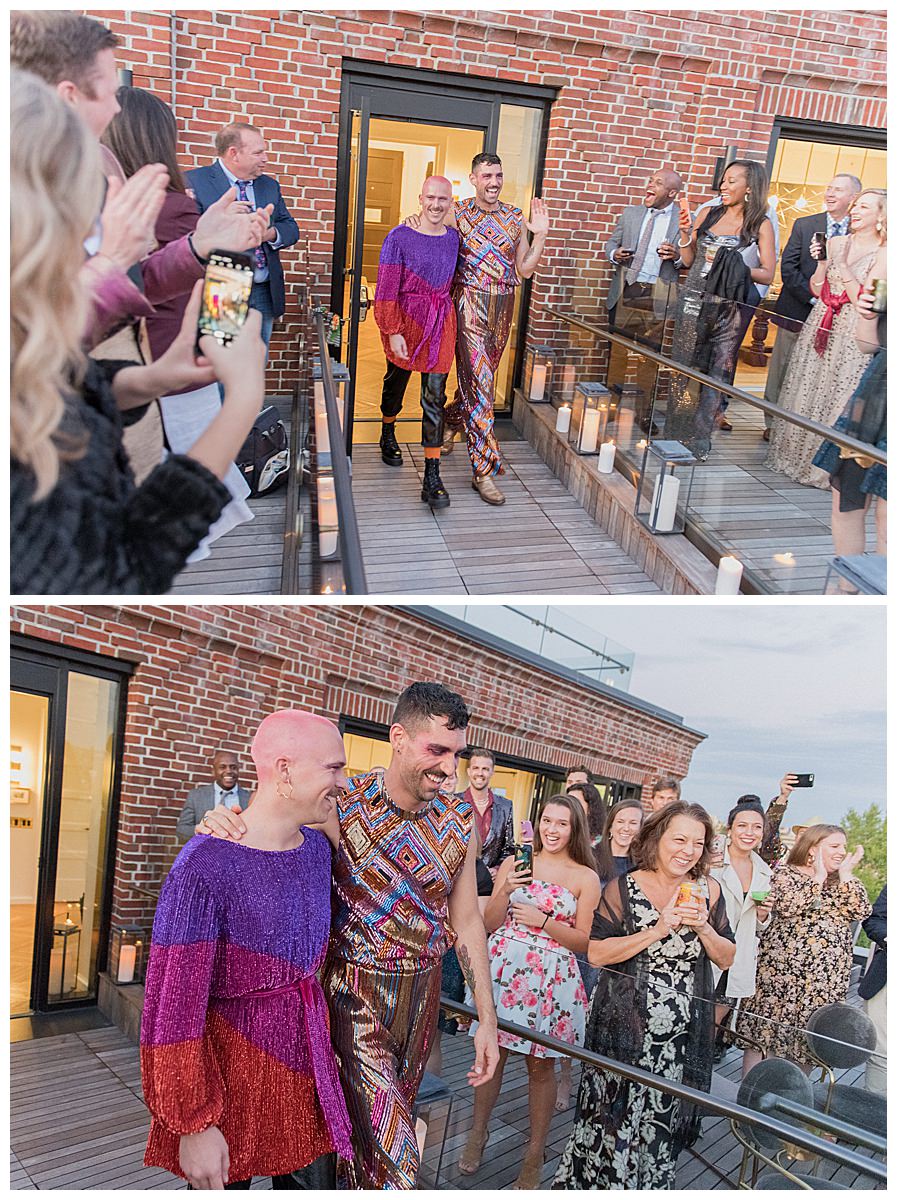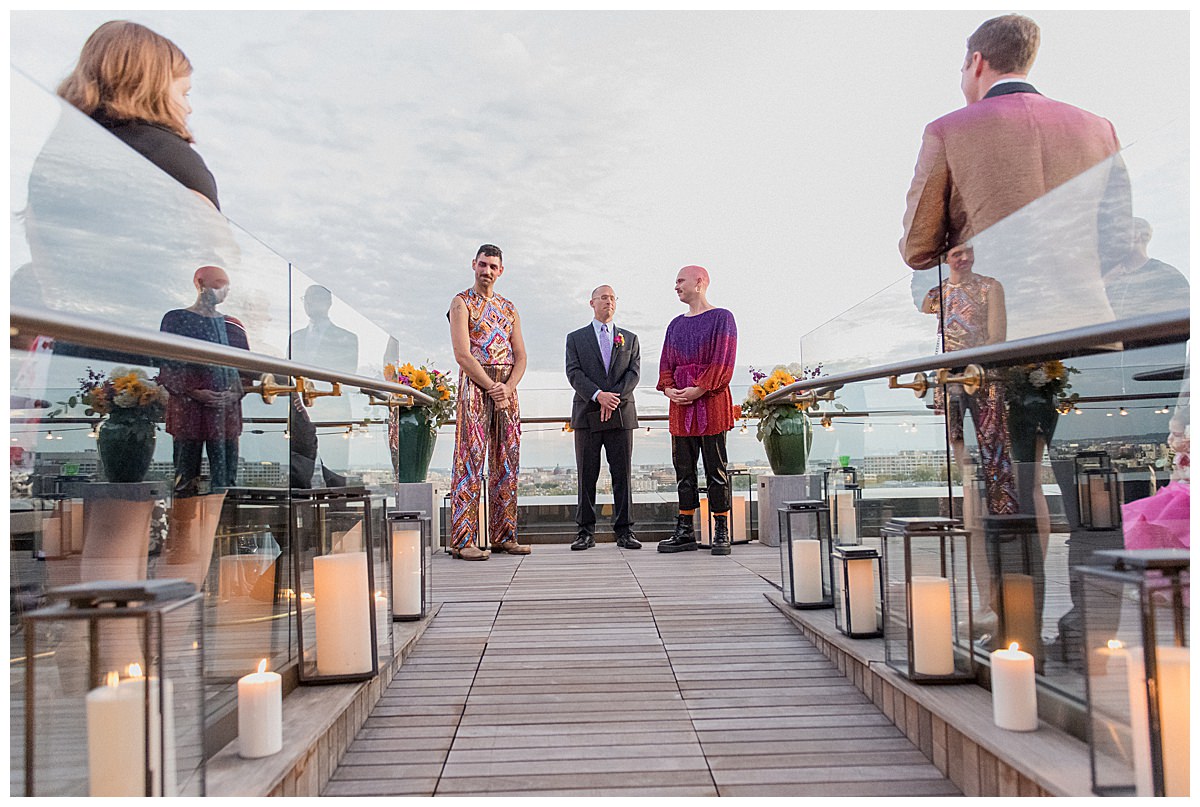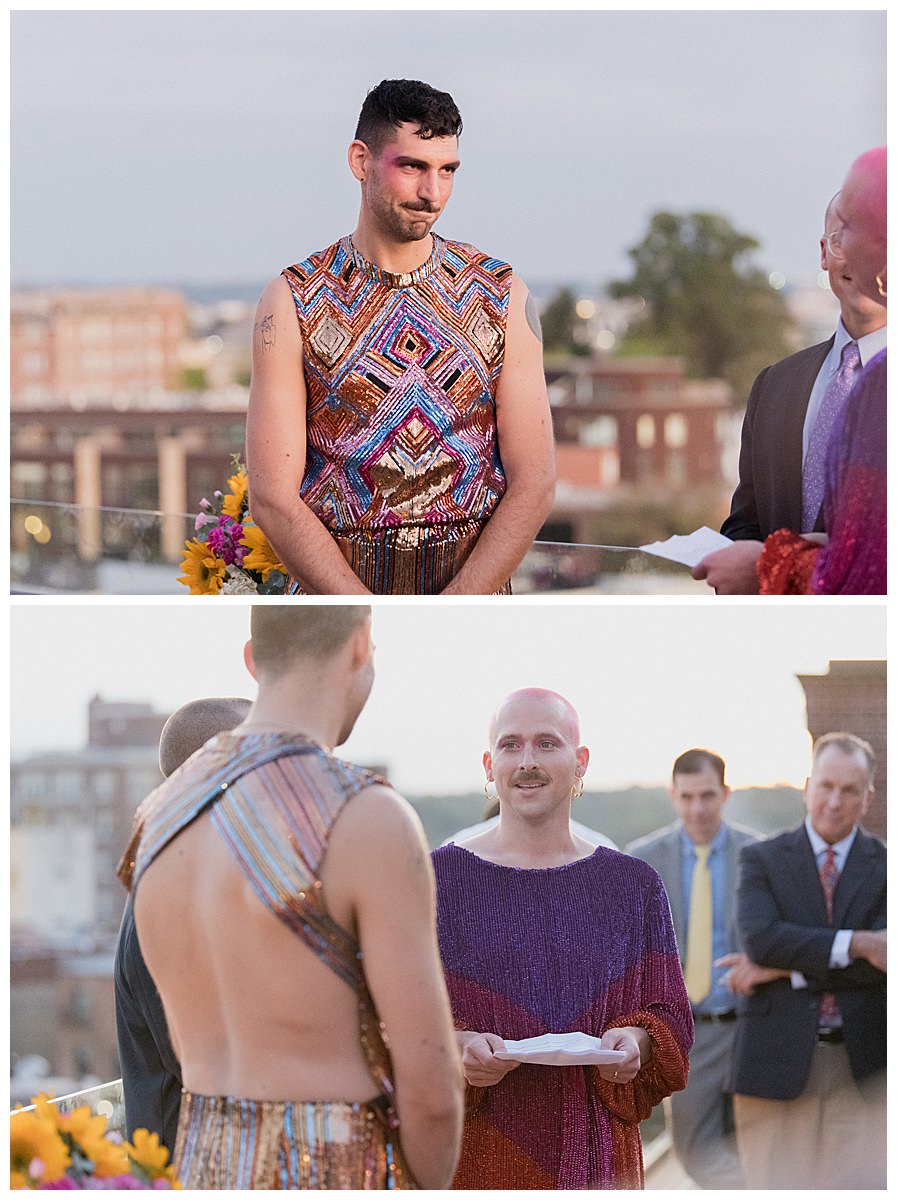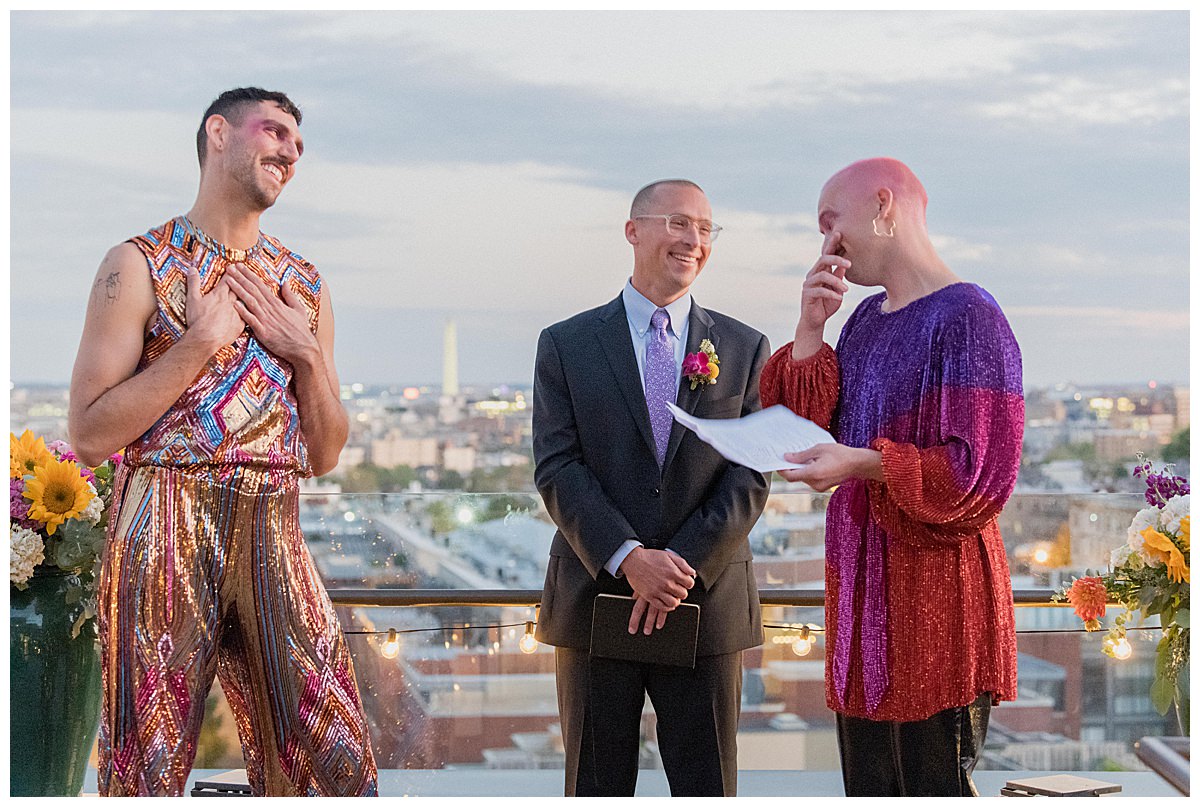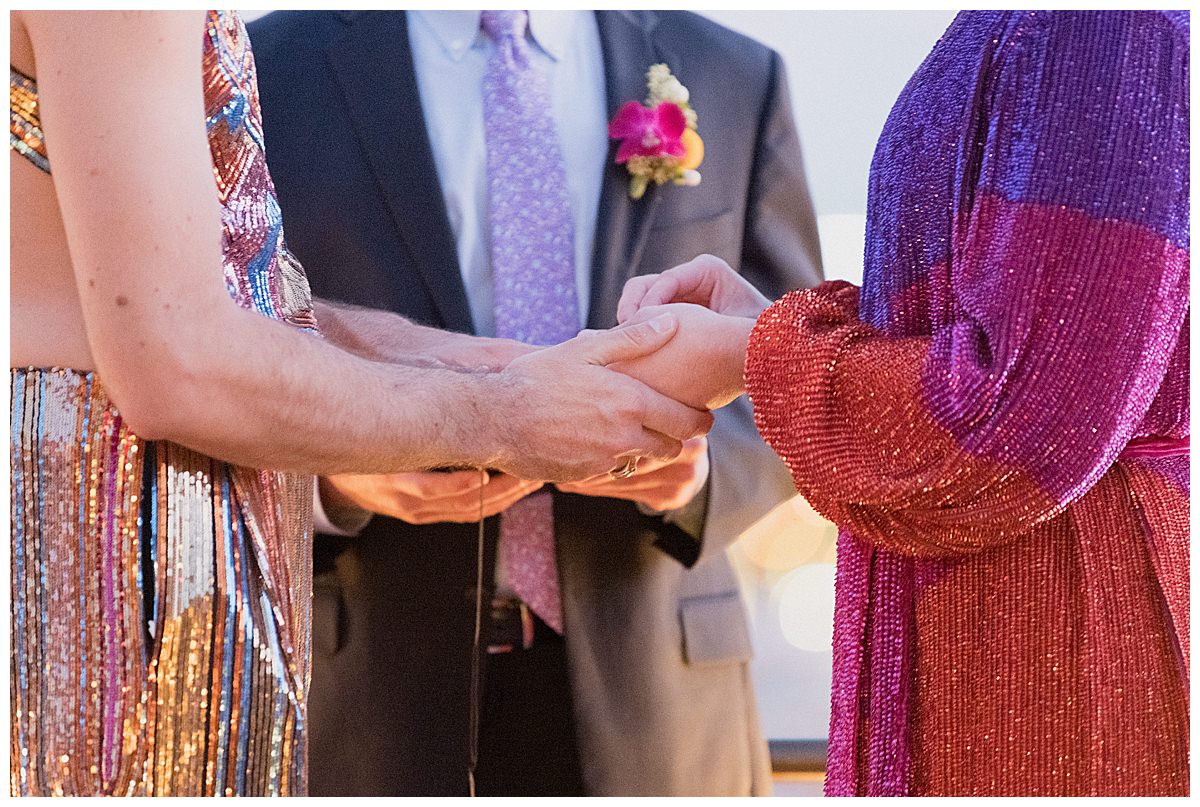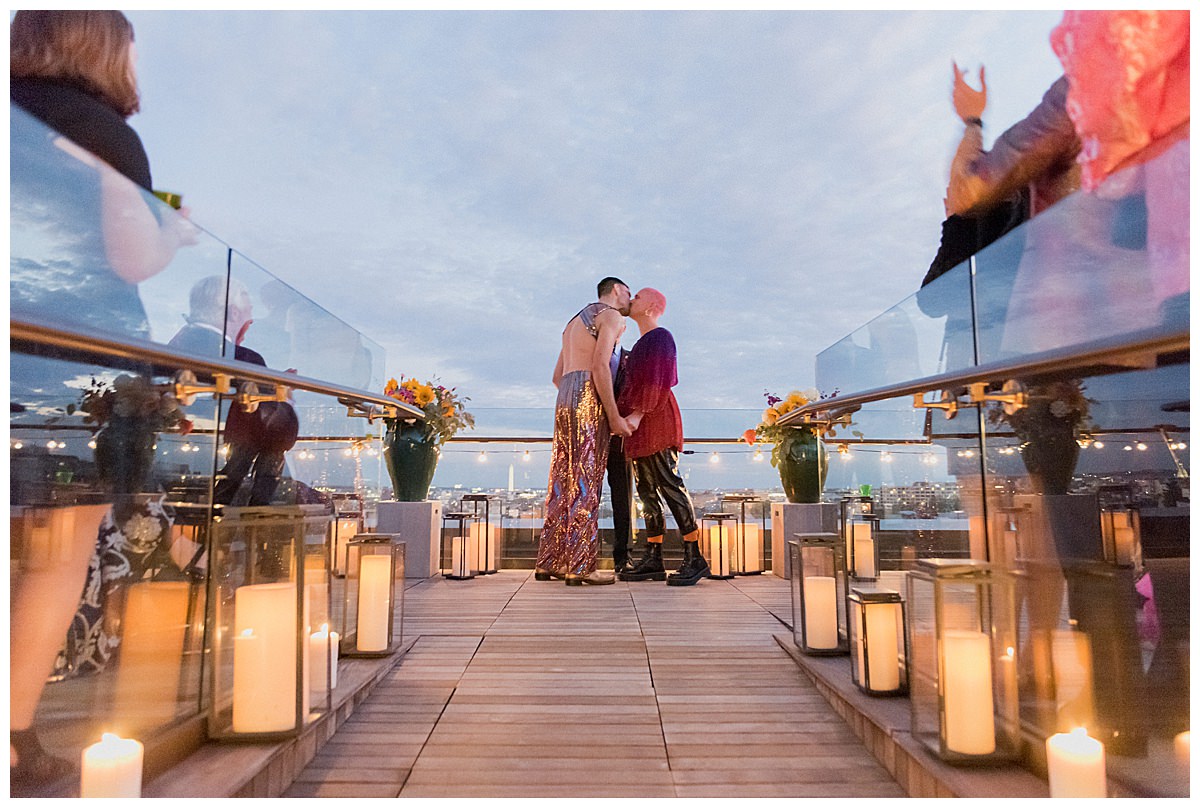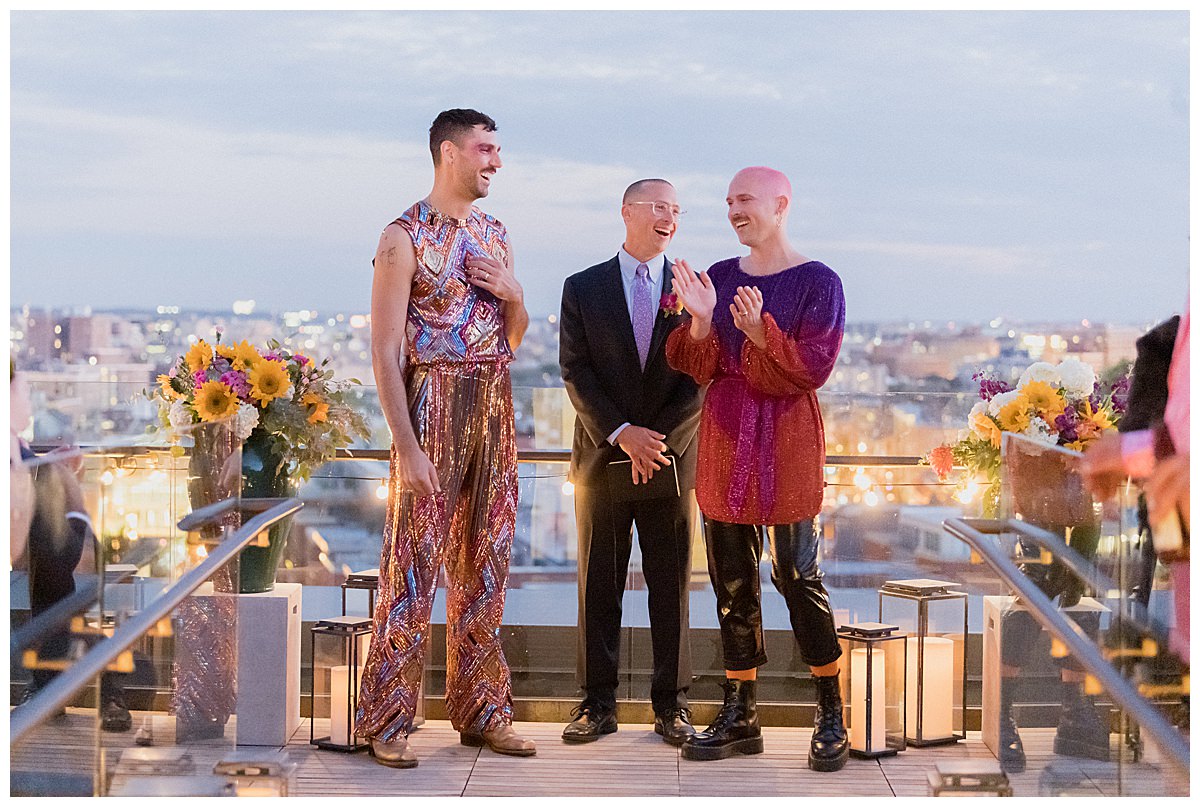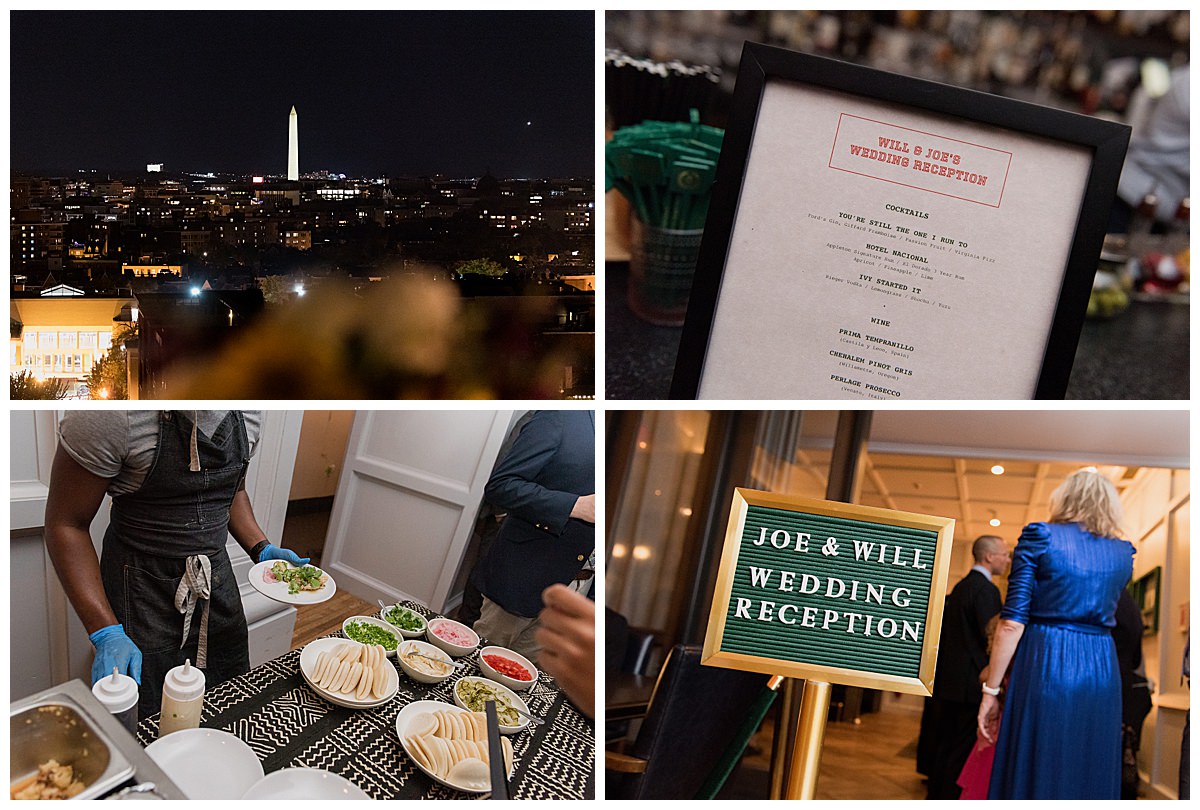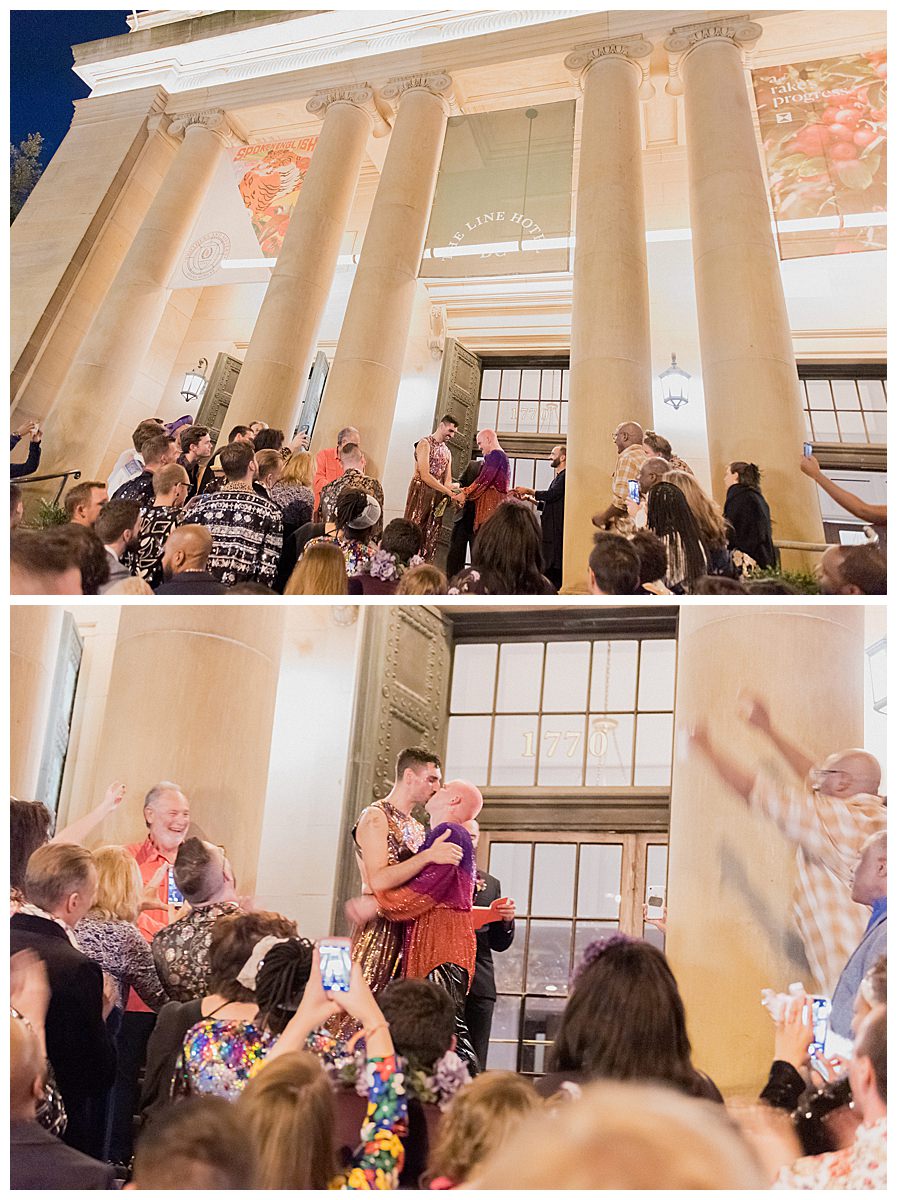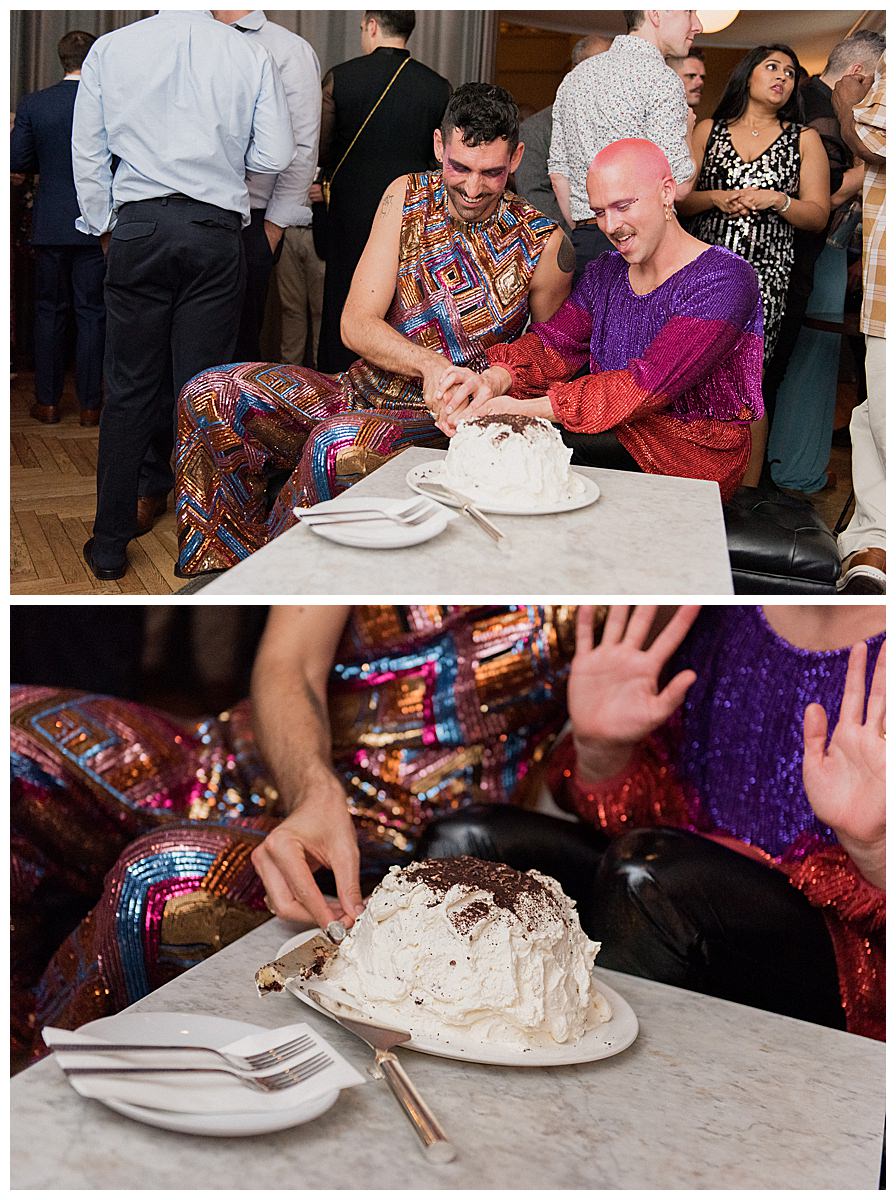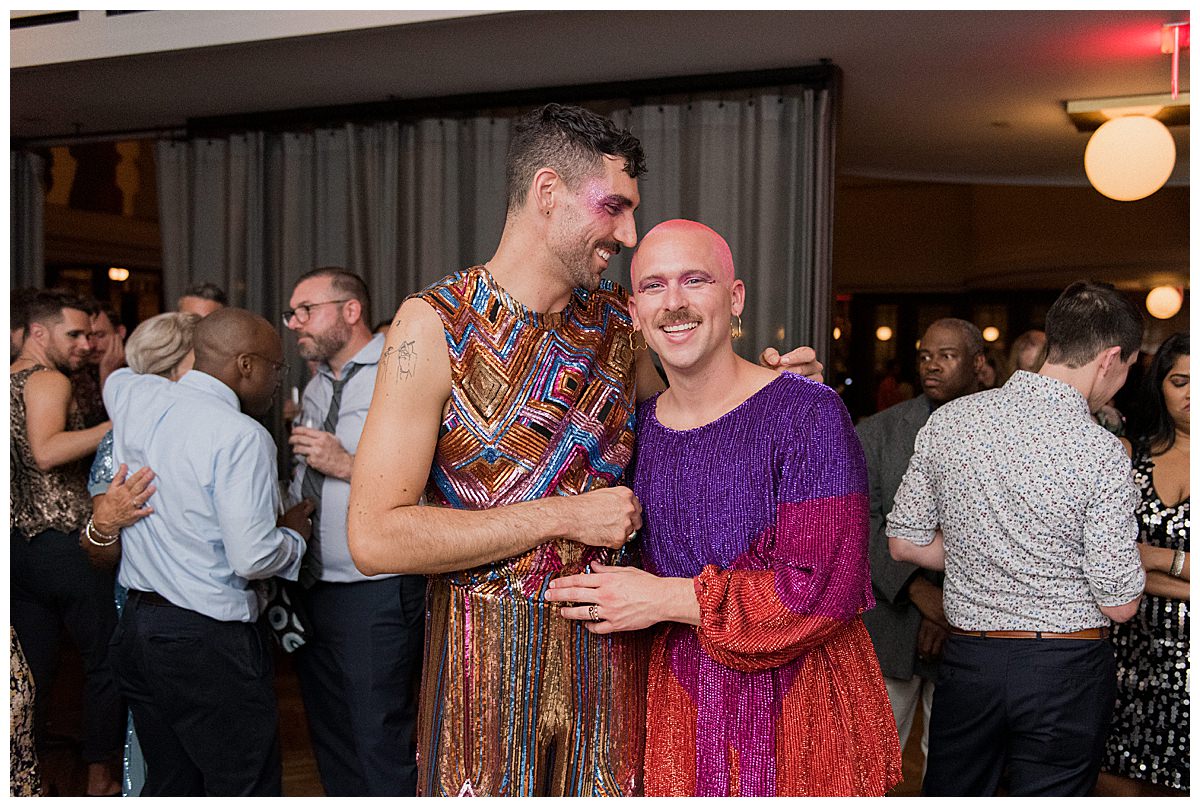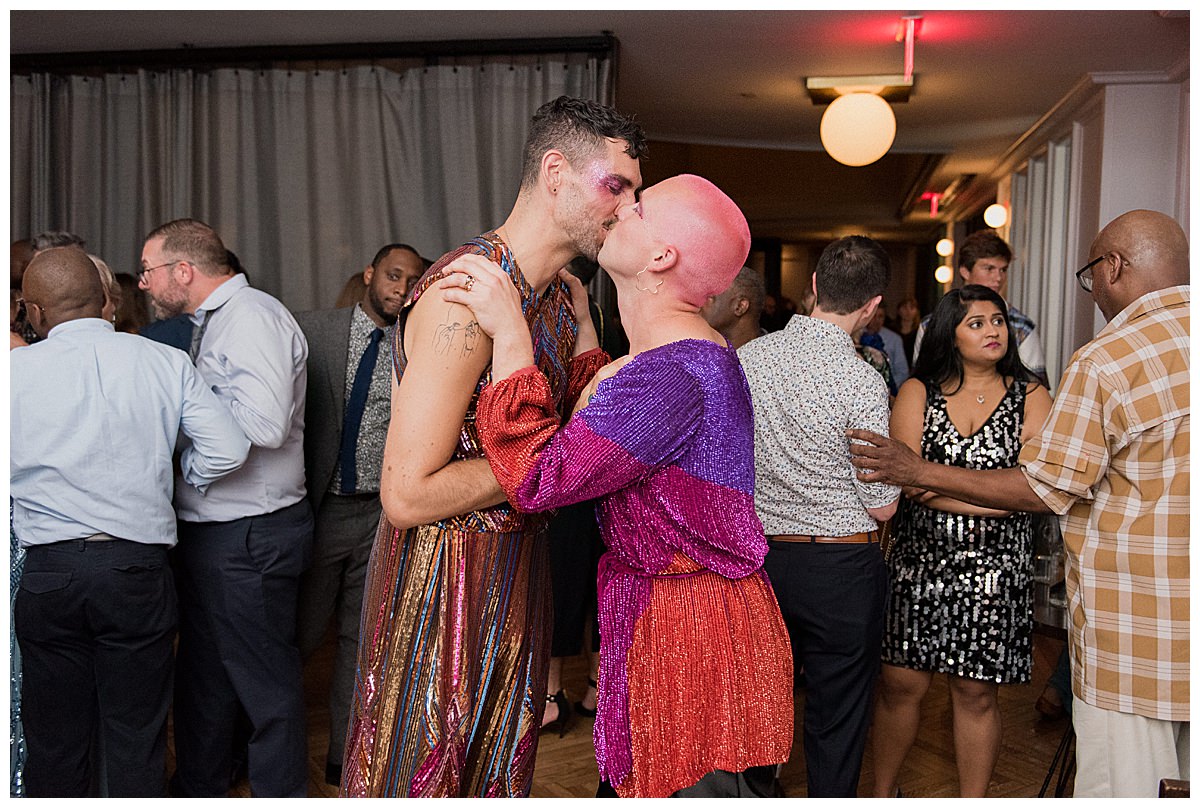 Written by Emily Rochotte