When you're in the throes of planning,  you have to be prepared for a number of crazy things that could get thrown your way. But one thing Darrell and Vo couldn't prepare for while planning their D.C. wedding was a broken foot. About a month before their wedding date, Darrell injured his foot and wound up in a boot that would have to become part of his wedding outfit. But with Vo by his side, he was able to ditch the boot for the ceremony where they were married surrounded by their friends and family at the Carnegie Institution for Science.
Behind the lens, Lindsay King Photography captured the endearing moments during their ceremony where tearful guests looked on as they exchanged vows and the jovial celebration that followed on the dance floor. And after the cake was cut, they had a colorful sendoff as their guests waved light up glow sticks and escorted them out of the venue. Darrell and Vo wanted their wedding day to be easy and fun, and from the looks of it, they achieved just that!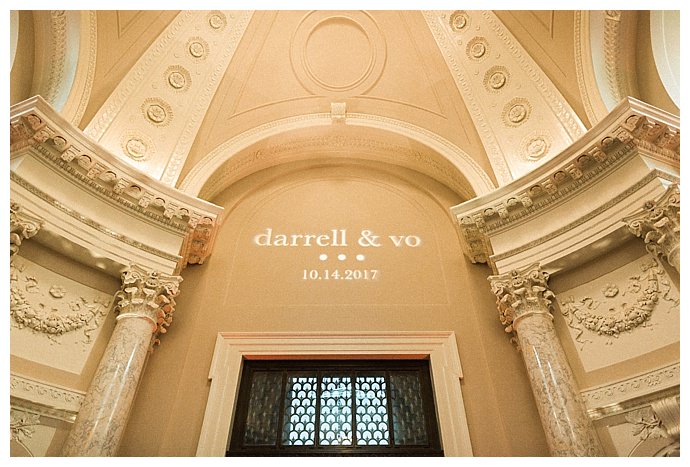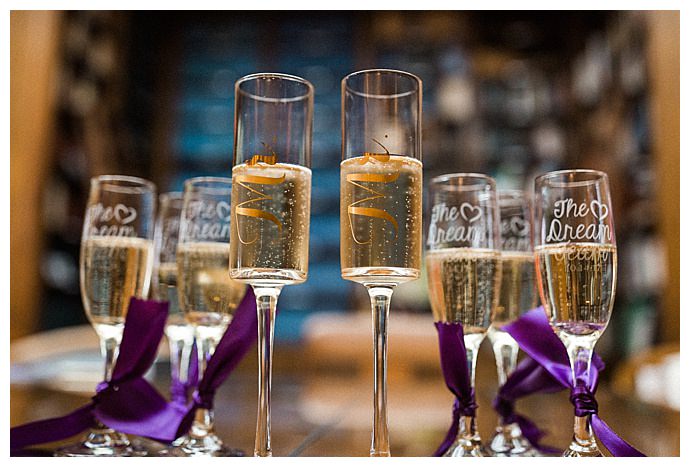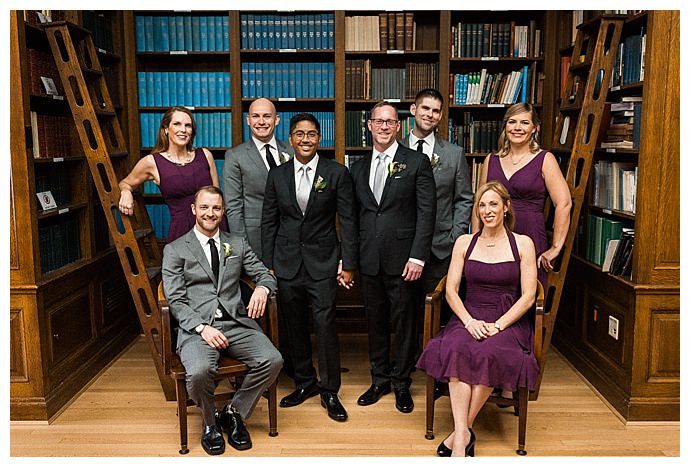 The Love Story
It was around Christmastime when Darrell and Vo first caught each other's gaze while at the gym. They decided to introduce themselves, not knowing it would lead to the beginning of their happily ever after. Two years after their first date, they adopted their sweet Beagle, Bonnie, which Vo says cemented their commitment to each other. But while they were vacationing in London a year later, Vo wanted to make it official. Instead of a ring, he found a old-fashioned key in a local shop and took Darrell to the hotel's rooftop at sunset. With breathtaking views of the London skyline in the background, Vo got down on one knee, and Darrell officially said yes.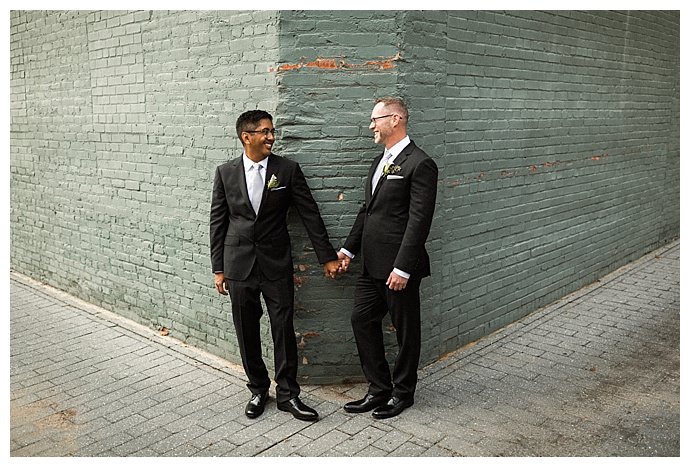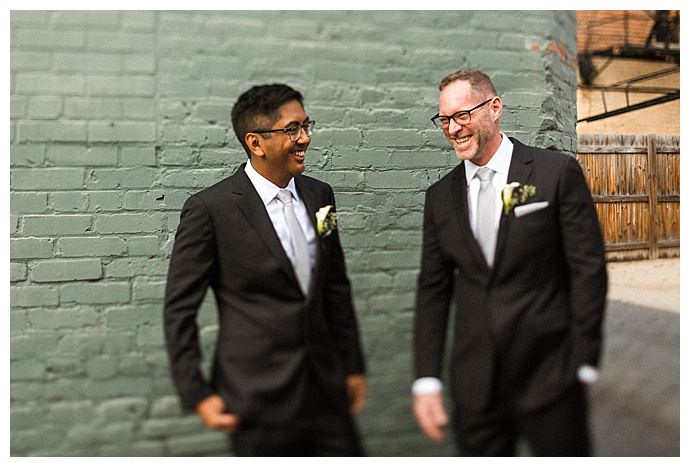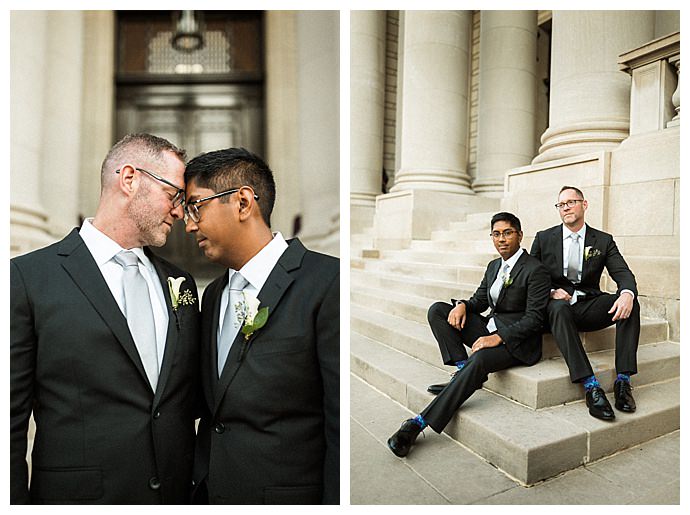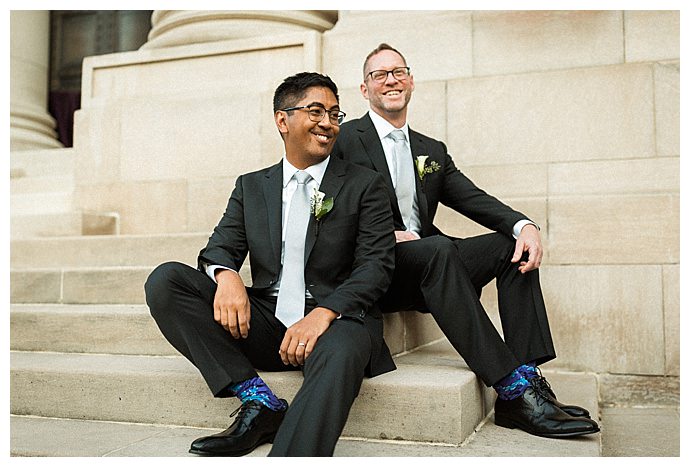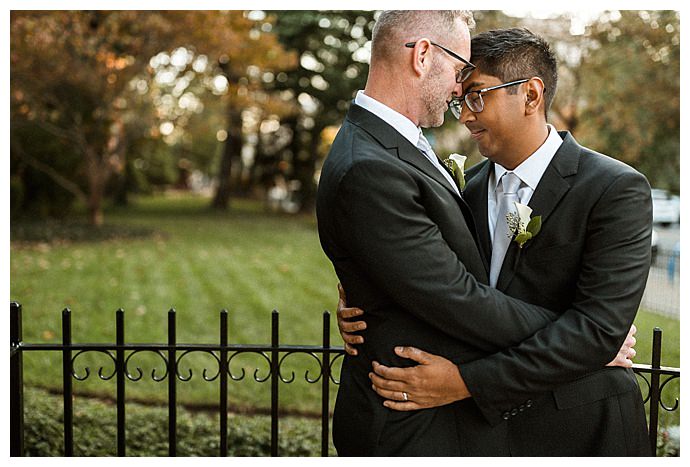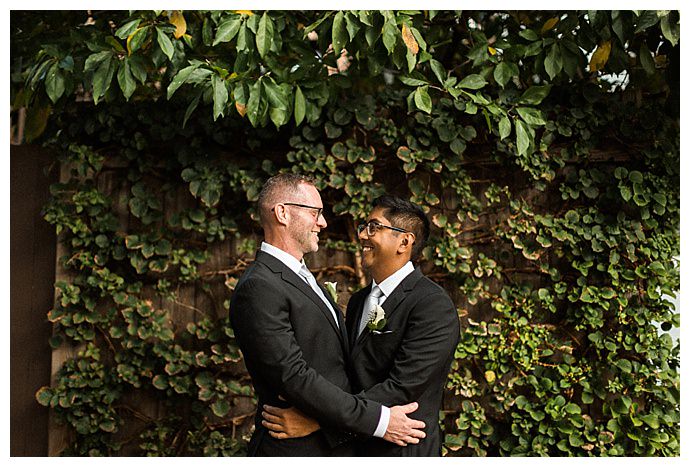 The Ceremony
The grooms were drawn to the Carnegie Institution for Science's central D.C. location as well as its stunning architecture that wouldn't require much added décor. They chose matching black suits from Bonobos and accessorized with silver ties and pocket squares and pinned calla lily boutonnieres to their lapel.
Darrell and Vo made a grand entrance, walking down the stairs hand-in-hand to the center of the room where they were completely encircled by their family and friends. The touching ceremony was led by Vo's mother, who is a retired Presbyterian minister, and Darrell and Vo incorporated meaningful readings, including a quote from the Supreme Court's decision on marriage equality and a passage by author Madeleine L'Engle, which were read by two of their close friends. And before they were pronounced husband and husband, Darrell's parents performed a traditional Filipino marriage blessing called The Lasso, where a rope in the shape of the infinity symbol is draped over the grooms' shoulders as a symbol of unity.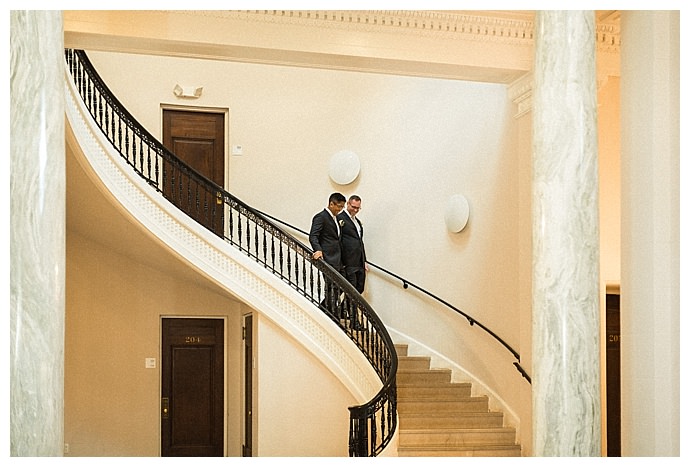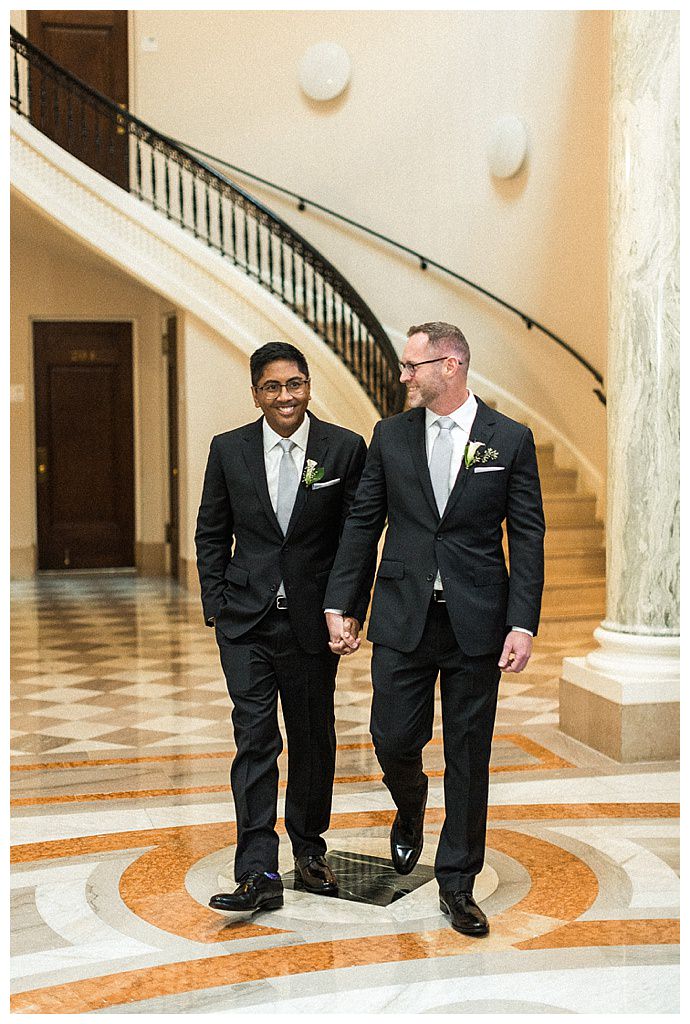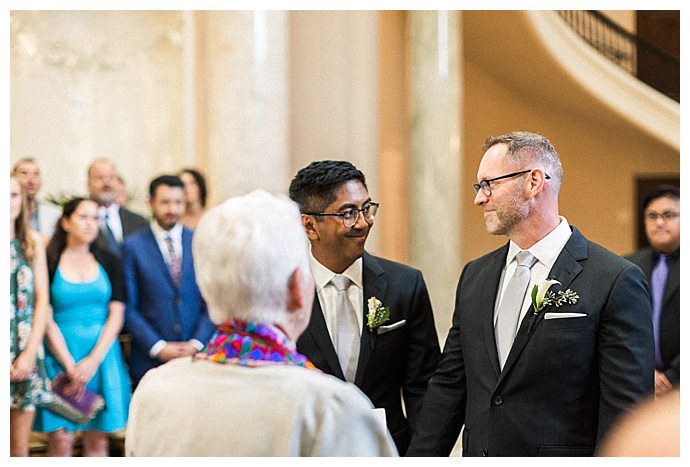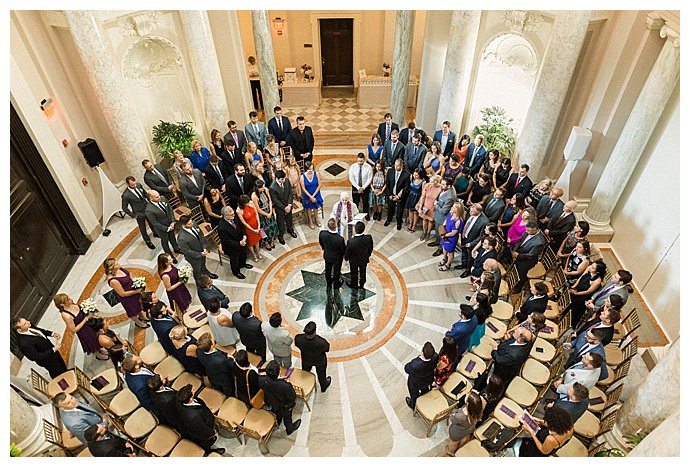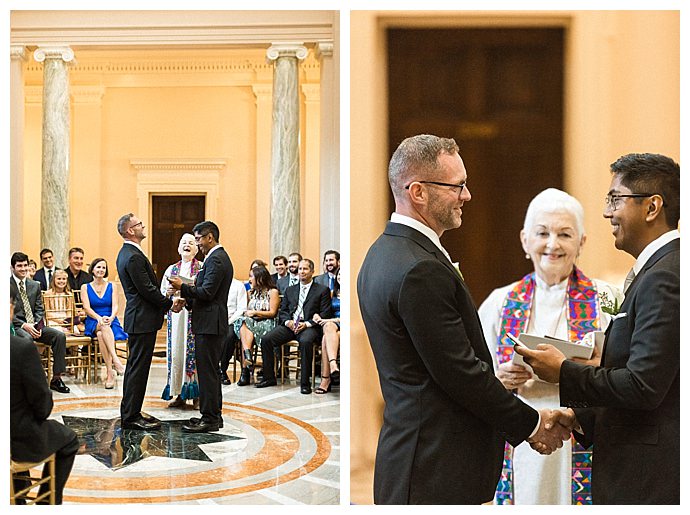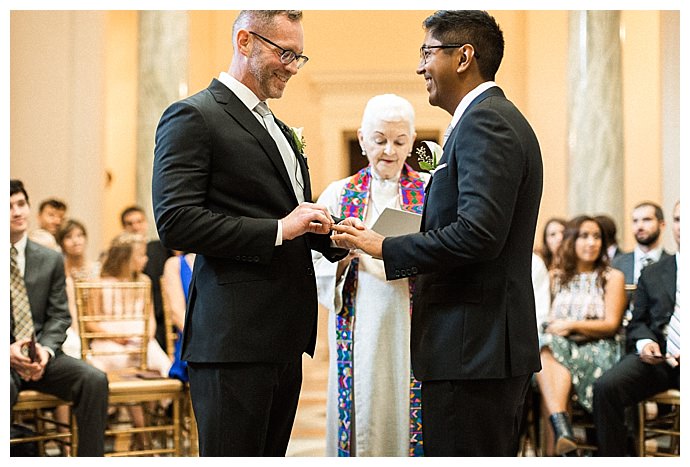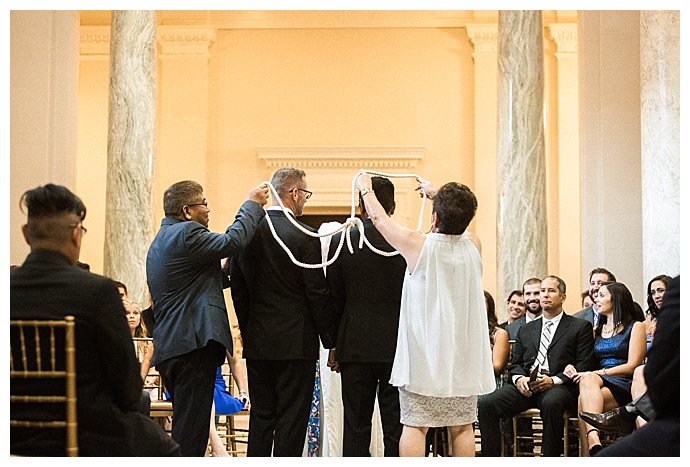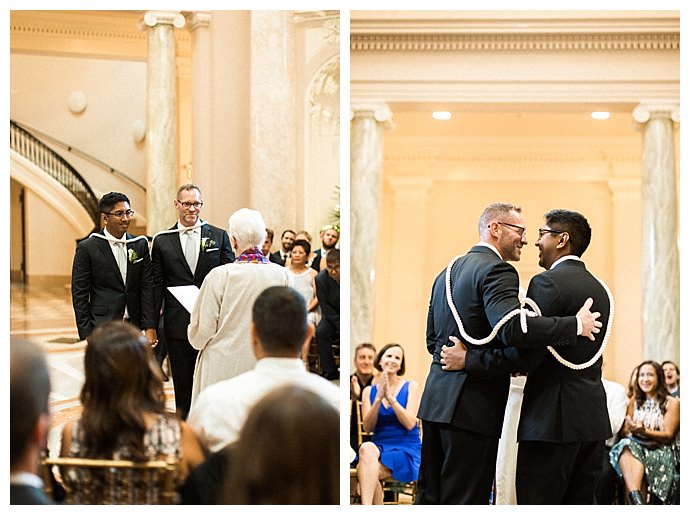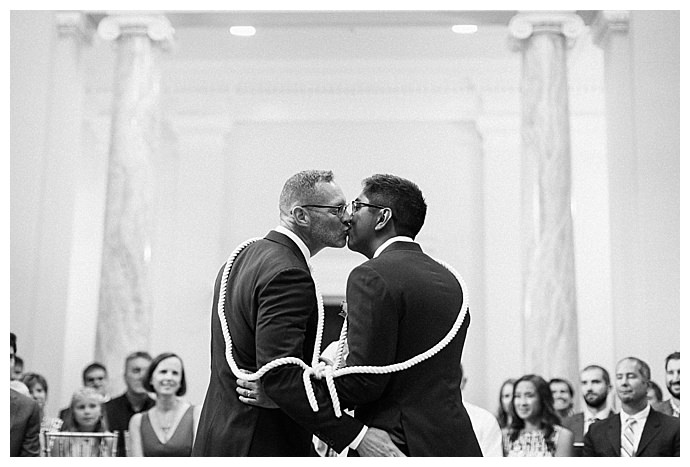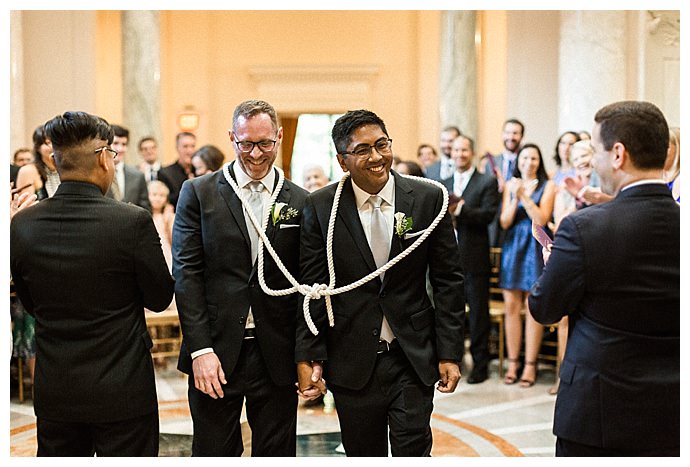 The Party
For the reception, Darrell and Vo threaded their ivory, gold and eggplant color palette into the décor. Champagne-colored tablecloths were draped over the round tables and eggplant napkins added the perfect pop of color. One of the grooms' favorite details was the escort card display where guests found their seating assignments among a rainbow-colored display. During cocktail hour, passed hors d'oeuvres of rioja short rib tostadas, eastern shore crab cakes, seared yellowfin tuna and golden beet crostini made the rounds before a buffet-style dinner. For their first spin on the dance floor as a married couple, Darrell and Vo danced to Betty Who's version of "I Love You Always Forever" before they cut into a small cutting cake topped with a Mr. and Mr. cake topper that included a figurine of their dog, Bonnie. And as the night came to a close, they exited the venue through a tunnel of light sticks held up by their guests.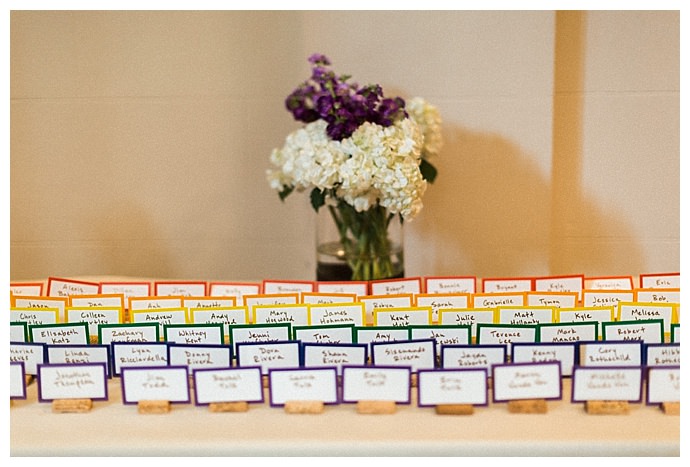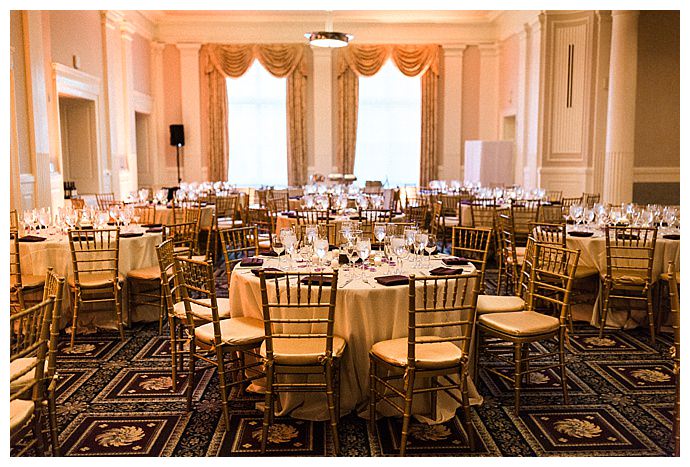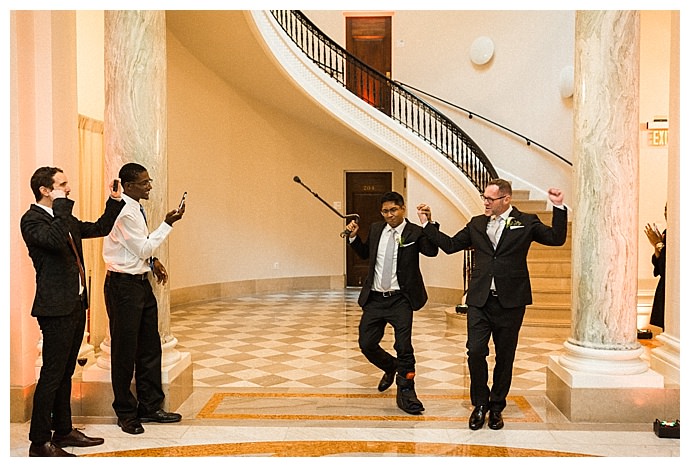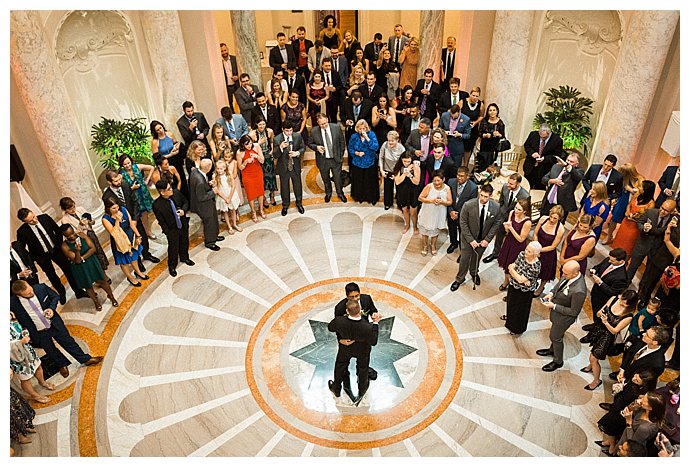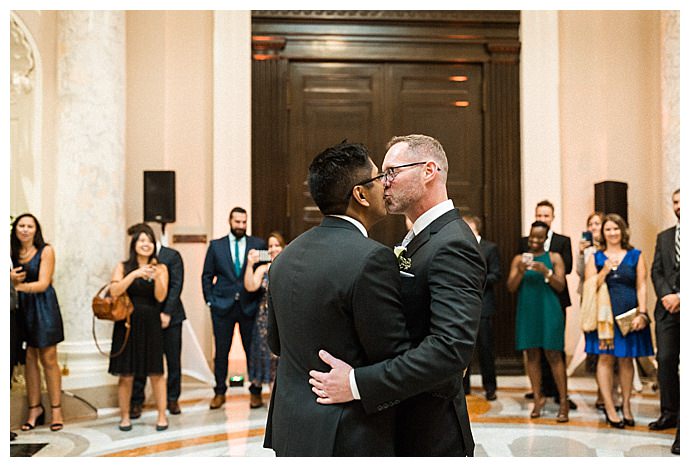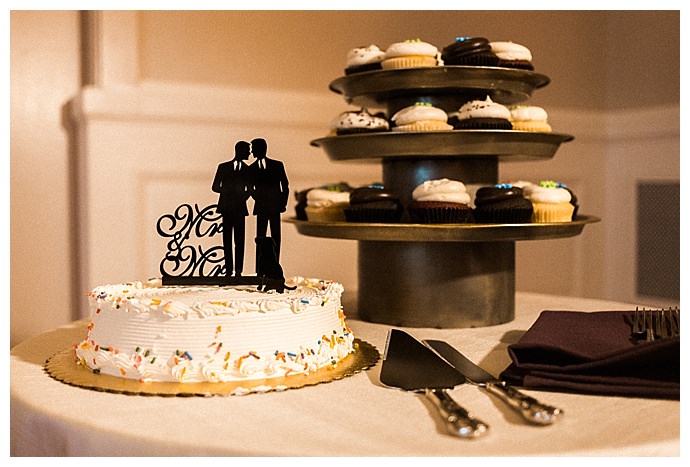 Memorable Moment
"Somewhat late in the evening, we had a brief few minutes with just the two of us upstairs in the rotunda overlooking the dance floor, where we got to catch our breaths and enjoy everyone having fun on the dance floor," Vo says.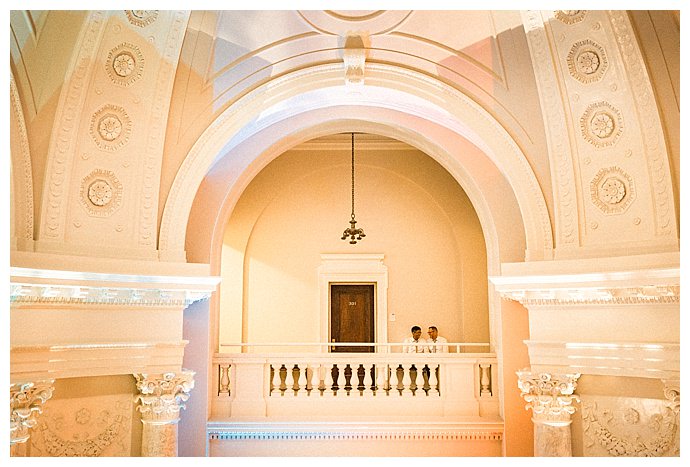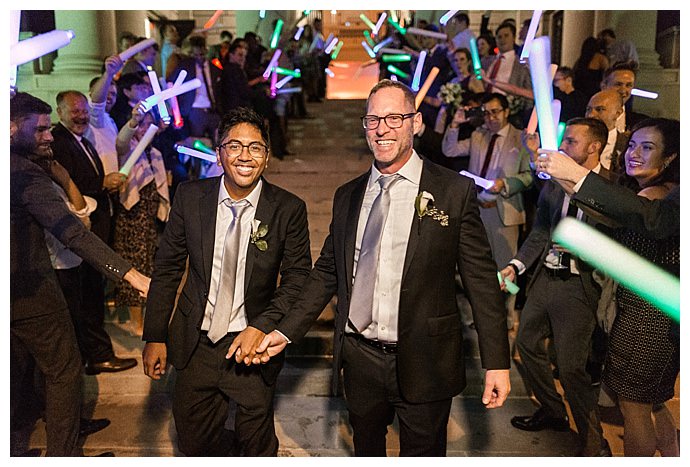 *Editor's Note: This post contains affiliate links. Each time you purchase an item via our affiliate links, Love Inc. is receiving a small percentage of the sale, thus you are helping our small, equality-minded business grow and allowing us to provide more content for YOU! Isn't that just fantastic?
Written By: