After a long break between babies, I had my third child — a little girl — this summer. In the six years since I had my last baby, something amazing happened. Instagram!
Through all the night feedings I accidentally discovered the wonderful world of small-shop fashion for littles. Handmade knits, custom rompers and bloomers, (gender neutral!) bonnets made of recycled vintage materials, beautiful leather shoes, hand-tied bows … it just goes on and on. I have become obsessed with these small shops and the incredibly talented and energetic mamas who run them. Even though most of the shops are quite reasonable priced (especially considering many of the items are made-to-order), my wallet has taken a significant hit.
The best part of it all — besides the adorably dressed babies and toddlers — is the supportive and friendly community that has emerged on the social platform. I've seen them rally together to support one another, feature each other's work and love on each other's children. And not only are the products impeccable but I feel really good about where my money is going.
A word of advice: Because of the nature of these small businesses, it is common for small shops to have only monthly or seasonal openings where orders are placed until they hit capacity. Then they will close their doors while they fulfill the orders, redesign/restock and do it all over again. Sometimes these limited items go *fast* and those looking to score have been known to set alarms for favorite shop openings. Following the shops listed below on Instagram is the best way to be in the know about shop openings.
So if you're ready to have the best-dressed babe in town, here are my top 10 children's clothing and accessories: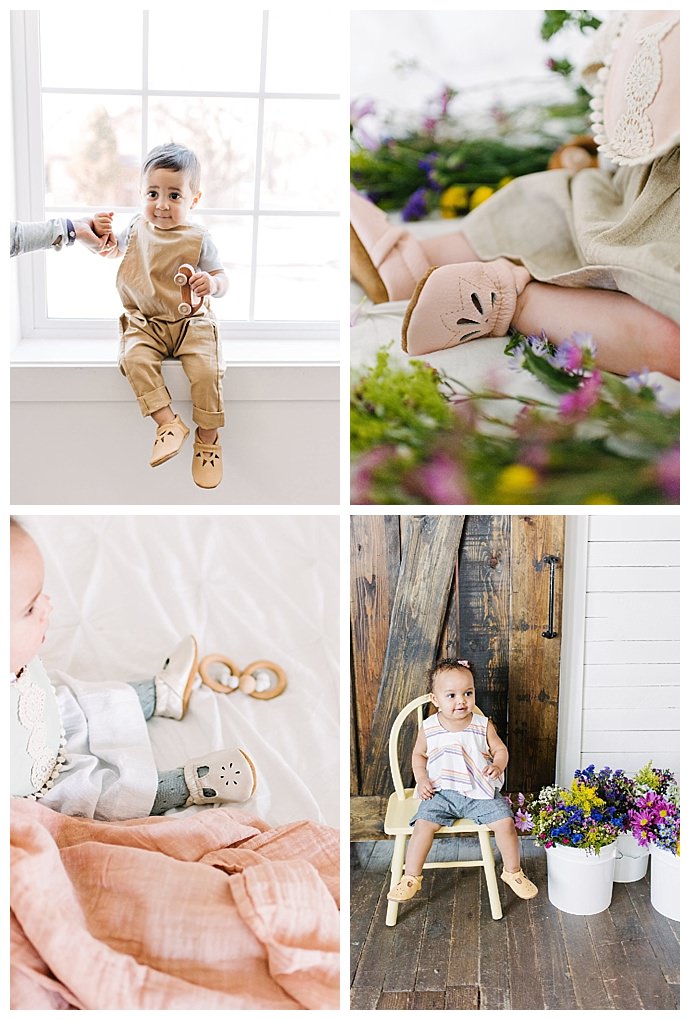 Starry Knight Design
@starryknightdesign
Creating the most gorgeous handmade soft-soled leather moccasins and shoes for both babes and big kids, Starry Knight Design offers loads of really unique designs and colors. The leather is thick, soft and smells incredible. They fit those chubby little feet without squeezing and actually STAY ON. I found a pair we loved so much (these bow Porter T-straps) that I may have ordered them in the next TWO sizes in case I couldn't get them later!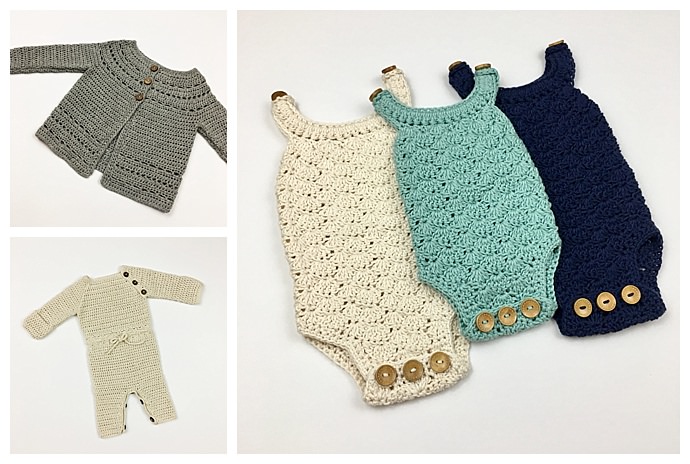 Harlow & Co.
@j.harlowandco
From sweet sweaters to bonnets and little ruffled rompers, these custom hand-knit items will not disappoint. These are truly heirloom pieces that are beautiful enough to save but durable enough for your child to wear … and wear and wear! An incredible gift or a great purchase for your own little.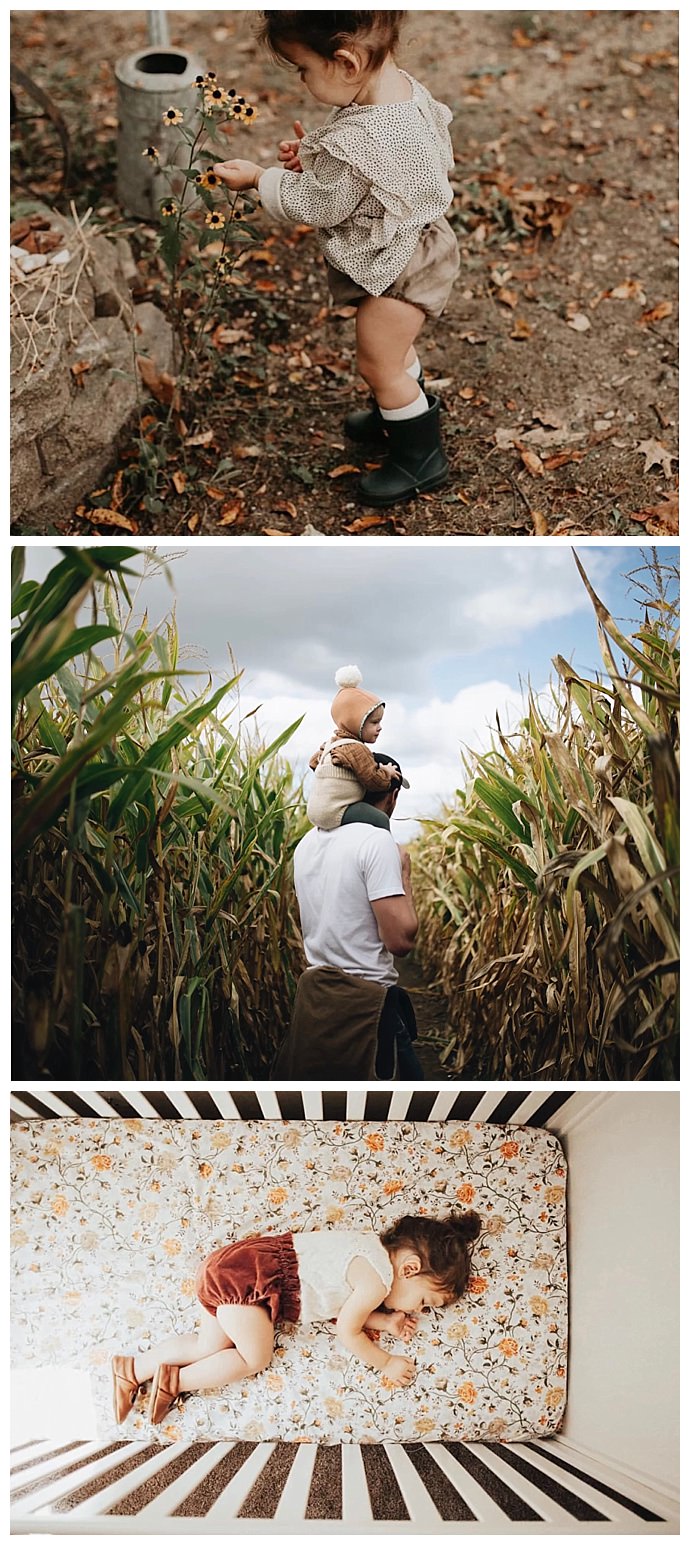 Sawyer and Halle
@sawyerandhalle
Hand-dyed and made-to-order baby and toddler clothing in a variety of rich earth tones. Each item is created using super soft eco-friendly materials and sent in packaging that is 100 percent recyclable. Each carefully packaged item comes with a charming note illustrating the behind-the-scenes creation of your garment.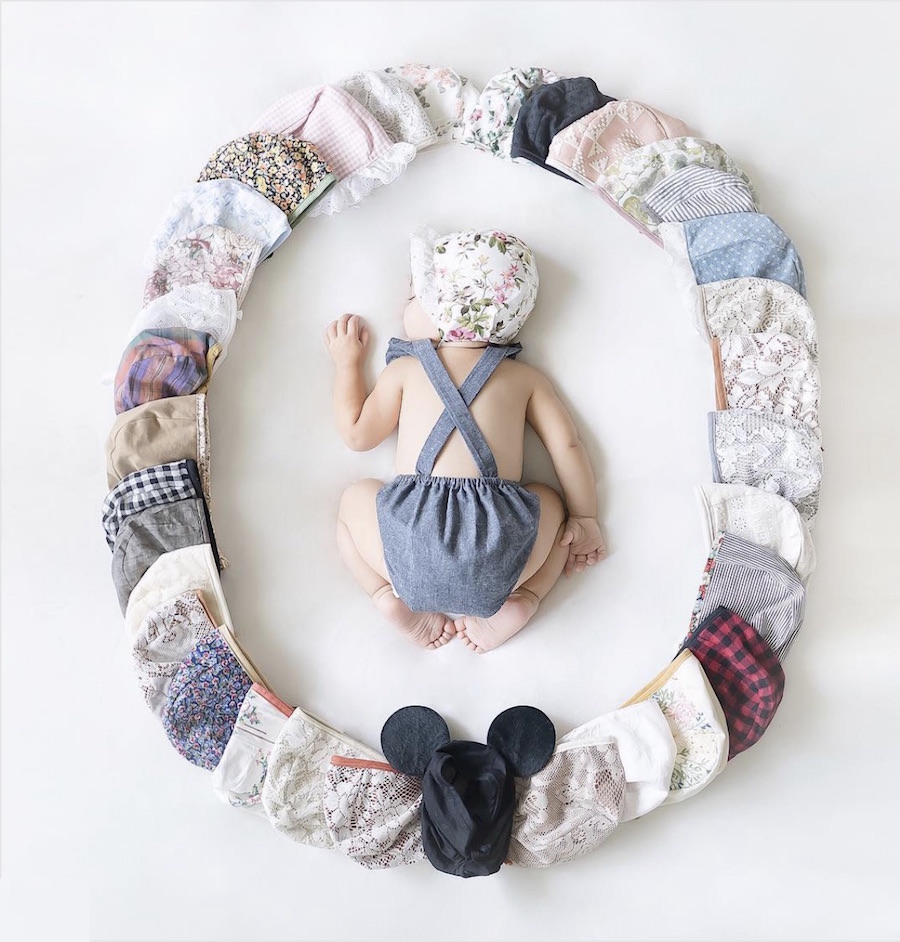 Sweet as April
@sweet_as_april
Here you will find the most delightful baby bonnets — for boys and girls — lovingly designed and handmade using pre-loved clothing and vintage materials. Honestly, it just doesn't get cuter than babes in bonnets. For major outfit inspiration and discovery of more shops, follow her sweet daughter, @little_lady_leia
Photo 1: Ryan & Rose; Photo 4: Nikki Nielsen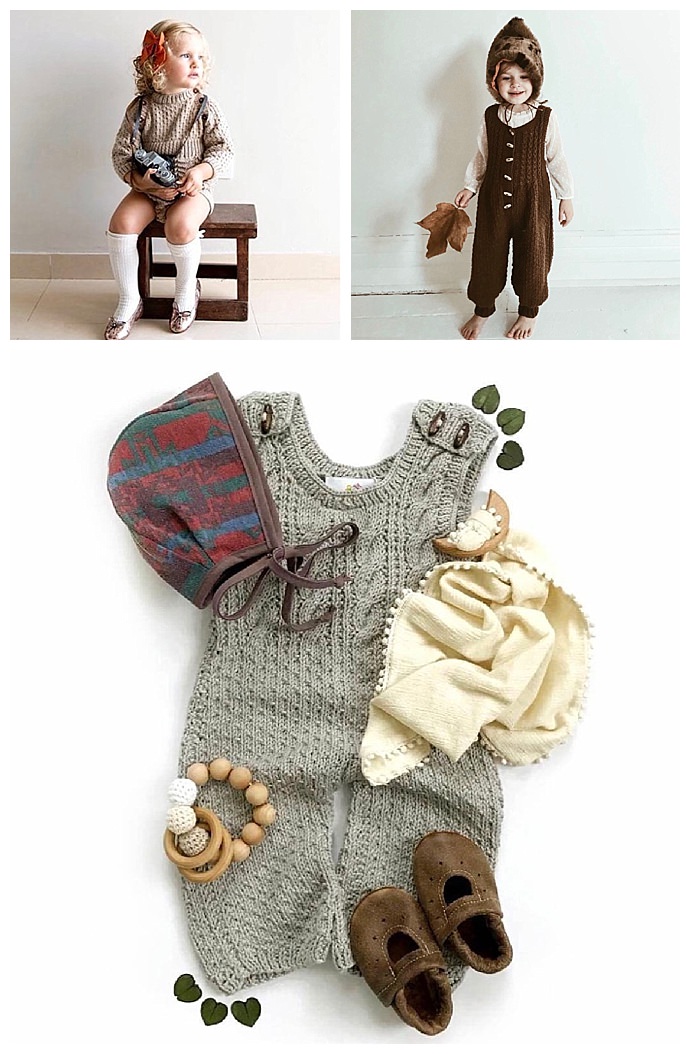 June Bee Baby
@junebeebaby
June Bee Baby's Instagram feed makes you want to grab the nearest baby and swaddle yourselves in the cozy, cuddly bamboo knits. You'll find a huge variety of hand-knit items clothing made with cotton bamboo to create the softest, vintage-inspired designs that are sure to be cherished and passed on throughout the years. Custom pieces also available!
 Photo 1: Gaia & Nina; Photo 2: Not All Are Lost; Photo 3: Sweet As April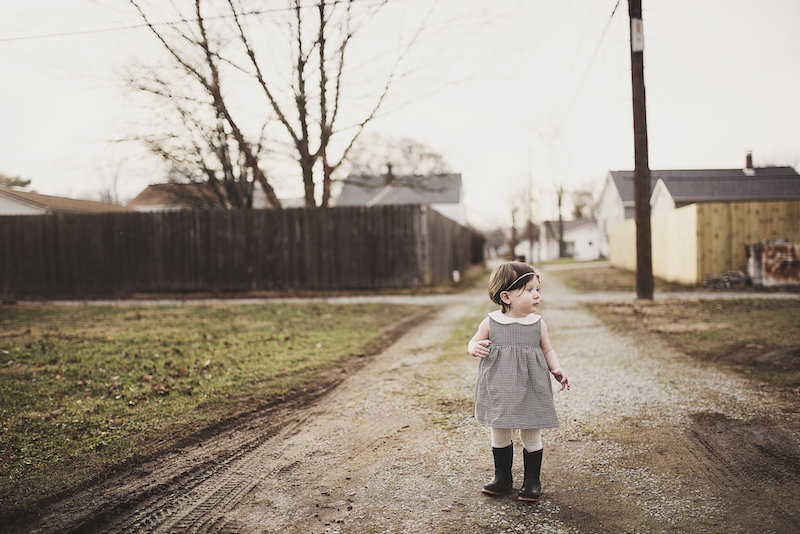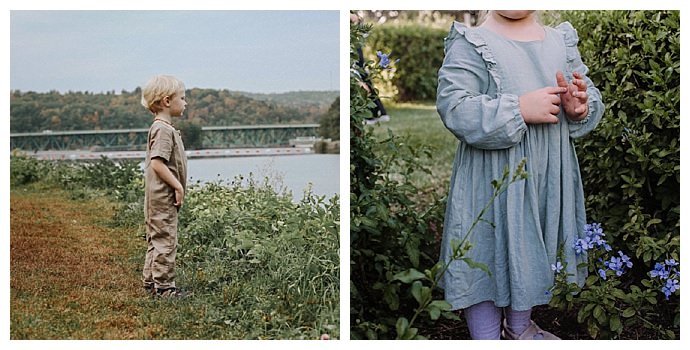 Canvas House Designs
@canvas_house_designs
This mother of five (5!) started this successful business while her husband was deployed. She designs and sews the most beautifully classic clothing. Primarily created using soft, durable linen fabrics, Canvas House designs has the most precious and timeless pinafores, playsuits and a mix-and-match "every day" collection that changes seasonally. Clothing is wearable, durable AND photo-shoot worthy.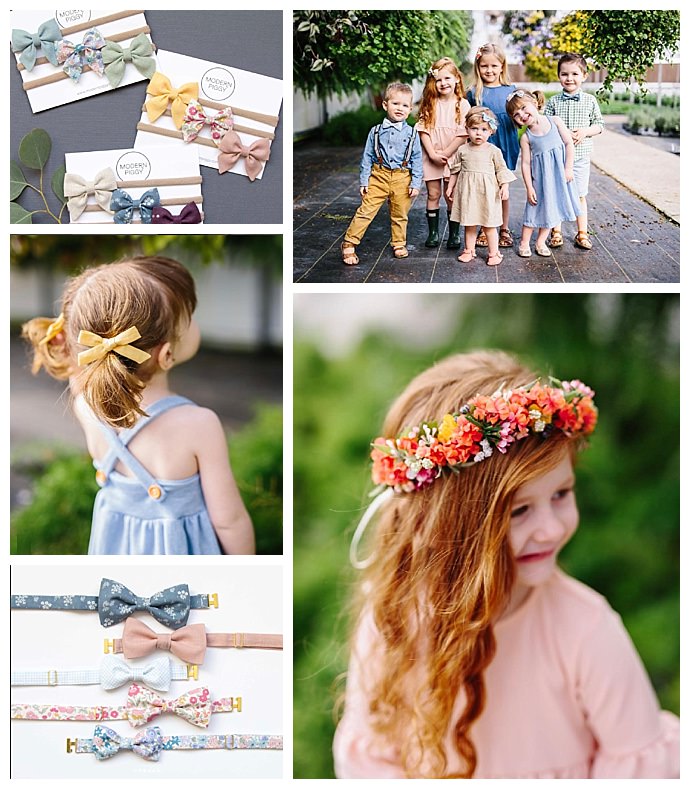 Modern Piggy
@modernpiggy
The cutest bows, bow ties, suspenders and even baby flower crowns! The bows come in a wide variety of sizes, styles, colors and fabrics and can be made on a soft nylon headband for littles without much hair, clips or pigtail sets. Matching bow-ties and suspenders are just too adorable for family photos and special occasions. And baby flower crowns? There are no words – just see for yourself.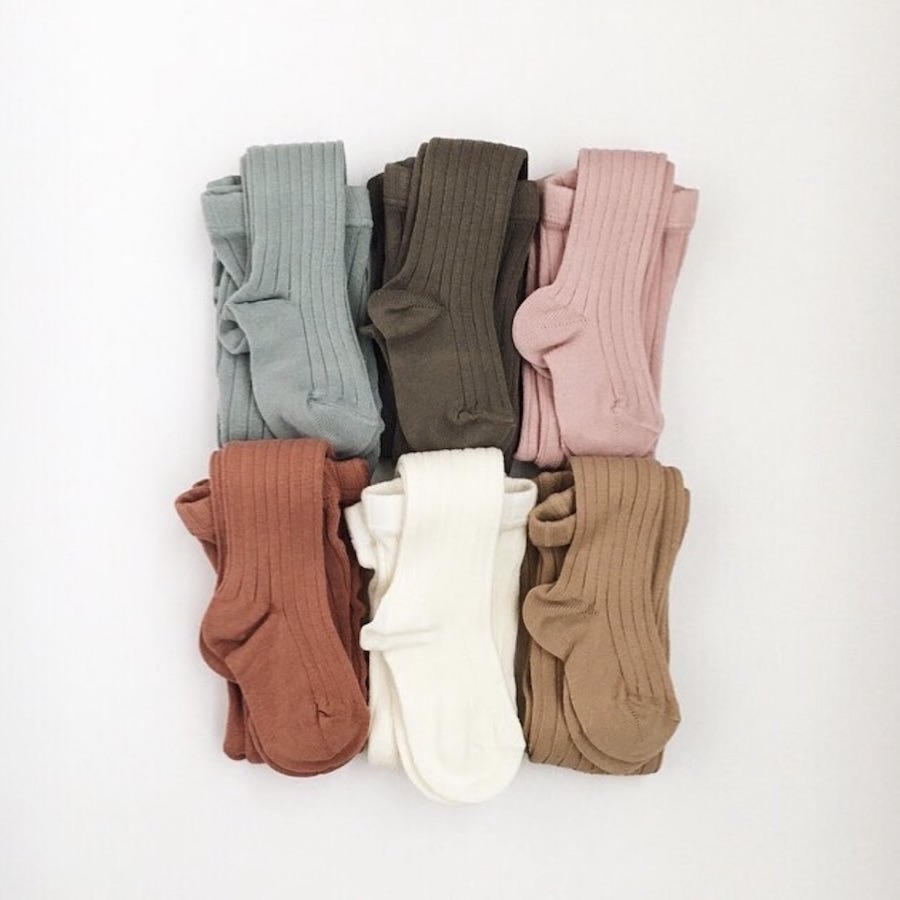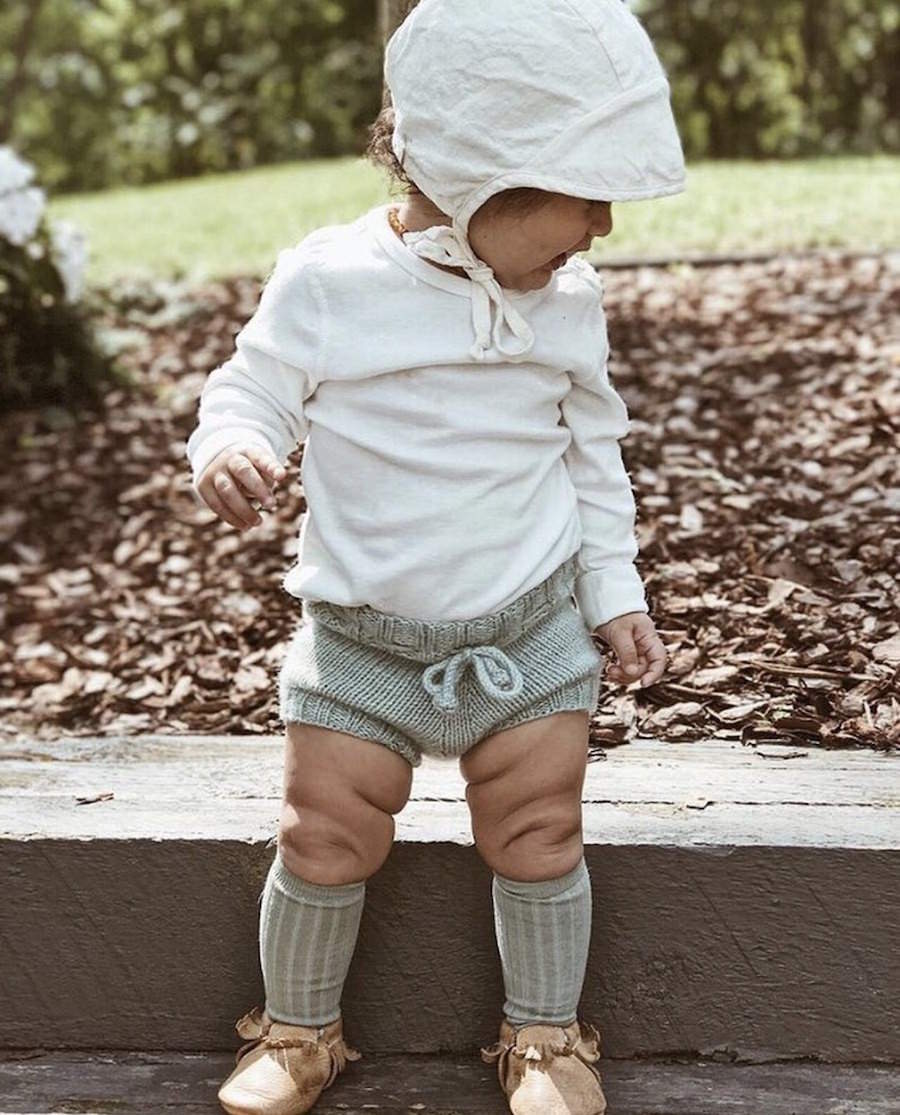 Magnolia Kids
@magnolia_kids
Magnolia Kids is a favorite for beautiful tights and knee-high socks in the sweetest colors and textures. They fit perfectly and are both cozy and durable – perfect for layering under bloomers, rompers and more. The crochet knee-high socks paired with exposed baby thighs are perfection!!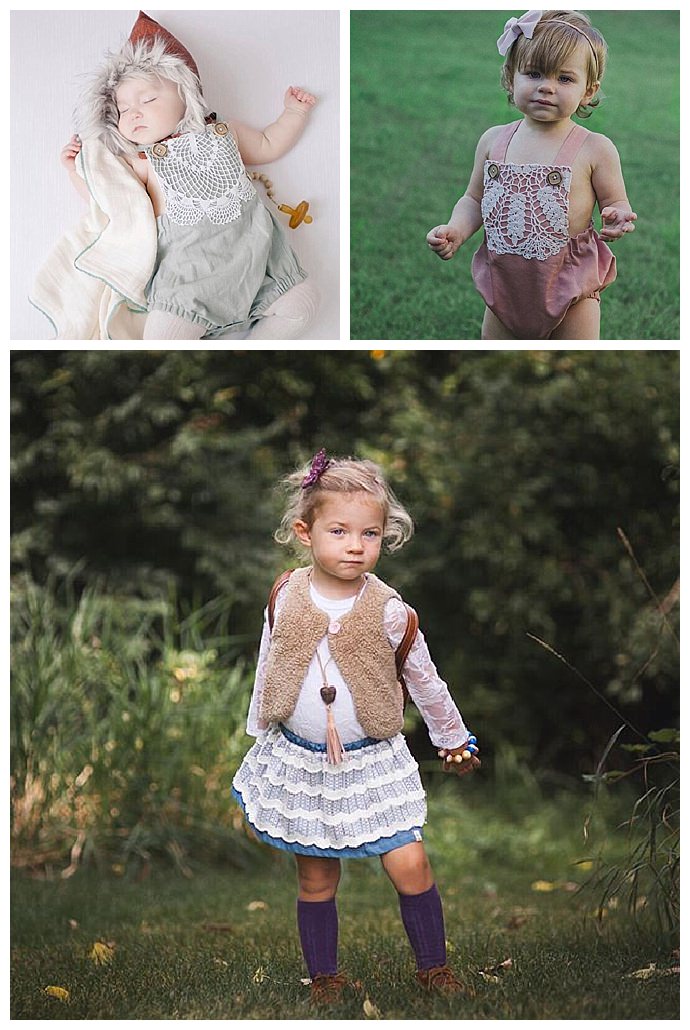 Tate and Adele
@tateandadele
Here you'll find playful prints with unexpected details. Tate & Adele offers a wide variety of clothing for boys and girls and even stocks a few sweet stuffed animals and dolls as well as the occasional mommy-and-me matching designs. They even have custom design offerings, a fun option when you need a really special, one-of-a-kind item!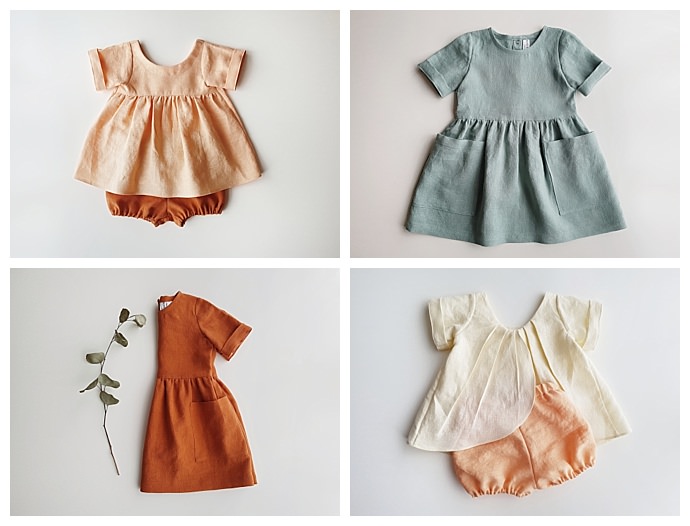 Rose & Rail Clothier
@roseandrail
Rose & Rail's beautiful, timeless handmade clothing will have you counting down the days until this sweet shop is open for business. The vintage-inspired rompers, dresses and bloomers come in soft, muted colors and are great for layering or just on their own.
*Editor's Note: This post contains affiliate links. Each time you purchase an item via our affiliate links, Love Inc. is receiving a small percentage of the sale, thus you are helping our small, equality-minded business grow and allowing us to provide more content for YOU! Isn't that just fantastic?
Written by Amber Harrison, 
a

 wedding trend and etiquette expert for Shutterfly and a mother of three. She is a serial chocolate chip cookie recipe-tester, loves laughing with her littles and stalking Instagram for the latest small shops.

---
Frequently Asked Questions About Instagram Shops For Kids
What are handmade shops on Instagram?
Handmade shops on Instagram are online stores that sell handmade products, often made by independent artisans or small businesses. These shops can be found on Instagram by searching for relevant hashtags or by following accounts that specialize in handmade products.
What types of products can I find in handmade shops for children on Instagram?
There are many types of handmade products for children that can be found in shops on Instagram, including clothing, accessories, toys, decor, and more. Many of these products are made from natural materials and feature unique designs that you won't find in mass-produced items.
How do I know if the handmade products on Instagram are safe for my child?
When shopping for handmade products on Instagram, it's important to do your research and read reviews from other customers. Look for shops that use high-quality, non-toxic materials and that follow safety standards. Additionally, check for any warnings or age recommendations for the product you're interested in.
How do I support handmade shops on Instagram?
One way to support handmade shops on Instagram is to make a purchase from their store. You can also help spread the word by sharing their products on your own Instagram account or by recommending their shop to friends and family. Leaving positive reviews and comments can also help boost a shop's visibility and reputation.
What are the benefits of shopping at handmade shops on Instagram for children's products?
Shopping at handmade shops on Instagram can offer many benefits, such as supporting small businesses and artisans, finding unique and one-of-a-kind products, and purchasing items that are often made with sustainable and eco-friendly materials. Additionally, many handmade shops offer personalized and customized options, allowing you to create a truly special and meaningful item for your child.