Love Inc.'s 2020 Holiday Gift Guide for the Littles In Your Life
As a parent of three, it's important to me that I try to shop with intention, whether that's making sure there's diversity on my kids' bookshelves and in their toy box, shopping small, or supporting minority-owned businesses.
But I know how easy it can be to just shop the items your kids circled in a toy catalog, or purchase the most popular toys on Amazon. Especially when you're a parent and trying to balance all that 2020 has thrown at us. So we did the homework for you and curated 10 items the littles in your life are sure to love, all from LGBTQ-owned small businesses.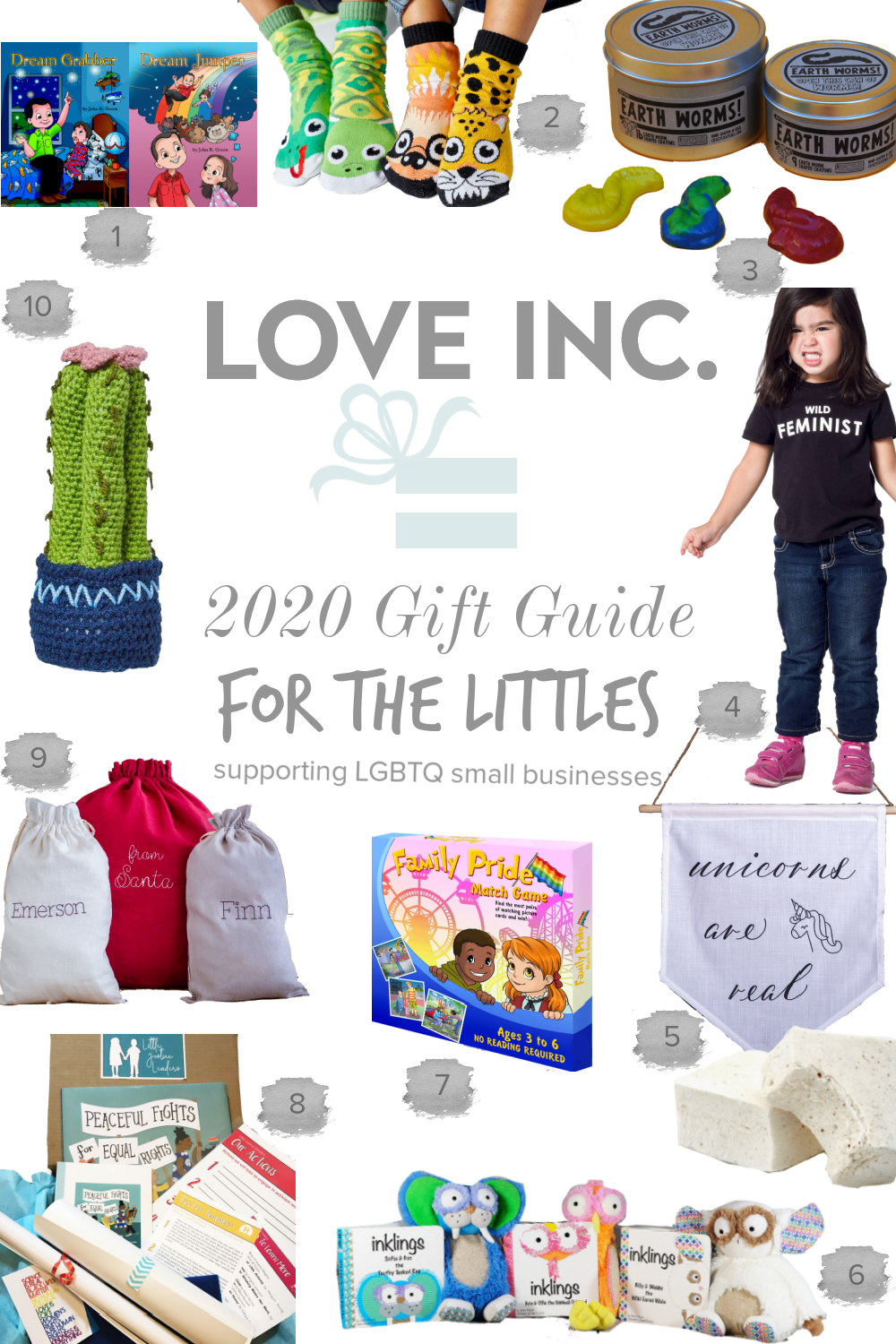 1. Time to Dream Books: Whimsically illustrated, these delightful stories are the perfect addition to the bedtime routine. Based on the nighttime routine of his own two children, author John R. Green (an Emmy Award-winning producer and writer), creates a fanciful and safe world where a heroic father has the ability to defeat nightmares for his son and jump into dreams to embark on fantastical journeys with his daughter. $19.99 each
2. Pals Socks: Beyond being unbelievably cute, Pals Socks are purposefully mismatched to foster the idea that even if we don't look exactly alike, we can still complement each others' lives. Kids can wear unexpected pairings such as an owl and a mouse, snake and frog, or dragon and unicorn, and you get an opportunity to have an inclusive teaching moment. $9.99/pair
3. Recycled Earth Worm Crayons from Otherwild: Did you know that more than 120,000 pounds of crayons are made every day?! And all of that petroleum-based wax eventually ends up in our landfills. For guilt-free coloring, I love these recycled options from Otherwild that also come in star- and stick-shape. $15 for pack of 16
4. Wild Feminist Tee by Wildfang: One of our favorite apparel shops offers these on-point tees and onesies for feminists-in-the-making. $28
5. Magical Stocking Stuffer by Darling Spring: Dreamy messages are beautifully hand-calligraphed onto linen banners — perfect for little room decor — and paired with artisanal marshmallows, rolled up neatly to fit in any stocking. $39.90
6. Inklings: These genderless bright and colorful plush toys and books spark a child's imagination and promote creativity, kindness and acceptance. Each doll is partnered with an accompanying board book that brings the Inklings to life. $19.99
7. Family Pride Memory Match Game: Set against the backdrop of a colorful county fair, Family Pride is the first memory game to proudly highlight LGBTQ families and many other diverse family makeups; single parents, Jewish parents, Muslim parents, grandparents, straight parents and more are all happily displayed on thick, durable cards. $14.99
8. Little Justice Leaders Subscription Box: This monthly box delivers lessons to learn about social issues, such as anti-racism, gender identity and voting rights, via fun activities straight to your doorstep. $44.99 month-to-month
9. KEEPSACK: A play on the word "keepsake," these personalized linen gift bags and Santa sacks make for special holiday heirlooms and traditions. $35 for small, $55 for large
10. Knitted Rattle from Otherwild: No overly gendered cutesy rattles here! Fun shapes like cacti, strawberries, rockets and avocados in beautiful knitted form for your babes' chewing pleasure. $16
Cover Photo Credit: cottonbro from Pexels