Tis the season for gift-giving, and to help you check off your shopping list, I'm thrilled to introduce our yearly anticipated Holiday Gift Guide.
Perhaps this year more than ever, it's important to shop small to help owners stay in business during COVID, and we've rounded up some fantastic products by LGBTQ+ folx that friends and family are sure to love, whether you're shopping for a foodie, outdoorsman, stylish maven or beauty queen.
Want even more ideas? Check out our Guides from years past for more great products by LGBTQ-owned and LGBTQ-supporting businesses!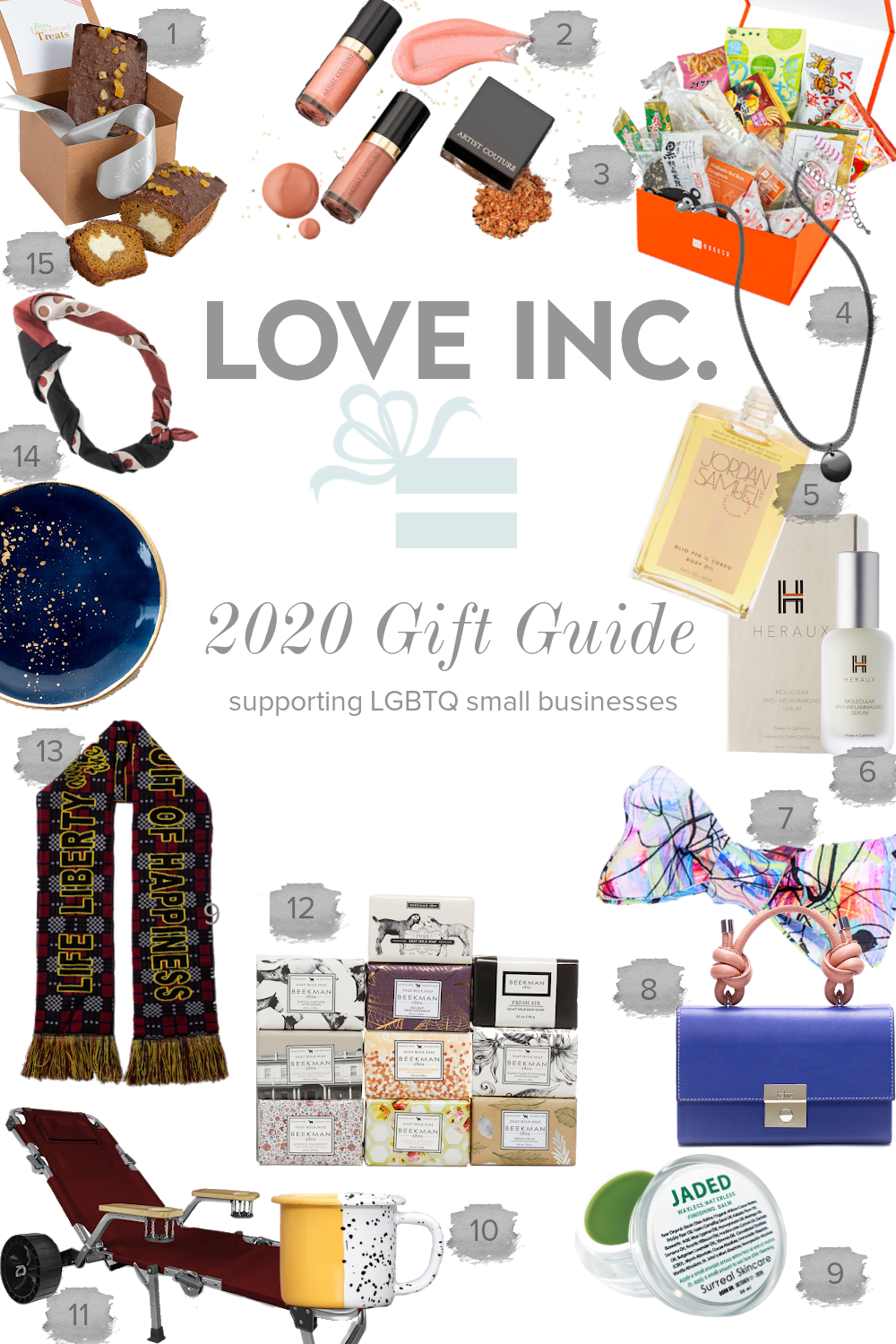 From top left, clockwise:
1. TREATS by Ron-Ben Israel: A new venture by wedding cake master Ron Ben-Israel, seasonal mini cakes, cookies and macarons are shipped from his kitchen to your door. $15-$20
2. Glow All Out Gift Set by Artist Couture Beauty: Celebrity makeup artist and influencer Angel Merino's cult-favorite products from his brand Artist Couture — Golden Hour Diamond Lights Finisher, Le Freak Diamond Lip Tease, and Shameless Plush Pout — all in one bundle for the ultimate glow up gift. $18
3. Bokksu Subscription Box: Since travel is pretty much off the table this year, bring Japan to you with Bokksu. The snack subscription box arrives at your door each month filled with limited-edition and hard-to-find artisanal Japanese treats. $135 for three-month subscription
4. JoRocco Jewelry: Unconventional and handmade, JoRocco's Andi necklace is a rock-n-roll take on charm jewelry. $50
5. Body Oil by Jordan Samuel Skin: A luxurious body oil inspired by the Italian countryside allows for effortless indulgence in your everyday skincare routine. $32
6. Heraux Serum: This patented daytime and nighttime serum is the world's first anti-inflammaging skin care product, created by stem-cell biologist Dr. Ben Van Handel PhD. The key ingredient, HX-1, works to protect stem cells in the skin from stressors that fuel aging, thereby promoting their youthful function and a more radiant appearance. $250
7. Rainbow Bow Tie by Jumper Maybach: Artist Jumper Maybach's work in bow-tie form, with the same message as his paintings: a beacon for ending hate, bullying and intolerance in the world. $95
8. Mary Bag Mini by Behno: This handcrafted top-handle bag will add a chic, structural element to any outfit and comes in a variety of colors/textures. Bonus, the brand's ethical ethos is sure to inspire. $345
9. Jaded Balm by Surreal Skincare: The latest product by Morgan Lang, the transgender physicist behind Surreal Skincare, this lush and soothing finishing balm contains a powerhouse roster of natural and ethically sourced ingredients perfect for those seeking acne and anti-aging skincare benefits. $78
10. Mind-Pop Enamel Mugs from Darling Spring: Perk up your morning cup of joe with this eye-popping mug, made with centuries-old coating methods that makes it durable to use indoors and out. $17.50
11. The Wanderr by Ome Gear: Created by partners Julie Weldon and Stacey Pierce, this eco-friendly 5-in-1 utility product plays pack mule for you during outdoor adventures. $299
12. Mini Bar 10-Piece Travel Size Soap Set by Beekman 1802: Using fresh goat's milk from their farm, partners Josh Kilmer-Purcell and Dr. Brent Ridge formulate a variety of beauty products and this gift features 10 mini goat milk soaps in an array of their bestselling scents: Fig Leaf, Honeyed Grapefruit, Fresh Air, Apricot & Honey Tea, Sweet Grass, Vanilla Absolute, Honey & Oats, Pure Goat Milk, Ylang Ylang & Tuberose, Honey & Orange Blossom. $48
13. Stadium Scarf by SOUNDOFF: The perfect stocking stuffer gift, this custom woven plaid stadium scarf by the gender-neutral streetwear brand calls for Life, Liberty & the Pursuit of Happiness. $45
14. Ring Dish by Suite One Studio: Shaped by hand, this pretty little porcelain dish features a handmade navy glaze splattered with genuine gold. The edge is delicately painted with gold, and fired in the kiln for durability. This sweet little dish is perfectly sized for holding rings and other small jewelry-sized items. $32
15. Bandana by Greige: Reviving rare, heritage natural dye hand block print techniques, the artisans behind Greige blend Asian and Western design references to create the distinctive look for these unisex bandana designs that take days to make. $49