The holiday season is officially upon us, and that means it's time to start thinking about gifts you'll actually want to give this year. For us here at Love Inc., that means supporting small businesses, and more specifically, LGBTQ-owned small businesses. We've rounded up and hand-selected the best gifts from these mom-and-mom (or pop-and-pop) shops to give you inspiration for the holidays you'll be celebrating this winter.
Needing more ideas and inspiration? Be sure to check out our past guides!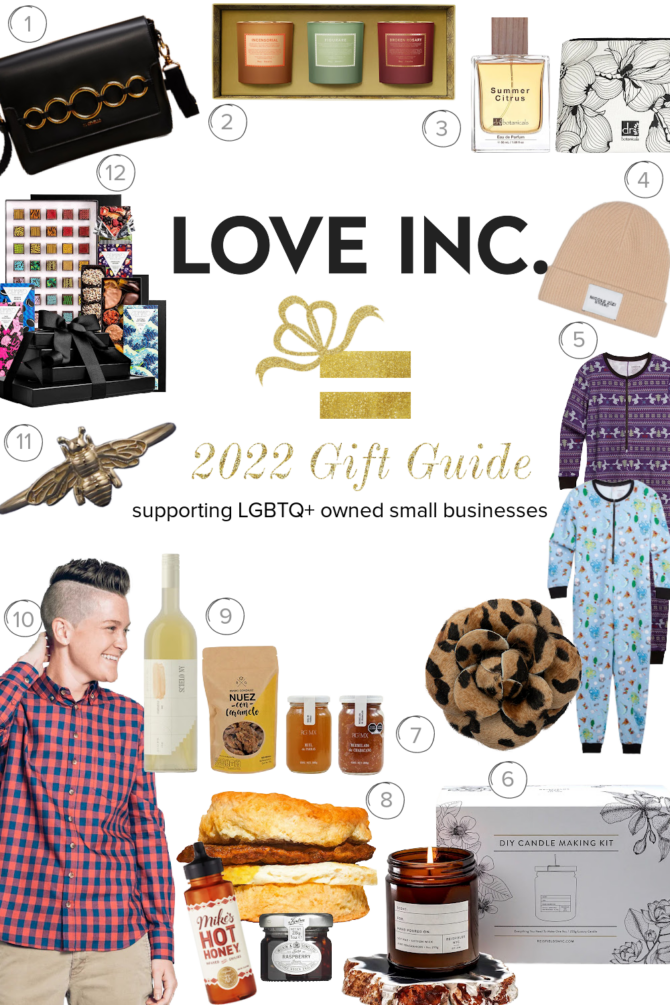 Top left, clockwise:
5 Rings of Freedom Handbag by M. Othello, $395: This stylish handbag from unisex fashion brand M. Othello comes in both black and brown, and can be worn as a crossbody or shoulder bag.
The Holiday Votive Set by Boys Smell, $66: A trio of festive scents from Boys Smell, owned by partners Matthew Herman and David Kien, will be a crowd-pleaser this holiday season. The miniature votives with beautiful metallic colors include candles Figurare, Broken Rosary, and Incensorial. Each has a complex blend of different seasonal notes like fig leaves, fir balsam, cinnamon leaf, orange peel, and nutmeg.
Beauty Bag and Citrus Summer Eau de Parfum by Dr. Botanicals, $114: For friends or family who take pride in smelling good, or maybe those who just miss the summer during the colder months, check out this gift set from Dr. Botanicals. It features their Summer Citrus Unisex Eau de Toilette, which is a luxury perfume scent said to uplift and provide feelings of happiness. It also comes with an extremely cute beauty bag with a black-and-white print.
Cream Cashmere Wool Knit Beanie by Nicole Zizi Studio, $45: This classic beanie from Nicole Zizi Studio is not your typical beanie. It's made from a merino wool and cashmere blend that is ethically sourced and produced in a windmill-powered facility. Sustainability is important to Haitian-American and LGBTQ designer Nicole Zizi, but so is fair trade. Her garments are grown, crafted, and traded in a way that provides workers fair wages while also protecting the environment.
Holiday Pajama Onesie by Tomboy X, $68: Who doesn't love a cozy holiday pajama? Tomboy X has great pajama sets, but for a really unique look, go for the holiday-print onesie. They have two delightful prints, one a holiday-esque unicorn pattern and another with goofy animals, like a narwhal and sweater-wearing wiener dog having a snowball fight. If you celebrate Christmas, give this gift on Christmas Eve so they can wear it while opening presents the next morning.
DIY Candle Making Kit by Reisfields NYC, $40: The gentle ambiance a nice-smelling candle brings to a room makes it a perfect gift for almost anyone on your list. While Reisfields NYC has wonderfully scented candles that everyone will love, we suggest the DIY Candle Making Kit this year. It's a fun activity for those who enjoy crafting, and there's something extra satisfying about creating something with your own hands.
Large Leopard Pony Hair Blooming Camellia by Fleur'd Pins, $220: Inspired by annual trips to Hudson Valley with his partner, Fleur'd Pins' creator Andrew Werner's latest collection of lapel accessories has earthy autumnal suedes and leathers paired with dark denim and (our favorite) a leopard pony hair, all locally sourced from the New York Garment District and handcrafted in NYC.
Breakfast To-Go by Mason Dixie, $115.25: Not only is Mason Dixie LGTBQ- and BIPOC-owned, but they also make it a mission to donate money, time, and resources to SMYAL, which helps stop LGBTQ+ homelessness, and Rainbow Families, which helps families support their children who are transitioning. For the breakfast lovers you're shopping for, get them a Breakfast To-Go Kit for the ultimate weekend brunch. The delicious bundle includes an assortment of breakfast biscuits, a french press, Mike's Hot Honey, raspberry preserves, and more.
NY Meets Mx White Pairing Pack by RGNY, $42.50: This North Fork winery paired some of their most popular varietals with a curated selection of gourmet products — the perfect foundation to any picnic.
Navy and Red Oakley Flannel by Kirrin Finch, $98: Challenging fashion industry norms, Kirrin Finch focuses on great-fitting clothes rather than men's or women's wear. They have all kinds of fashionable pieces in their shop, like the Oakley plaid button-up in navy and red that works as a festive outfit for the holiday season. It's not only well-constructed, but it also has eye-catching elbow pads for an upgraded design element.
Bee Ring by Automic Gold, $239: Automic Gold is a sustainable, queer-owned business out of NYC that only uses reclaimed diamonds and 14k solid gold in their designs. Shop their site for all kinds of super cute, dainty gold jewelry that will be a winner for those who are stylish and trendy. We love their Bee Ring in yellow gold, but be sure to check out their wide selection of rings, earrings, and bracelets for even more dazzling finds.
The Chocolate Aficionado Gift Tower by Compartés, $199.95: The Compartés Chocolate Aficionado Gift Tower will be a huge hit with all the chocoholics on your list. Starting production out of Los Angelos in the 1950s, Compartés is now run by gourmet chocolatier Jonathan Grahm who is basically a real-life Willy Wonka. The outstanding gift tower has Compartés best-selling sweets, including a 40-piece box of signature truffles, four signature candy bars, a 1/2 lb of chocolate-dipped fruits, and a mini box of traditional chocolates.
Written by Rebecca Rovenstine