Happy Pride, everyone! Each year, I notice more and more brands taking part in celebrating Pride Month. And while that may seem like a good thing, my question for them is, "what are you doing the other 11 months out of the year?"
Sadly, so much of what we now see during Pride Month is rainbow capitalism — a rainbow-washing of products, perhaps with a small give-back to an LGBTQ+ organization, but overall, the intention is to sell more merchandise and to appear inclusive.
As I've always said, if you're doing it to make yourself look good, you're doing it wrong.
In our past Pride Guides, we've always exclusively featured brands that give back to the LGBTQ+ community, but this year, we wanted to ensure that we were showcasing brands that show that support year-round.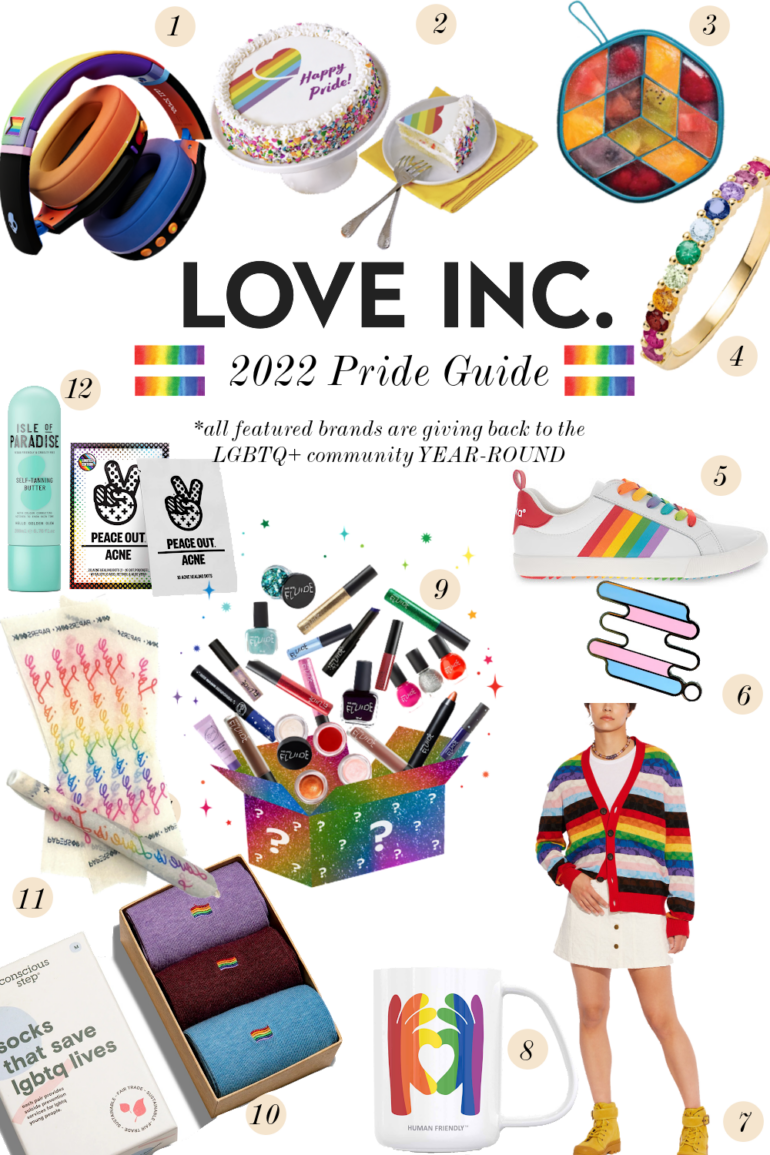 1. Skullcandy Inequality Crusher Headphones, $209: The fan-favorite wireless headphone company has launched a rainbow colorway headphone set (available year-round), and is donating a portion of proceeds toward To Write Love On Her Arms, which funds LGBTQIA+ mental health programs.
2. Bake Me a Wish Pride Cake, $65: Send your sweetie some sweets via Bake Me a Wish, a leading national gourmet gifting company that donates year-round to the Ali Forney Center, the nation's largest LGBTQ+ teen and young adult homeless shelter and services organization. The Happy Pride cake is a funfetti base with delicious vanilla frosting but if cake isn't your jam, they have a medley of dessert options, such as cheesecakes, brownies, pies and more.
3. HuBee Beehive Mini Ice Tray (2-pack), $6.89: Just in time for those summer sips, this mini ice tray's flexible silicone makes it easy to remove ice, and comes with a cover for easy stacking. One-hundred percent of sales from this product are going to their LGBTQ+ organization partners (The LA LGBT Center, The Trevor Project and SAGE), in addition to the environment-friendly's lifestyle brand's year-round giving.
4. Haverhill Rainbow Rosecliff Ring, $590: Haverhill Jewelry is giving back 10% of the purchase price for their entire Rainbow Collection (available year-round), which will be donated to The Trevor Project, an organization dedicated to helping and supporting LGBTQ+ young people under 25.
5. Chooka Pride Footwear, $56: Chooka has launched their first-ever Pride footwear collection, featuring waterproof sneakers and boots that are all hand-constructed in classic rainbow coloring. They have an ongoing community commitment with Lifelong, a nonprofit providing the Seattle LGBTQ+ community in need with services and support.
6. Bianca Design Shop Enamel Pins, $11.95: Not only is artist Bianca Negron a member of the queer community, they give back to it as well. Through sales of their inclusive, art-driven products, which range from pins to stickers and patches, they give back to Marsha P Johnson Institute, The Audre Lorde Project, Deaf Queer Resource Center, and more.
7. Coach Rainbow Signature Cardigan, $450: Coach has released their annual Pride collection featuring a beautiful selection of signature bags and ready-to-wear items. Through their Coach Foundation, they have a continuous partnership with the Hetrick-Martin Institute, Point Foundation and CenterLink Community of LGBTQ Centers to create supportive environments where LGBTQ+ youth can thrive.
8. Curvd Ergonomic Pride Mug, $19.95: Start your day with Pride by sipping coffee out of this award-winning mug, which has a unique design that transfers the weight of the drink to the muscles instead of the joints. The patent-pending design allows for minimal effort to pick up, allowing accessibility to elderly and those with disabilities. A portion of proceeds (no less than 25%) will be donated to SAGE USA, a non-profit group dedicated to improving the lives of LGBTQ+ elders, throughout the year.
9. We Are Fluide Pride Galaxy Box, $19.99: We Are Fluide was specifically created to showcase and celebrate queer and gender non-conforming beauty, with each seasonal campaign structured around an LGBTQ+ non-profit partner (past ones include For Our Sibs, Black Trans Femmes in the Arts, For the Gworls). For Pride, they've introduced their Pride Galaxy Box, which is packed with a bevy of beauty items from lipsticks to mascara to nail polish, including their popular Pride Glitter Trio which represents colors of the trans flag.
10. Conscious Step Socks That Save LGBTQ Lives, $39.95: Walk with Pride with Conscious Step's sophisticated sock bundle that gives back. One of their bestselling collections, Conscious Step's Save LGBTQ Lives collection is in partnership with The Trevor Project.
11. Papers & Ink Pride Rolling Papers, $14: These stylish rolling papers challenge the stigma around cannabis usage, and their Pride collection features gorgeous, fashion-forward rainbow designs on 100% organic hemp paper. Papers & Ink donates five percent of proceeds year-round to organizations that support trans rights and LGBTQ+ creatives.
12. Peace Out to Paradise Set, $40: A collab between two LGBTQ-owned businesses — self-tanning brand Isle of Paradise and Peace Out, a skincare brand known for their targeted solutions — this bundle includes their best-selling items with a Pride twist. An ultra-hydrating self-tanning butter that gradually self-tans, color corrects, and illuminates and Peace Out Acne Dots, which tackle your pesky breakouts in 6 hours or less. Both brands will be donating 20% of the set proceeds to The Trevor Project and Peace Out has a year-round partnership with The Trevor Project and the SF LGBT Center.