We're excited to share our annual Pride Guide, featuring brands that give back to the LGBTQ+ community, year-round!
We hope everyone has had an amazing month celebrating our community! As we close out Pride Month, so does the give-back initiatives to the LGBTQ+ community from the majority of brands showcasing their annual support. But, as we all know, Pride lasts 365 days, so we're back with our annual Pride Guide that rounds up products  from some of our favorite brands that give back year-round. (And check out past Pride Guides here for more supportive shopping inspo!)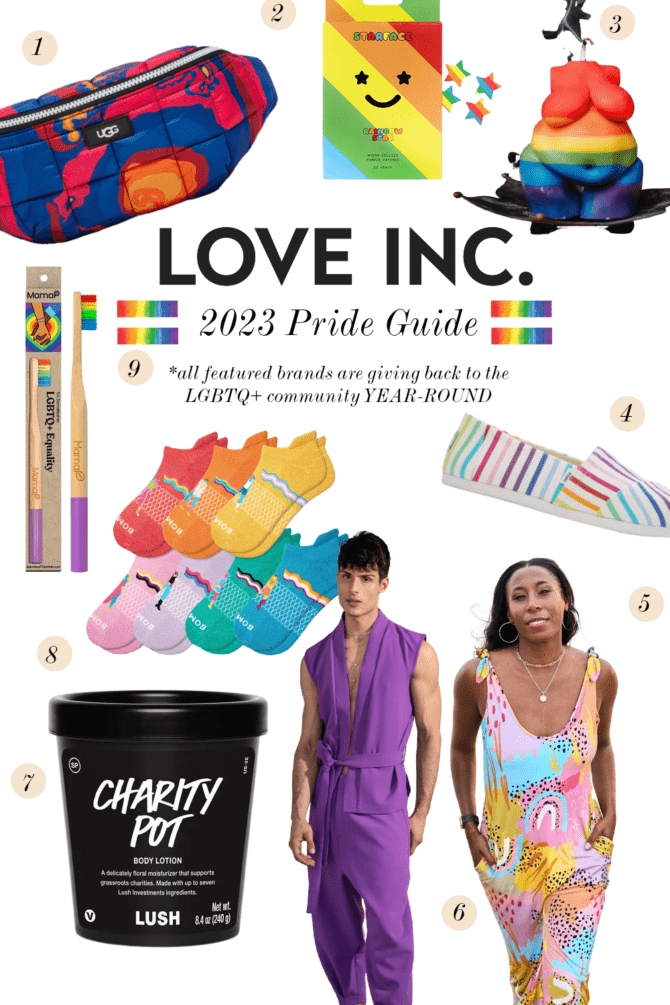 Ugg Gibbs Belt Bag Puff, $54.99: We love Ugg's Pride-Ready Style Collection, that features trendy clothing and accessories, such as this belt bag. But what we love more? That Ugg gives back year-round to partners such as The Trevor Project, It Gets Better Project, and Pacific Pride Foundation.
Starface Rainbow Hydro Stars, $10.99: Available year-round, all net proceeds from this pack of cult-favorite hydrocolloid pimple patches are allocated to the Black-Led Movement Fund and the Hetrick-Martin Institute for LGBTQ+ Youth.
CTOAN Pride Candle, $36: While CTOAN's Pride Collection is not to be missed, founder Jodyann Morgan's entire collection of lovingly hand-poured, trans-inclusive, gender-free soy candles is gift-worthy. For each seasonal collection, CTOAN chooses a different small non-profit or mutual aid fund to give back to, with a focus on trans, Black and queer organizations with this year's Pride collection benefiting Point of Pride, an organization dedicated to providing direct financial assistance to transgender people who cannot afford transition-related care.
Toms Alpargata Unity Espadrille, $59.95: For every pair sold, like these brightly patterned, easy-to-wear slip-ons, Toms gives back through their year-round partnerships with LA LGBT Center, ProjectQ, Colors LGBTQ Youth.
MiliMili Rainbow Romper, $140: The latest addition to their collection with Jesse Tyler Ferguson and Justin Mikita that gives all sales profits to Pronoun.org, this adorable romper is a colorful addition to your summer wardrobe.
ORTTU 'Hugo' pants ($210) and 'New York' vest, $185: The gender-fluid clothing brand donates 1% of each sale to a 1 of 4 charities at every checkout year-round, including Callen Lorde which benefits LGBTQ+ community by promoting and providing health education and wellness. And we are obsessed with this chic and minimalist look.
Lush Charity Pot, $32: Luxuriously light with a delicate floral scent, when you indulge in Lush's body lotion, you're also giving 100 percent of the sale price to a trans rights cause.
Bombas Pride Flag Ankle Socks 7-pack, $86.45: Each purchase from this year-round collection gives back to the Ruth Ellis Center. This organization provides much-needed resources for young LGBTQIA+ people experiencing homelessness, and offers spaces where they can feel safe and cared for—where they can celebrate their Pride and let their light shine, every day.
MamaP Bamboo Toothbrush, $5.99: MamaP creates eco-friendly alternatives to everyday beauty products with an entire collection devoted to Pride featuring these chic bamboo adult and kid toothbrushes. Five percent of every purchase is donated to The Trevor Project year-round.
Cover photo by Lisett Kruusimäe