Happy Pride, everyone! I'm stoked to introduce this year's Pride Guide, featuring some of our favorite products from brands that are giving back to the LGBTQ+ community.
After years of standing on my soapbox, I'm happy to see a ton of companies donating a portion of their sales this year instead of simply slapping a rainbow on a product and calling it a day. (Remember, before you make your Pride purchase, always make sure that the brand is actually giving back to the LGBTQ+ community.) But no homework needed when it comes to our Pride Guide because we've vouched all companies and they're all giving back to fantastic organizations such as The Trevor Project, Trans Women of Color Collective, Athlete Ally and more.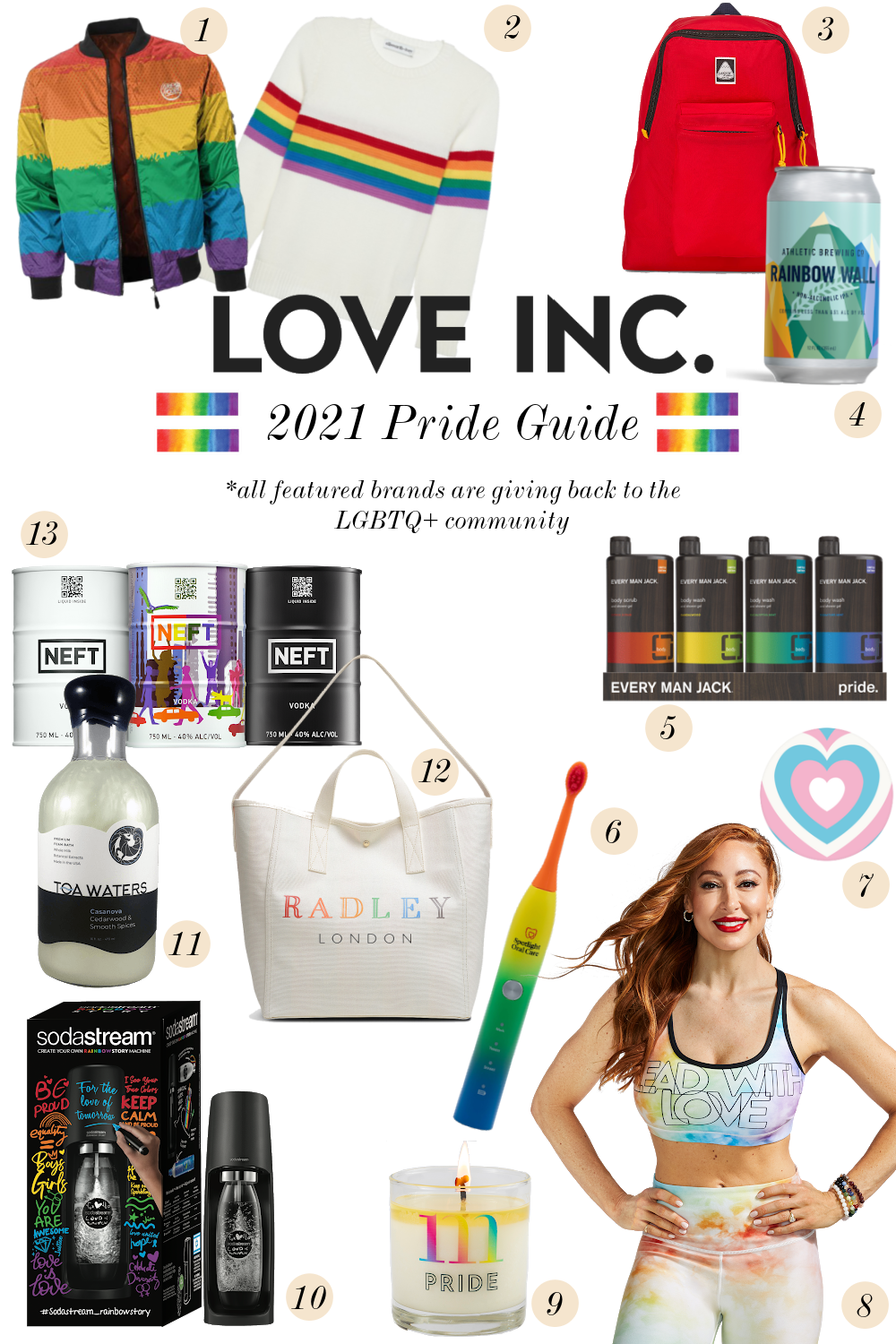 1. Streetwear brand Fresh Hoods has created an extensive Pride collection featuring bomber jackets, cropped hoodies, tanks, jerseys, sweatpants and more, all in their iconic graffiti-inspired designs, with 20% of sales going to True Colors United, a nonprofit who implements innovative solutions to LGBTQ youth homelessness.
2. Get cozy this Pride with Ellsworth + Ivey's chic rainbow sweater, with 15% of sales being donated to The Trevor Project, a national organization providing crisis intervention and suicide prevention services to LGBTQIA+ youth.
3. For every product sold on JanSport.com this month, $1 will be donated to The Trevor Project, an organization that serves and supports the mental health of diverse LGBTQ youth, so now is the perfect time to stock up on summer travel bags, outdoor accessories and back-to-school gear. Our pick? The new sustainable Surplus Ski n' Hike Collection, which revitalizes the iconic JanSport style made entirely of excess supplies from their factory.
4. Athletic Brewing Company, an all-natural, non-alcoholic beer brand, teamed up with LGBTQ+ Olympic climber Alex Johnson to create the Rainbow Wall brew, a slightly hazy IPA with a clean malt bill and soft, tropical fruit notes. All proceeds from Rainbow Wall sales will go to Athlete Ally, an organization working to create inclusion for LGBTQ+ in sport through education, policy and athlete activism. "At least 80% of LGBTQI+ athletes are not comfortable coming out to their coaches. Growing up in the Midwest, I was one of those athletes," said Johnson. "Athlete Ally is such a great organization, and I am excited to present this beer to the queer community to say that we see you and we support you."
5. Cult-favorite grooming brand Every Man Jack has launched a gender-neutral Pride Pack fearing their body wash in four delicious fragrances: Citrus Scrub, Sandalwood, Eucalyptus Mint & Signature Mint. With every purchase of this beautiful rainbow set, Every Man Jack will be donating 25% of their proceeds to Rainbow Railroad: an organization that offers love and guidance to lesbian, gay, bisexual, transgender and queer individuals helping them escape violence and persecution in their home countries.
6. Spotlight Oral Care reimagined their Sonic Toothbrush to celebrate the LGBTQ+ community. The design features a graduated rainbow blend, complete with a purple travel case and orange Spotlight Sonic Toothbrush Replacement Heads, and 100% of profits are being donated directly to LGBTQ+ charities and organizations.
7. Take those selfies while showing off your Pride with PopSockets' designs within their Poptivism initiative, which gives back 50% to a charity such as this trans heart created for Trans Women of Color Collective.
8. Clip in for those Pride rides rocking rainbows with Peloton's 2021 Pride apparel collection, featuring 14 looks modeled by LGBTQ+ instructors (and my personal faves) Jess King and Cody Rigsby. Peloton is donating $100,000 to support The Ali Forney Center in New York, The 519 in Toronto, London Friend in London and GLADT in Berlin.
9. LGBTQ-owned self care + home brand Mixture has created a special-edition handmade Pride candle that is the perfect balance of tarragon and comes with a rich of bergamot, coral and fresh ozone, and donating to The Trevor Project.
10. SodaStream has launched an entire Pride campaign, partnering with RuPaul's Drag Race star Heidi N Closet and entertaining expert Paul Zahn to create craft cocktail recipes using their Rainbow Story limited-edition sparkling water maker kit, as well as teaming up with Laverne Cox to share her story through a beautifully animated film entitled, Rainbow Story. The limited-edition Pride water maker kit features a sleek matte black design and come with a special pack of six rainbow markers, inviting consumers to personalize their machines by writing or illustrating their personal Pride stories. A portion of proceeds will be donated to ILGA World, a global LGBTQI+ NGO.
11. Newly launched LGBT-owned business TOA Waters creates premium "brawny scented" bubble baths and to celebrate Pride Month, 10% of their net sales of their most popular product, Casanova, will be donated to the HRC. This bubble bath blends the freshness of citrus, the soft sensuality of thyme & lavender, and the warmth of cedarwood & tonka bean.
12. Perfect for summertime, with each Beach Close Pride Tote purchased, Radley London will be donating 20% of proceeds to Stonewall Community Foundation to support queer advocacy, awareness and empowerment programs.
13. Creatively putting their award-winning, ultra-smooth vodka in barrel packaging (including a Pride Barrel that is available year-round), emerging brand NEFT is making waves in the sipping vodka category, while promoting their give-back mentality to the community by donating to organizations such as GLAAD.