I'm so excited to introduce to you our 2019 Holiday Gift Guide! Just as we've done in years past, we're once again focusing on LGBTQ-owned small businesses, because here at Love Inc., we truly believe in the importance of putting your money where your mouth is.
We've curated 10 amazing LGBTQ-owned shops that offer gifts for everyone on your list, from cult-followed beauty brands, diversity book subscription for any kids in your life, snacks even the most discerning foodies will approve and more.
Happy equality-minded® shopping everyone!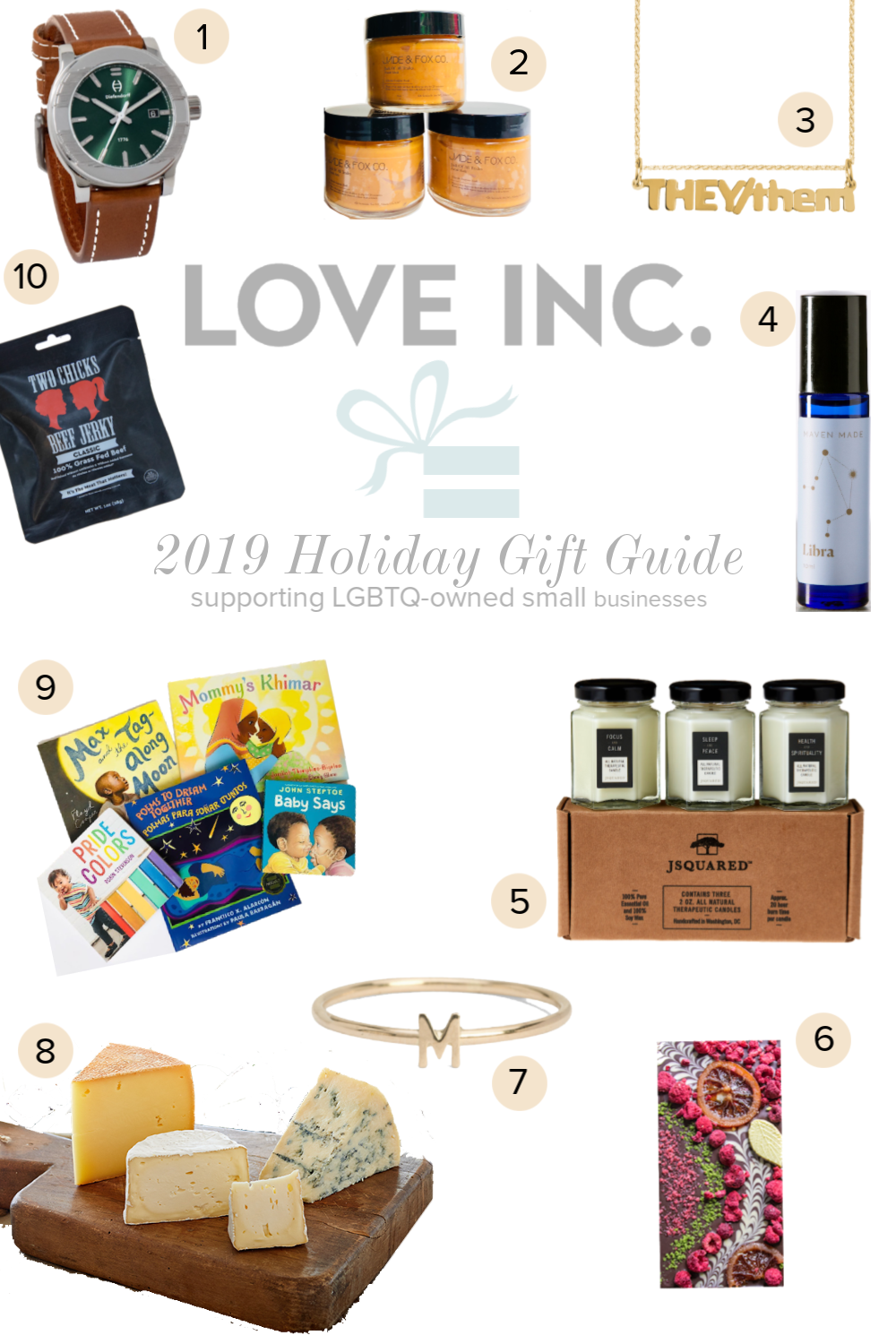 From top left, clockwise:
Luxury watch by Diefendorff: Whether you're proposing or wanting to give an extra special gift this holiday season, we love the timepieces created by gay entrepreneur James Reeves, who started Diefendorff because "we want to do business the way companies should: respect the environment & people, improve communities and fight for the future." Diefendorff has a 10% give back to charity commitment and they are a carbon-neutral watch company.
Beauty products from Jade & Fox Co.: This Atlanta-based apothecary has a cult following who swear by their face masks and body soufflés.
RORY ROCKMORE jewelry: Show pronoun pride with these pronoun necklaces ($240) — they/them, she/her, he/him — made by celebrity jeweler Rory Rockmore.
Astrology Blend Roll-Ons by Maven Made: Whether you have a passionate Scorpio or an indecisive Libra to buy for, this queer-owned company has crafted aromatic botanical oils to help ground, balance or amplify zodiac-related energies.
Jsquared Naturals Candles: LGBGTQ-, immigrant- and veteran-owned, this D.C.-based company sources natural ingredients for their products. Can't pick a favorite scent? You don't have to! With the sample pack, you have your choice of three from their signature scents.
Lagusta's Luscious Chocolates Holiday Bark: This artisanal chocolate boutique's seasonal holiday bark ($20) is an edible work of art, overflowing with candied citrus, candied mint, cranberry, and hibiscus, delicious tart organic raspberries, a green white chocolate leaf, and swirly fronds of white chocolate. And don't miss their caramels, fudge and bonbons!
Rosey West Monogram Jewelry: While this Love Lister may be known for his engagement rings, designer Michael Dougherty also creates initial jewelry featuring one, two or three letters, that make for a truly beautiful and personalized gift.
Cowgirl Creamery: I had the opportunity to visit Cowgirl Creamery in-person for Love Inc.'s V6 issue, and was thrilled to learn their California cheeses can be enjoyed across the country. Browse their carefully curated cheese collections to have shipped to a very lucky someone.
OurShelves Book Subscription: It's important for children to see themselves and their family in the books they read, as well as children and families who look different from their own. Yet, as a parent, I can tell you just how difficult it is to find diversity in children's books, which is why I love this particular book subscription that features beautiful stories starring diverse characters, perfect for the littles in your life.
Two Chicks Jerky: Whether you have an outdoorsy person to shop for, or looking for the perfect stocking stuffer, we love supporting this women-owned business in a male-dominated industry.
Want more gift ideas? Check out our past holiday gift guides for more LGBTQ-owned small businesses to shop from!