The season of giving has arrived. And there's nothing like giving a gift that also gives back and supports the communities you care about. So for this year's holiday gift gift guide, we're featuring nine products from LGBTQ-owned small businesses that would make wonderful gifts for your nearest and dearest. From organic, gender-neutral skincare and tasty vegan chocolates to statement accessories that will make any outfit pop, this year's guide has gifts for everyone on your list, and we've even scored some discount codes for you so you can stretch that holiday budget just a little bit further. So scroll on through and check out what we're loving from LGBTQ entrepreneurs this year!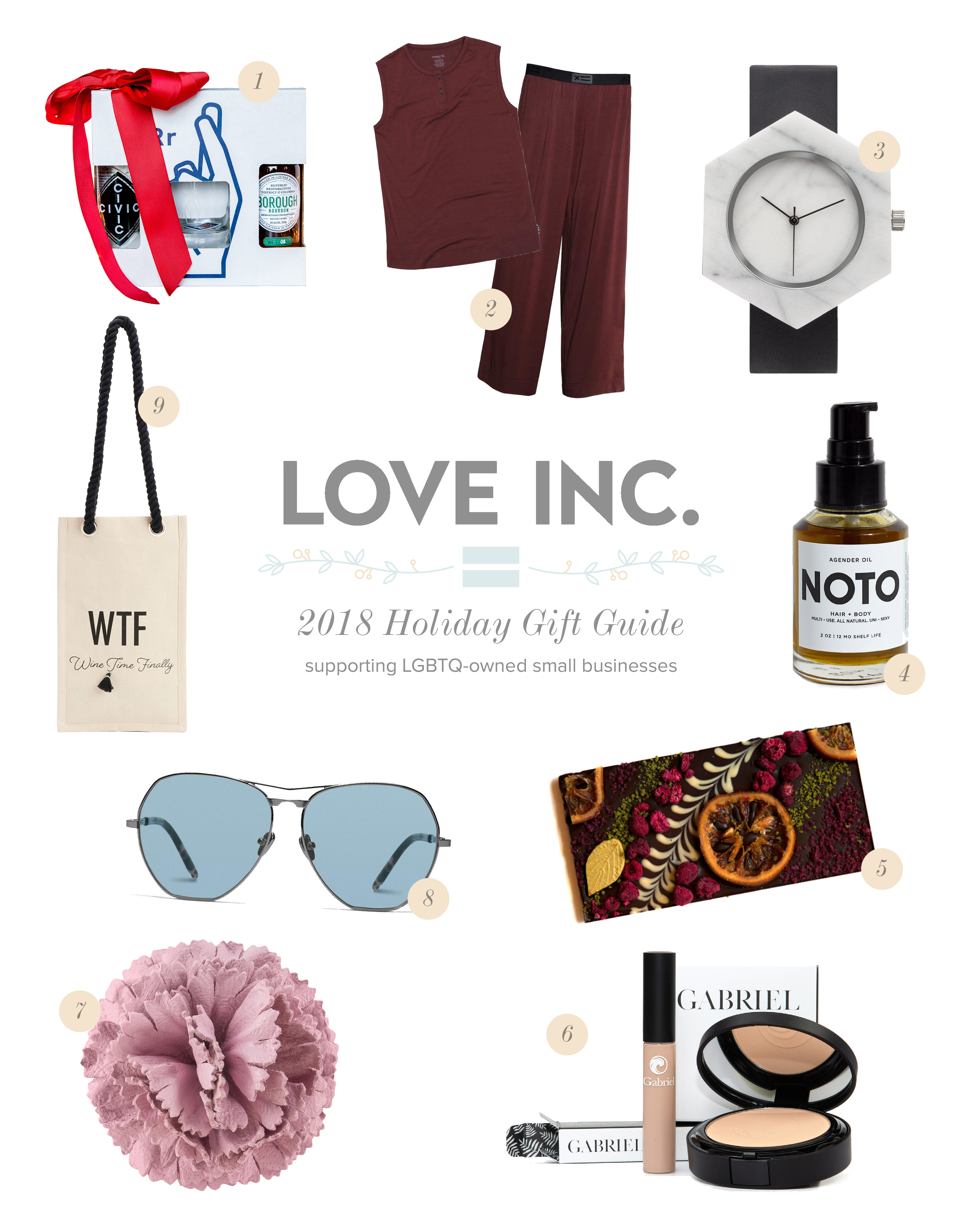 In the heart of Washington D.C., the women- and LGBTQ-owned Republic Restoratives is a small-batch distillery and cocktail bar with the mantra that cocktails create community. For the holidays this year, they've curated a gift set for the sophisticated sipper that includes two bottles of their Borough Bourbon and CIVIC Vodka as well as a branded tasting glass. Founder Pia Carusone, who previously worked as Arizona Congresswoman Gabrielle Giffords' chief of staff, plans to donate a percentage of the proceeds form the $40 gift set to an anti-gun violence nonprofit.
2. Pajama Separates by TomboyX, $34-$48
The founders of TomboyX, Fran and Naomi, had a simple idea in mind when they created the gender-neutral underwear company — to create underwear that's comfortable for everyone regardless of where they fall on the size chart or gender spectrum. They've since expanded from undergarments to sleep and loungewear as well as active and swimwear, all of which are size inclusive, ranging from sizes XS to 4X. Pajamas are a go-to holiday gift, and customers rave about TomboyX's pajama separates, exclaiming they're extremely comfortable and, as one happy customer put it, softer than puppies. Take 15% off your order until 12/31 with the code TOMBOYLOVE.
Analog Watch Co. is changing the watch game with what they call minimal, functional sculptures for the wrist. Their unique collections boast an array of materials, from wine-infused cork for a one-of-a-kind band to bamboo and teak wood watches that are sleek and stylish. In addition to their gender neutral watches, they also make floral cuffs, sunglasses and rings, but it's their modern marble watches that have truly caught our eye. Founder Lorenzo Buffa is also dedicated to giving back, and with the purchase of a wood, marble or classic watch, a portion of the proceeds go toward planting trees, mineral conservation and environmental education. Take 15% off your purchase with the code LOVE15.
Celebrity makeup artist Gloria Noto's gender-fluid, vegan, cruelty free and multi-use cosmetic line, NOTO Botanics, is chock full of oils, serums and mists that are made using natural and organic ingredients that nourish the skin. We particularly love NOTO Botanic's Agender Oil, a smoky and sweet concoction with organic hemp oil and lavender that softens and promotes healthy hair growth anywhere on your body. The Agender Oil is also the company's first non-profit product, meaning every month Gloria chooses a social, cultural or environmental cause to donate 100 percent of the profits to.
Vegan chocolatier Lagusta Yearwood started selling her beautiful artisanal chocolates in 2003, proving that chocolate can be still be vegan and delicious in addition to works of edible art. They sell a variety of tasty delicacies, from toffee and bonbons to hand dipped chocolate dreidels and holiday bark for the holidays. Their holiday bark in particular is a treat for the eyes, topped with candied citrus, mint and hibiscus along with tart organic raspberries and swirls of white chocolate. Lagusta and her team run a completely vegan business and are committed to socially and environmentally conscious practices, sourcing eco-friendly materials and 100 percent post-consumer recyclables when it comes to packing their delicious chocolates as well as sourcing local organic produce for ingredients.
Gabriel Cosmetics' Tool Kit is something everyone should have in their makeup bag or dopp kit. The kit includes a concealer and powder, available in six different shades, that when used together can flawlessly cover up any skin irregularities. Founder Gabriel De Santino knows a thing or two about skincare after launching his first skincare line in 1992 with cruelty-free, vegan and all natural products. And 26 years later, Gabriel Cosmetics is now a flourishing cosmetic company that promotes sustainability and healthy living. For 15% off until 12/31, use the code LOVEINC15.
7. Floral Lapel Pin by Fleur'd, $100
These floral lapel pins were born out of a desire to stand out. Founder Andrew Werner, who works as a celebrity and product photographer, was tired of seeing the same variation of menswear outfits on red carpets and at gala events. To add a little pizzazz and personality to his attire, he started crafting leather, burlap, suede and even tweed into floral designs for an eye-catching lapel accessory, and it wasn't long before he built up an avid customer base.
8. Aviator Sunglasses by Coco and Breezy , $255
Twin sisters Corianna and Brianna Dotson founded Coco and Breezy in 2009, and their stylish shades were an instant hit, quickly landing in the pages of publications such as Vogue and Harper's Bazaar. Their edgy and modern designs have caught the eyes of many, including their 95K Instagram followers and chocolate manufacturer Hershey's with whom they designed colorful Jolly Rancher- and Twizzler-inspired sunglasses that sold like crazy. The sisters have been there for each other through thick and thin, and in an Instagram post for Pride, they even shared how it was the unwavering support from Corianna that helped Brianna come out to her family and friends.
The holiday season wouldn't be complete without festive cocktails and smooth bottles of wine, which is why this charming wine tote from Coco + Carmen couldn't be a more apt holiday gift. Just pop a bottle of your favorite velvety red or crisp, fruity white into this tote and you'll never have to worry about showing up to a holiday party empty handed ever again!
Written by: