When deciding on this year's holiday gift guide focus, I took a look at the world around me. We live during a time when there are 32 states where LGBTQ people are not protected, and where the federal government actively takes step to discriminate. Stories fill our feeds of hate crimes and transgender youth taking their life. And while putting our money where our mouth is is only a start, it's still a start — whether that's donating to our favorite organization or **drumroll please** shopping and supporting LGBTQ-owned small businesses. And with that, I'd like to introduce our 2017 Holiday Gift Guide. Each of these products are created with love from LGBTQ small business owners, and we've featured an array of gifts to hit everyone on your list and help you sleigh your holiday shopping.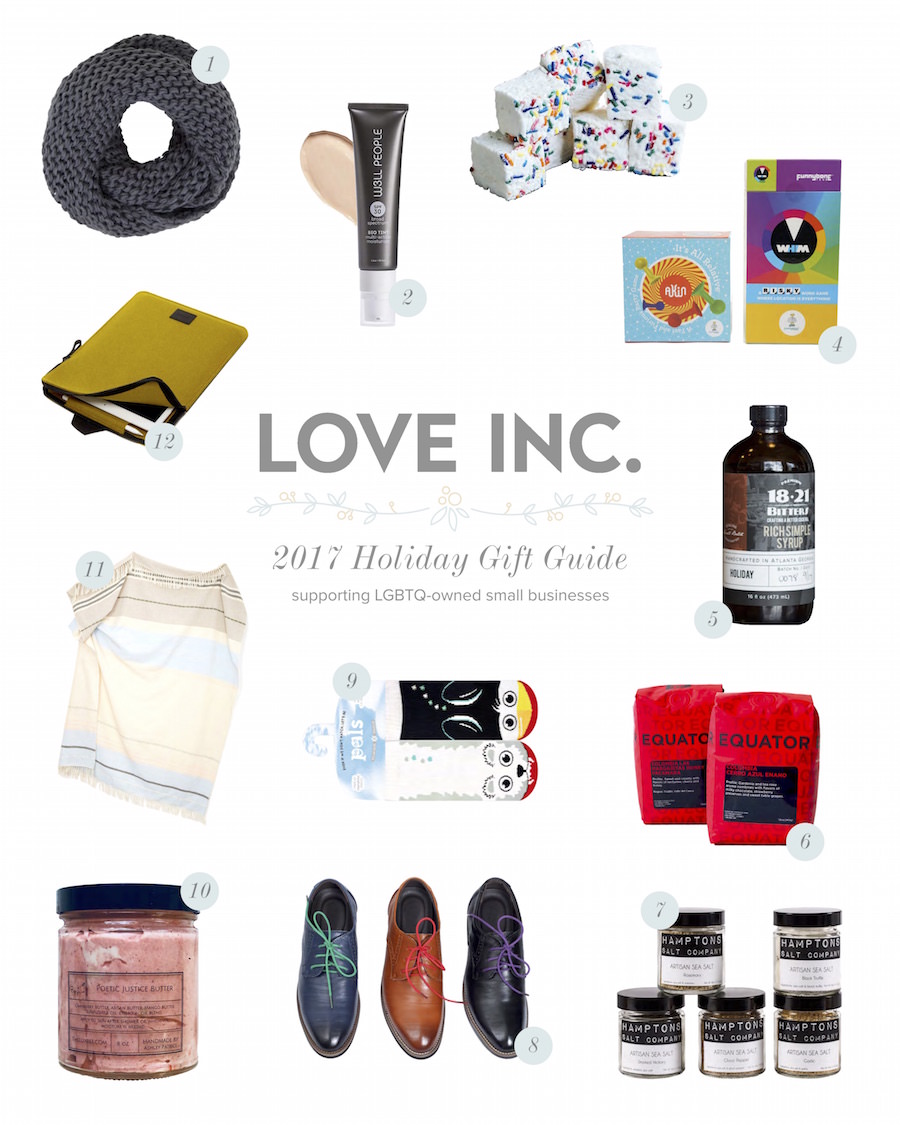 From top left, clockwise:
Chunky infinity scarf by Oak, $48: Owners Jeff and Louis are known for their creative class clothing. You will find great basics in their store, like quintessential leather moto jackets, city-friendly shoes, and casual bags.
Bio-Correct Multi-Action Concealer by W3LL People, available at Target for $22.99: We love the natural, no-makeup vibe about this line of beauty products. Co-founder Shirley Pinkson told Curve magazine, "I've worked with a lot of lesbians who don't want to wear makeup. But what they do want is, they all want to look good! Everybody wants to look good. It's not about making them different from who they already are. Your makeup should never precede you in the first place. The biggest compliment I get about W3ll People, is that when I put it on somebody, they don't feel it. I can touch my face and it doesn't transfer onto my hands. We have a very minimalistic approach to beauty. It's a creative and mindful approach—not cosmetic."
Marshmallows by 240Sweet, $10: Back in 1989, Sam and Alexa met working side-by-side at Alexa's father's catering company. According to Alexa's dad, Sam's "main job duty was to keep his spirited daughter out of trouble." While we're not sure if they abided by his request, we think it's safe to assume that things worked out pretty well for these two, who continue to run several food/beverage companies, including marshmallow biz 240Sweet, which houses flavors such as birthday cake (seen here), caramel macchiato, and bourbon cinnamon.
Games by Funnybone Toys, $15-$30: Founded by Julien and her wife Alex several years ago, the wife-and-wife team wanted to create a line of games that were visually as beautiful as they are fun to play. Perfect for family game night!
1821 Bitters, $9.99-$22.99: For those who love to play bartender, 1821's small-batch cocktail additives will amp up any home bar. This wife-and-wife team takes drinking seriously, hand-producing bitters, tinctures, shrubs, syrups and more, and has recently launched a special holiday-flavored syrup made of cranberry, rosemary, clove and orange.
Equator Coffee Collection, available at Williams-Sonoma for $54.95: Helen Russell and Brooke McDonnell's Equator Coffee became the first LGBT-owned company to be named the nation's Small Business of the Year, and it's not hard to see why. This Bay Area-based coffee company has a serious cult following, and handing out bags of their roasters will score you major points this holiday season.
The Flavor Seeker by Hamptons Salt, $39.99: Founder Peter Pierce created the company after discovering consumer table salts were stripped of natural minerals and included potentially unhealthy added chemicals. With more than 20 varieties, Hamptons Salt's all-natural sea salts encompass the sweet and the savory, the spicy and the mellow, and is sure to delight any foodie on your list.
Tomboy Toes, $67-$98: After unsuccessfully shopping for a pair of dapper oxfords that were, by society's terms "men's shoes" for her small feet, founder Lauren Craig launched Tomboy Toes, a dress shoe company that suits style and size. The company's mission is to make sure women, trans men, nonbinary people and anybody else with smaller feet to never again have to settle for shoes that are only kind of what they want.
Pals Socks, $9: These mismatched character socks encourage the amazing idea that people don't have to be the exact same to be friends. Founder Hannah Lavone was inspired by her bullied childhood, and wanted to bring a teachable moment to children's attire (as well as some fun!).
Poetic Justice Butter by BeeLux Goods, $26: The queer-owned holistic beauty company provides skin and body care lines for all genders, using honey provided by local Georgia bees. Their Poetic Justice Butter is naturally colored with cranberry butter and pink rose gold mica, and is ideal for anyone looking for that special "glow" while receiving light, absorbent moisture that comes packed with vitamins.
Elaine Throw by MINNA, $100: Designer Sara Berks lives in upstate New York with her wife Steph and travels to Guatemala and Mexico several times a year to work closely with her artisan partners. Her designs of blankets, kitchen linens, pillows, scarves and rugs are inspired by feminist art, the Bauhaus, traditional craft, and vintage textiles.
Wool Felt iPad Sleeve by Graf Lantz, $115: Design duo Holger Graf and Daniel Lantz sculpt classic products out of an unexpected material: merino wool felt. The result is trendy takes on tried-and-true gift ideas.
*Editor's Note: This post contains affiliate links. Each time you purchase an item via our affiliate links, Love Inc. is receiving a small percentage of the sale, thus you are helping our small, equality-minded business grow and allowing us to provide more content for YOU! Isn't that just fantastic?