Perhaps more than any other year in recent history, this year tested us — our beliefs, our hope, and our ardor for change. Flood gates were open demanding change for the LGBTQ community, for women and for the environment. And because 2018 is gearing up to require that same passion, we've put together a guide of our favorite products for gifting all of the activists in your life.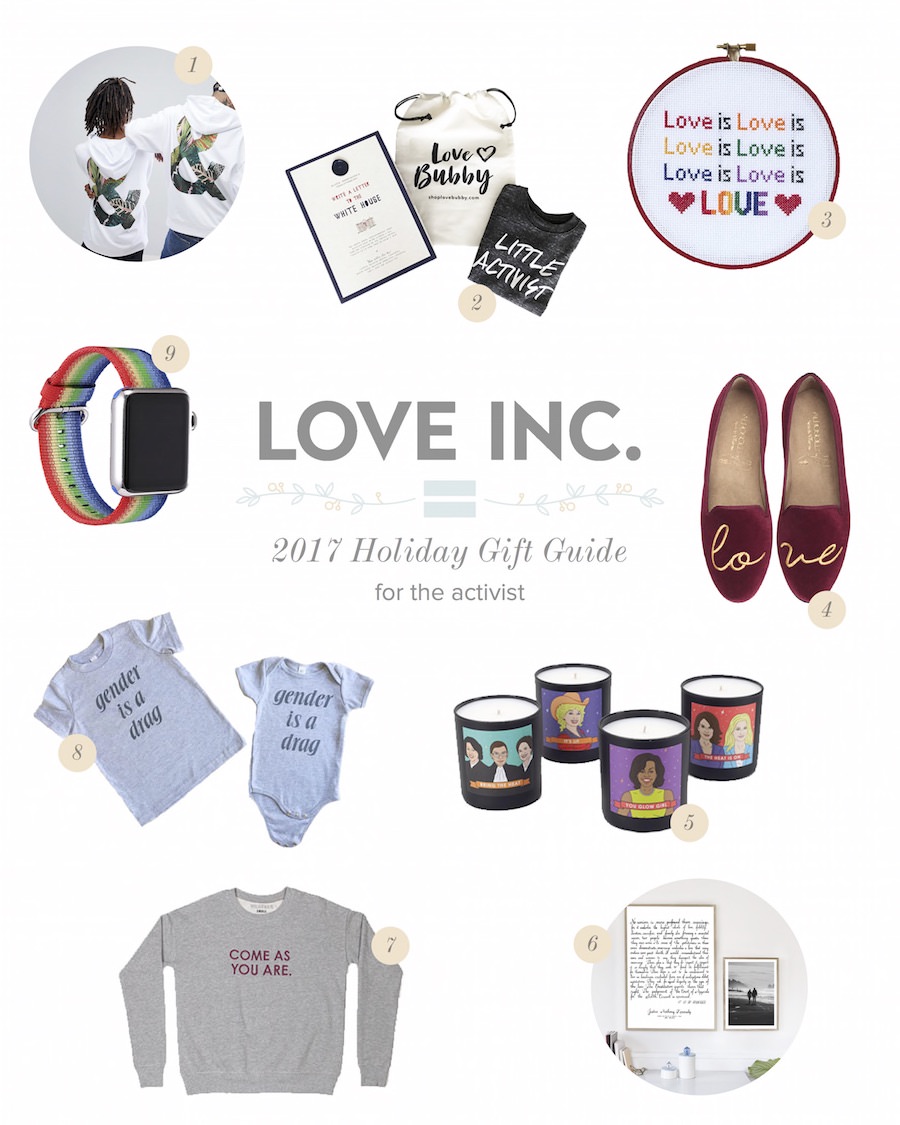 Ampersand Oversized Hoodie by GLAAD for ASOS, $48 from Asos.com: Asos.com teamed up with LGBTQ rights organization GLAAD to create a collection that is comprised of clothing and accessory pieces featuring the "&" symbol, which represents the power of all our voices, together, resisting discrimination and hate, with a portion of proceeds going directly toward GLAAD.
Write to the White House Kit, $26 from Mr. Boddington Studio: For your activist-in-training, this lovely box includes five letterhead sheets, five envelopes, sticker sheets, an informative booklet about the White House with tips for writing the President, and a special pin.
Love Is Love Cross Stitch Hoop, $37 from Etsy: Show pride via cross stitch with this Love Is Love hoop from Etsy artist Bananya Stand. And take a peek at the rest of her shop, which is filled with witty and hilarious designs.
Betunia Smoking Loafer, $59 from Aerosoles: Wear your heart on your sleeve, er feet, with this pair of velvet smoking shoes elegantly scripted with "LOVE."
Badass Babes Candle, $28 from Wildfang: From Michelle Obama to Dolly to the kickass Supreme Court Justices, these candles are here to light the way and be a flame of hope in the coming year.
Love Wins Quote Art, $20 from Etsy: The words from Justice Kennedy on June 26, 2015 for the Obergefell v. Hodges decision beautifully painted a picture of what marriage meant … for all. This piece of art is the inspiring — and historical — verbiage that brought marriage equality to our nation, beautifully scripted in calligraphy.
Come As You Are Sweatshirt, $70 from Wildfang: This comfy crew encourages you to do you.
Gender Is a Drag tee, $25 from Otherwild: Ensure little ones don't fall into the societal gender norms without sacrificing cuteness with these kids' tees and onesies.
PRIDE Rainbow Classic NATO Bands for Apple Watch, $24.95 from Clockwork Synergy Straps: If you missed the limited edition Pride band from Apple, which was stripped from shelves this fall, you can get a similar style (for half the cost!).
*Editor's Note: This post contains affiliate links. Each time you purchase an item via our affiliate links, Love Inc. is receiving a small percentage of the sale, thus you are helping our small, equality-minded business grow and allowing us to provide more content for YOU! Isn't that just fantastic?