Some weddings just take our breath away. From the gorgeous decor and lush wildflowers to the palpable love between Lisa and Joey, everything about this wedding was picture-perfect. On a rustic farm in Maryland, Lisa and Joey incorporated personalized details and meaningful touches throughout the ceremony and reception decor. And with a wedding date set in the heart of summer, the brides provided parasols to shield their guests from the scathing sun during the outdoor ceremony and offered refreshing beverages for cocktail hour. With beautiful images captured by Marlayna Photography, we absolutely love this charming farm wedding.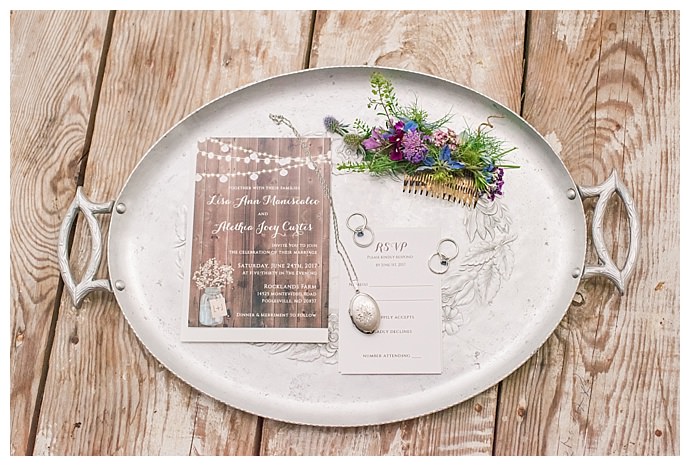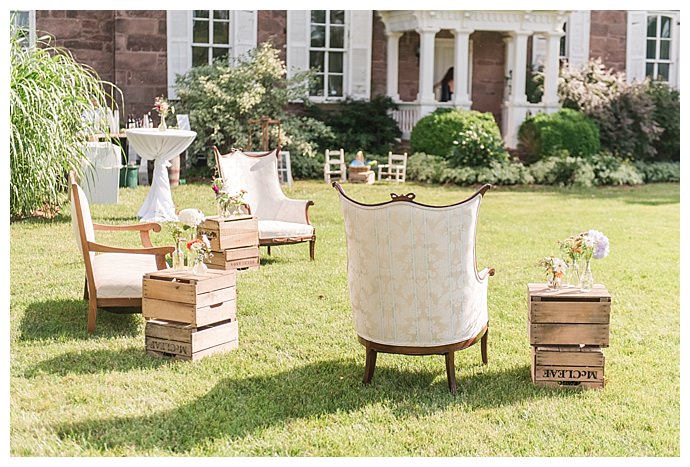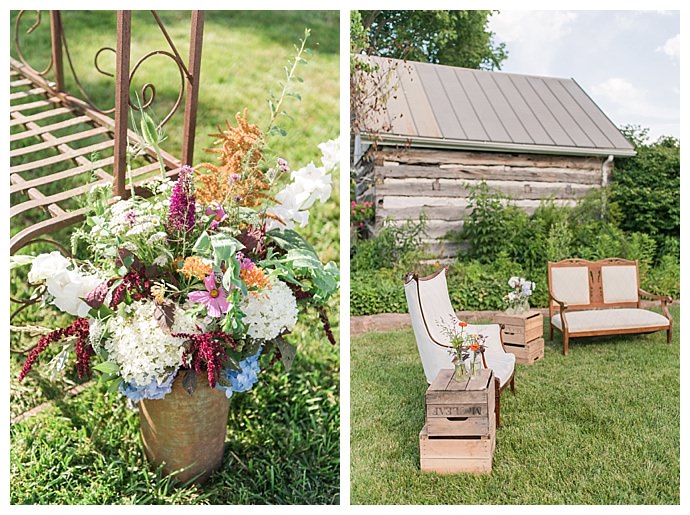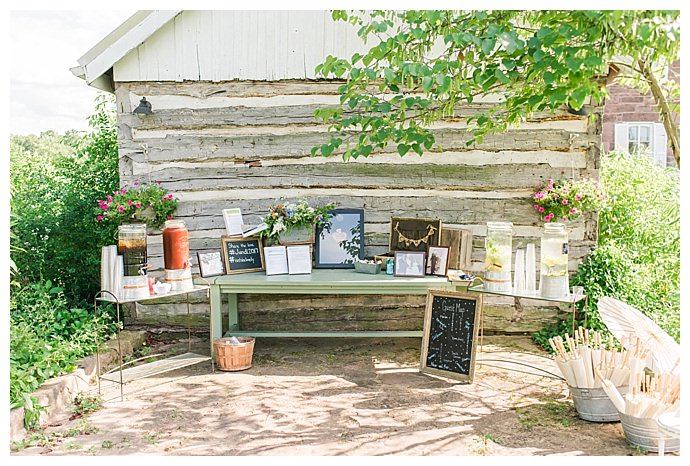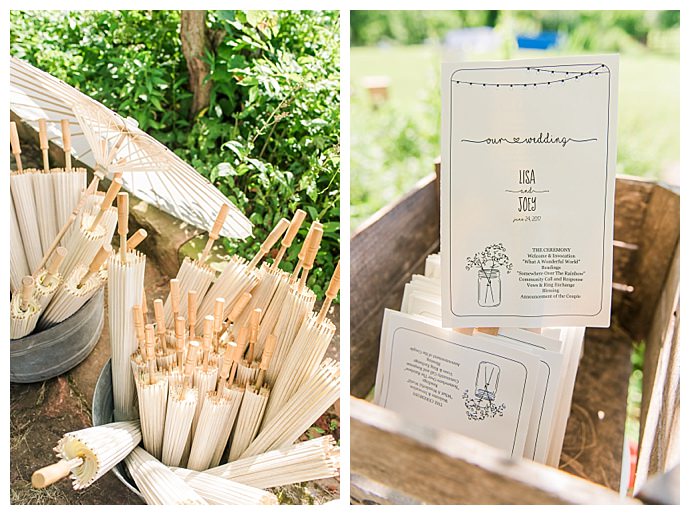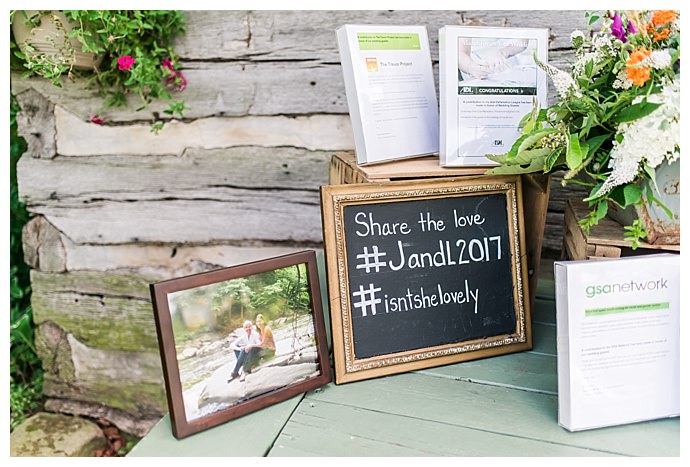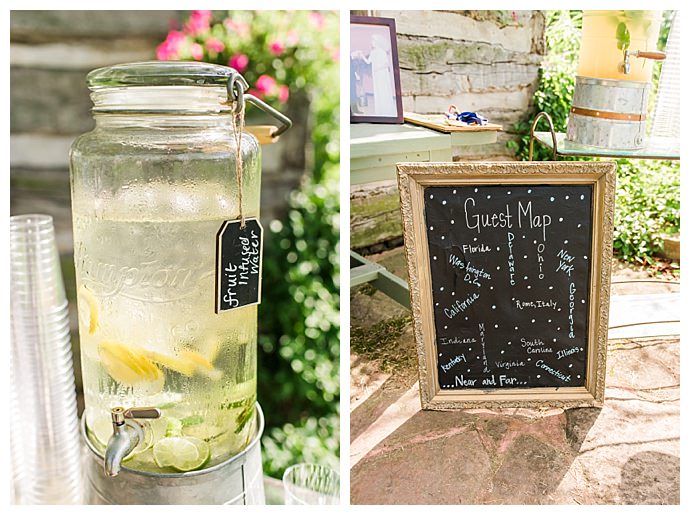 The Love Story
When Joey was making plans for her first date with Lisa, she made sure to consider a quick exit strategy in case things didn't go as planned. "Buffalo Wild Wings was about 100 feet from where I lived," Joey says. "I was sure if things went south it would be a short walk home." But when Joey suggested Buffalo Wild Wings, Lisa, who is a self-proclaimed foodie, had her doubts. "I was wondering what I was getting myself into," she says. "But after an hour and a half of non-stop talking, much of it spent learning about her passion for teaching, I was very glad I hadn't canceled." Lisa and Joey hit it off right away, and it wasn't long before they were looking at engagement rings.
Putting their own unique spin on the traditional proposal, Lisa and Joey discussed their plans to get engaged together behind the Lincoln Memorial in D.C., which offers a gorgeous view of the sunset. When the time was right on a December evening, they rushed over to memorial before the sun had completely set. "Standing at the back of the memorial, we took a few minutes to soak in the view and the sunset and each other," they say. Then, they both proposed to each other, slipping on their sapphire engagement rings and later taking photos of the rings on the marker of where Martin Luther King, Jr. gave his famous "I Have a Dream" speech.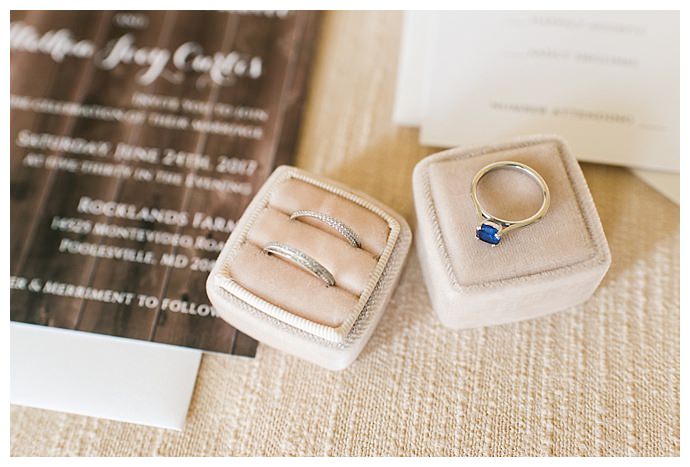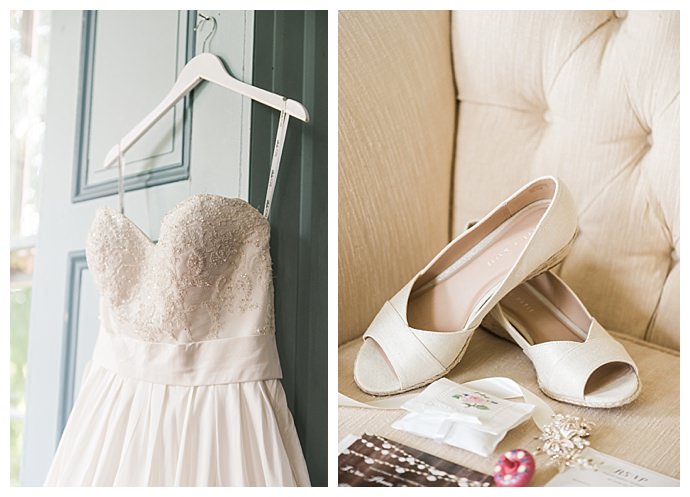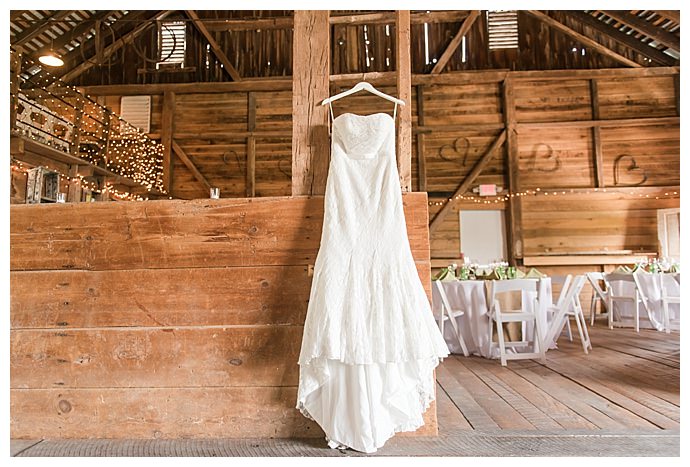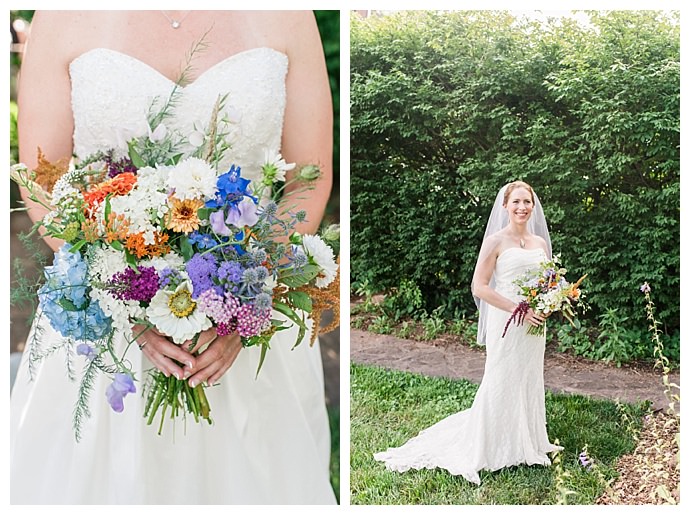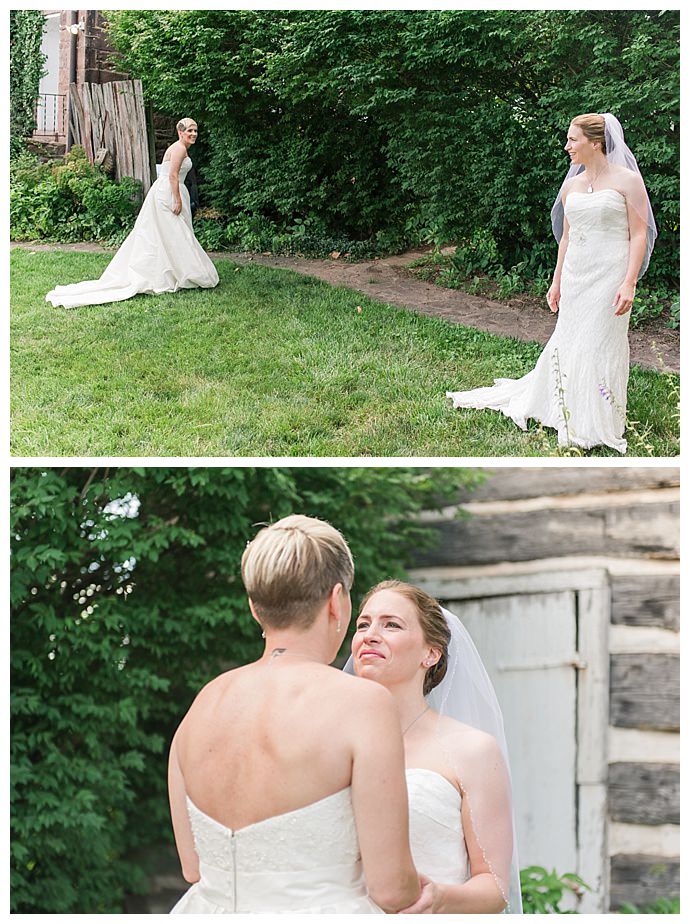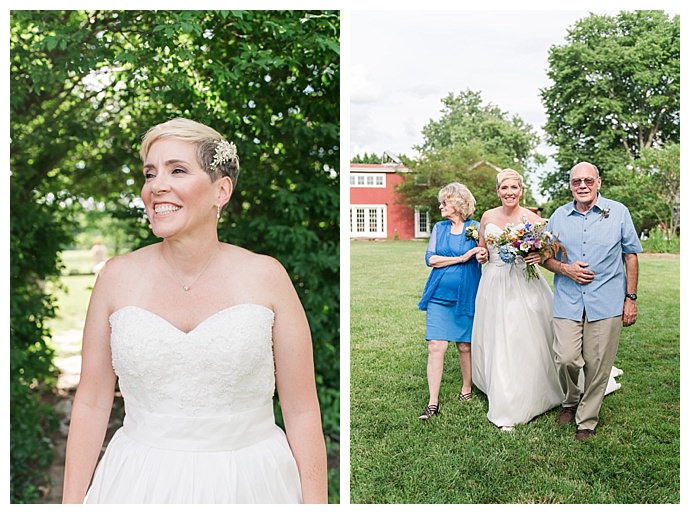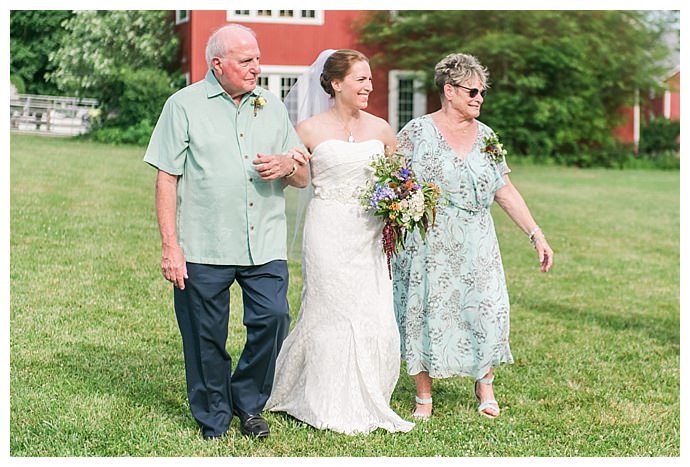 The Ceremony
Joey and Lisa's ceremony at Rocklands Farm in Maryland was filled with personal moments. "We put a lot of thought into making our ceremony reflective of us and the people and things most important to us," Lisa says. Instead of taking turns walking down the aisle, the brides, accompanied by their parents, walked simultaneously from opposite sides to meet at the same time under the floral-adorned arbor. 
Officiated by Joey's dear friend, Gail, the ceremony included a reading of the judge's decision in Obergefell v. Hodges to legalize same-sex marriage in 2015, and their nieces, nephews and many of their friends' kids led everyone in the singing of Louis Armstrong's "What a Wonderful World." They also incorporated a call and response where their friends and family promised to offer their love and support throughout their journey. And after the vows were exchanged and they were pronounced wife and wife, Lisa and Joey walked back up the aisle to Natalie Cole's "This Will Be (An Everlasting Love)."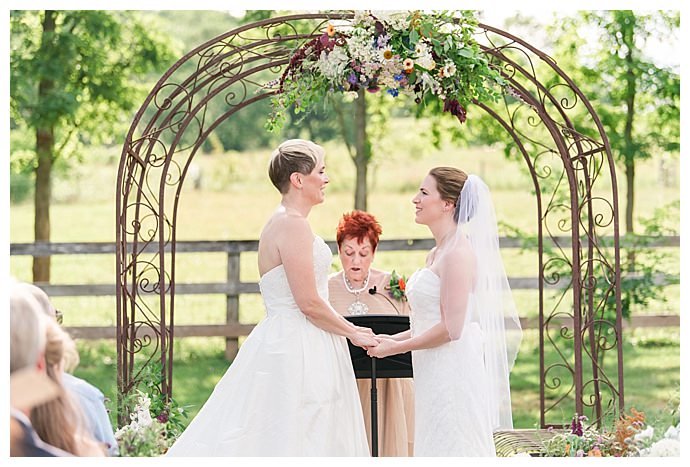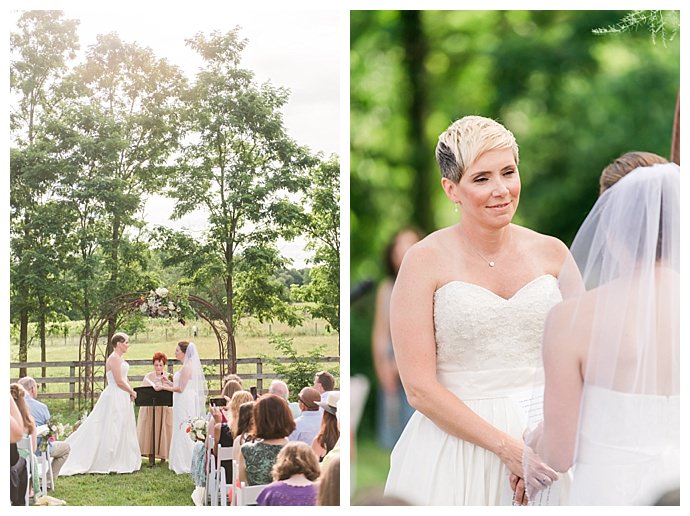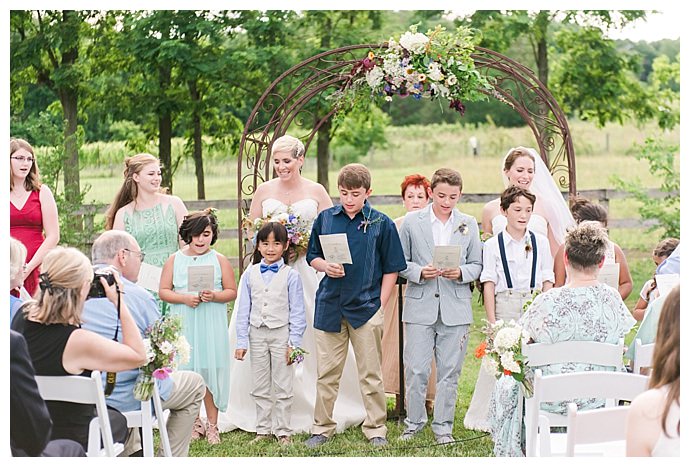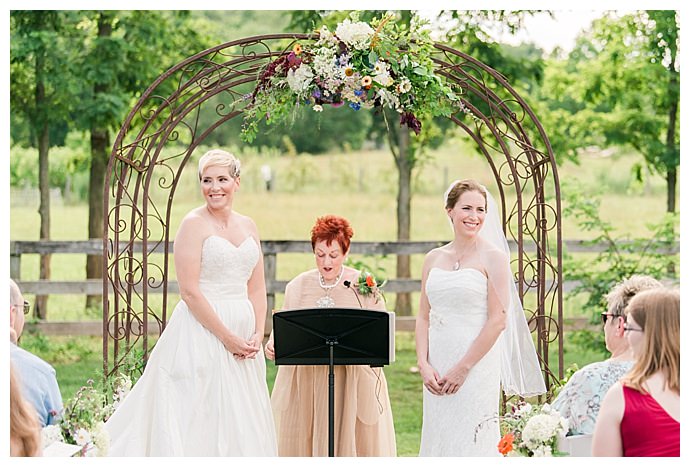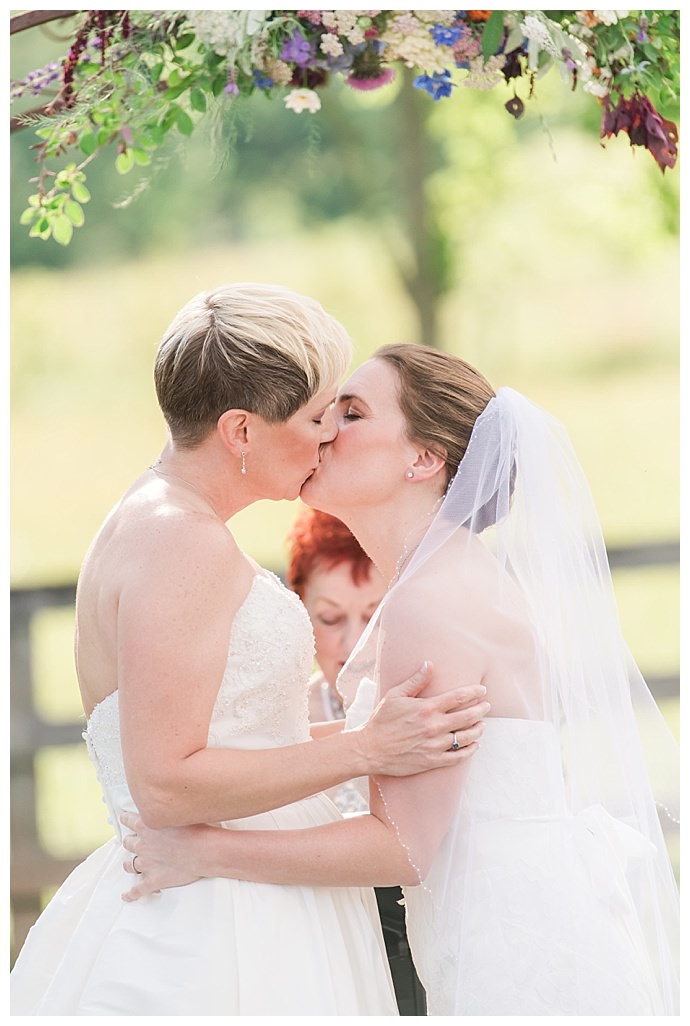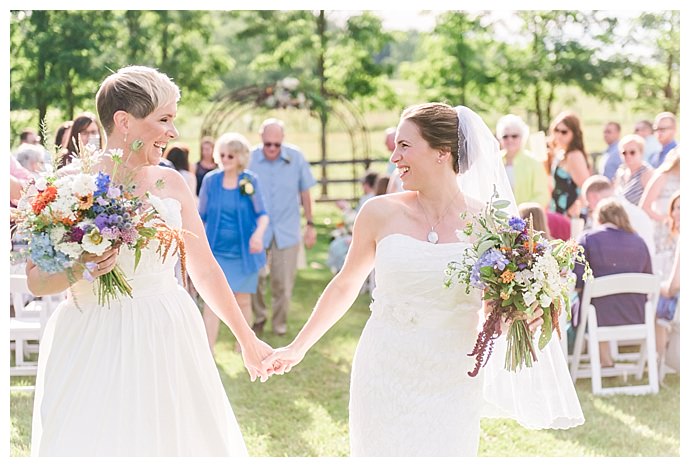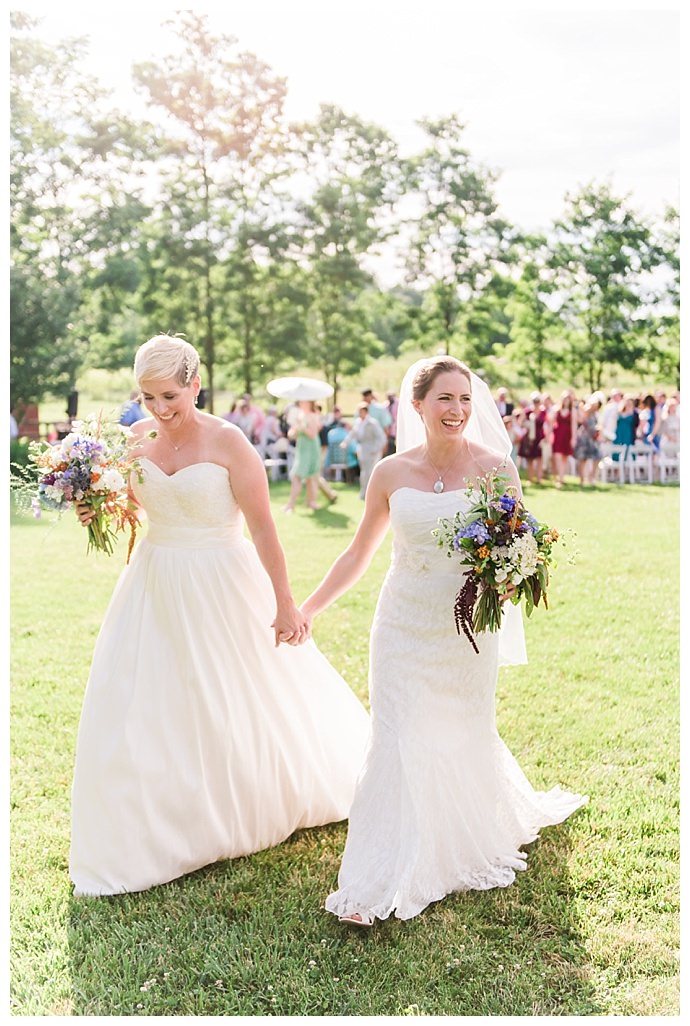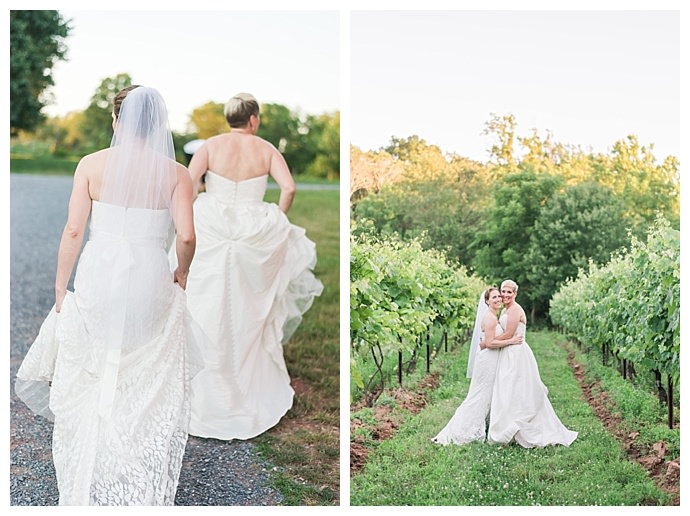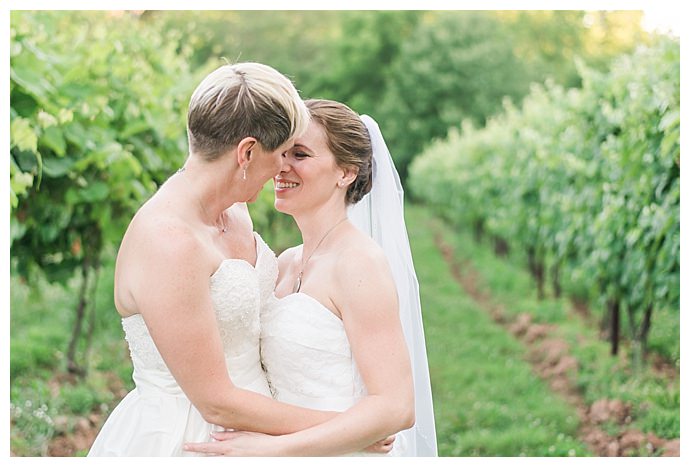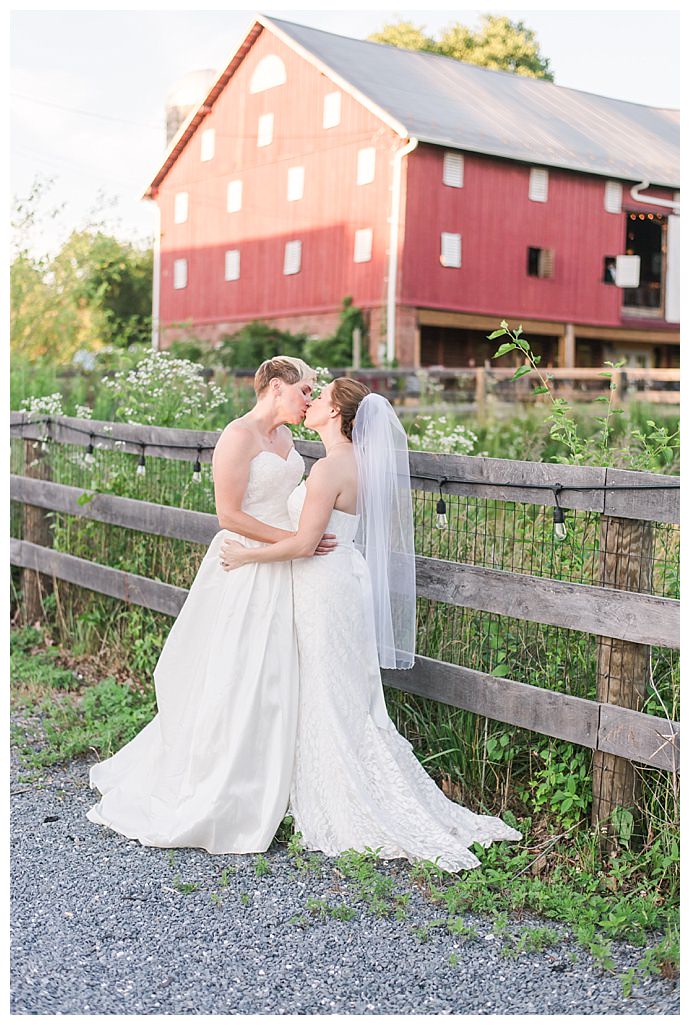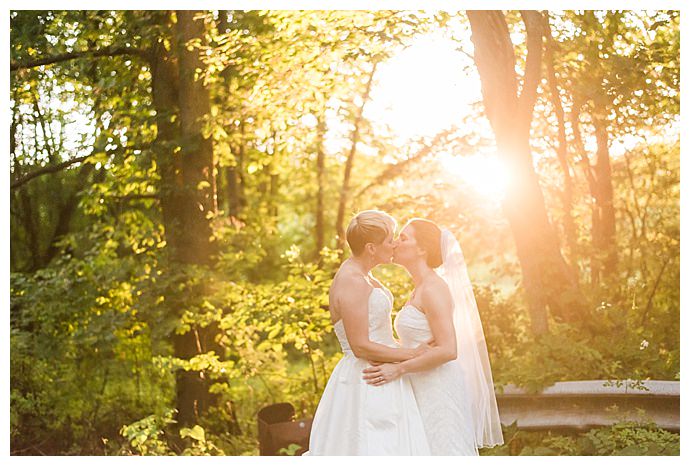 The Party
Inside the rustic barn at Rocklands Farm, colorful wildflowers, chalkboard signs, green mason jars and twinkling string lights created a cozy and celebratory setting for Lisa and Joey's reception. A trio led by the music teacher at the elementary school where Joey teaches set the tone during cocktail hour with a beautiful blend of violin, piano, flute and vocals. The brides decided on a buffet for dinner that included marinated flank steak, salmon with a light jerk seasoning and mango salsa as well as roasted veggies, potatoes and a warm pasta salad with smoked mozzarella. And for dessert, Lisa and Joey called upon their guests to lend a helping hand. "In lieu of a traditional wedding cake, we asked some of our wedding guests to contribute a homemade dessert," the brides say. "We ended up with an abundance of delicious goodies from flan cake to key lime pie to lemon bars and Oreo cookie bars — everything was superb!"
The newlyweds shared an upbeat first dance to "From My Heart to Yours" by Laura Izibor before asking their friends and family to join them on the dance floor. And before the night was over, roller skates were brought out, and Joey took a spin, clutching the skirt of her dress tight so she wouldn't trip, and they ended the incredible evening with a glow-stick sendoff. And instead of sending their guests home with favors, Lisa and Joey made donations to the GSA Network, The Trevor Project, Lamda Legal and the Anti-Defamation League.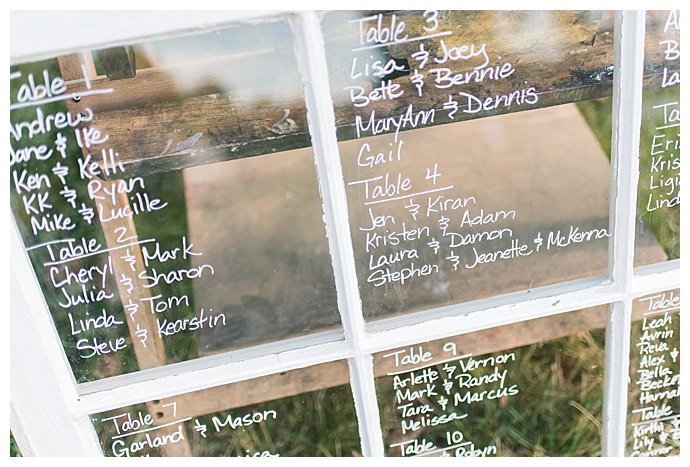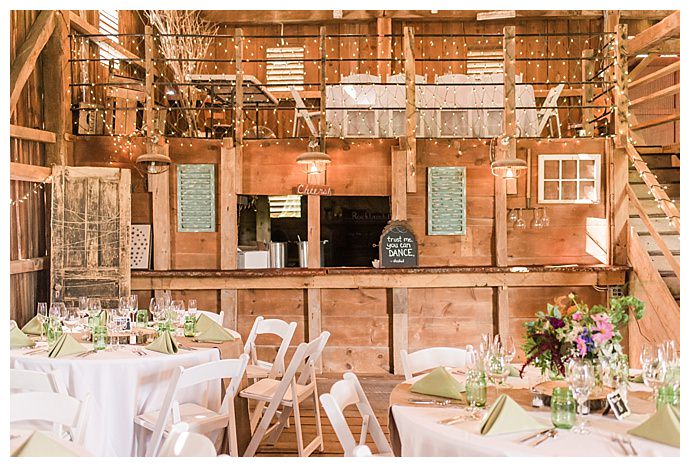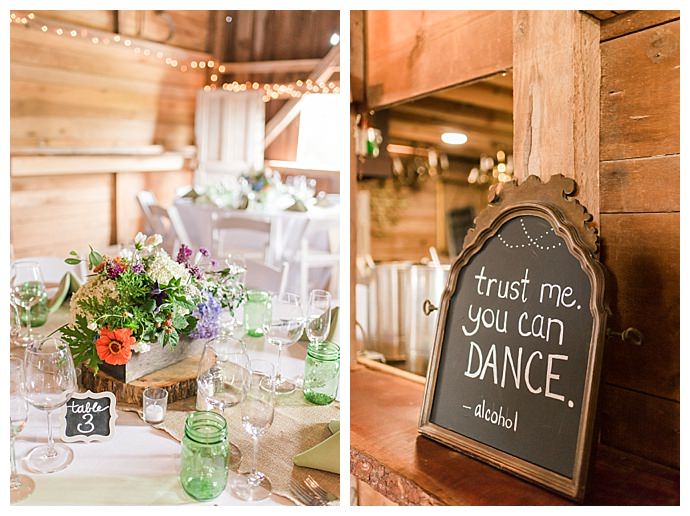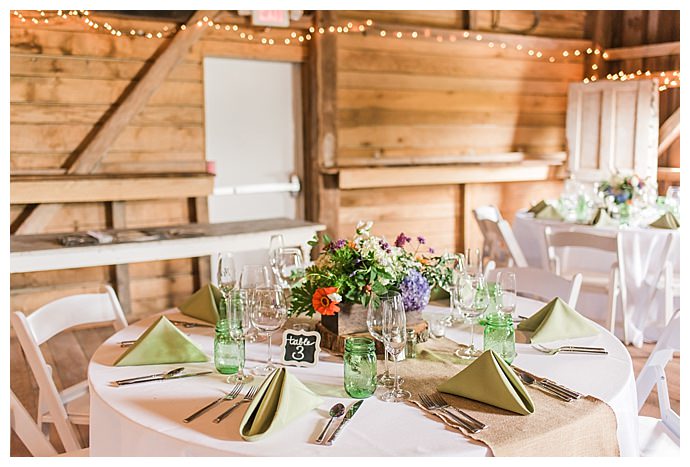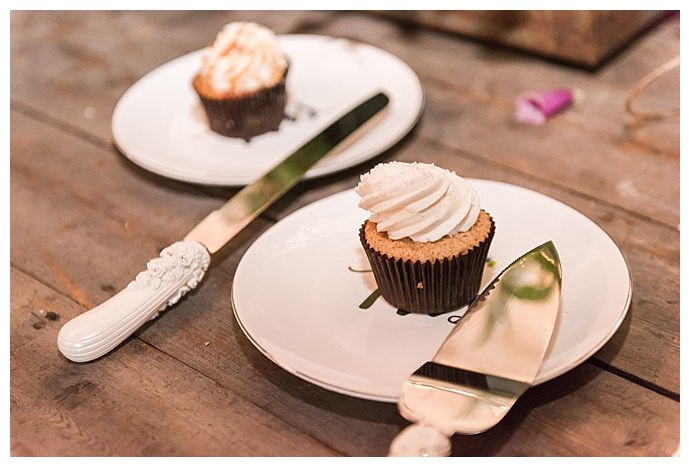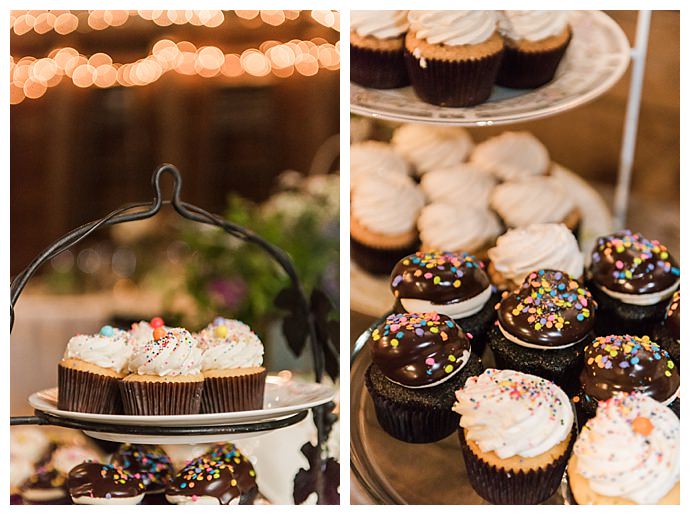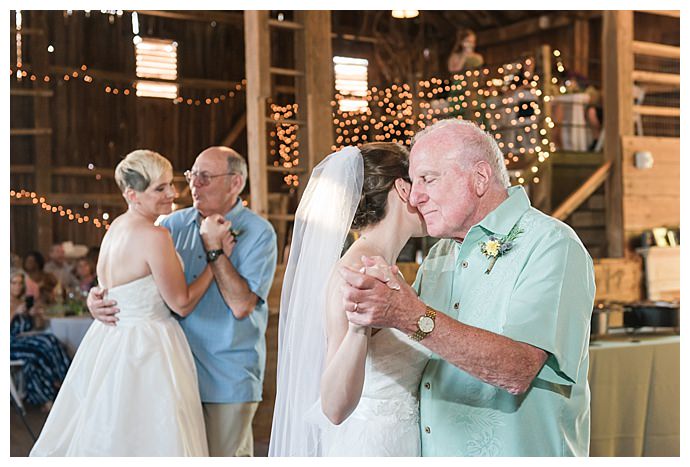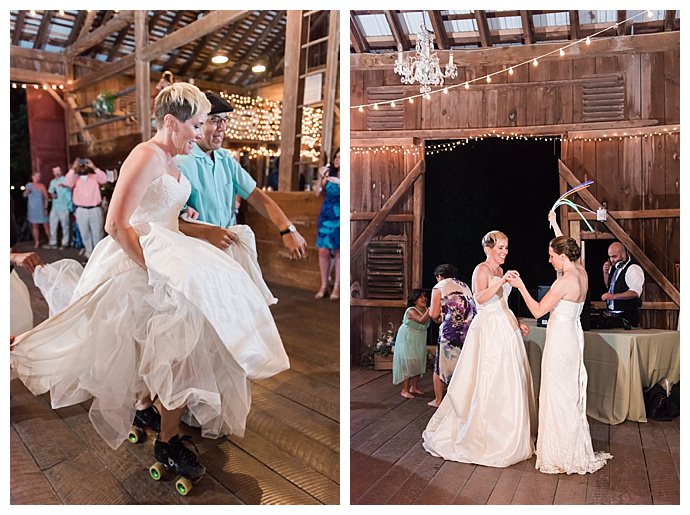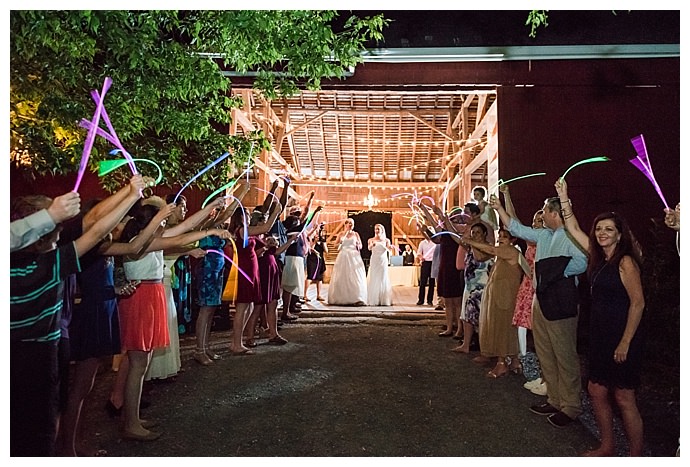 Memorable Moment
Looking back on their big day, Joey says one of her favorite moments was surprising Lisa at the end of the night with the light-up umbrella she made. It was the perfect prop for a romantic kiss in the dark of the night. For Lisa, she says she'll never forget the incredibly special moment she saw Joey for the first time during their first look.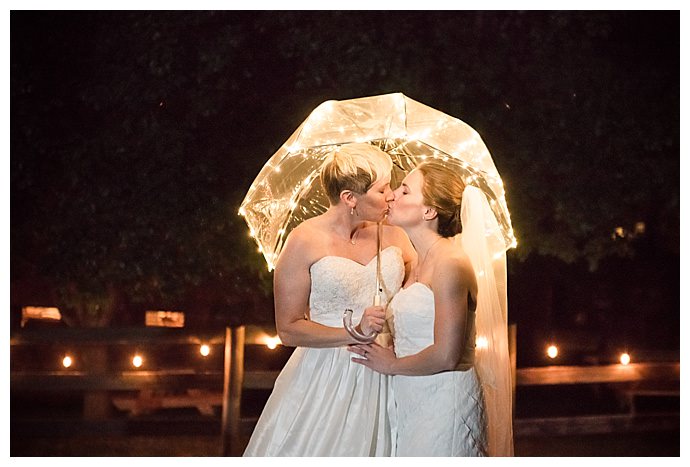 *Editor's Note: This post contains affiliate links. Each time you purchase an item via our affiliate links, Love Inc. is receiving a small percentage of the sale, thus you are helping our small, equality-minded business grow and allowing us to provide more content for YOU! Isn't that just fantastic?