For Courtney and Andrew, the when and the where were the two hardest questions to answer when they got started wedding planning. Thankfully, Courtney had received a tip from a friend about in-season flowers, which made all the difference and helped them nail down a date. "I'd heard that out-of-season flowers are extremely expensive so it would be most practical to book our wedding around the season of my favorite flower," she says. "I had decided that I really wanted peonies at the wedding, so we picked our date in the middle of peony season, and I picked our wedding colors to complement the color of peonies."
She ended up picking a blue color palette that was the perfect choice for their watercolor-themed wedding at a winery in the Bay Area of California. The Ganeys were there to capture all the gorgeous details, many of which the bride DIY'd herself, in addition to all the joyful moments between Courtney and Andrew who chose forever together.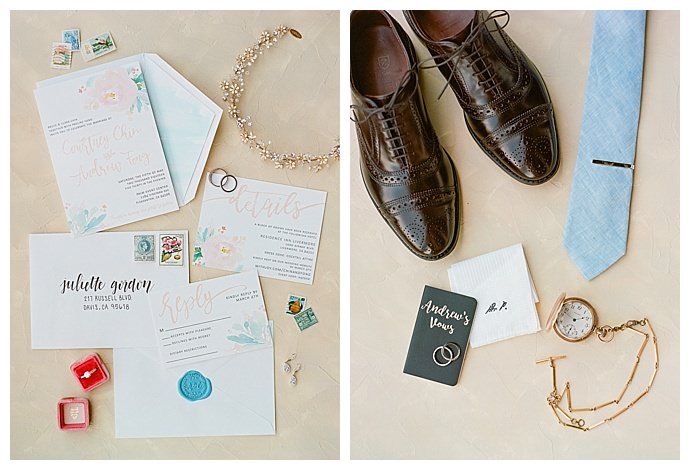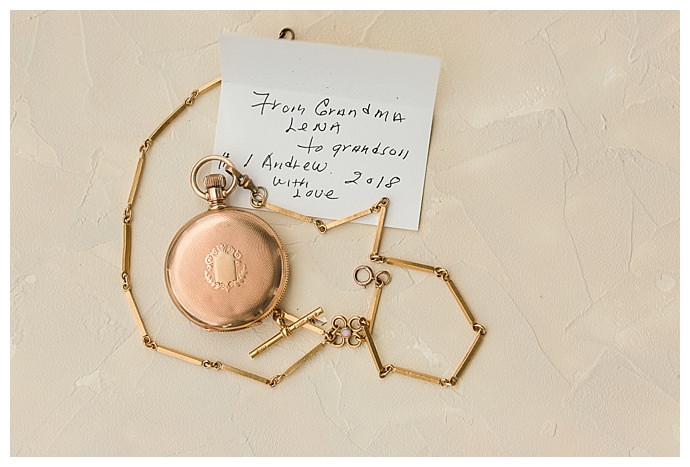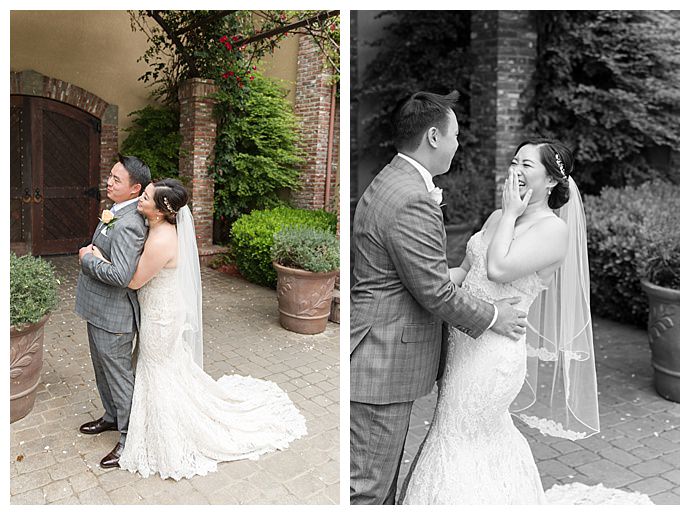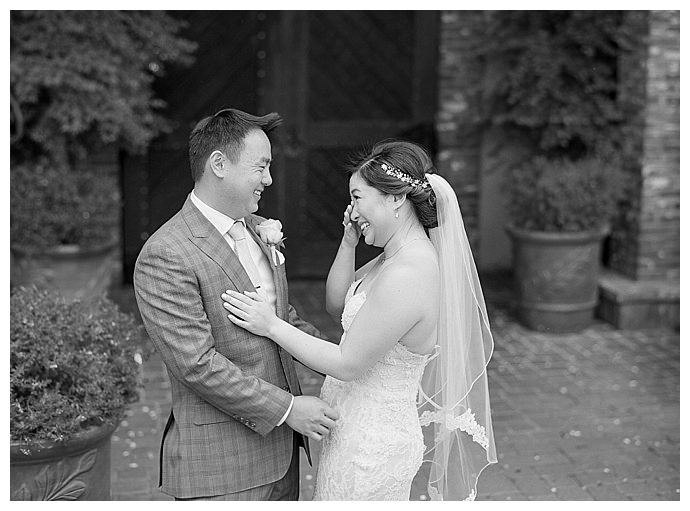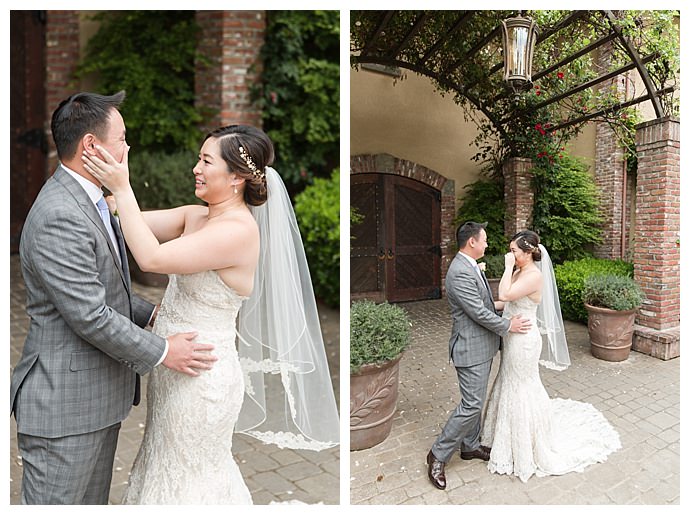 The Love Story
After being introduced at a party by mutual friends, Courtney and Andrew were determined to not be attracted to each other. That, of course, didn't last. "Over the next month, we were constantly spending time with one another," Courtney says. "Eventually we were both convinced by our friends that there might be something worth pursuing, and obviously, they were right!" And after six years together, Andrew was eager to propose. He easily convinced Courtney to join him and two of their friends on a horseback ride, knowing that was one activity Courtney would never say no to. Midway through the ride, the guide suggested they get off their horses to take some pictures together. "As the only member of the group with any experience with horses, I said that I didn't think it was a good idea for the group to get off the horses for the picture because I was worried everyone else would have a hard time getting back on without a mounting block."
But when the guide suggested Andrew really wanted to get some pictures, Courtney knew something was up. "Andrew NEVER wants to take photos," she says. "In six years of dating, Andrew has asked that we take a photo together only once. I knew that if I wanted this ring, I had to get off my horse." After the four friends snapped photos together, the guide asked for a couple with Courtney and Andrew. "Then Andrew gets down on one knee and says, 'Courtney, I know you've been waiting for this,' and I honestly can't remember anything after that because I was so excited!" Courtney says. She was so excited that after he finished speaking, she had to tell him that she knew this was the moment when the guide gave it away. Suddenly, the guide interrupted again, and said, "Is that a yes?" "I realized that I never actually responded," Courtney says, "Of course, I said yes!"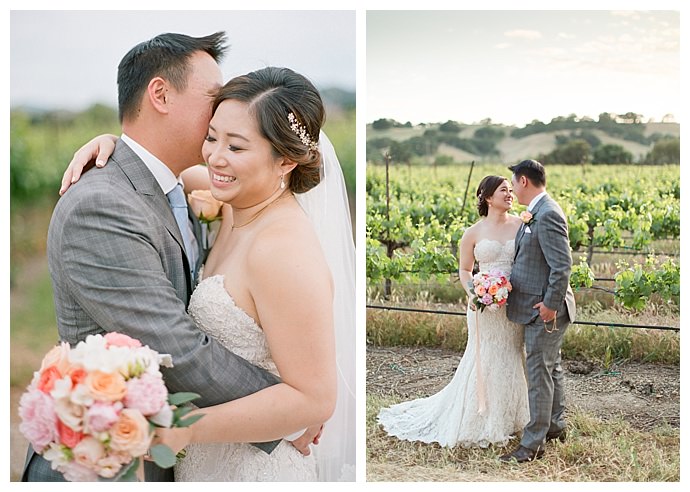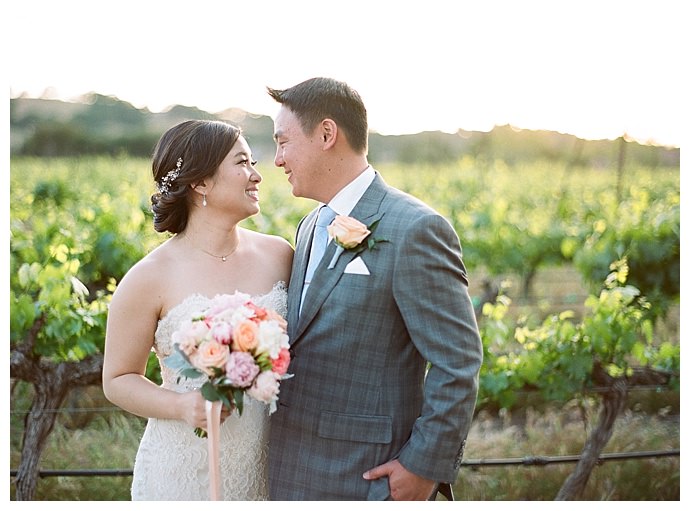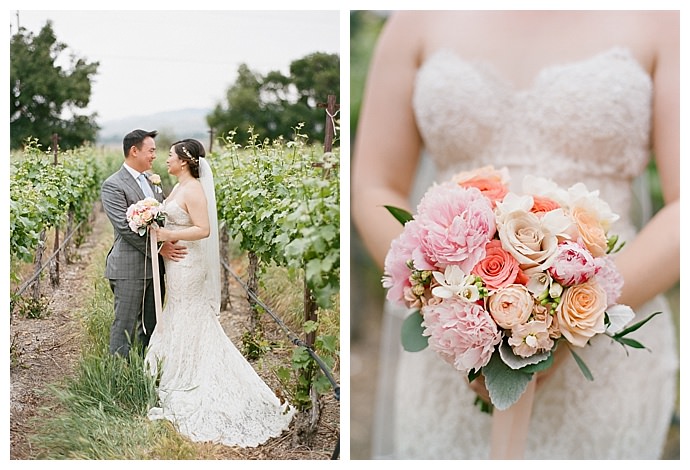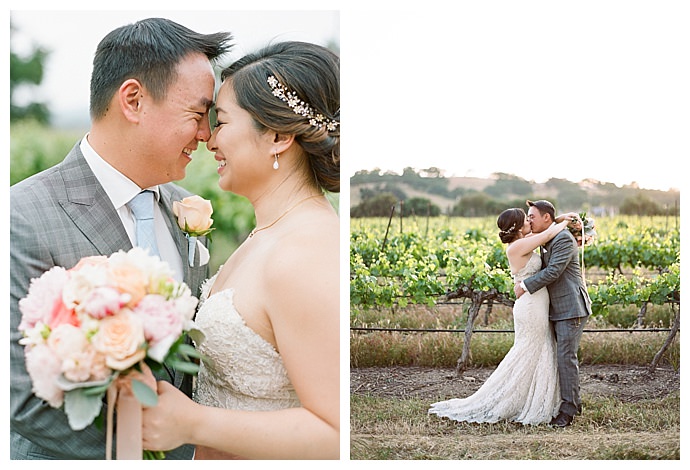 The Ceremony
While Courtney struggled to find the perfect dress, Andrew was looking forward to going the bespoke route for his wedding attire. "Andrew's actually the big fashion person out of the two of us and had dreamed of getting a bespoke suit made for the occasion because it's not just the bride who should get to look amazing on our big day," Courtney says. "Andrew decided on a glen plaid suit for our wedding because he wanted something that was both fashionable and classic." For Courtney, it took nearly 50 dresses before she fell in love with an beautiful allover lace dress with a sweetheart neckline by Olia Zavozina.
After their first look and some pictures among the vineyards, Andrew walked down the aisle carrying a peach rose to honor his late father before Courtney was escorted by her parents. And underneath a lush arbor crawling with vines and the same spring florals found in Courtney's bouquet, the bride and groom exchanged vows. "We loved our ceremony because we wrote our own vows," Courtney says. "Doing so really highlighted our personalities and gave people who didn't know us well an opportunity to see why we're so great together." Another highlight from their ceremony was using the same candle Courtney's parents used in their wedding for a touching unity ceremony.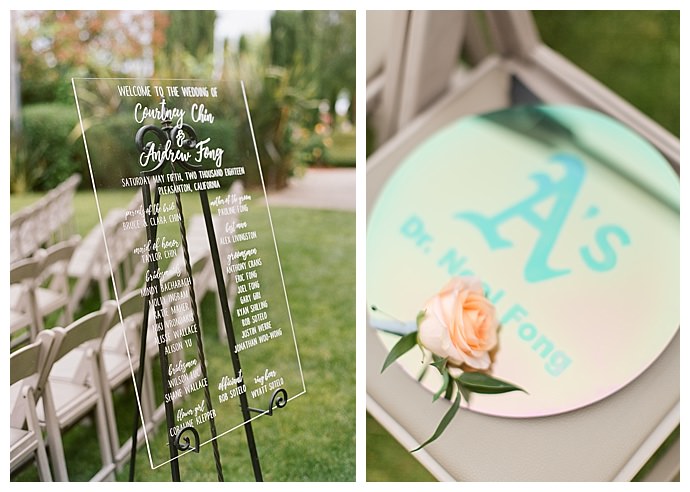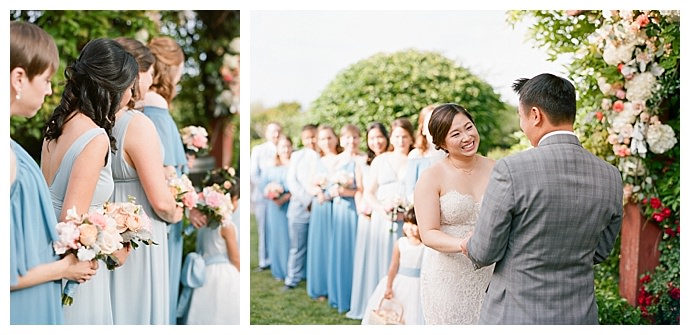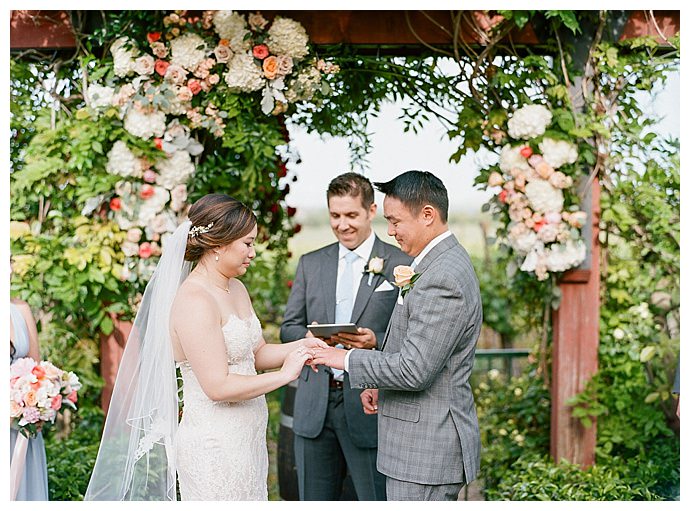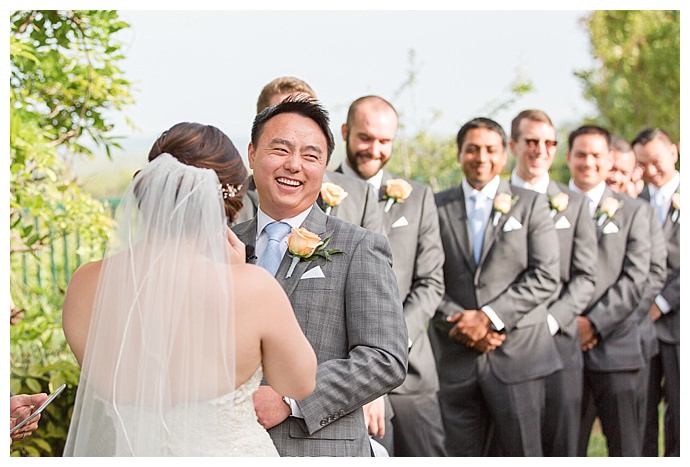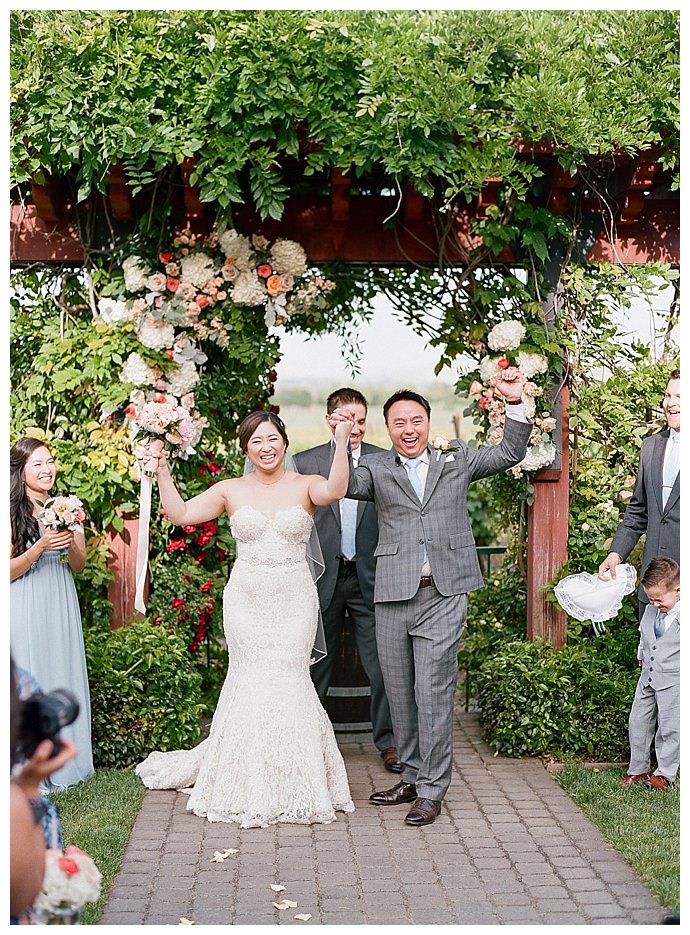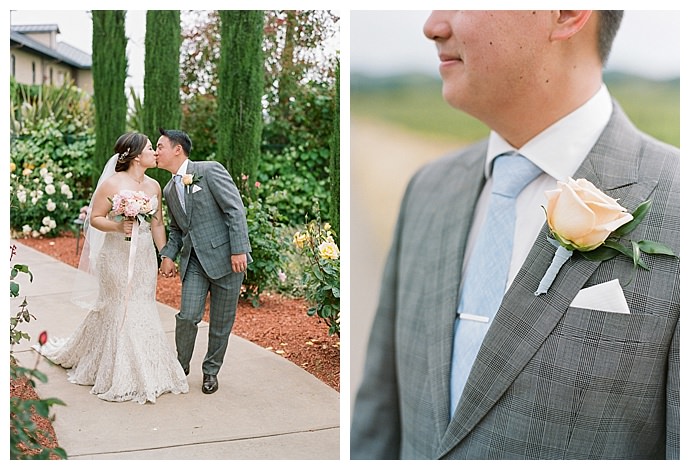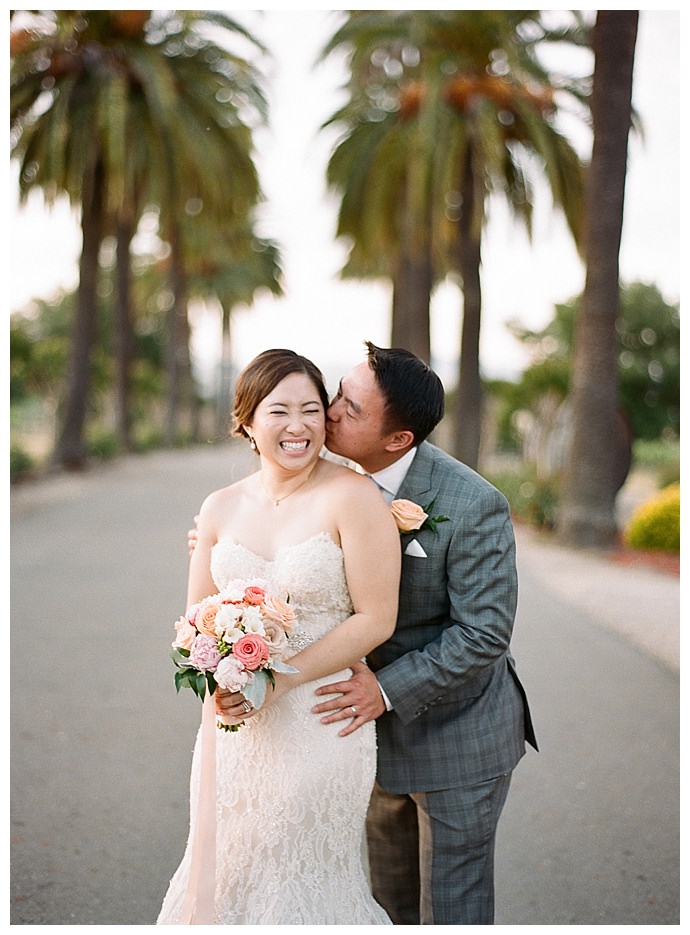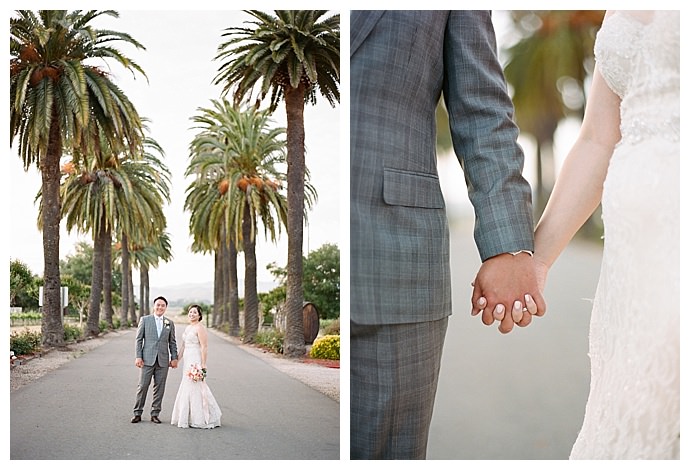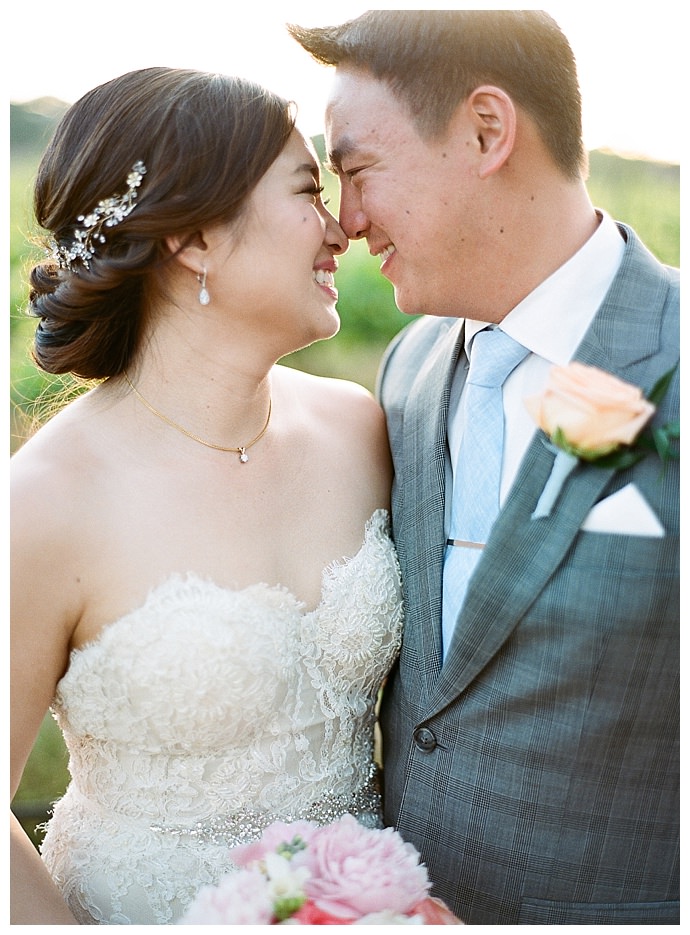 The Party
When it came time to think about the decor for their wedding, Courtney was eager to get her hands dirty. "I already knew that I wanted to do a lot of DIY projects for our wedding, and when looking for inspiration, I thought that watercolor would be an easy and beautiful theme to execute," she says. With the help of her trusty Cricut and paper she watercolored herself, Courtney created the escort cards, table numbers, a crocheted monogram for their head table, acrylic signs for the ceremony and reception and the wooden vessels for the floral centerpieces, to name a few.
After guests enjoyed a delicious meal together at flower-filled tables, a number of tasty treats awaited them. "Fifteen years ago, I found out that my family's favorite gelato shop has a catering cart, and we both agreed that the one thing our wedding absolutely had to have was a gelato cart," the bride says. "Andrew and I both love ice cream — we always have some in our freezer, so naturally there's no better way for us to celebrate than with gelato." In addition to gelato, individualized portions on mini churros were available for dessert as well as the three tier wedding cake with blue watercolor buttercream frosting and a gilded top. "I made our wedding topper, and Andrew wanted to include a little green army man on our cake to add a little more of himself to it," Courtney says. "Andrew has a tradition of hiding little green army men in his mother's Santa's village every year and thought it would be fun to do the same with our cake. If you look closely at the photos, there's one hiding behind one of the peonies."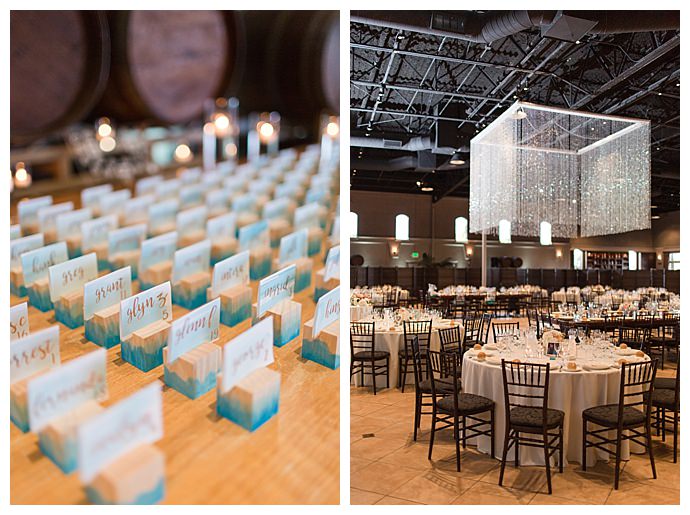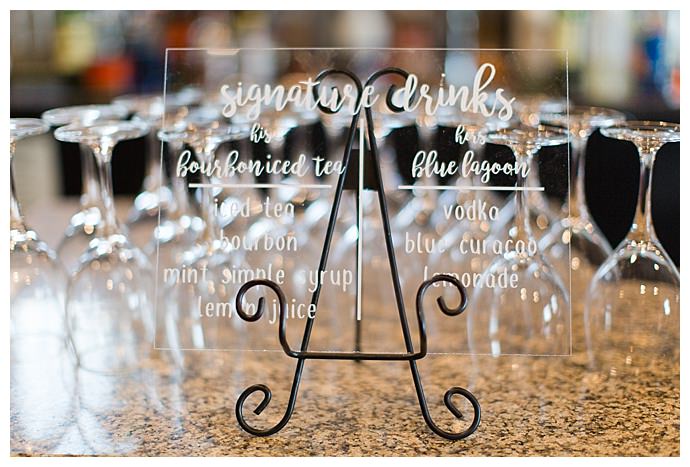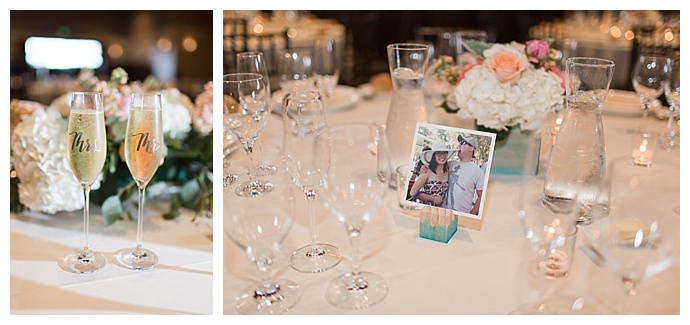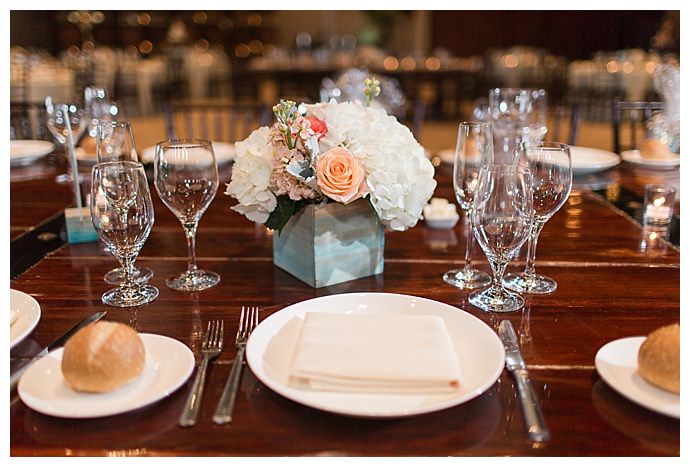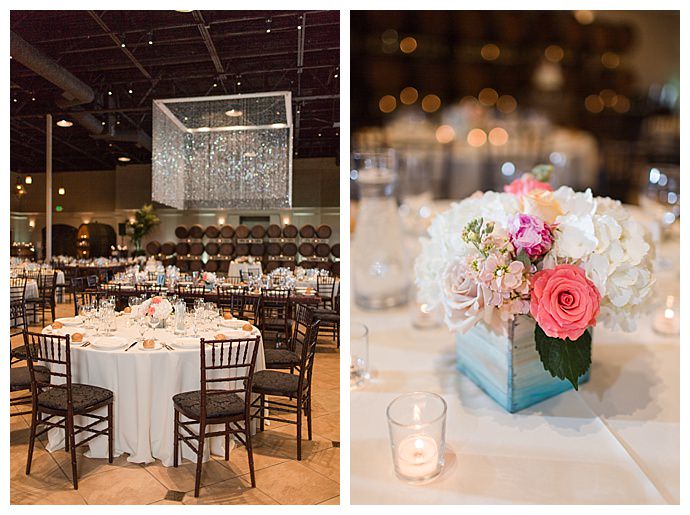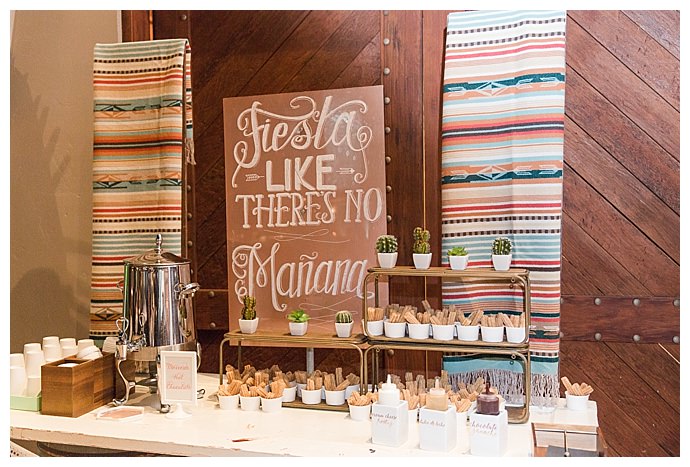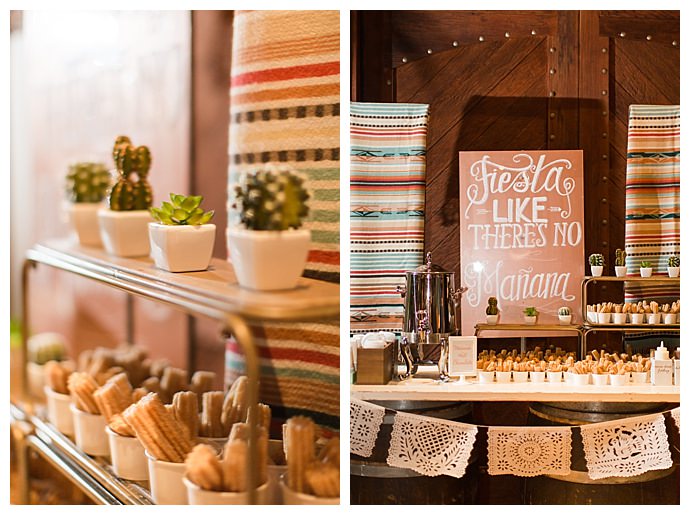 Memorable Moment
"We had an amazing time tearing it up on the dance floor during our reception," Courtney says. "We've always said that weddings are big dance parties, so there's nothing like getting the energy level up in the room with dancing. We were blown away by the number of people who were on the dance floor with us at the end of the night when the lights came back on. It was truly the party of a lifetime."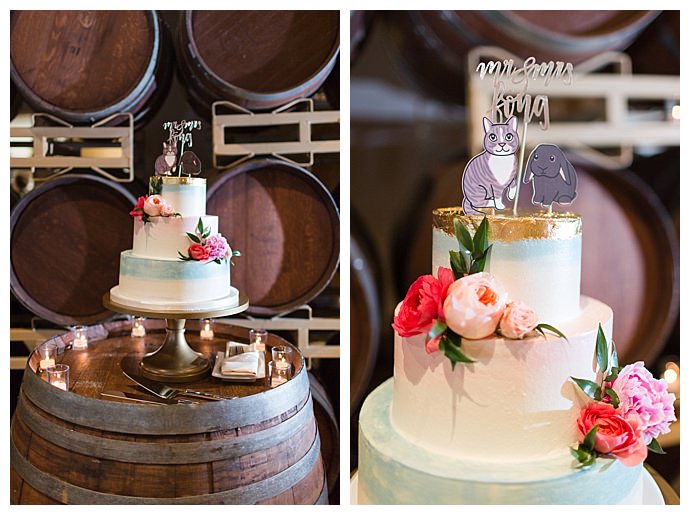 Submitted via Matchology
*Editor's Note: This post contains affiliate links. Each time you purchase an item via our affiliate links, Love Inc. is receiving a small percentage of the sale, thus you are helping our small, EQUALITY-MINDED™ business grow and allowing us to provide more content for YOU! Isn't that just fantastic?
Written by: