After more than seven years together, Gretchen knew that if she wanted to surprise Megan with a ring, she'd have to carefully plan out every detail. These two do everything together — they even founded a flourishing business, Sand Spa, together when they were in their early 20s — so, like Gretchen says in their proposal video, even slipping away to get the ring designed was a challenge. But with a rock solid plan in place that included a fake photo shoot and custom bomber jackets to pop the question, she ended up completely shocking her bride-to-be, which Nicol Biesek Photography captured beautifully on camera, and Megan finally got to say yes!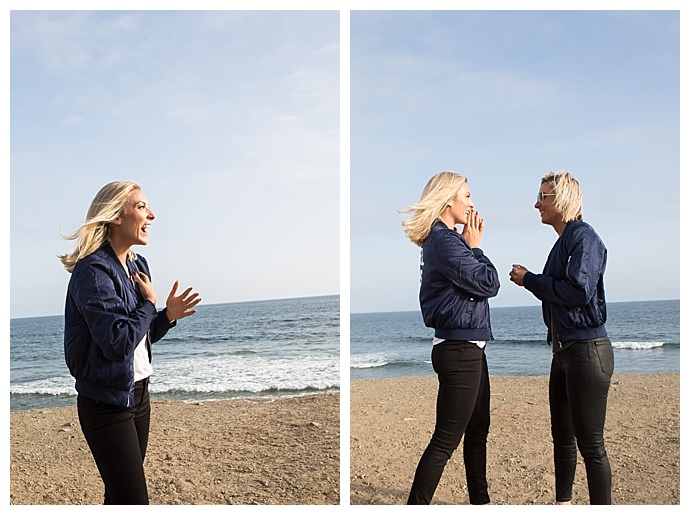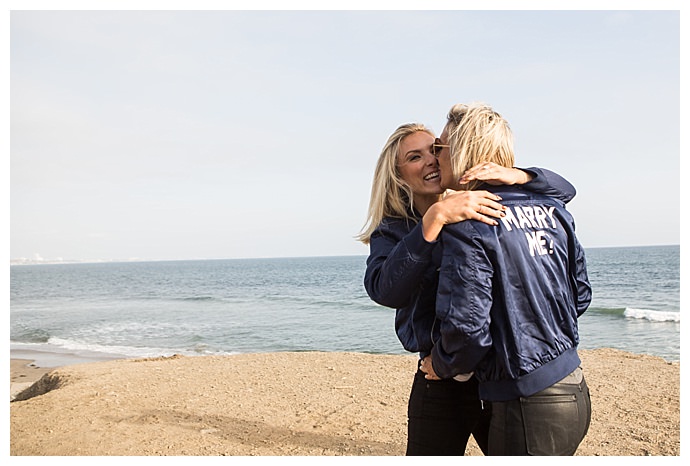 The Love Story
The first time Megan and Gretchen met, it was on opposite sides of the basketball court in college. Megan caught Gretchen's eye, and she just had to know her. "Hey, tell Megan I said what's up," Gretchen told one of Megan's teammates. "I got her number and ended up calling her," Megan says. "We talked on the phone all night, and that turned into us hanging out on and off for two years before we really got together."
Although it took a couple years for them to start officially dating, Gretchen knew she had found her person. "I knew Megan was the one right away," Gretchen says. "I knew this was a once-in-a-lifetime type of love. It wasn't something that could be rushed or pushed or pulled; it was something that took time, and as we grew up, we continually grew together. We met when we were 19 and 20, opened our first business when we were 23 and 24 and through everything we have done together, we always choose each other."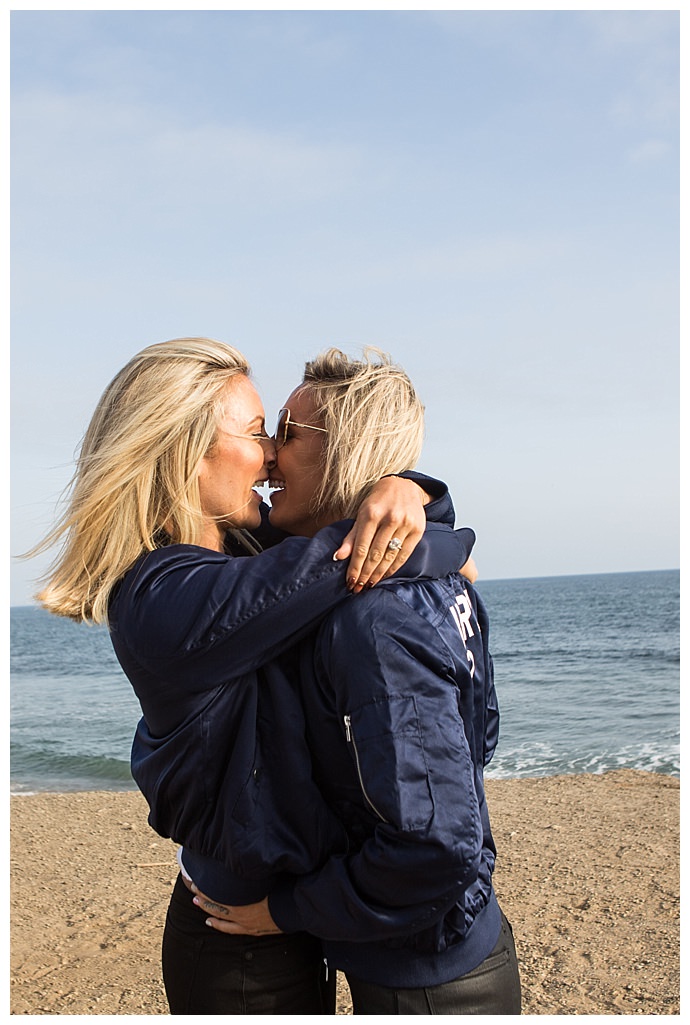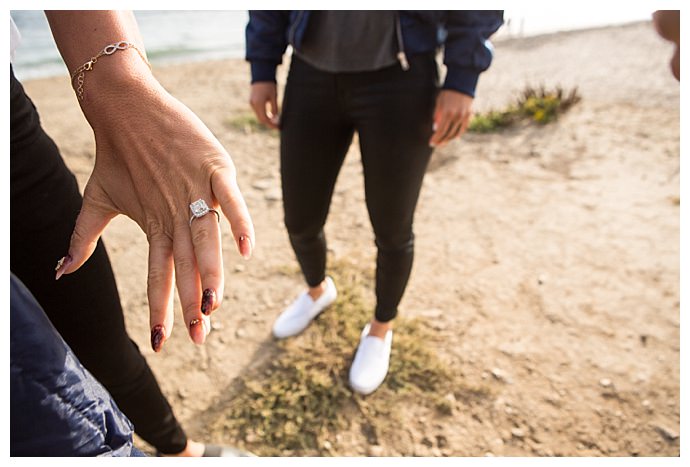 The Proposal
Seven years later, Gretchen couldn't wait any longer to ask Megan to be her wife. She'd had a ring for the past year, but after everything they'd been through, she wanted to redesign it before giving it to Megan. "I redesigned it because I felt like I wanted to put new energy into the entire proposal," Gretchen says. "I had the other ring for over a year, and over the course of that year, we opened a new business, expanded into a few hotels and this was something I definitely didn't want to rush." With the ring ready, Gretchen began to put her plan in place. "I got this email about being featured in a magazine and how they wanted to do a photo shoot and if we could use one of our photographers," Megan says. "I immediately thought of our very talented friend Nicol and was super hyped on this." Little did she know, that was all part of the plan.
Gretchen created authentic-looking call sheets for the shoot and even printed off some interview questions so that Megan wouldn't suspect a thing. And once they got to Malibu, she was completely focused on the shoot, so much so, that she didn't notice the writing on the back of the jackets their friend who was coordinating the shoot had slipped on her. "At some point, Shauna was like, let's change jackets," Megan says. "She puts this bomber on me, and I'm totally clueless to what this jacket even is. Nicol then says she wants to get a couple solo shots of just me, and she had Gretchen stand off to the side. Nicol was money! She had me following her camera in a direction where I coudln't see Gretchen in my peripheral at all!"
It was then that Gretchen got down on one knee, with her back facing Megan, the question "Marry Me?" visible on the jacket. "Finally, Nicol tells me to turn toward Gretchen, and just like that, my whole world changed," Megan says. "It was a dream, the most epic surprise ever!" After the ring was on Megan's finger and reality had set in, the fake photo shoot wrapped up and the newly engaged girls headed to Rosenthal Winery across the street where Gretchen had arranged for all their friends and family to be there to celebrate their big news!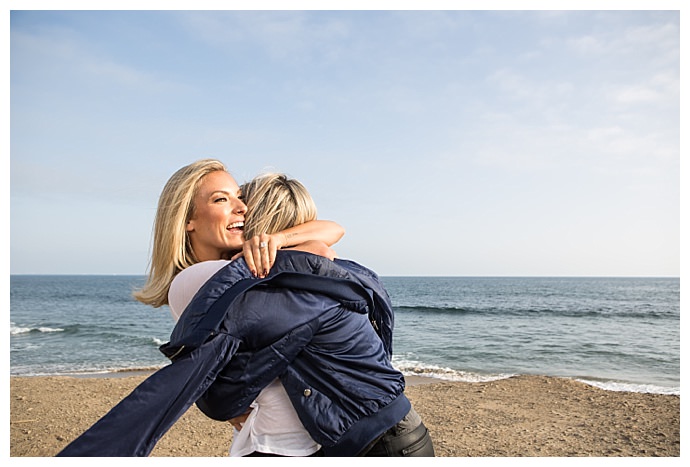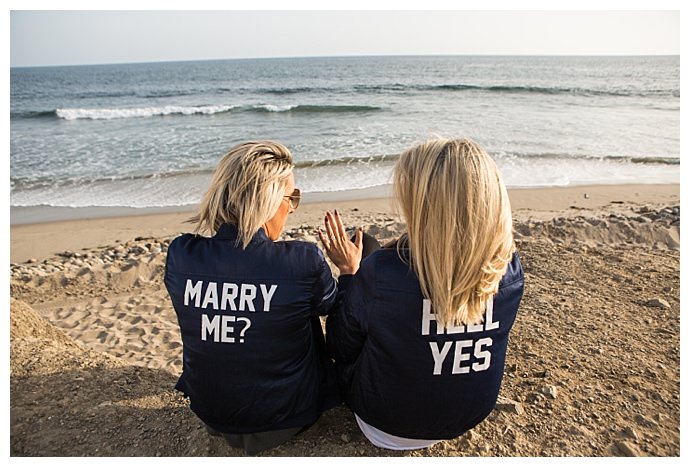 The Ring
"The original ring was an oval cut diamond, and then I redesigned it as an emerald cut," Gretchen says. "I put together every vision I had into this thing. I sketched it out and handpicked the diamonds that were used. It was made in Beverly Hills. This was one of the coolest things I have ever done."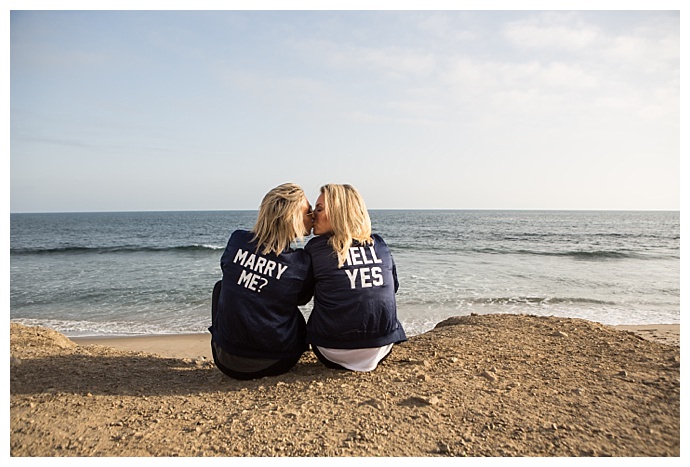 Written by: