The San Diego sunlight showered soonlyweds Megan and Brittany on the beach during their candid engagement shoot with  Abigail Gagne Photography, and we couldn't possibly swoon over these photos any harder. When scouting locations for their engagement session, they knew they wanted to incorporate the things they love most about their new lives in California.
"We moved to Southern California for the weather, views, vibes and cliffs," Megan says, "and Torrey Pines Beach is set in beautiful sunny San Diego with steep cliffs that overlook the most beautiful Pacific Ocean." With their fingers interlaced, these two share plenty of laughs as they walk along the beach, explore the nearby woodlands and return to the coast for an epic sunset, which make for some of the most romantic engagement photos ever.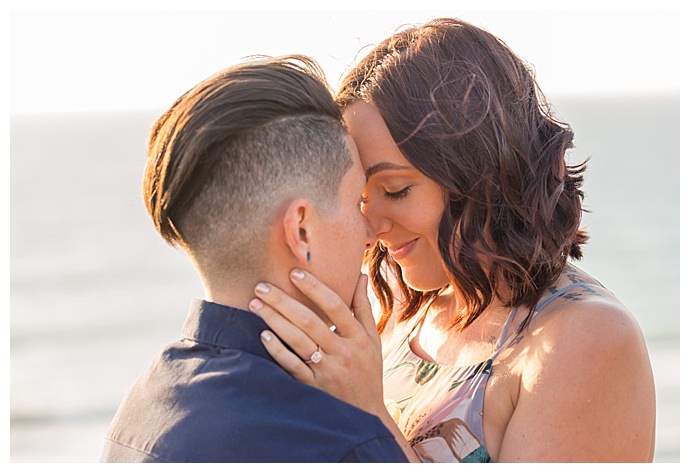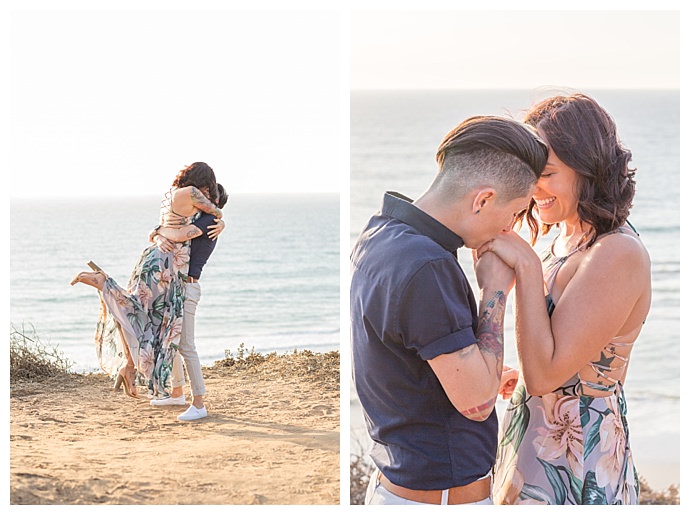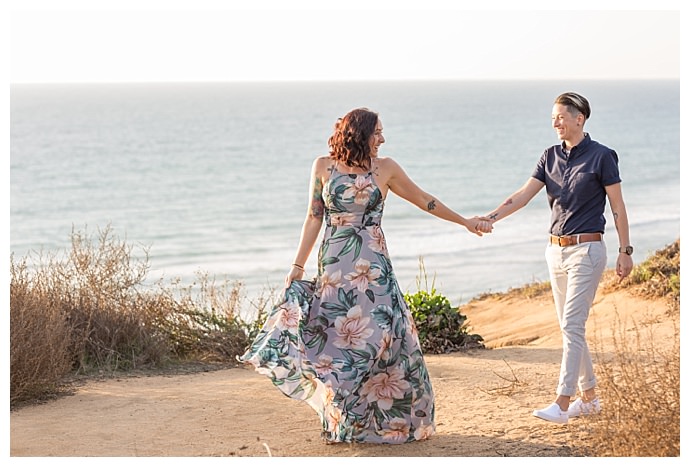 The Love Story
Megan and Brittany were in college the first time they met. As they often did, Megan and her roommate had friends over at their dorm, and one day, her roommate invited Brittany. "When Brittany walked in my dorm door for the first time, I instantly had that nervous feeling in my stomach," Megan says. "But what's so funny about this story is the turn it takes." Months went by and Brittany came over often, but Megan was more focused on school than a relationship. Over the next few months they became close friends, and one night, after a spin on the dance floor, that all changed. "We attended a paint party downtown, and Brittany opted to be the DD," Megan says. "After several ounces of liquid courage, I danced with her on the dance floor and turned around to kiss her. It has only been her ever since."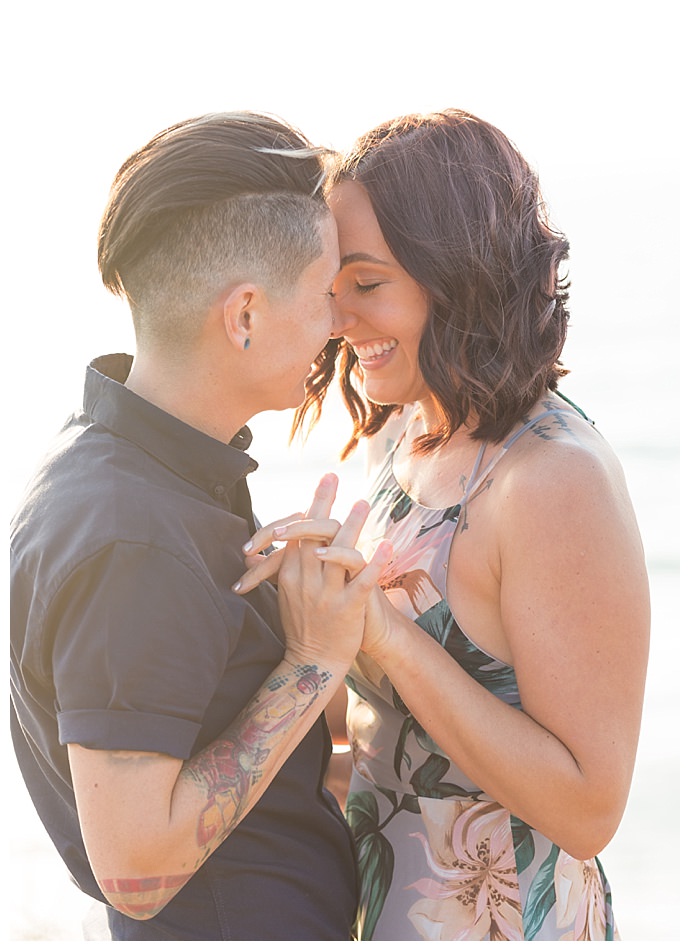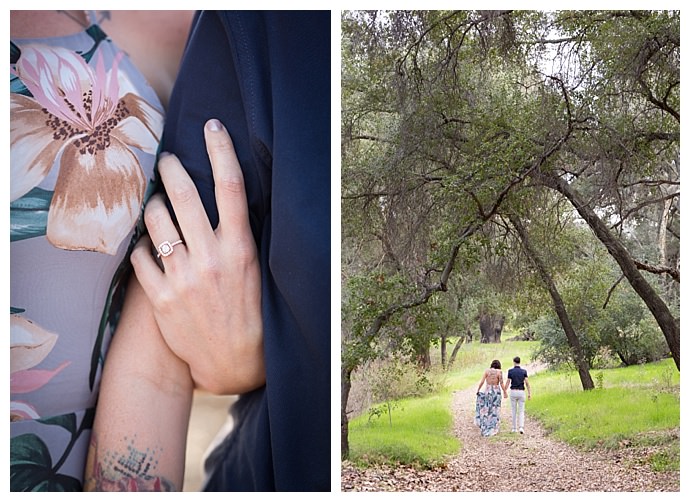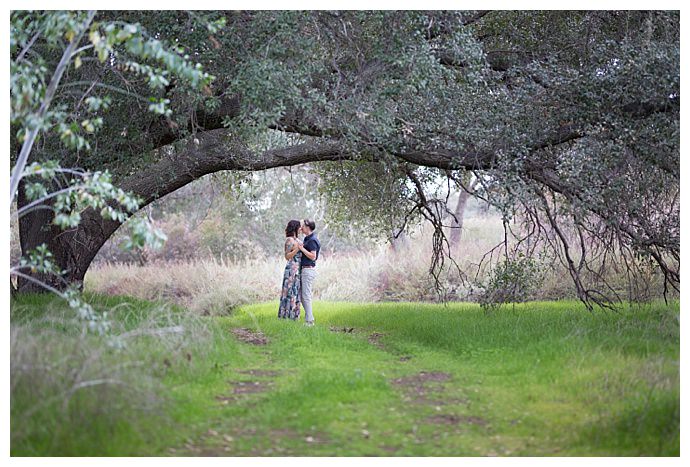 Megan's Proposal
Brittany's 30th birthday was approaching, and her and Megan were planning a trip to Cabo San Lucas with a few of their close friends to mark the occasion. "Little did she know, I had also planned six months prior that I was going to propose," Megan says. On their second day there, Megan snuck down to the beach with a friend, armed with blankets, pillows, champagne, her laptop and a speaker. They set up a cozy lounge space while inside their Airbnb, their friends gave Brittany an outfit Megan had bought for her to wear.
After following a series of signs that led her to the beach with their friends, Megan played a 20-minute slideshow on her computer that began with the very first photo they had taken together and spanned the next three years and eight months that they had been dating. "Once the slideshow ended, we all stood up for what she thought was a birthday toast," Megan says. "I proceeded to tell her how proud I was of her for chasing her dreams and that I wanted to be there to see all of the successes life brings her. And then I got down on one knee right at sunset to say the four most important words of my life."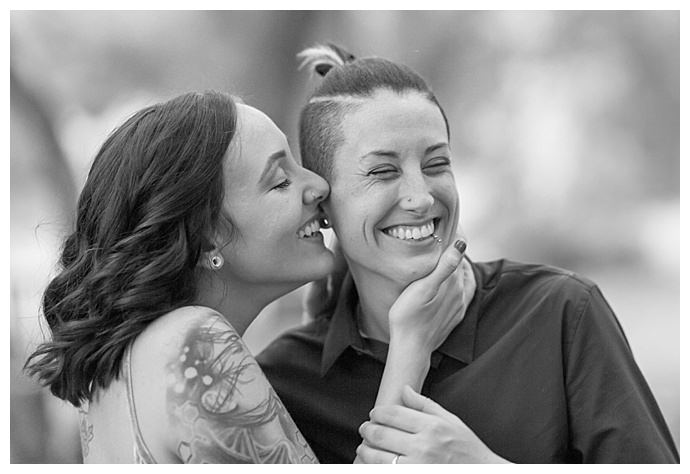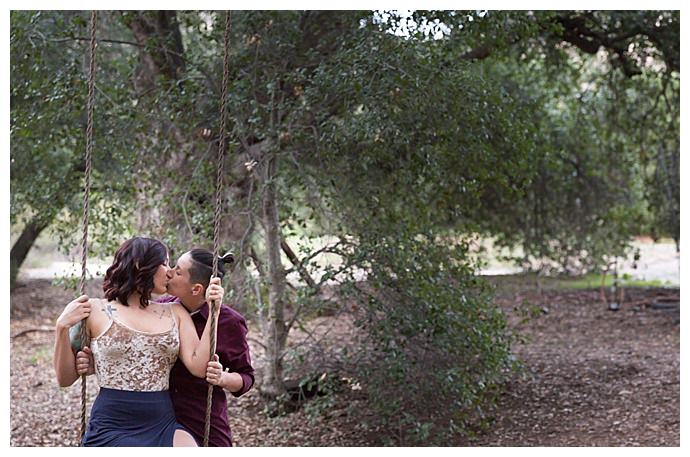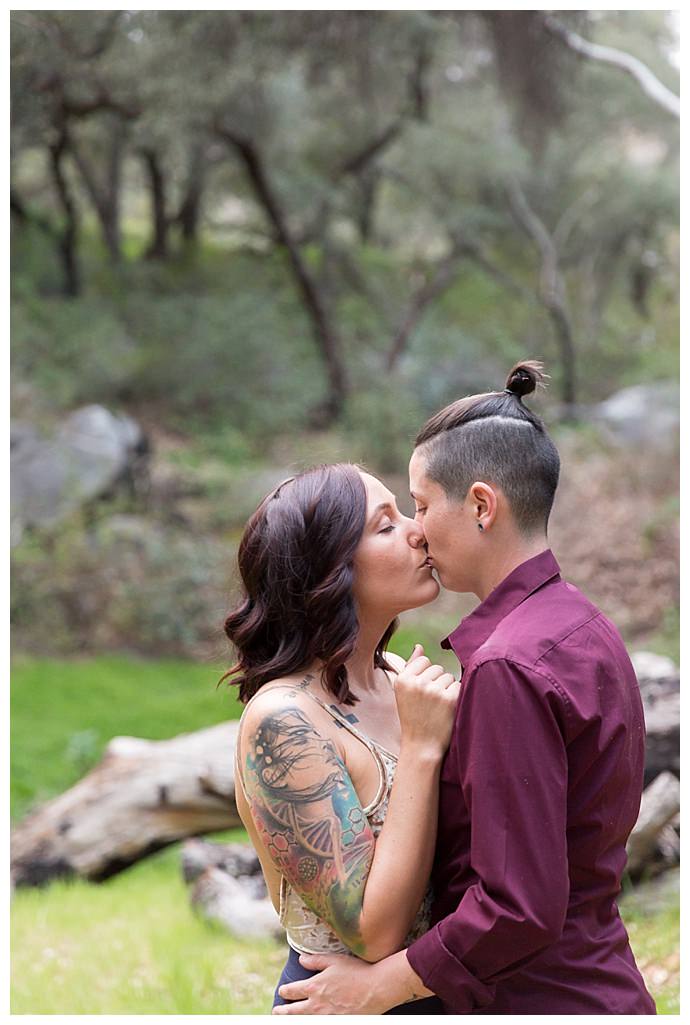 Brittany's Proposal
A month and a day after Megan proposed, it was Valentine's day, and Brittany was excited for her own chance to get down on one knee. Knowing Megan's love for art, Brittany got them tickets to the San Diego Museum of Art for a special private event they were holding specifically for Valentine's Day. Brittany got in touch with the museum director to secure a tour along with a private dinner for two on the top floor of the museum. After dessert, they brought a bottle of wine to the park outside the museum and Brittany guided them to the amphitheater, where she saw a couple standing to the right of the stage. She left Megan on the stage and let the couple in on her plan to propose and asked if they'd snap a picture of the special moment.
"They were so excited to be a part of our moment that they hastily agreed without any further begging on my part," Brittany says. "I then took Megan's hand and guided her to the middle of the stage." Brittany pulled two small heart-shaped chalkboards form her bag along with a stick of chalk. "I told her since the night had been all about art that I wanted to keep the theme, so I had an art project for us," she says. "I told her I wanted her to write her favorite thing about me on her heart, and I would do the same, when in reality, I was going to write, 'will you marry me?'" They stood back-to-back scribbling on their chalkboards until Megan announced she was ready. Brittany counted to three, and when they turned around, she got down on one knee. "I held my question up with one hand and held the ring out with the other," Brittany says. "She was so in shock that she forgot to breathe, and I thought she was going to pass out!" Brittany then got to ask Megan that four-word question and she, of course, said yes. "It was an incredible evening that could not have gone more perfect," Brittany says.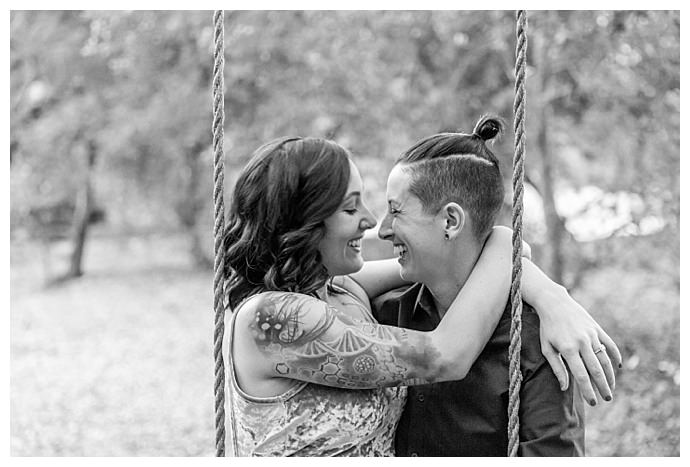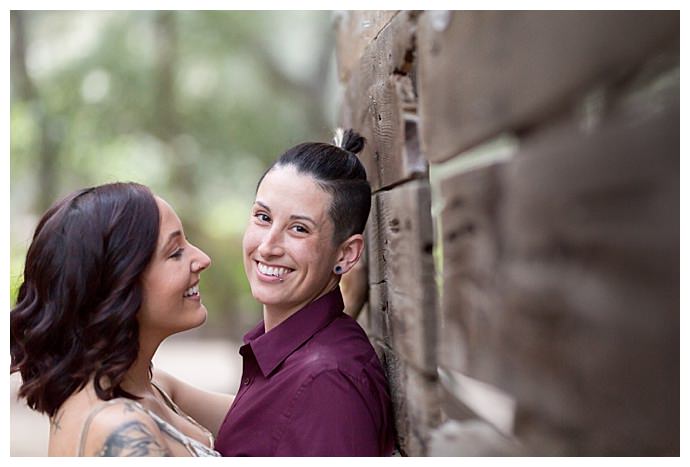 Memorable Moment
"When I turned around thinking 'I'm about to find out what her favorite thing about me is,' and I find her down on one knee," Megan says. "Her favorite thing was — is — me, forever."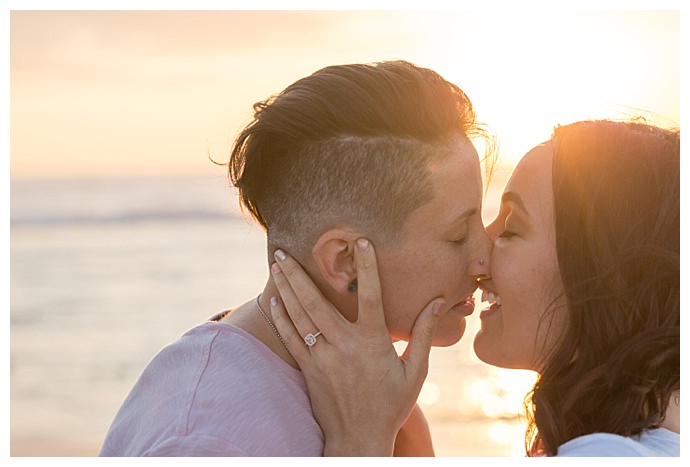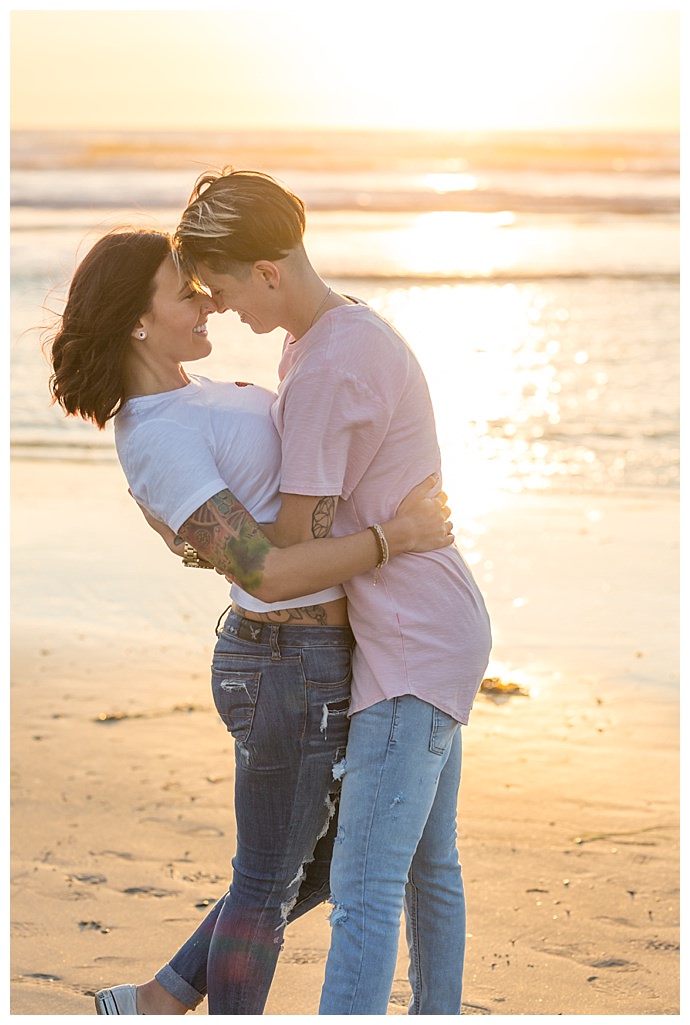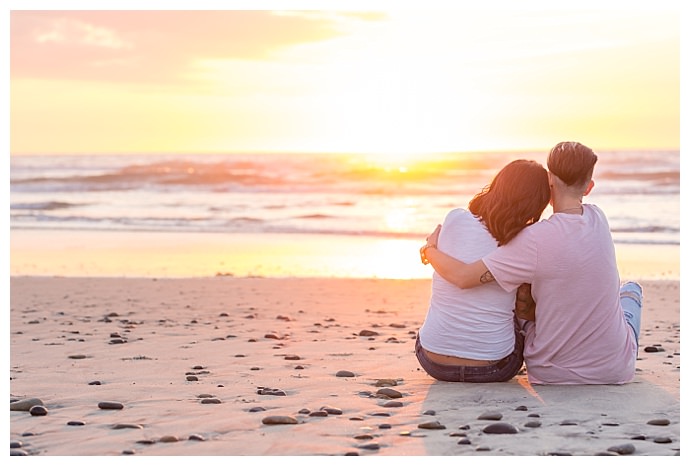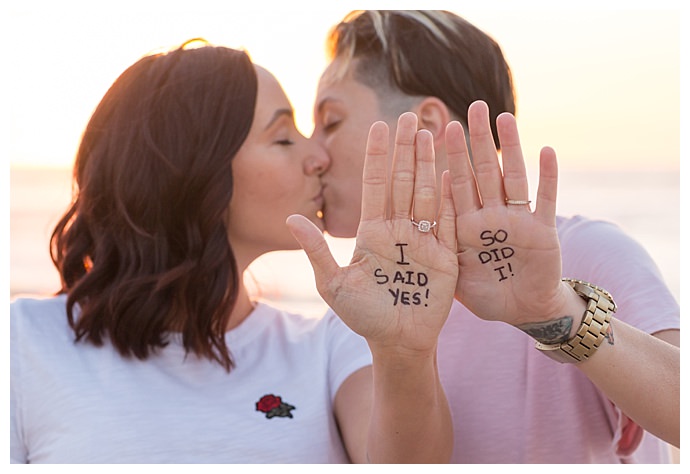 Written by: