By Brittny Drye | Photography by Justin Browne

From the nervous-but-excited gleam in his eyes to the trembling of his hands when he puts the ring on her finger and the exclamation of complete surprise as she looks around to find her nearest and dearest surrounding her, the video and photos of Daniel popping the question to Julia just send waves of emotion through us.
The proposal video by Wendel and photography captured by Justin Browne is pure magic and has all of the elements that make us swoon—happy tears, raw emotion and animal head masks (epic!). See their proposal unfold in photo and video form, and read this adorable couple's love story, after the jump. 
The Love Story
What began as a bicoastal affection after meeting in a Hollywood bar, complete with a lingering "relationship request" on her Facebook, eventually turned into head-over-heels, can't-live-without-each-other love.
"The relationship request awkwardly sat in my Facebook inbox for a couple weeks," laughs Julia. "It was tough because we were long distance at the time and I didn't know if long distance was something I could do. When the possibility of him moving to Los Angeles became a real option, and the fact that he is just so goddamned adorable … I was all in. And haven't looked back since!"
The Proposal
Daniel enlisted 40 of their loved ones to take part in this special moment (including Julia's parents from Australia!), and as she walked to what she thought was a massage appointment, she spotted "Will" "You" "Marry" "Me" signs held up by crazy masked people. Because, really, how many opportunities in life do you get to incorporate Smurfs, unicorns and cats into one setting?
The Ring
Even with only a mere "I don't like thick bands" to draw upon, Daniel nailed the ring—a simple solitaire marquise cut complete with a Tiffany setting and 14-karat white gold. Classic and flawless. "I love it and can't stop looking at it!" adds Julia.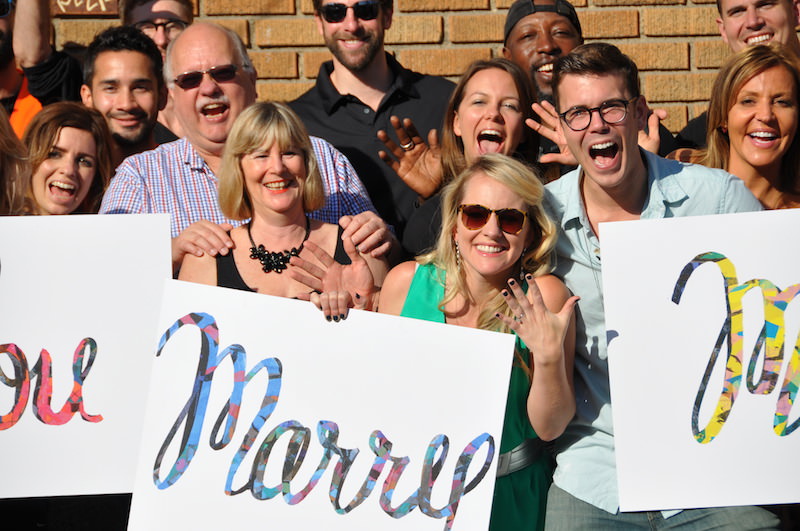 Watch Daniel and Julia's proposal video here:
Flash Mob Engagement – Daniel and Julia from Daniel Oakley on Vimeo.