As the iconic Mariah Carey says, "It's tiiiiiiiiiime!"
The holiday season is officially underway, and we're once again curating a gift guide that celebrates LGBTQ-owned small businesses. When you buy an item on this list, it's like giving a high-five to the hardworking queer entrepreneurs who are out there turning their dreams into our must-have holiday goodies.
From cozy kimonas for the kids, to delicious chocolates and sauces, this guide is bursting with ideas for everyone on your list. So, let's make our holiday haul count this year by supporting these amazing businesses. And if you need more ideas, be sure to check out our past inclusive shopping holiday gift guides.
Happy holidays, from our family to yours.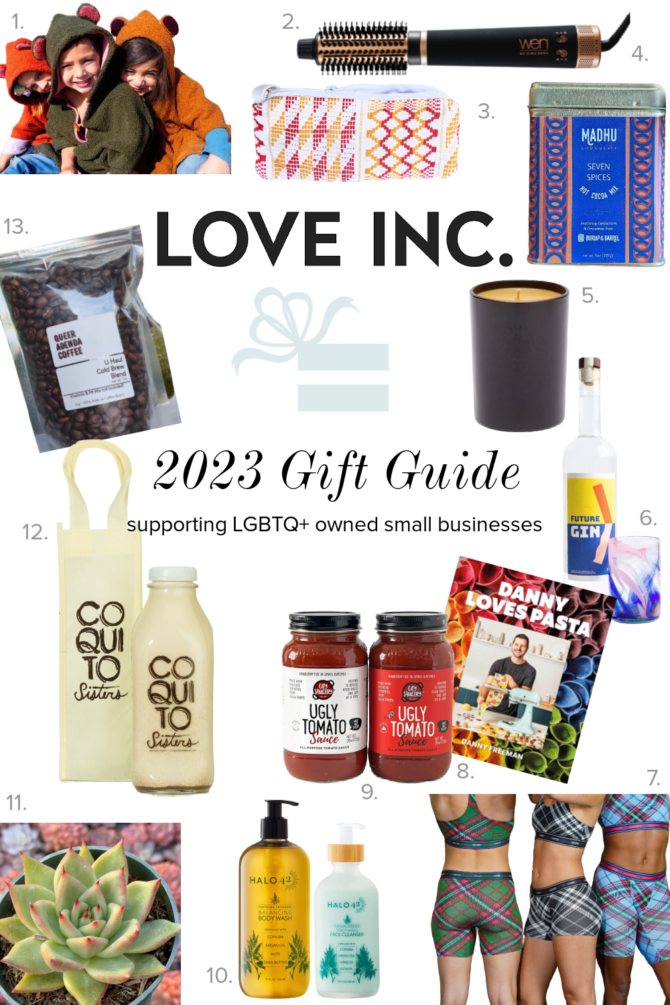 Top left, clockwise:
The Kozy Bear by Kaftko, $59.50: Made with plush teddy material, oversized hood and optional bear ears, kids will go crazy for this cozy layer. (Psst … they have adult sizes, too!)
Brush Dryer Styling Tool from WEN by Chaz Dean, $275: Created by hairstylist Chaz Dean, this tool for straight or wavy hair has multiple attachment options and airflow vents to give you a professional-level blowout at home.
Havana Clutch by Fort Mosé 1738, $50: This just-launched brand made in Ghana, named for the first legally sanctioned free African settlement in the U.S. in the then-owned Spanish Florida, features rich-colored textiles in shirts, dresses, and accessories, like this chic and perfectly sized clutch.
Seven Spices Hot Cocoa Mix by Madhu Chocolate, $24: Founder Harshit Gupta's Indian roots fuel the incredible flavors and spices in this unique hot cocoa mix that includes cinnamon, cloves, cardamom, black pepper and vanilla bean. One sip and you'll be transported to the bustling scent-filled streets of Mumbai.
Palo Santo Epilogue Candle by Harris Reed from BeautyHabit, $75: Part of queer fashion designer Harris Reed's Thriving In Our Outrage collection, this Palo Santo Epilogue candle is scented with floral heart notes, balanced with a cardamom head and warm woody base.
Future Gin Giftset, $130: Queer-owned Future Gin combines the structure of a dry gin with the vibrant flavors of Southern California—Meyer lemon, honeysuckle and grape leaf are distilled alongside traditional botanicals to produce a gin that's classic yet bright. For their holiday gift set, they pair it with a hand-blown Kokoma glass from Upstate, with proceeds going to Los Angeles Downtown Women's Center and Women for Afghan Women.
Baller & Boss Set by Woxer, $78: Woxer's holiday drop features trendy prints in their tried-and-true luxury fabric that is breathable and moisture-wicking, in sizing that works for every body.
Danny Loves Pasta cookbook, $26.99: Catapulting to fame by sharing his colorful pasta characters and creations on TikTok, Danny Freeman, aka dannylovespasta, launched a cookbook this year. Perfect for the beginner or seasoned chef, it features easy dough recipes (vegan and gluten-free options included), plus ways to add color with all-natural ingredients, patterns, and delicious sauces.
Ugly Sauce Combo by City Saucery, $19.99: This Brooklyn saucery takes unwanted tomatoes that are bruised, overripe or oddly shaped and turns them into delicious sauces. Pair it with the pasta cookbook for a super special gift!
Cleansing Duo by Halo42, $144: This elite duo, featuring Halo42's Copaiba Infused Body Wash and Creamy Face Cleanser, pairs two of the brand's best-sellers to create the perfect gift for someone who appreciates quality skincare.
Plants from Succie Life, $4.99-$69.99: Gift a loved one these little cuties from gay-owned Succie Life, no green thumb required for the low-maintenance succulents. Group a few different standards at $5 a pop or gift a rare beauty for a higher price tag.
Little Sister by Coquito Sisters, $30: A favorite holiday tradition in many Puerto Rican households, sisters Anais and Liana are sharing their family recipe with the world. The 36oz bottle comes with a tote bag, making it the perfect host/ess gift for this year's holiday party.
Queer Agenda Coffee, $10: With aptly named beans such as Brunch B*tch Blend (a smooth and nutty medium roast) and U-Haul Cold Brew (a sweet and approachable, chocolatey roast), you've got the perfect gift for the java-loving gays in your life.