Honor your heritage (and sweet tooth) by adding traditional treats to your dessert table.
Across the globe, wedding ceremonies are steeped in traditions that uniquely define each culture. One common thread uniting these celebrations, regardless of the locale or customs, is the presence of a wedding cake or dessert. Though the form and flavor may vary, wedding cakes from around the world are more than just confections; they are symbols of unity, prosperity, and a sweet future. As we journey through various parts of the world, the diverse artistry and significance behind these cakes provide a delightful and delicious glimpse into the global tapestry of celebrations.
Croquembouche: A pile of cream puff pastries? Count us in. France's version of the wedding cake, this choux tower is constructed with caramel and covered in spun sugar. I Photo by Todd Danforth Photography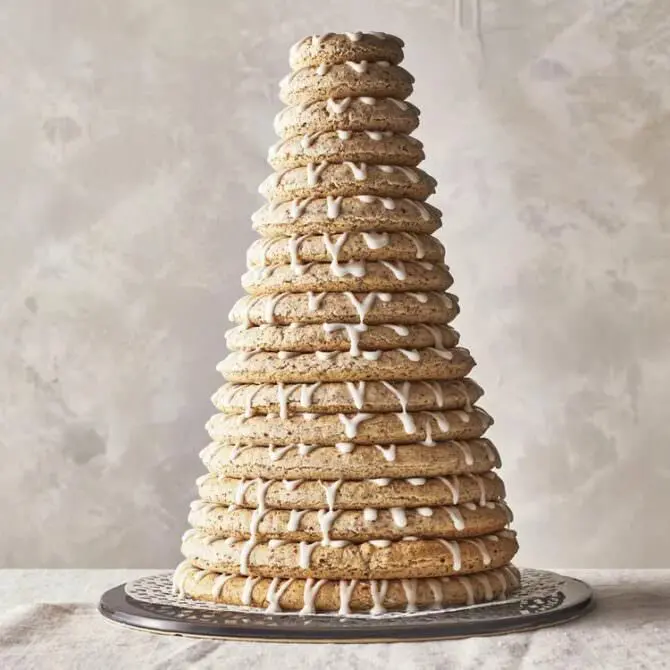 Kransekake: This stacked confection, which translates to "wreath," is a staple at Norwegian weddings. The almond cake is crunchy on the outside and chewy on the inside and is served by removing the individual rings (traditionally, you have at least 18), then slicing. | Photo via allrecipes.com
Prinsesstårta: Serving up this domed vanilla sponge cake is a wedding tradition in Sweden. Traditionally green, it's filled with pastry cream and raspberry jam and covered in marzipan. | Photo via King Arthur Baking
Tteok: This bite-sized Korean rice cake has several variations (both sweet and savory) with Bupyeon being the most common for weddings.
Sakotis: Also known as a Lithuanian tree cake, this confection is made on a rotating spit, and the finished product can be decorated with fresh flowers.
Tres Leches Cake: This Mexican delight is a fluffy sponge cake with three types of milks—evaporated milk, sweetened condensed milk and whole milk— poured over the top (hence the name, which translates to "three milks"). | Photo via The Baking Fairy
Kek Lapis: Extremely labor-intensive to make, Indonesians save this spiced cake exclusively for special occasions. | Photo via Kitchen Confidante
Rogel: Dulce de leche sandwiched between crispy layers topped with meringue is all it takes for this simple, yet delicious, Argentinean dessert. | Photo via En Casa Cooking Space
Cover photo by Lara Jameson | This article originally appeared in Love Inc. V8 issue