By Meghan Kennedy | Photography by Chloe Jackman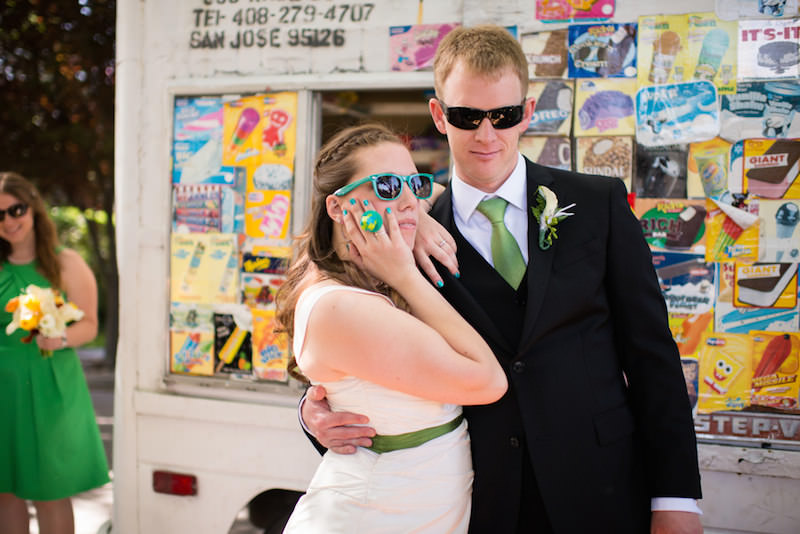 Lauren and Brett are a couple brought together by chance, and still together because they are that perfect for each other. Between their love for quirky details (green Chuck Taylors and Battlestar Galactica wedding references anyone?) and their pride for the University of Southern California, you can tell these lovebirds are truly meant to be. Their wedding at the San Jose Museum of Art, shot by Chloe Jackman, truly personifies what love, unity and commitment means to them.
The Love Story
The two fell in love at USC when Brett hired her to work tech support in the dormitories on campus. Their love for their school brought them together—they're huge USC fans—and slowly but surely, they began to date. Fast-forward seven years, and they began to discuss marriage. On a Monday night with just the two of them present, both Lauren and Brett realized their reservations had faded away. They truly wanted to be together, for better or for worse, and as Lauren tells us, "when he realized this, he asked me to marry him before I had a chance to ask him first!"
They wanted to make their proposal known in person, so they waited until they could see friends and family face-to-face before telling them the news. They invited friends over for seemingly random dinners. "We drank champagne literally every day for two weeks," laughs Lauren.
The Venue
Lauren and Brett wanted to get married in downtown San Jose because they loved the neighborhood so much. It's close to where they live as well, which made it easier for the couple to get ready prior to the ceremony … and made for some really fun photo opps! As the wedding troupe was en route to the venue, an ice cream truck pulled up (completely unplanned!). "Watching our wedding party, all dressed up, get excited over ice pops and try not to make messes was amusing!" adds Lauren.
The museum specifically was chosen because of the huge windows, natural light and open spaces—a perfect vibe with Lauren and Brett's carefree and joyful personalities.
The Fashion
Lauren loves consignment shops, so she found her gown at a vintage store on the hunt with one rule: it should be able to fit in a backpack. She wanted something soft, not too rigid or too poofy, and she found the perfect gown made out of lightweight silk. Laced up the back with a green sash and straps added on by a seamstress, the dress was ideal for Lauren's relaxed style.
Brett and the groomsmen wore dark suits with matching green ties; Lauren's bridesmaids wore short dresses (with pockets!) from David's Bridal. While the bride and groom didn't pick a theme per se, their color scheme was green, and lots of it. The bridesmaids' dresses were in varying shades of green and teal with gold shoes, and the groomsmen wore green Chuck Taylors. Of course, the ladies were not to be left out, so once reception time arrived, off came the gold heels and on went their own green Converse sneakers to match the groomsmen.
The Ceremony
The couple took traditions they loved from all different cultures, and combined them into one very unique ceremony. A key element of their celebration was how engaged they wanted their friends and family to be. "I like ceremonies. I like the build up and emotions and wanted our guests to be a part, not spectators," explains Lauren.
Their friend officiated the ceremony, presiding over the flow as friends did readings similar to a Catholic mass: an excerpt from the Massachusetts marriage equality court decision and a poem. Since her grandmother is from Colombia, they continued a tradition where the couple getting married exchanges coins, called las arras, that symbolizes combining resources, and telling the other that "what's mine is yours." Lauren's grandparents even brought up coins that have been in the family for generations for Lauren and Brett to use in the ceremony—just the fact that her grandparents were even able to fly across the country for the ceremony was special, but the coins made it even more so.
They used the idea of their community's declaration from the Episcopalian church so their guests could be participants as well which involved their friends agreeing to support Lauren and Brett's marriage and to help them on their journey. 'The response was 'so say we all' [from Battlestar Galactica], because we had to get one nerdy reference in there somewhere!" laughs Lauren. Finally, their ceremonial amalgamation borrowed from the Jewish idea of seclusion and after the ceremony, bride and groom walked down the block to grab a pint of beer and spend some time together as newlyweds before jumping back into the reception!
One of the most unique parts happened at the very end of the ceremony. As Lauren and Brett were walking out, their recessional had been arranged to be USC's fight song and their family surprised them with an eight-man band of the USC Marching Band downstairs in the museum, playing as the newlyweds made their way back down the aisle! "For USC fanatics like us, it was perfect," exclaims the couple.
The Reception
Their reception's floral design was simple, yet elegant. Lauren's friend and her mom made beautiful bouquets and boutonnieres featuring calla lilies for the wedding party, and Lauren ordered succulents from Etsy to feature as the centerpieces for her reception while doubling as favors for the guests to take home.
Lauren and Brett made the most of their event space and used the museum itself as decoration for the reception. "You walked into a big, tall open space with giant windows, art on the walls, and giant, colorful Chihuly glass sculptures. The ceremony was upstairs in a gallery with a frosted glass ceiling. What artwork would be up for our ceremony wasn't determined when we booked the space—it just depended on what exhibit was in there at the time. The back wall that you faced as you walked in ended up having a giant photo of a man in formalwear posing with horse in a wedding dress and a veil on a neon pink background. Given a long-standing family joke involving Brett and My Little Ponies, I don't think we could have imagined something more bizarrely suited to the situation," exclaims Lauren.
For their reception meal, Lauren and Brett envisioned a social gathering as their dinner, breaking bread, and general camaraderie and relaxation between their guests. In keeping with that vision, they had a seated dinner with family style food at each table. Their very healthy menu included crispy chicken with artichoke sauce, Portobello mushroom with white beans, mashed potatoes and salad.
Traditionally, Brett always asks his mom to make a crepe cake with raspberry sauce on his birthday, so she made the couple a crepe cake to cut for their ceremony. Their caterer also made cake pops, Rice Krispie treats, and other bite-sized treats for guests to enjoy.
Not only did they send the guests home with succulents and leftover food, but Lauren and Brett brewed homemade beer, complete with custom wedding labels, and gave them to their guests as official favors.
The Entertainment
Lauren loves dancing at weddings, and knows that music can do magical things. She and Brett weren't sure about a band, but as luck would have it, she came across the perfect band six months before the wedding. "We were at the Gilroy Garlic Festival with some friends about six months before the wedding. When we could hear some band playing some 90s pop, we were intrigued and joked that we should get them to play the wedding. When they played LMFAO, I think that sealed the deal. We have a friend who shuffles, and that needed to happen," jokes Lauren of their band decision. "Over the next few months we heard them play a few places in San Jose and hired them. The fact that they were American Federation of Musicians members and we could support union musicians was even better."
There was a photo booth at the wedding, and while Lauren originally didn't want one, she tells us she's glad she opted in—it gave them so many mementos of all their guests. Their first dance was, of course, to the USC Marching Band, during Lauren and Brett's re-procession back into the venue.
Memorable Moment
"At the rehearsal the day before, my grandparents arrived late, and I hadn't seen them yet, and up to the week of the wedding we weren't sure if they were going to be able to come. When they walked in, my sister and I ran across the room, crying and hugging. That was great."
Vendors:
Venue: San Jose Museum of Art
Photographer: Chloe Jackman
Florist: The Little Succulent Shop
Catering: Catered Too
Wedding gown/suit: Emerald City Gowns
DJ/Band: Drive
Makeup/Hairstylist: Dry Bar