By Meghan Kennedy | Photography by Seth Kaye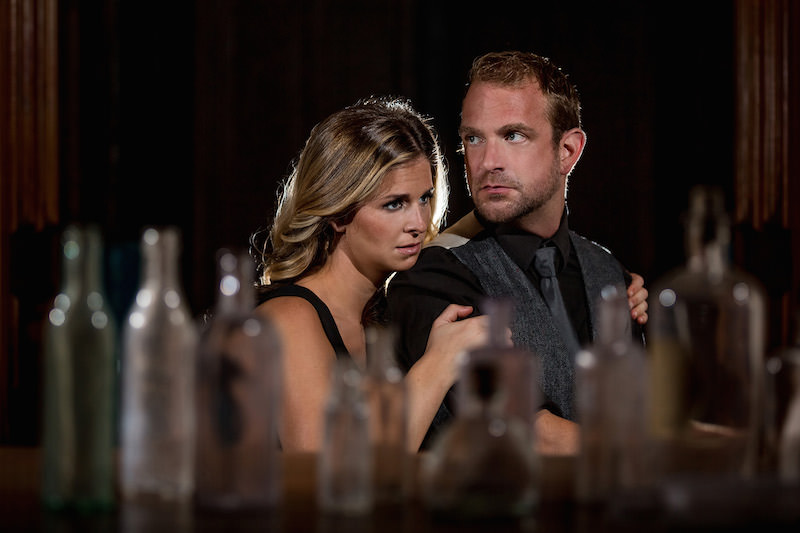 Move over, Ben and Vivien Harmon … soonlyweds Ryan and Andrea are the new occupants of Murder House. A stately mansion, in-ground pool and Rubber Man may not sound like your typical photo shoot, but Ryan and Andrea are not your typical couple. They're huge fans of the FX anthology  "American Horror Story," so it's no surprise that their engagement shoot was inspired by the show's first season, Murder House. "In choosing the 'American Horror Story' theme, it allowed us to explore our creative/darker sides," says Andrea. "We had a blast taking something that is normally romantic and relatively serious and put our own twist on it." Both glamorous and haunting, just like the television show, these unique photos were captured in Danvers, Mass., by Seth Kaye Photography.
"Rather than literal interpretations, we instead made images inspired by that season. We traveled to a sprawling mansion in Danvers that has built into its architecture parts of the now-demolished Danvers State Hospital, which in different times was also named the State Lunatic Hospital at Danvers, the Danvers Lunatic Asylum and the Danvers State Insane Asylum," notes Seth of his couple's location. 
The Love Story
Andrea and Ryan met together in the workplace, as non-profit colleagues in Holyoke, Mass. Work played a big role in realizing their compatibility with each other; they knew they were meant to be after making it through a number of challenging times, both personal and professional. "It was really how we both conducted ourselves in the face of difficult times that reminded us we're on the same team," adds Andrea. Realizing their similar moral compass and shared values, they knew they could be each other's support system forever.
The Proposal
On Ryan's birthday, he asked Andrea to get up at the crack of dawn so they could take a photo together because the February morning sky was too colorful to waste a photo opportunity. Andrea says that once he set up the timer on the camera and ran back to take the picture, "I found him kneeling on one knee asking me to spend the rest of my life with him. I felt so lucky to be able to spend the rest of my life with my best friend!" Ryan proposed in Granby, Mass., home to Rocking M Ranch, which is Andrea's family's farm. He wanted to make the proposal somewhere meaningful, where he could point and say, "and right over there is where I asked her to marry me."
The Ring
Ryan tells us that picking the ring was a tough decision because Andrea doesn't wear jewelry. He found the perfect ring for Andrea in a small boutique in Northampton: modest and elegant, just like she is.
Memorable Moment
"Probably when Andrea started crying before I could get down on one knee — she had known ahead of time! Apparently one evening I had emptied my pockets out on to the bed and among the lint and change she had found the deposit for her engagement ring. I had asked her in previous weeks to help with some of the business receipts… needless to say she put it right back where she found it and assures me that it's better she knew ahead of time, because Andrea likes to be prepared for life-changing news. We look back at it and laugh knowing it was a special moment in our lives and to be a bit more careful if you want to surprise someone."
Wedding Date: October 3, 2015