By Meghan Kennedy | Photography by Open Iris Photography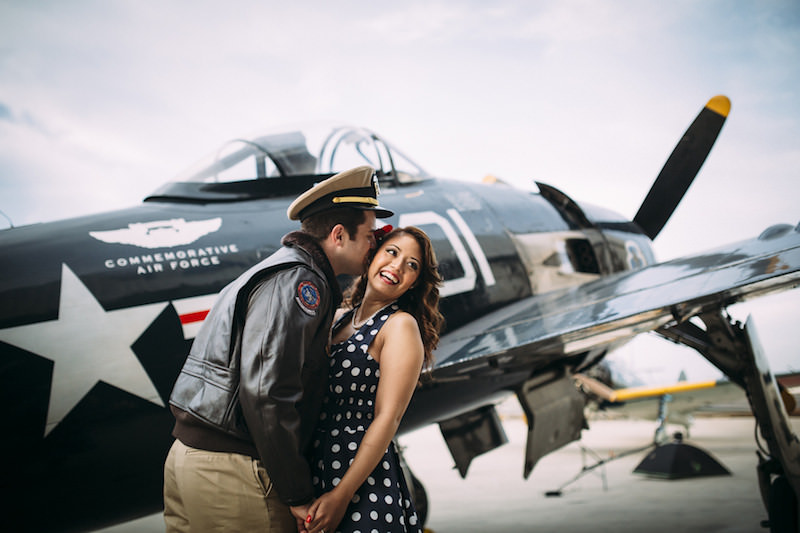 Bride-to-be Rina came up with the idea of an aviation theme for this vintage, 1940s-reminiscent styled engagement session. "She felt it would be a unique way to celebrate and share our engagement," says Jay. "Past that, it also captures our experiences together during this part of our lives." The photos taken by Open Iris Photography in Camarillo, Calif., tell an engaging (no pun intended) story of love set against a classic Americana backdrop.
The Love Story
Rina and Jay are a true 21st century couple — they met on Match.com and have been together ever since. They dated for almost three years before getting engaged in June 2014 but knew they were meant to be together when faced with a long-distance relationship through Jay's deployment early on in the relationship. "One particular instance was the strength Rina showed during a deployment early in our relationship," explains Jay. "The deployment was extended significantly, and we faced it together, although separated by tens of thousands of miles." Even though it was difficult to be apart for so long, their love stood the test of time.
The Proposal
Rina says that the fateful weekend of the proposal, they had both been stressed at work, and decided to take a spontaneous weekend vacation to Palm Springs. At the famed Joshua Tree National Park, the couple hiked all day until it was time for a break. "The sky was cloudless, and under the shade of a tree, Jay proposed. He pretended to reach into his backpack for a snack, and instead, produced a ring!"
The Ring
Rina's engagement ring is classically beautiful, just like their engagement photo session. It has an elongated radiant cut diamond center stone, surrounded by 32 individual round cut diamonds in a single halo.
Wedding Date: July 25th, 2015