By Kaitlynn Moquet | Photography by GreenAutumn Photography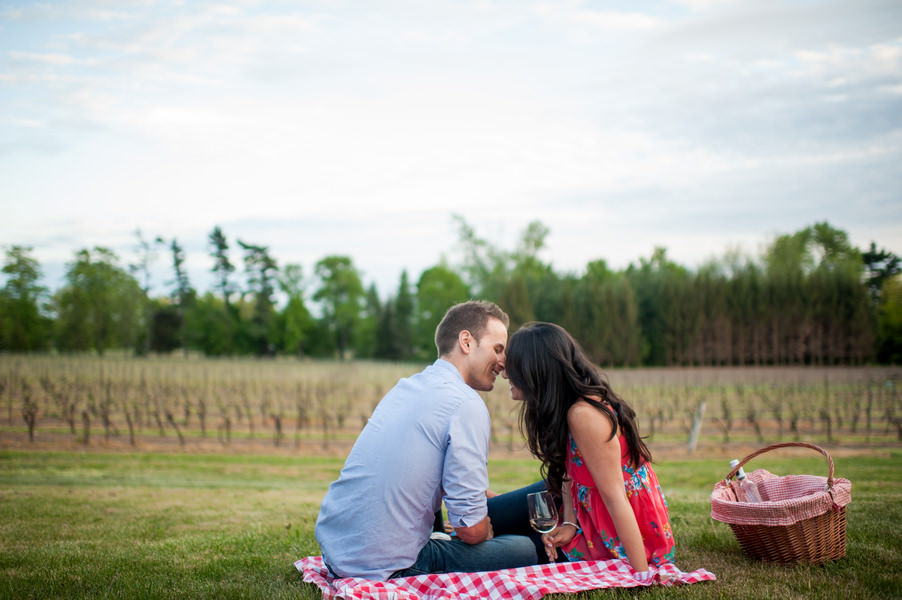 Who would have expected that a job at the mall would lead two beautiful people down the path of true love? Well, it sure did for Gena and Matt. After years of dating, this couple is finally about to tie the knot! The intimacy between these soonlyweds shines as bright as the smiles they shared during the engagement session. Captured by GreenAutumn Photography, their e-sesh took them on a bike ride with vintage cruisers, stopping along the way for wine tastings, vineyard picnics and photo opps beneath gazebos.
The Love Story
When Gena and Matt met at the shopping center where they both worked back in 2006, they "both knew right from the beginning" that the other was The One for them, Gena said. After dating for six years, Matt finally popped the question during a romantic getaway to The Pillar and Post Inn at Niagara-on-the-Lake in Ontario.
The Proposal
Matt proposed to Gena on Valentine's Day weekend the beautiful lakeside inn and spa in Ontario.
"Matthew took me away for the weekend – it was a secret weekend," Gena remembered. She said the couple spent the first part of their special getaway skating around the falls. Afterwards, as they headed toward the quaint inn, Matt told Gena they were just having a spa day there. Upon  their arrival, however, Matt checked into a room and made the weekend much more memorable than a relaxing spa day could have ever been.
"Matt was trying to find the lakefront gazebo to propose. But because it was winter and dark outside we ended up God knows where in someone's yard," Gena laughed. "He held off after making me run through someone's yard … in the snow."
Matt and Gena went to a lovely dinner that evening, but still no ring! Gena said the monumental moment happened privately right after the couple returned to their room in the inn.
"The entire day was very special to me. Matt planed things based on what I would like. In the end he realized how much he liked those activities also," Gena noted.
The Ring
Gena couldn't stop gazing at this beautiful new ring which she had been waiting nearly six years for.
"It was around 1 a.m. and everyone I knew was sleeping, even Matt, so I spent most of the night not sleeping. I must have went into the bathroom to look at the ring 100 times!!" Gena exclaimed.
The ring has a diamond cut stone in the center, paved by sparkling diamonds which curve around the ring's shoulder. This stunning piece is a Tacori setting from the Dantela collection.