By Brittny Drye | Photography by Time Into Pixels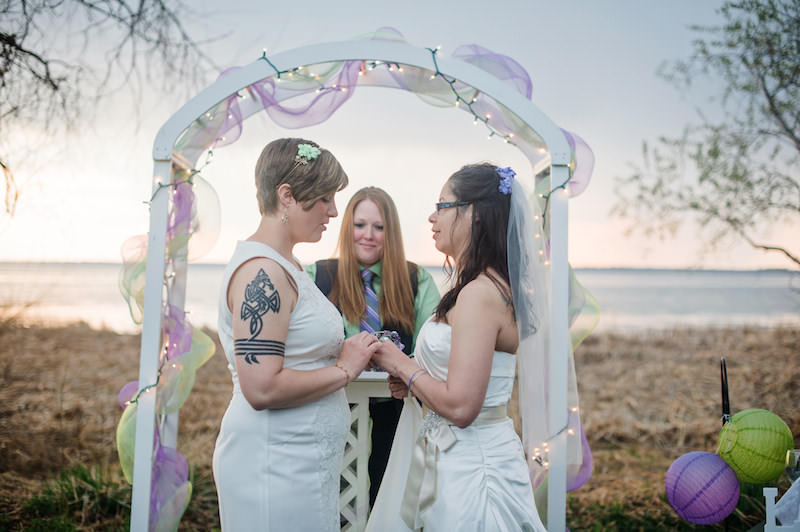 A romance that was 12 years in the making, Nelli and Lina traveled from their Wisconsin home to neighboring Minnesota where marriage equality is celebrated to tie the knot at a lakeside property that created an incredible backdrop to their decorated altar. Their brightly colored palette of purple and lime green was seen throughout in their costume jewelry bouquets, lanterns and cupcakes. As rain clouds threatened overhead, Mother Nature parted the skies just long enough for the brides to say "I do."
"Just before we were getting everyone gathered to start the ceremony it started to rain, but stopped just long enough for us to have the ceremony and as soon as we finished our vows it started right back up again and everyone had to make a run for the house," says Nelli. "It was perfect."
THE LOVE STORY
In the DADT days, they met while they were both stationed in South Korea in 2002 and began dating soon after. Unfortunately, after multiple military orders took them to separately to Washington, Germany and Iraq, the long distance weighed heavy on their loving relationship. In 2004, they parted ways still very much in love and, on a whim, rekindled their friendship—and soon their love—five years later. "We made contact again through Lina's best friend's Facebook page," explains Nelli. "Her best friend, Asia, told me how much Lina had talked about me for the past 5 years. She never truly moved on nor had I."
In 2010, Nelli moved from her home in New Mexico to Milwaukee where Lina had just purchased a home. "We have been living together ever since adding a dog, a cat and, most recently, a fish to our family," adds Nelli.
THE ENGAGEMENT
"I proposed to Lina on Christmas of 2012 by putting a ring in the bottom of her stocking. After seeing the ring I said 'Well…do you wanna?' and of course she said yes. Minnesota legalized same-sex marriage the summer of 2013 so we made our plans to get married there."
THE VENUE
Knowing their 19 guests would have to travel, Lina and Nelli searched for a venue that was private and intimate that could also sleep a lot of people. "We didn't want people spending a whole bunch of money on hotel rooms so we looked at a few vacation rental homes. The one on Leech Lake was perfect, even if it was further north than we would have liked," says Nelli.
The big yard overlooking the lake proved to be the ideal location, looking particularly picturesque as the sun set past the water.
THE FASHION
Lina wore an off-the-shoulder embellished wedding dress from David's Bridal while Nelli opted for a more simple, knee-length dress. "I always feel overwhelmed by wedding dress stores, not to mention I generally find the staff way too helpful, so I went the department store route," she adds.
Their favorite aspect was the bouquets, made by their friend from costume jewelry. "Lina's in purple and silver and mine in green and gold. They were absolutely beautiful and as an added bonus they will never wilt."
THE CEREMONY
Lina and Nelli were escorted down the luminary- and balloon-flanked aisle by Lina's brother to the tune of Mary Lambert's "She Keeps Me Warm" played by their dear friend on the keyboard. They had another friend get ordained to perform the ceremony. "She had a small wooden crate made with our names etched onto it, containing a bottle of wine. She made a speech saying that in five years we are to open the box and pour each other a glass of wine.  Then go to separate rooms and read the letters we had written to each other," says Nelli. "But if ever times get tough we can open it sooner to remind us of that love we once had. It was beautiful and so thoughtful. We couldn't have asked a better friend to marry us."
MEMORABLE MOMENTS
Lina: It was when we had our first look and I remember looking at her and thinking "I always knew it would be her."
Nelli: The most memorable part was the rain (I love the rain!).
 Vendors
Photography: Time Into Pixels Photography
Venue: Leech Lake, Minn.
Lina's wedding dress: David's Bridal