When Brandi and Tia first discussed the possibility of getting married, their options were limited. It was prior to the Supreme Court ruling that legalized same-sex marriage nationwide. But after the historic 2015 decision, Brandi and Tia embraced the freedom to choose a location that was perfect for them, and they excitedly decided to elope on the picturesque, white sandy beaches of Hawaii.
On Magic Island in Honolulu, Chelsea Abril Photography captured these glowing brides as they exchanged vows with their toes in the sand, surrounded by 12 of their closest friends and family. And after the rings were on and they took a romantic stroll on the beach at sunset, they continued the celebration at Azure Waikiki where they shared a delicious meal and created memories they'll remember forever.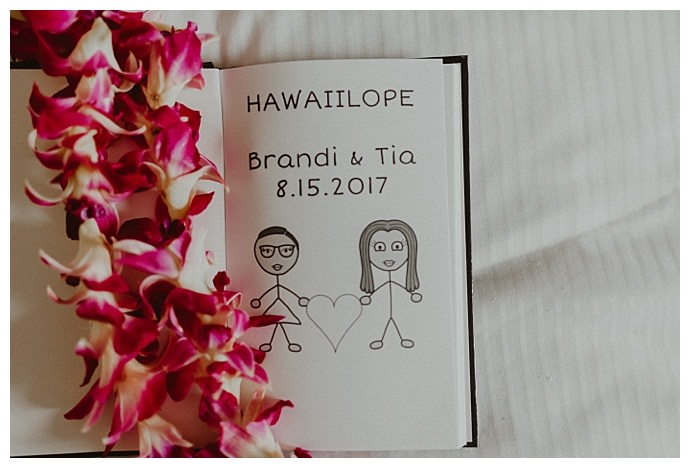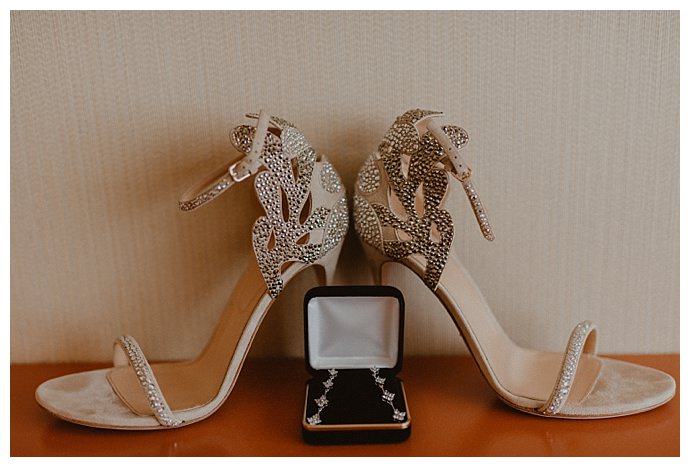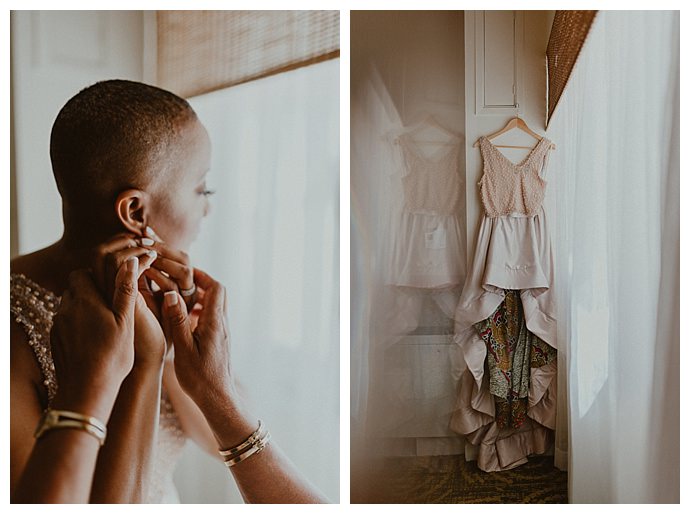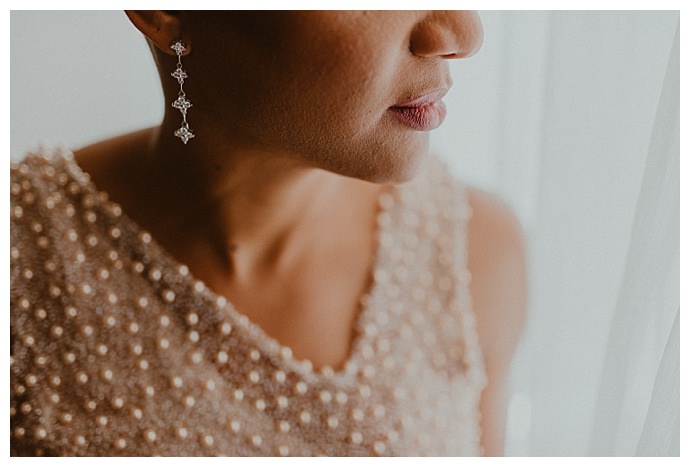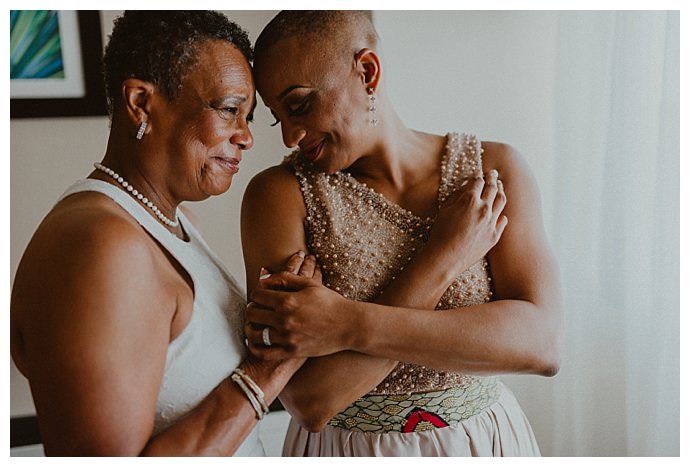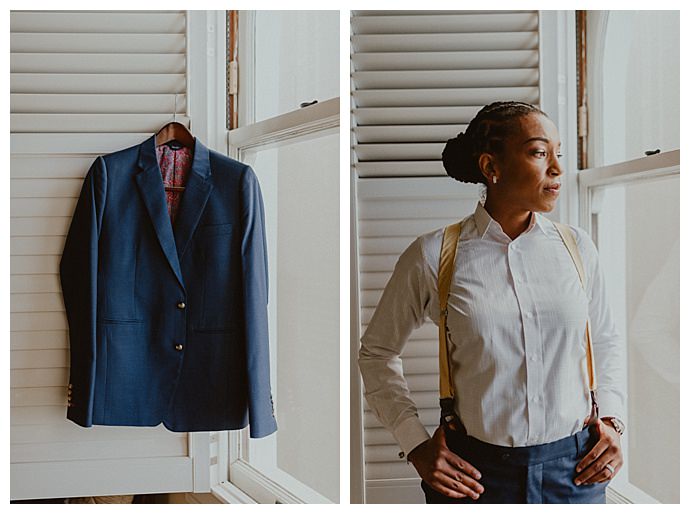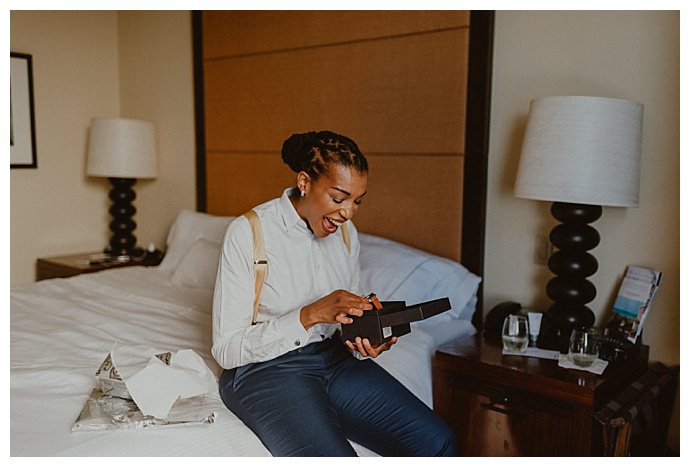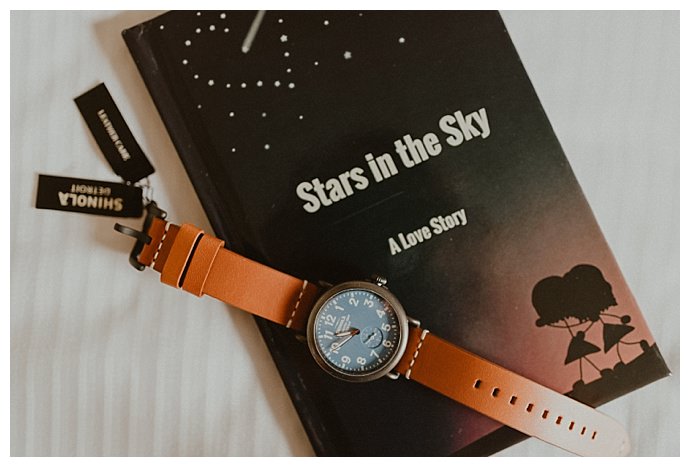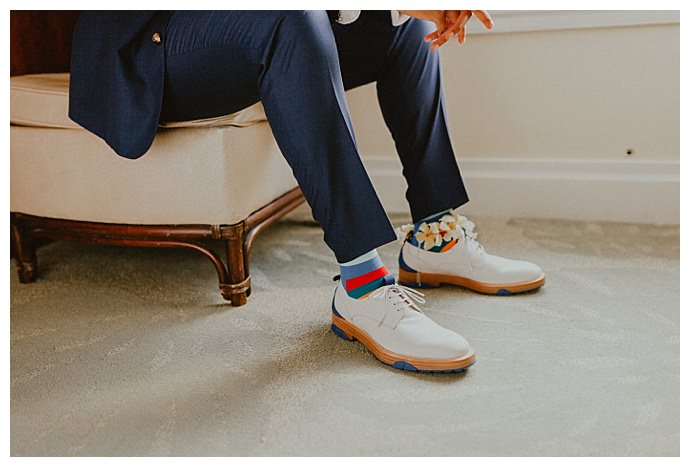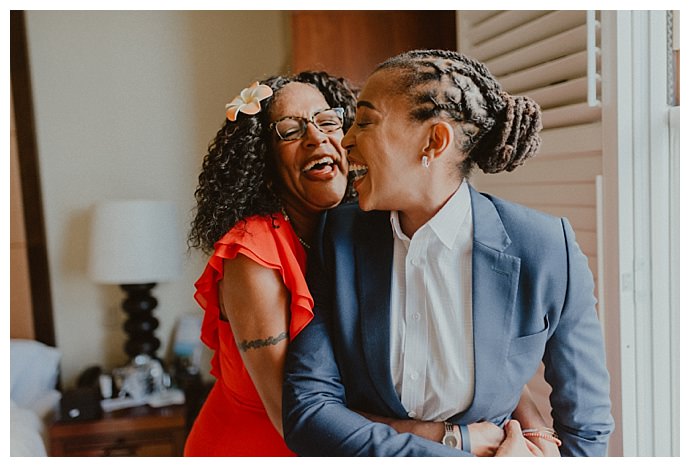 The Love Story
Brandi and Tia's paths first crossed at an unexpected time. They were both attending a work conference and expected to spend their time working, but after they met, they spent the rest of the weekend together. "Once we met on the first day of that conference, we hung out all weekend like two best friends who had just reconnected," the brides say. "We ate a lot, drank a lot, went to a jazz bar and hitched a ride with a stranger to a local juke joint — probably not the smartest idea, but we figured we could take him if we had to."
After those few days together, their connection was apparent and a strong friendship quickly turned into so much more. Five years later, Brandi and Tia were attending a work conference together in Belgium when Tia surprised Brandi by getting down on bended knee. And then to mark their engagement, she also surprised Brandi with an engagement shoot on St. Michael's Bridge overlooking the Leie River.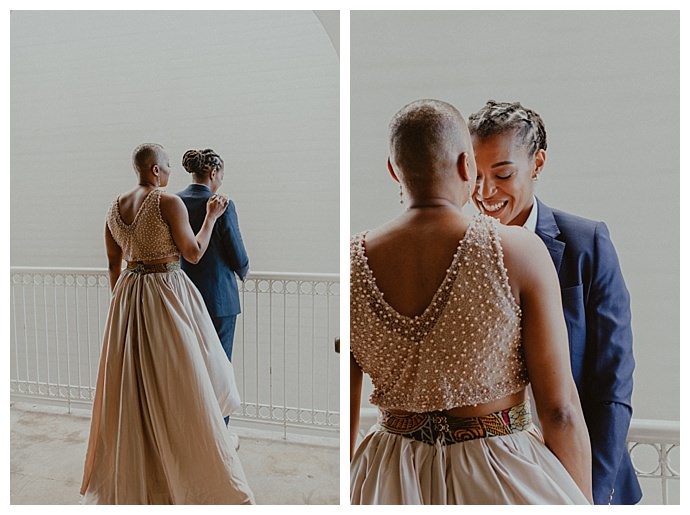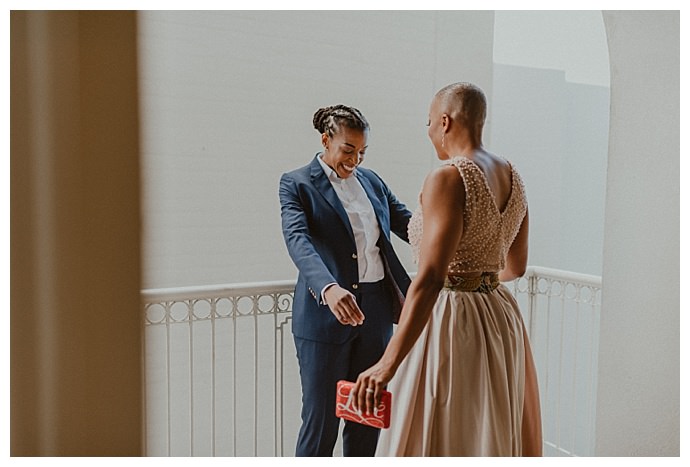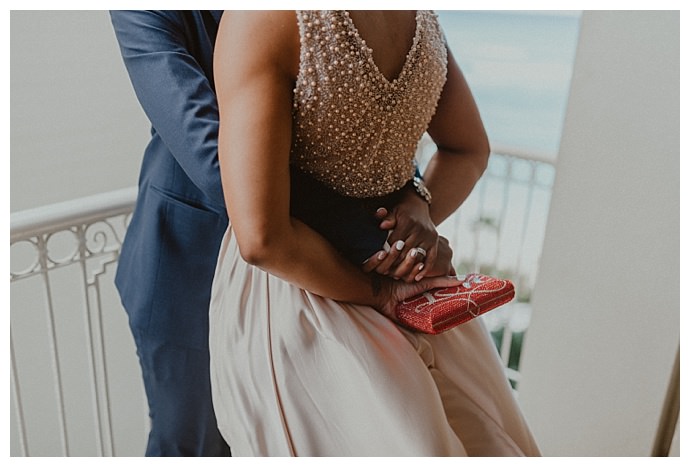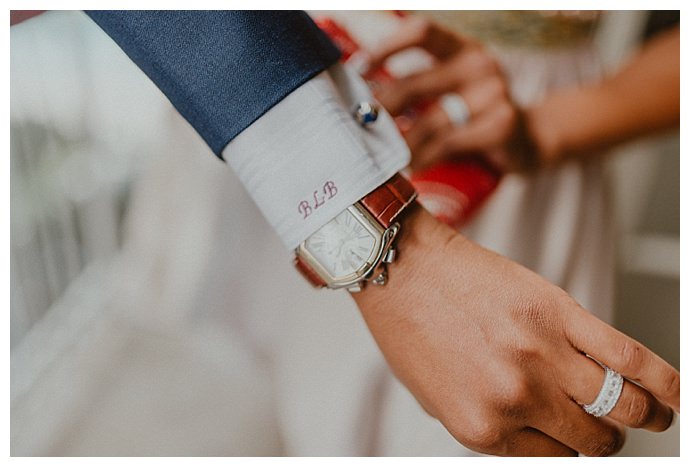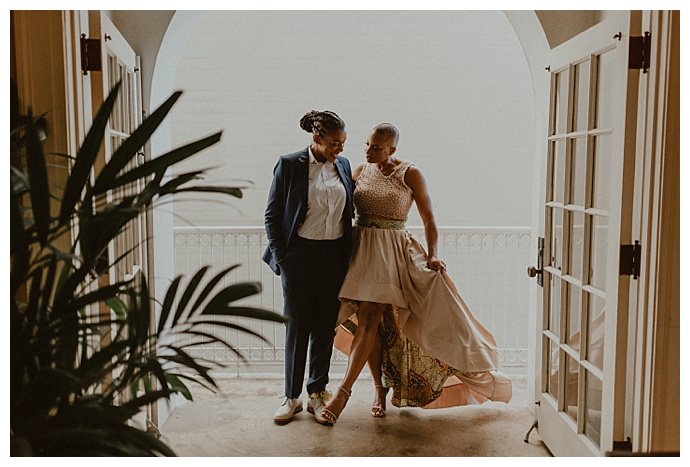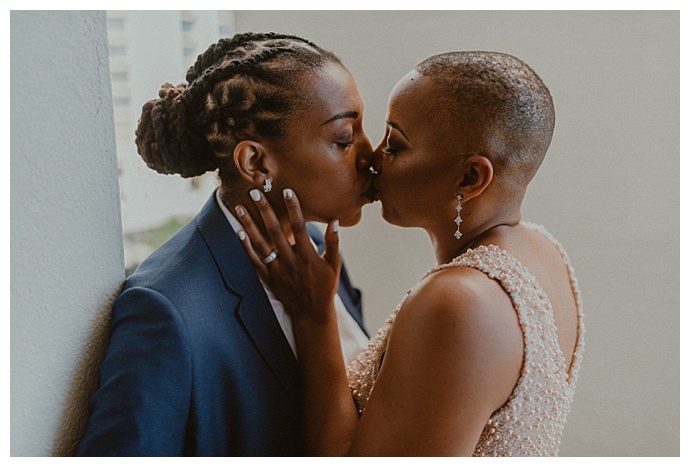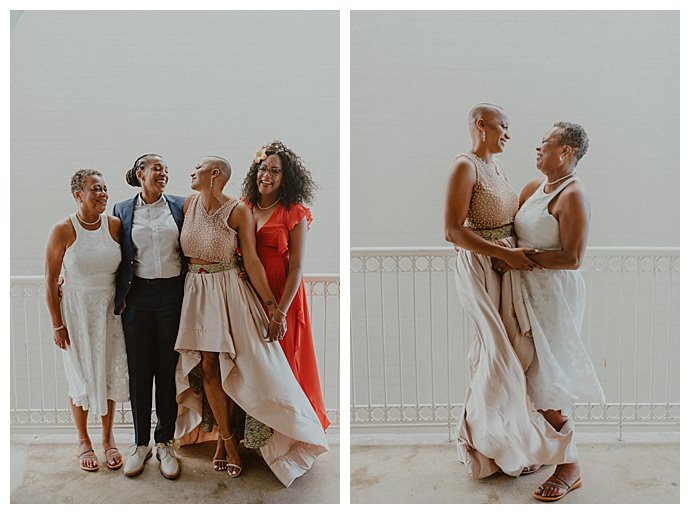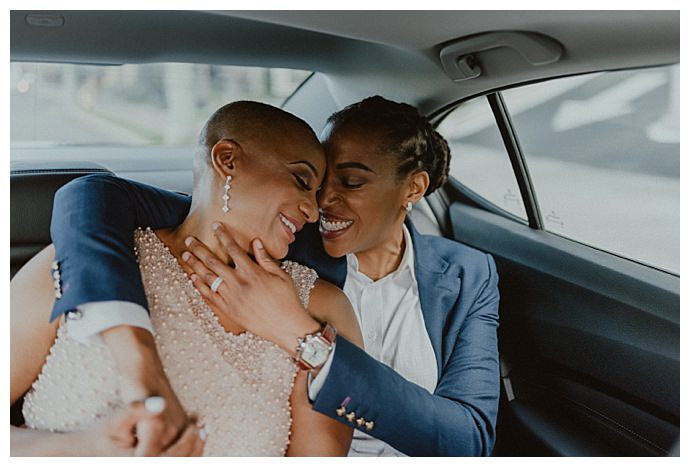 The Ceremony
On the scenic Magic Island, Brandi and Tia brought 12 of their friends and family to celebrate their nuptials. "We wanted very much to have a wedding ceremony and adventure that was true to who we are as individuals and a couple," the brides say. "So we bucked a lot of tradition. Tia's best friend of 30 years got ordained and performed the perfect wedding ceremony full of humor, love, insight and kindness."
The brides donned two stunning custom outfits — Brandi in a dashing blue suit from Bindle & Keep and Tia in a two-piece, high-low dress by Toriola that paid homage to her African heritage — and instead of bouquets, they each tied a floral anklet around their ankle and exchanged vows barefoot in the sand.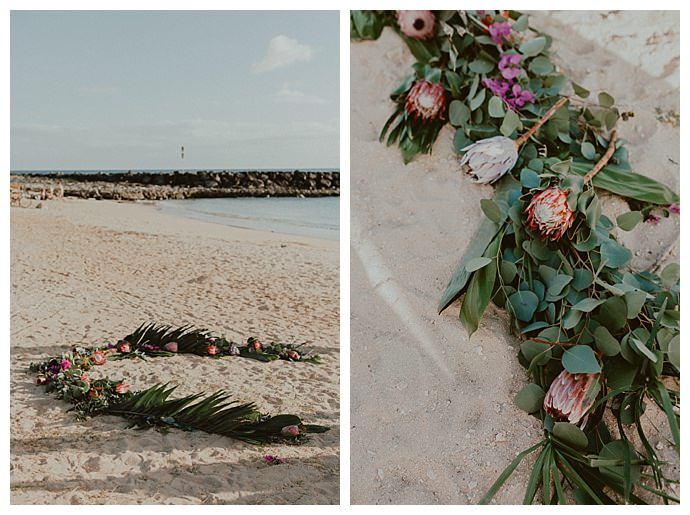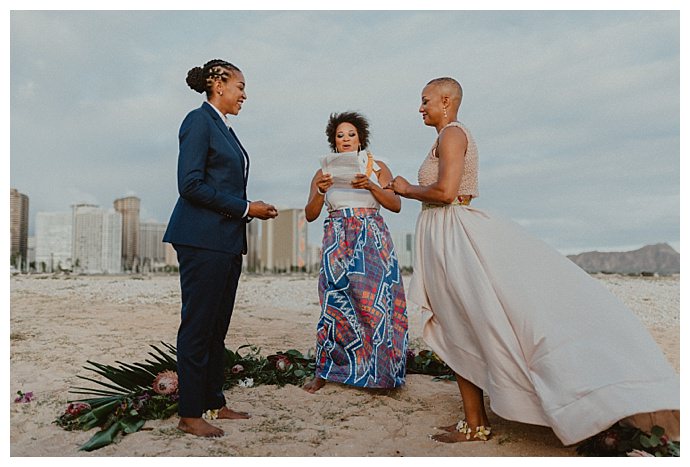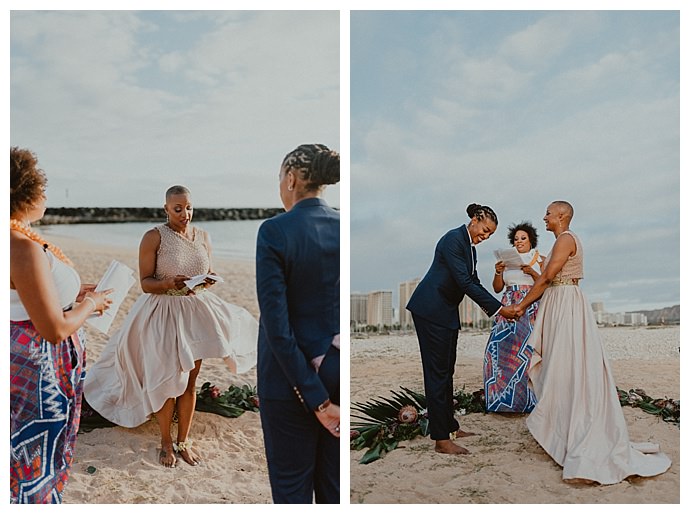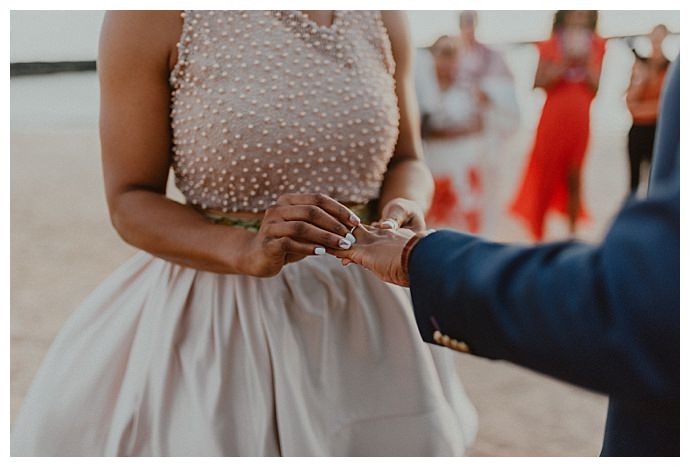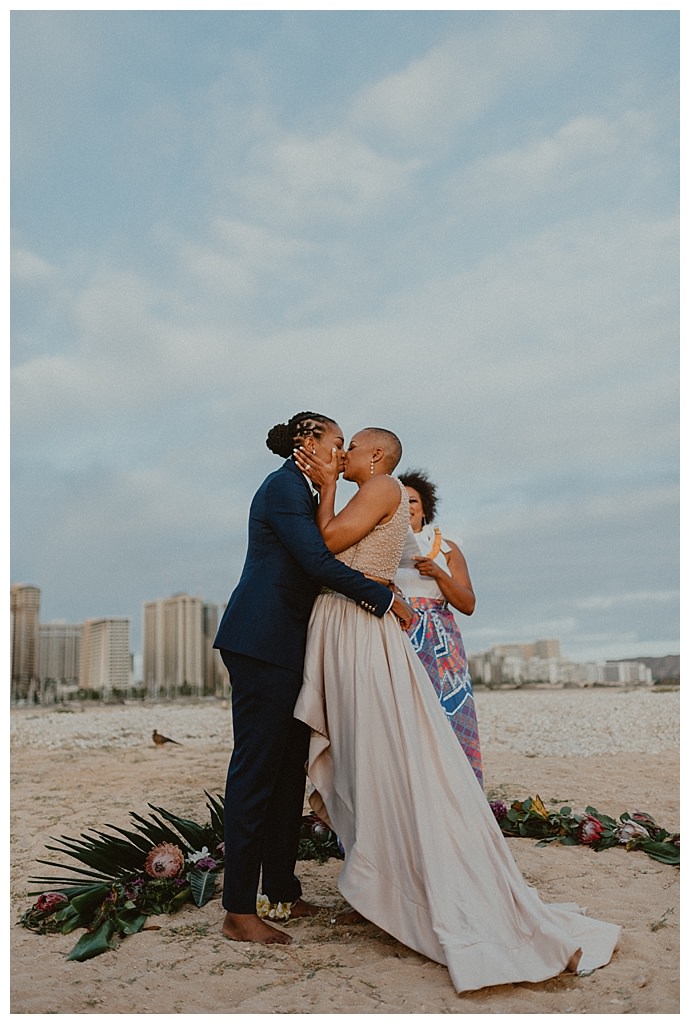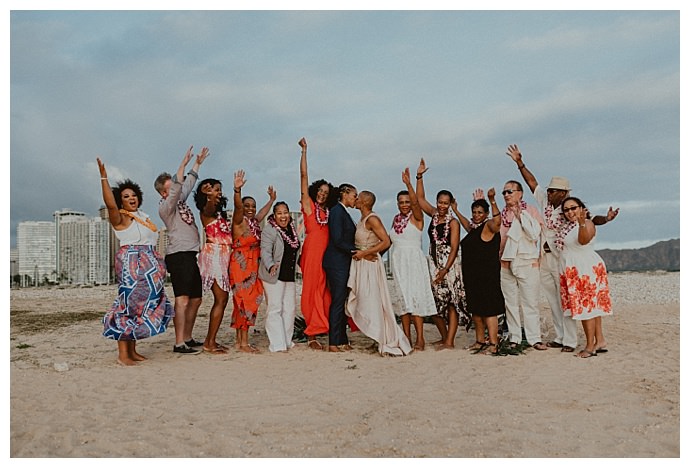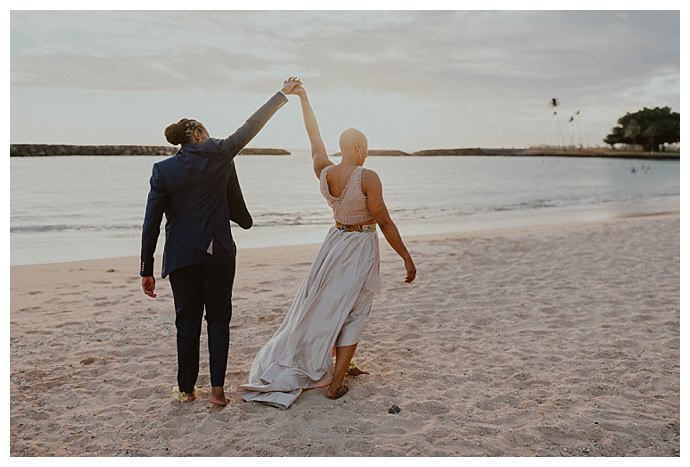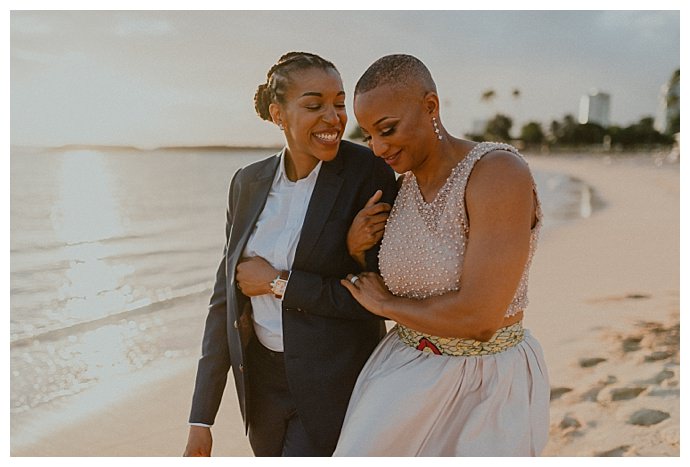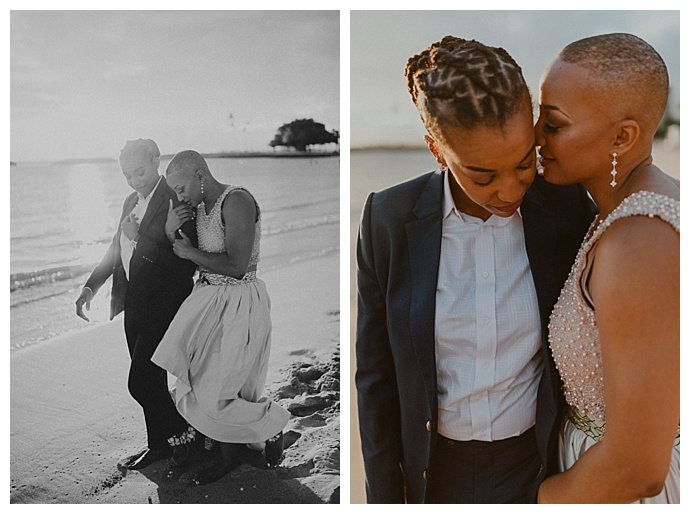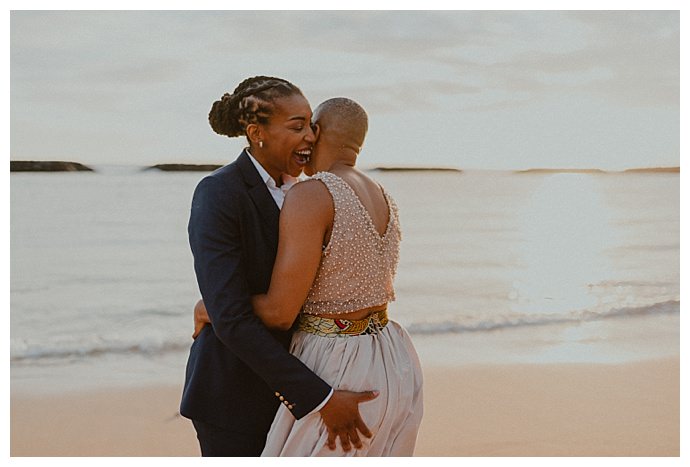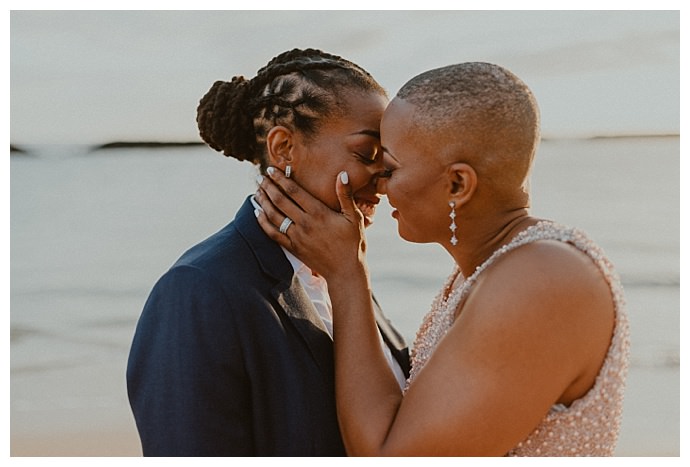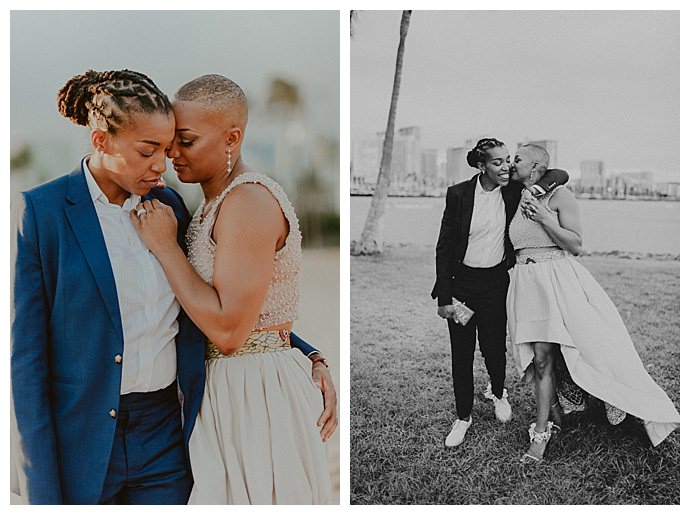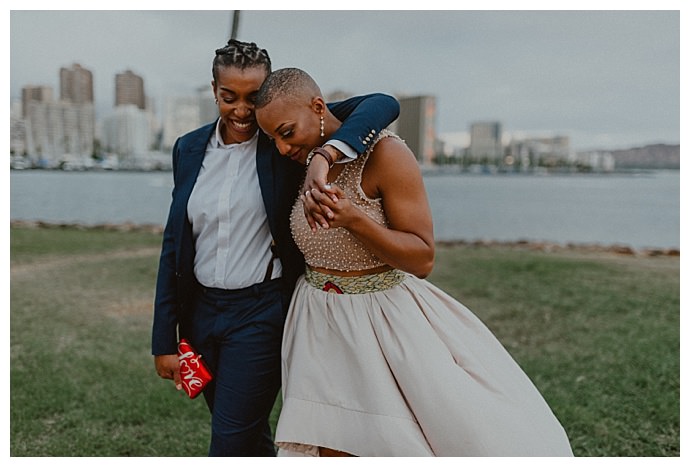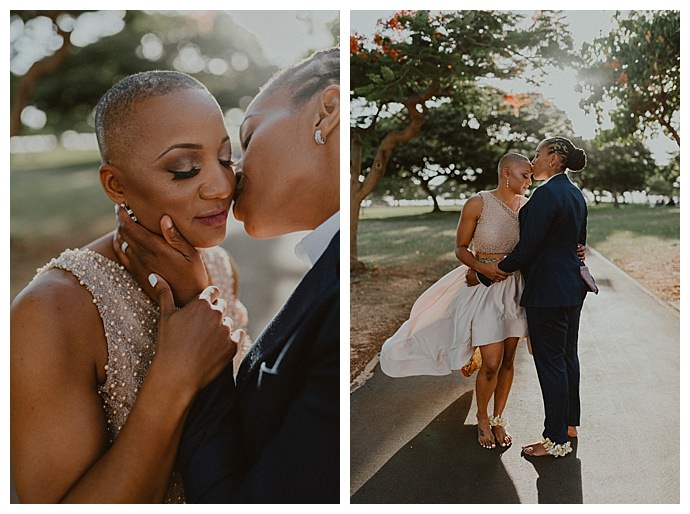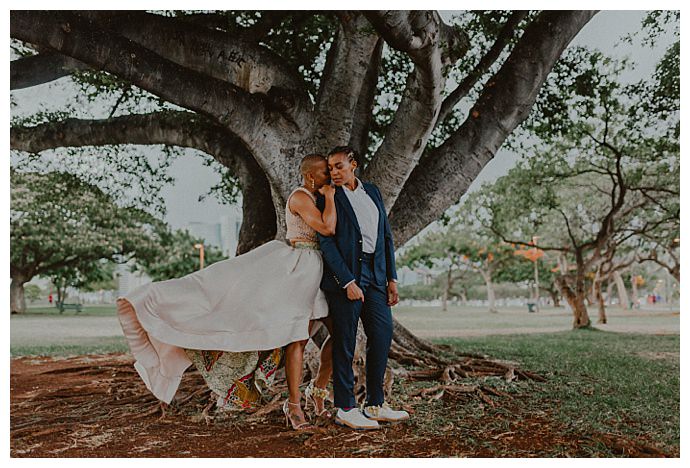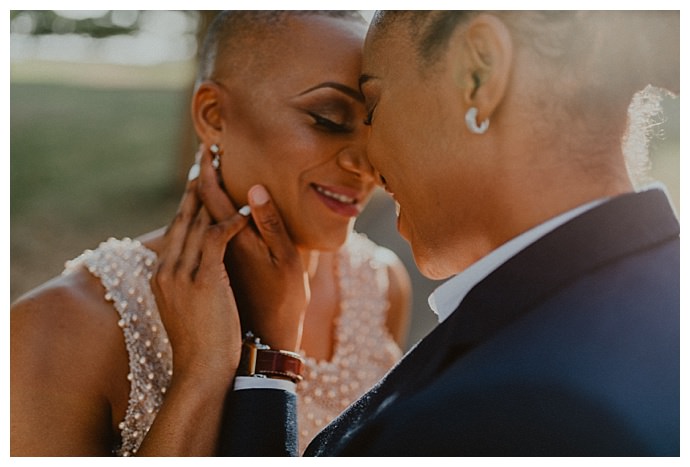 The Party
The reception was held in a private cabana at Azure Waikiki, where guests enjoyed a five course meal that the brides say was absolutely delicious. The long tables were covered in garlands of greenery and proteas and each place setting had a cake bomb from Pipeline Bakeshop & Creamery and a stick of homemade organic lip balm. In addition to the tasty cake bombs, the brides had a one-tier wedding cake with an epic cake topper that delighted all of their guests. "Our cake was hilarious," they say. "We had a guava flavored cake, and placed on top were two custom cake toppers made to the likeness of the brides, sprawled out drunk with champagne bottles everywhere — essentially what we look like after one of our Sunday fundays."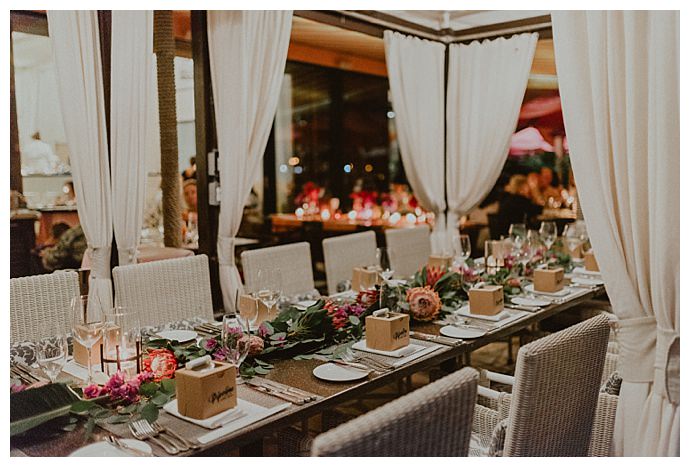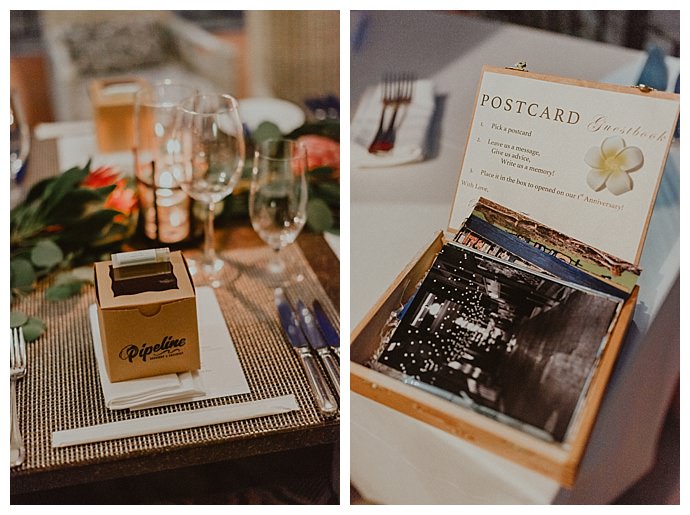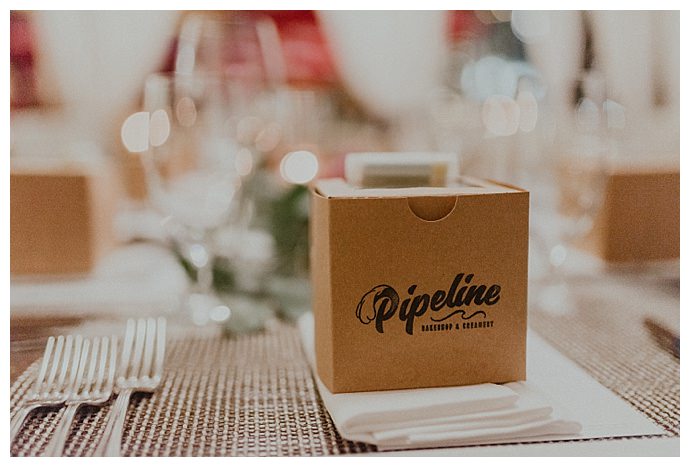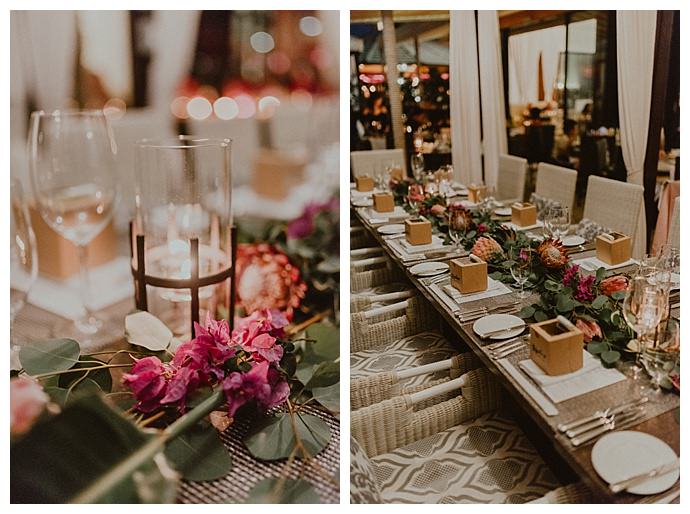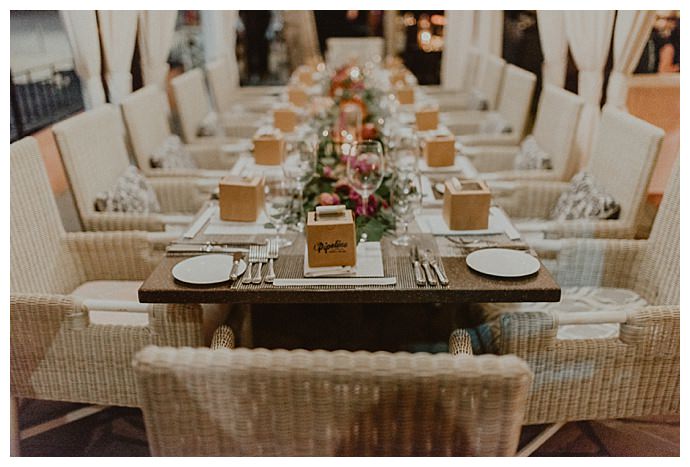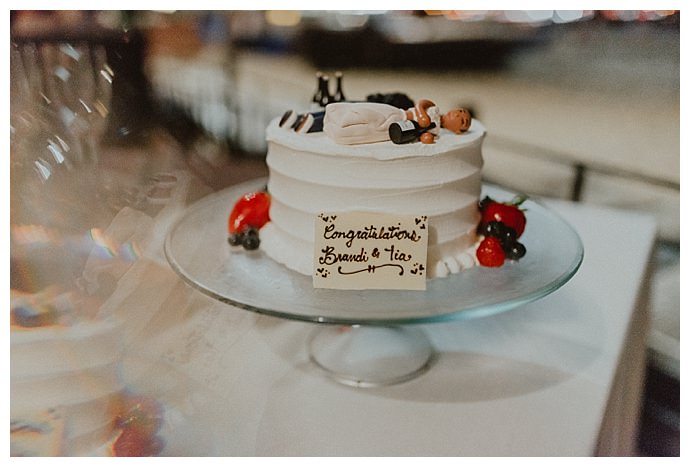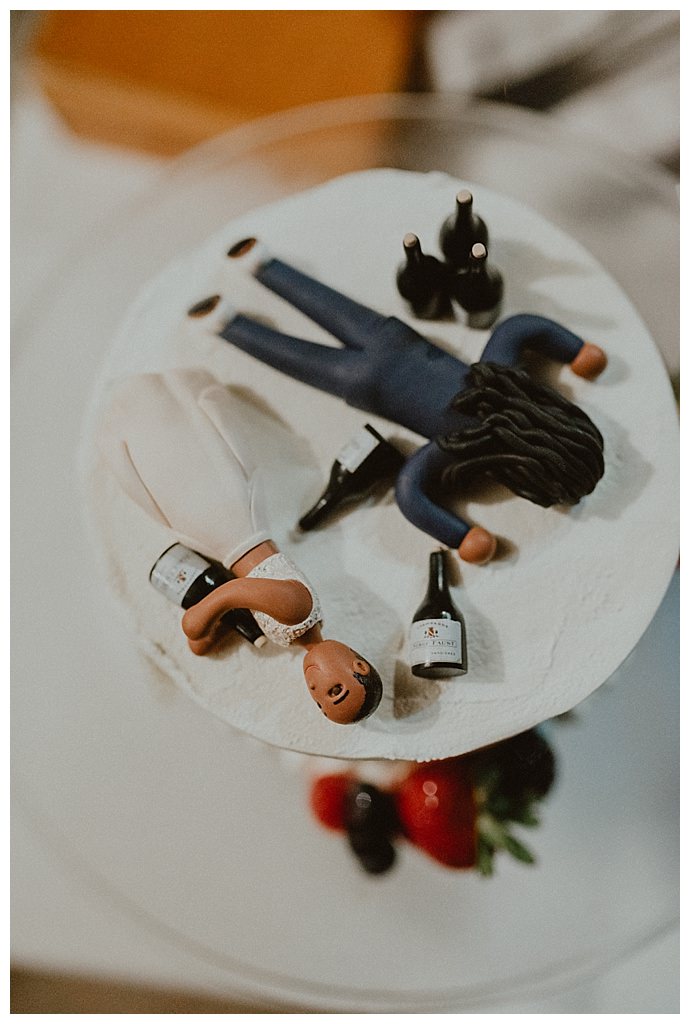 *Editor's Note: This post contains affiliate links. Each time you purchase an item via our affiliate links, Love Inc. is receiving a small percentage of the sale, thus you are helping our small, equality-minded business grow and allowing us to provide more content for YOU! Isn't that just fantastic?
Written by: