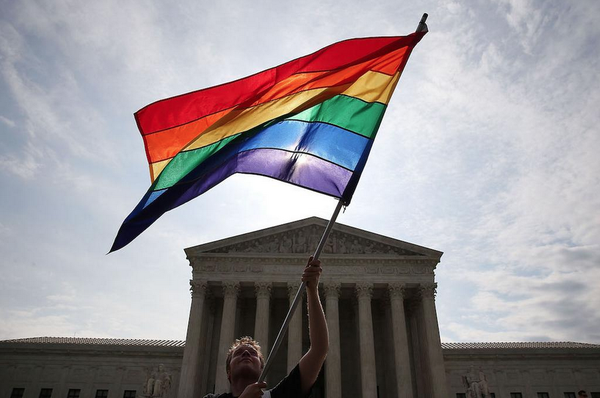 Moments ago, the Supreme Court ruled in favor of marriage equality.
Once I stop crying from happiness, I'll post more detailed information. Congratulations to all equality supporters on this historical win!
UPDATE: Okay, now that I have my bearings about me and my body has (sort of) stopped shaking, here are the deets. In a 5-4 decision, the United States Supreme Court has ruled that same-sex couples have the right to marry in every state. This lifts bans in the states where it's still being enforced: North Dakota, South Dakota, Nebraska, Kansas, Texas, Missouri, Arkansas, Louisiana, Mississippi, Alabama, Georgia, Tennessee, Kentucky, Ohio, and Michigan.
The decision was written Justice Anthony Kennedy, and states, "No union is more profound than marriage, for it embodies the highest ideals of love, fidelity, devotion, sacrifice, and family. In forming a marital union, two people become something greater than once they were. As some of the petitioners in these cases demonstrate, marriage embodies a love that may endure even past death. It would misunderstand these men and women to say they disrespect the idea of marriage. Their plea is that they do respect it, respect it so deeply that they seek to find its fulfillment for themselves. Their hope is not to be condemned to live in loneliness, excluded from one of civilization's oldest institutions. They ask for equal dignity in the eyes of the law. The Constitution grants them that right."
The decision comes on the anniversary of the historic LGBT rights victory in the United States vs. Windsor and Lawrence vs. Texas cases and on the eve of PRIDE weekend in many major cities.
Today history was made. Remember it. Remember where you were when you heard the news. Remember the feeling that is in the pit of your stomach right now. Remember the tears of happiness flowing down your cheek and never forget what it took to get to this moment.
Happy PRIDE everyone — we truly have something to celebrate this year.