Sometimes with the amount of junk mail I receive on a daily basis, I find myself wishing I could channel Kramer and run down to the post office to cancel my mail altogether. But while email has become the most convenient and popular way to exchange correspondence, it hasn't rendered snail mail obsolete. Every day, important mail, such as wedding invitations, birth announcements and graduation announcements, takes the daunting journey through the dark corners of the post office before arriving at your house, and the senders of that mail can only hope that once it gets there, their important letter doesn't get lost within a pile of junk. 
That's why we're big supporters of an eye-catching envelope! Your invitation sets the tone for your wedding day, so it should be safely wrapped inside something equally as beautiful that is sure to alert your guests to its presence inside your crowded mailbox. Today we're swooning over creative hand lettered envelopes that push the limits of everyday envelope addressing. From bold calligraphy and modern brush lettering to striking floral designs, these envelope styles are sure to make your wedding invitations stand out!
Here are some creative envelope styles that can inspire hand-lettered wedding invitations:
Patterned or textured envelopes – Choose envelopes with bold patterns, floral designs, or interesting textures to complement your hand-lettering. Make a statement with envelopes covered in polka dots, stripes, or even shimmery foil.
Custom wax seals – Melt wax and stamp your monogram, wedding date, or other custom design into the envelope flap for a classic, elegant touch. Opt for classic red wax or try other colors like gold, rose, or navy.
Decorative calligraphy – Have your calligrapher hand-letter names, a phrase, or design directly onto the envelope in metallic ink for a striking, personal effect.
Artistic addressing – Use calligraphy, hand-drawn images, or custom stamps to artistically address your envelopes. Create illustrated maps, floral designs, or other artwork.
Creative linings – Line envelopes with patterned papers, maps, sheet music, or pages from books for a lovely surprise when guests open the envelope.
Edge painting – Paint the edges of the envelope in watercolor washes, ombré designs, or glitter for a pop of color.
Cording and trim – Wrap envelopes with colorful cording or ribbons. Trim edges with lace, raffia, or fringe for textural interest.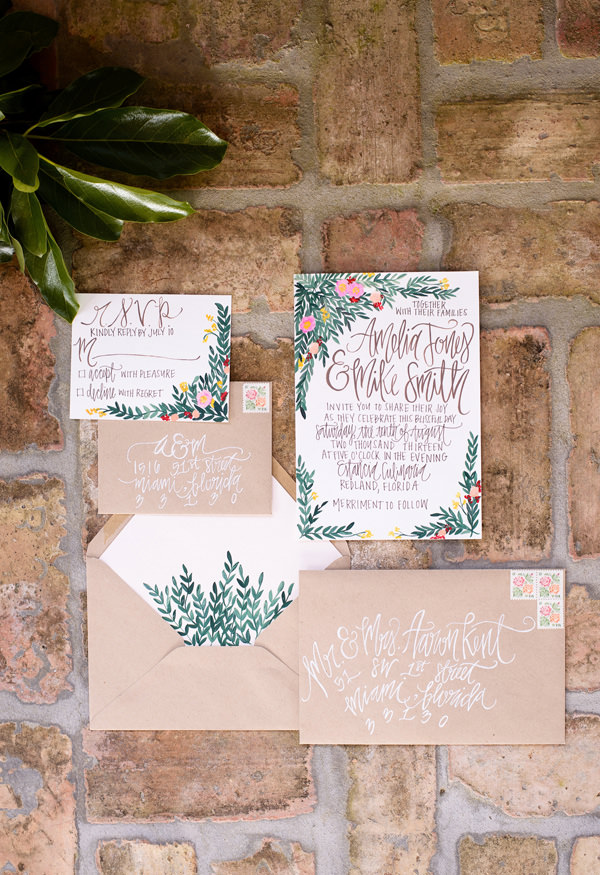 Whimsical wite ink lettering via Ruffled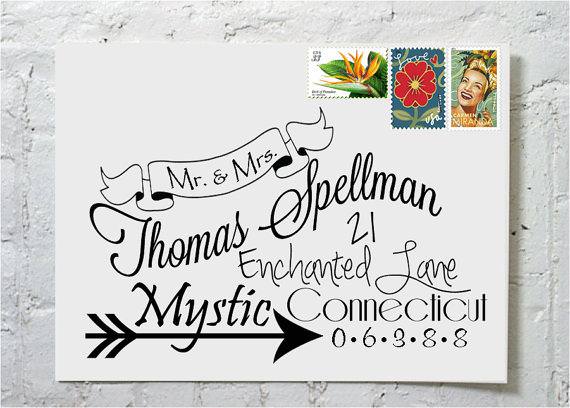 Typographic envelope via Woman Getting Married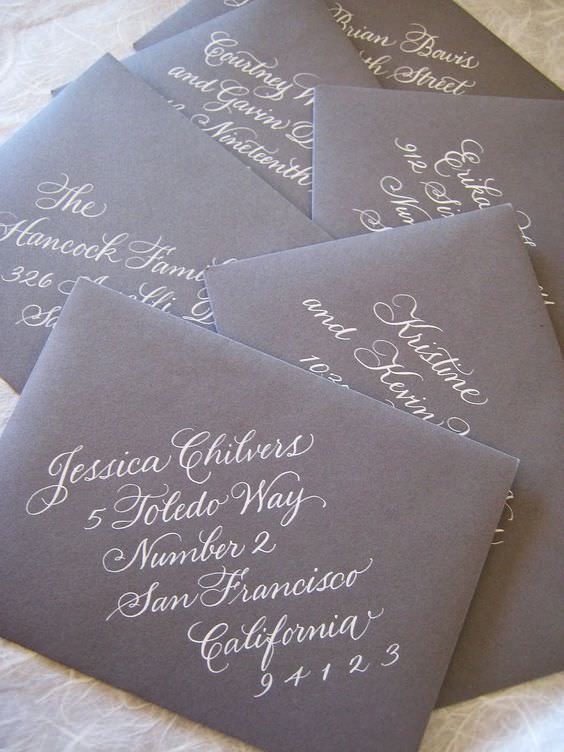 Beautiful calligraphy written diagonally via Dear Pearl Flowers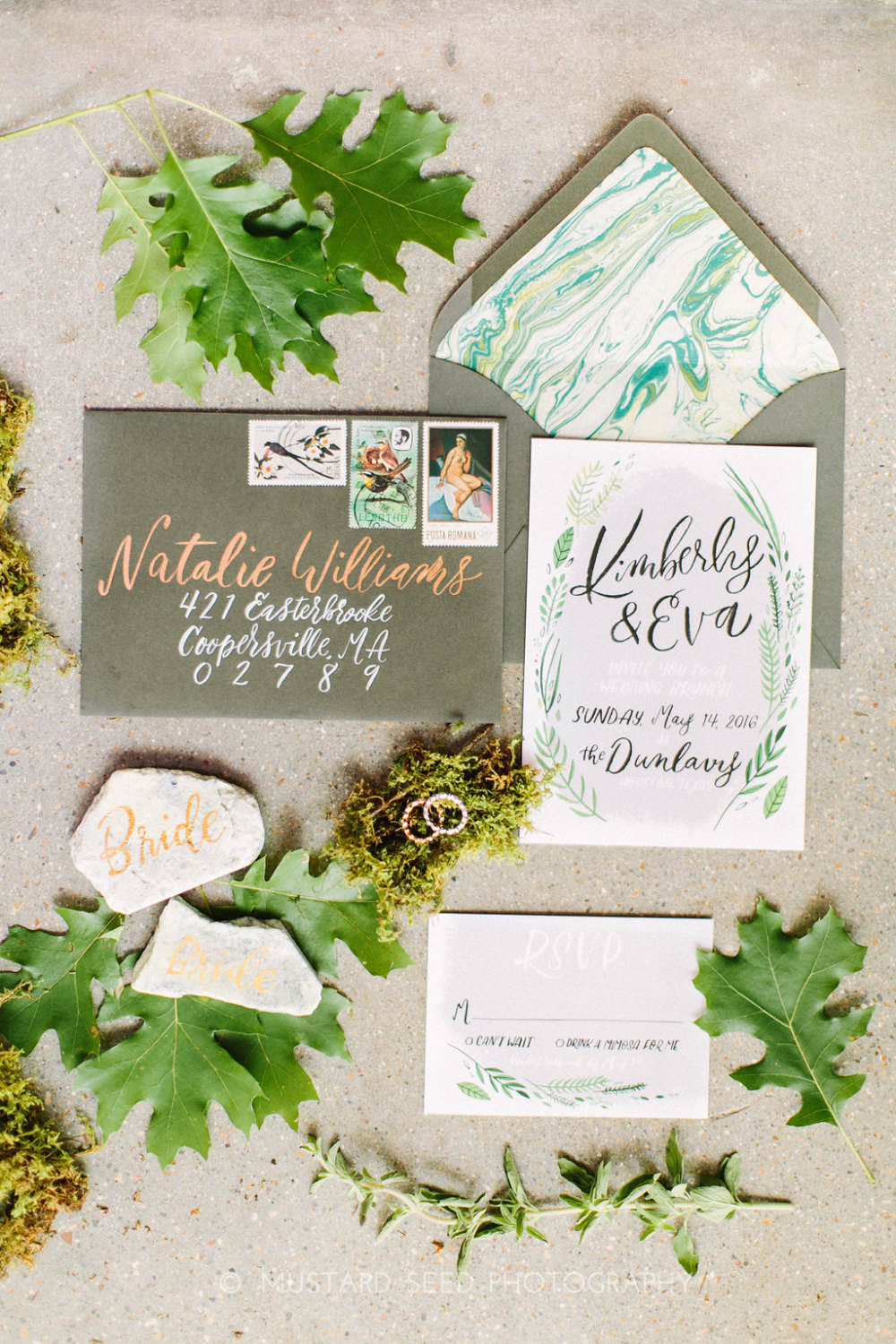 Two-toned brush calligraphy via Etsy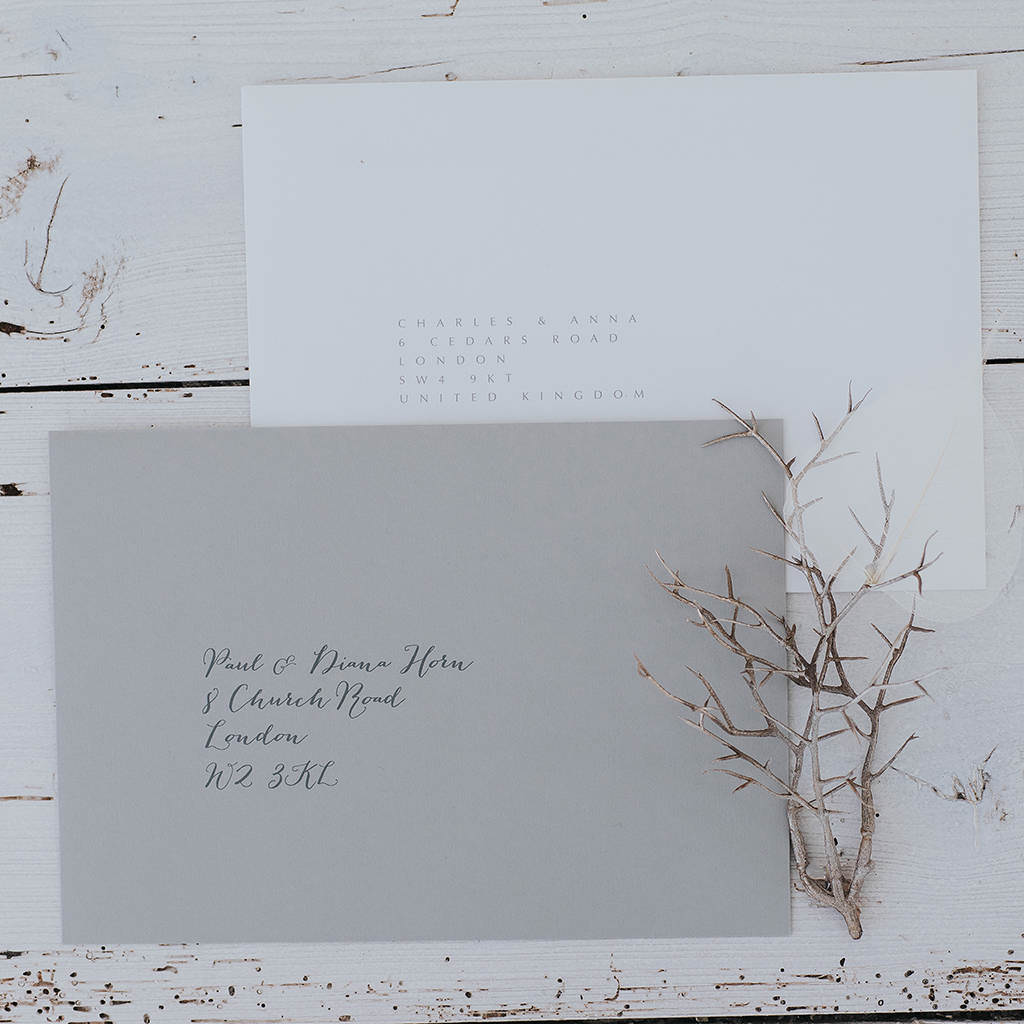 Dainty and delicate addressing style via Etsy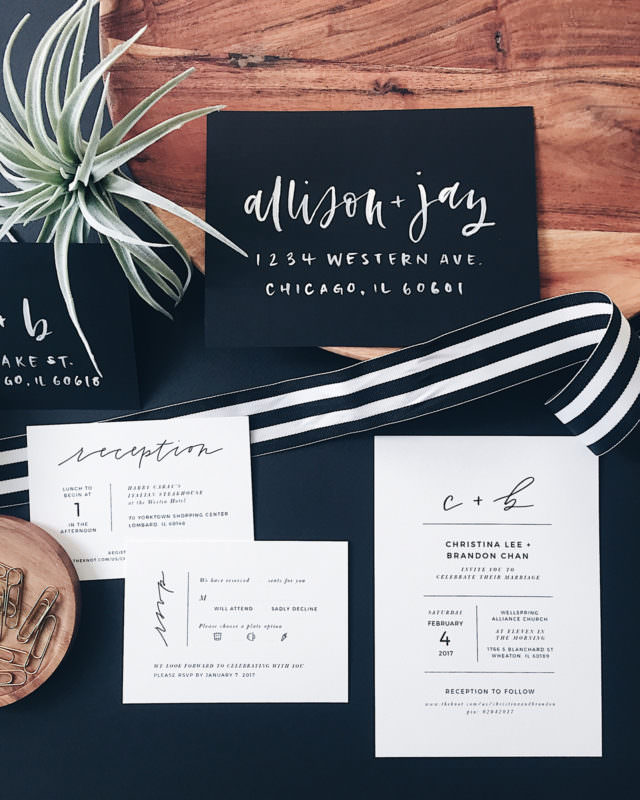 Modern and minimal via Oh So Beautiful Paper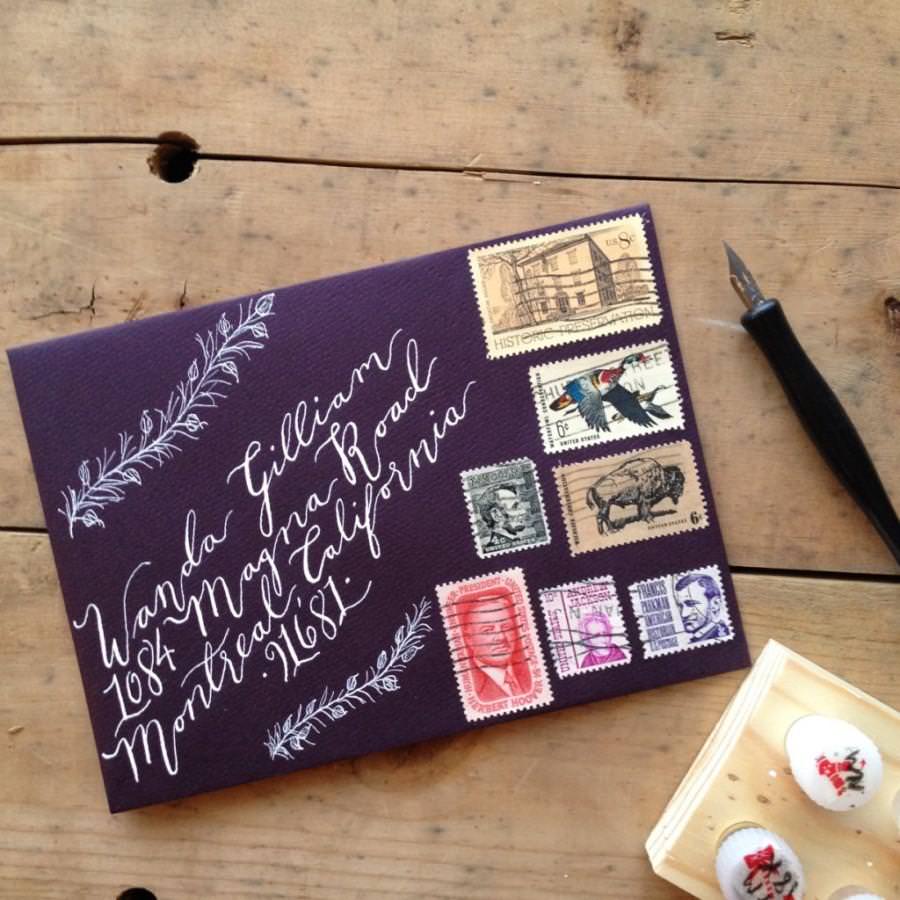 Whimsical feathered design via Etsy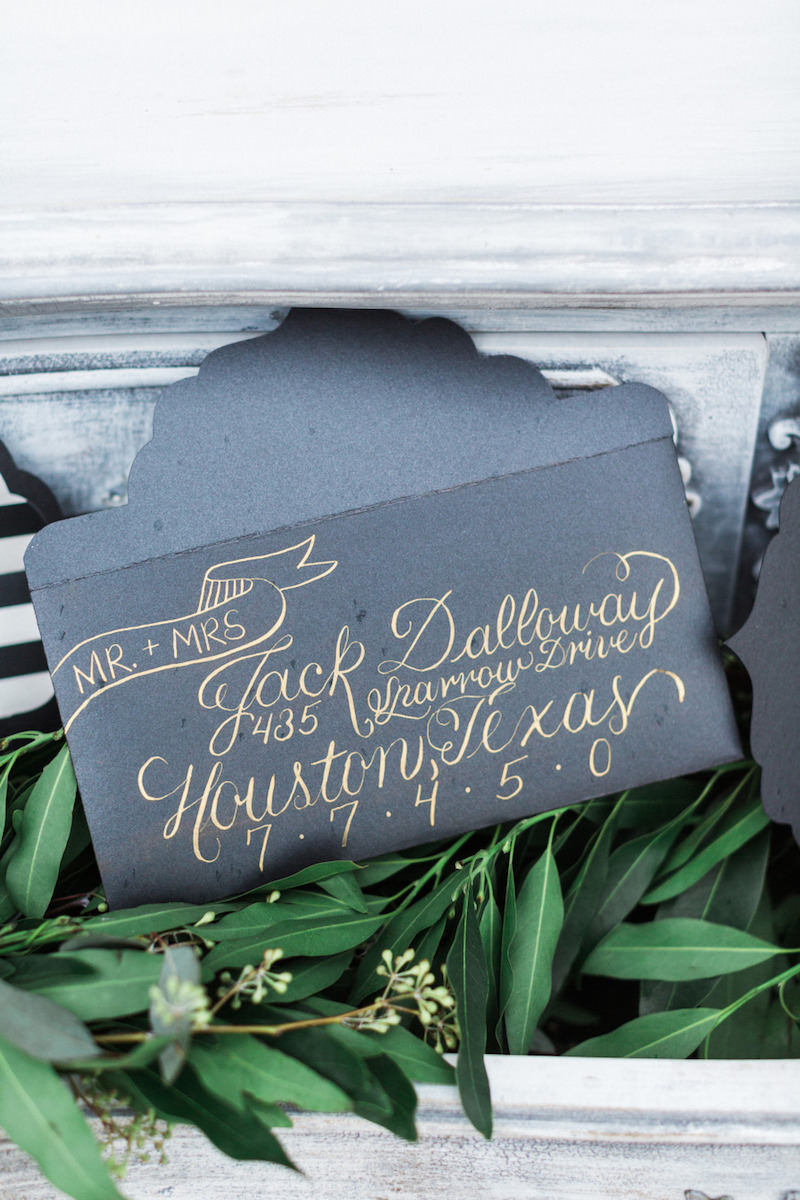 Calligraphed invitation with a ribbon banner via Style Me Pretty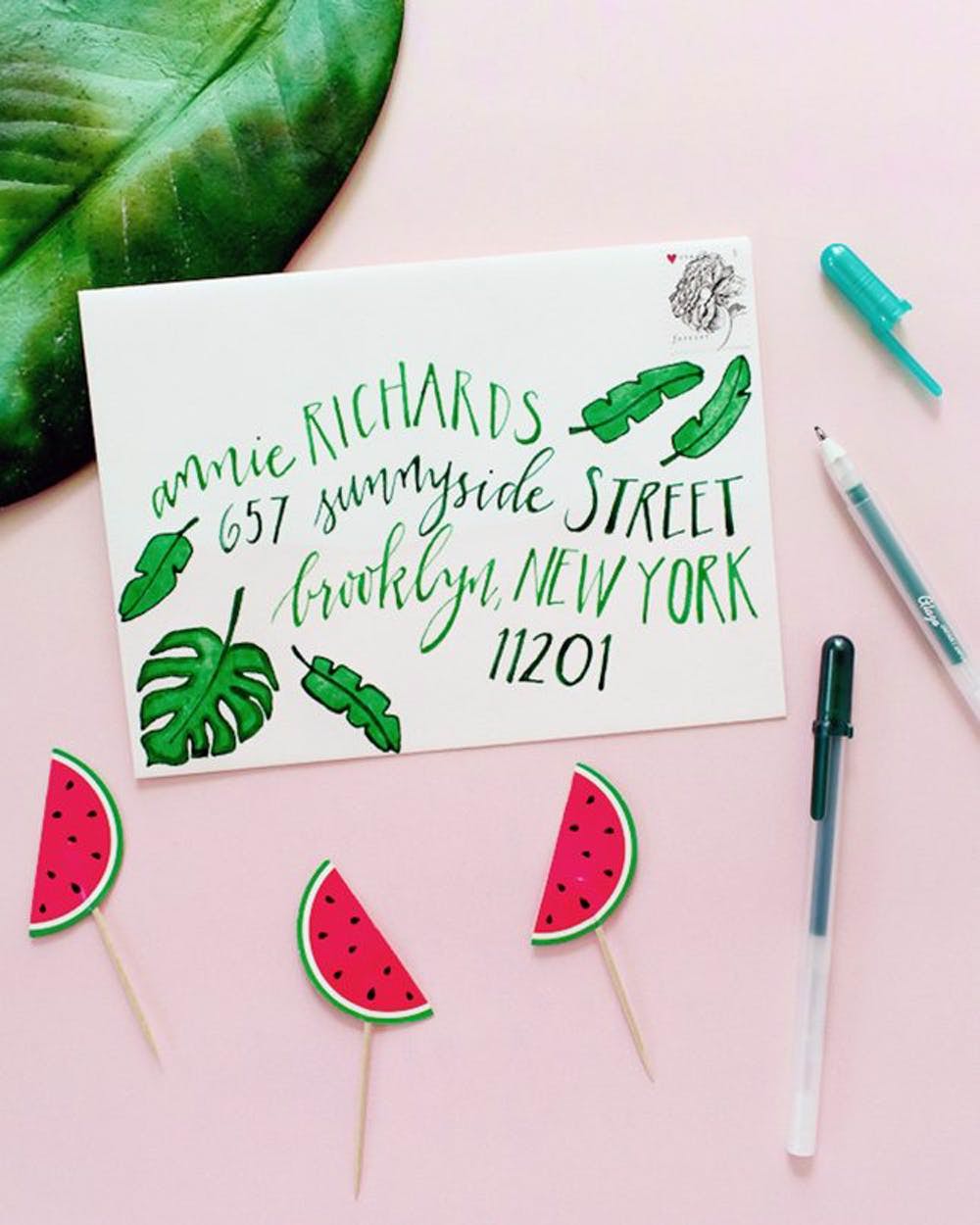 Tropical envelope with monstera leaf motif via Oh So Beautiful Paper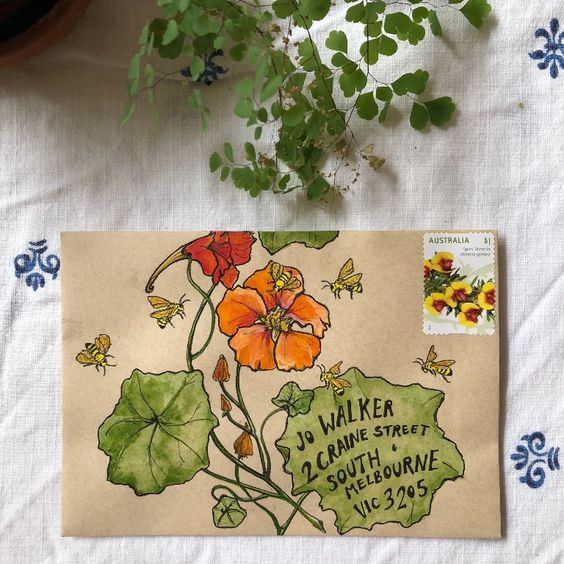 Floral illustrated envelope via Naomi Bulger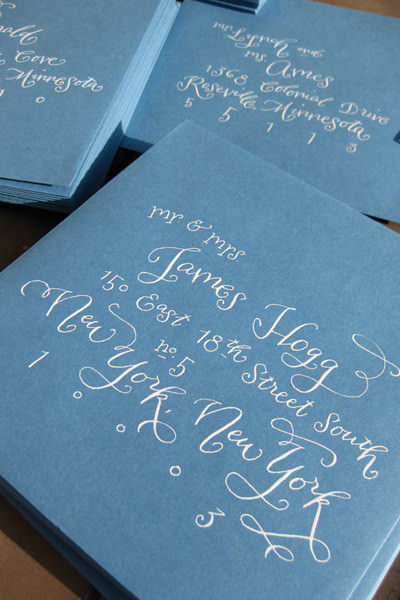 Bouncy lettering via Crystal Kluge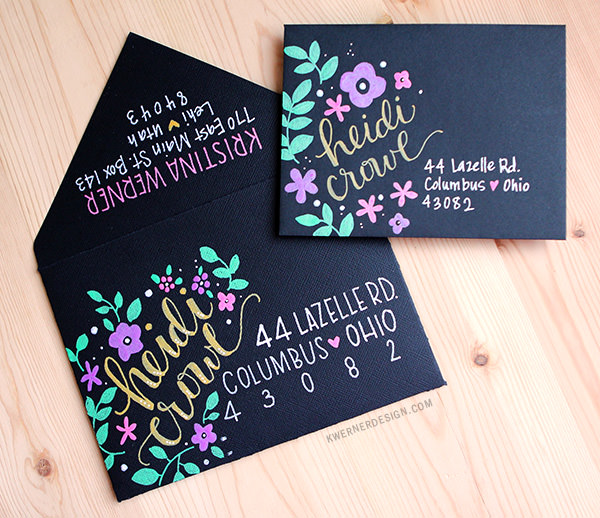 Colorful floral envelope with brush lettering via Kristina Werner Designs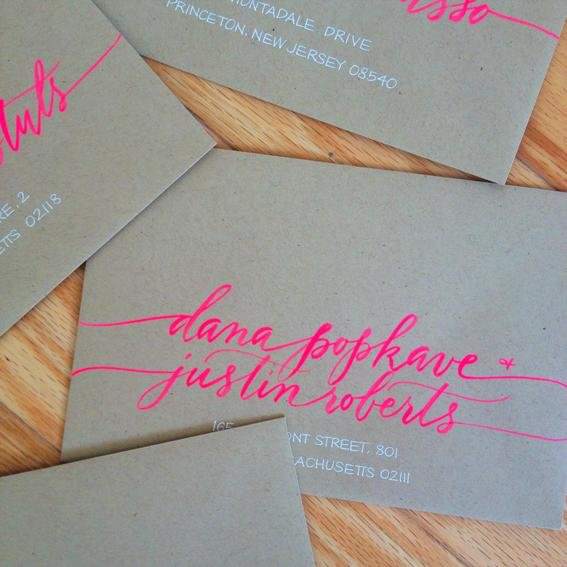 A pop of neon calligraphy via InStyle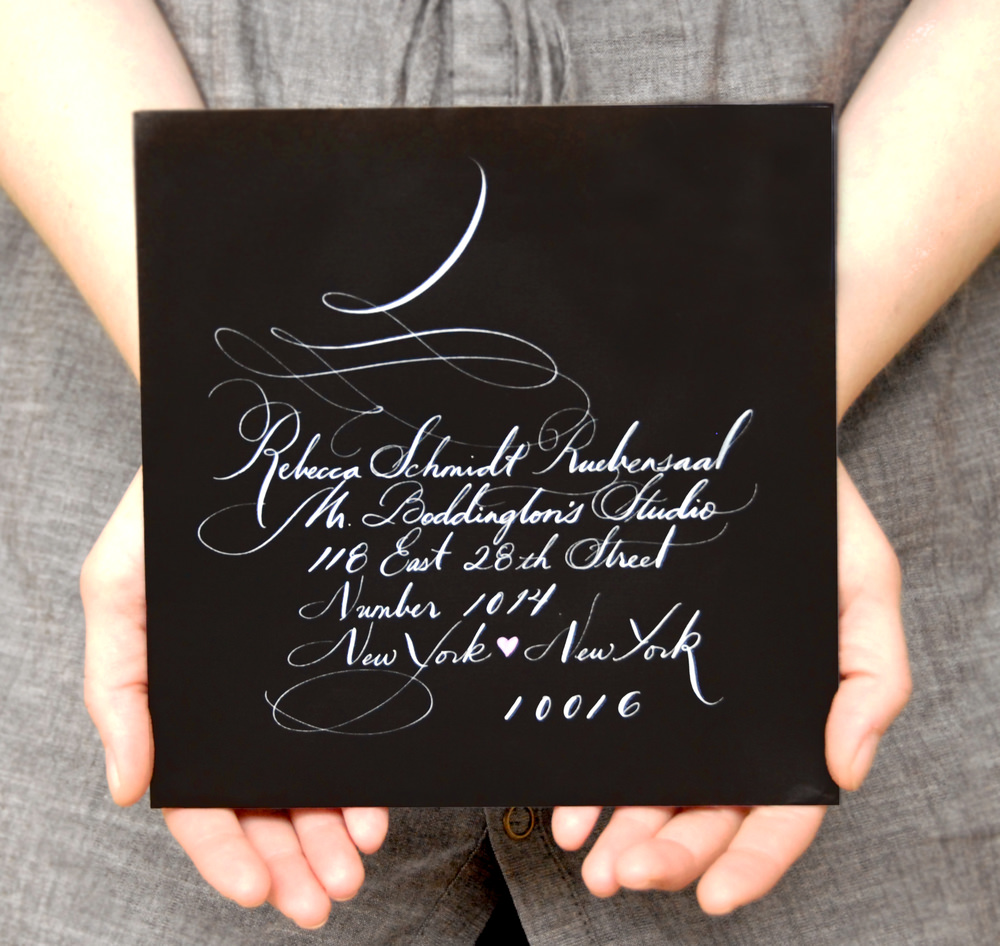 Elegant calligraphed envelop via Mr. Boddington's Studio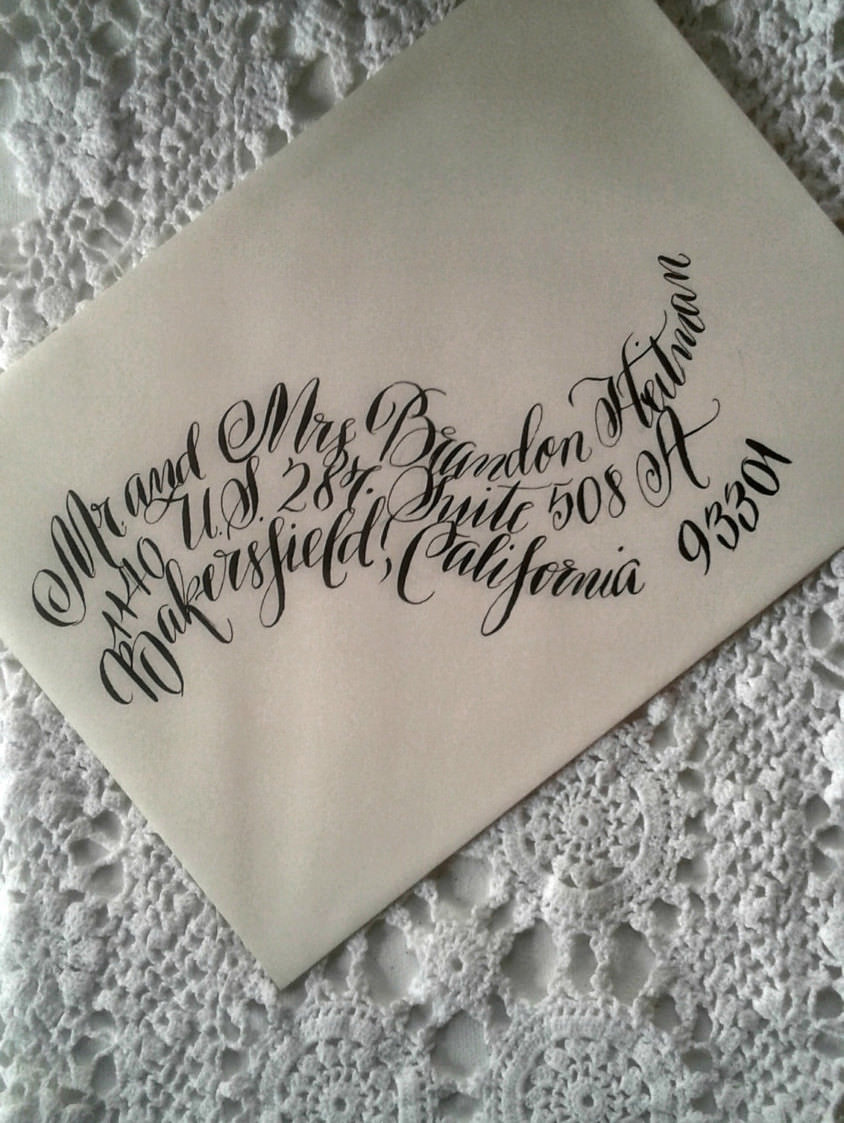 Creative curved lettering via Etsy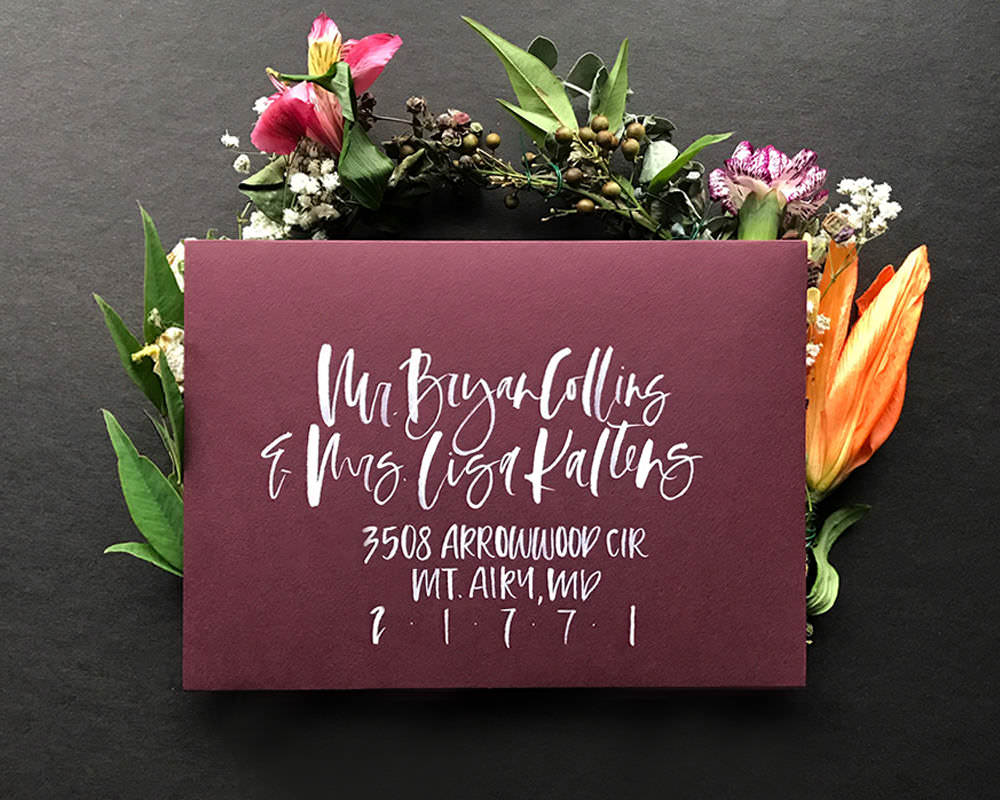 Modern brush lettering via Etsy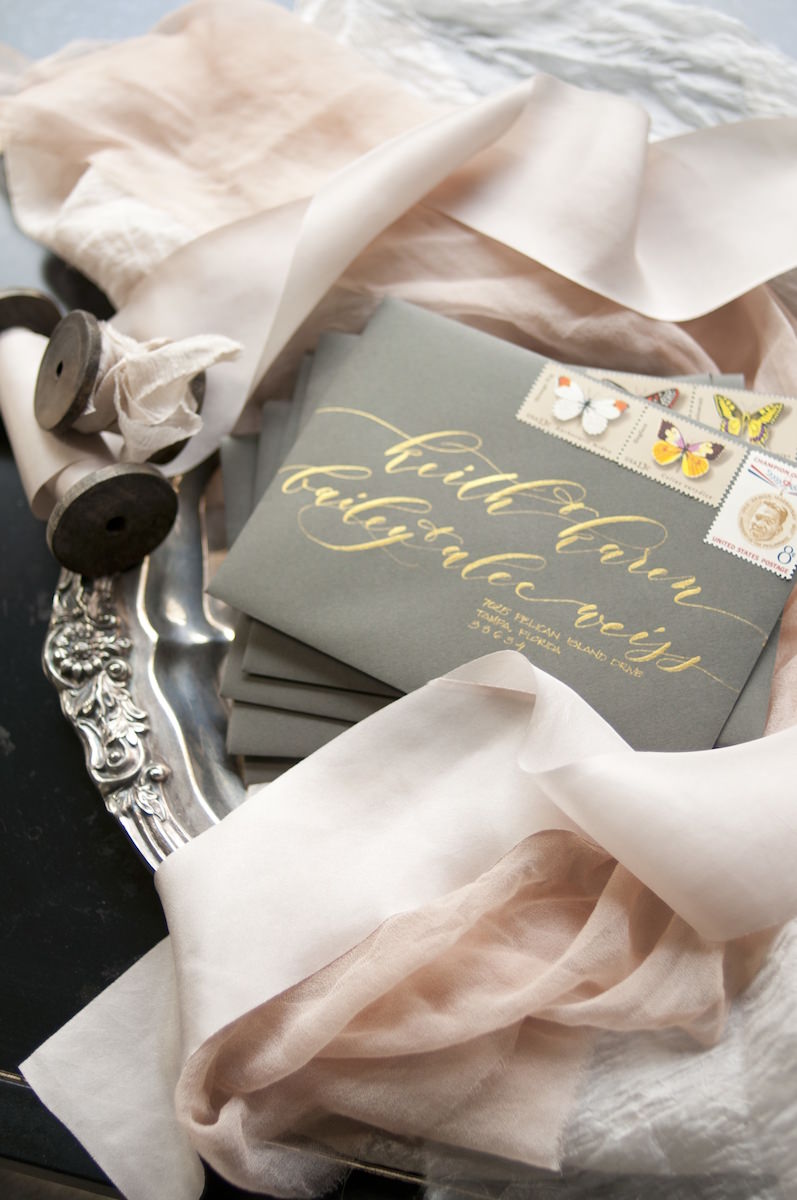 Eye-catching calligraphy via Seniman Calligraphy
*Editor's Note: This post contains affiliate links. Each time you purchase an item via our affiliate links, Love Inc. is receiving a small percentage of the sale, thus you are helping our small, equality-minded business grow and allowing us to provide more content for YOU! Isn't that just fantastic?