By Brittny Drye | Photography by Suzanne Rothmeyer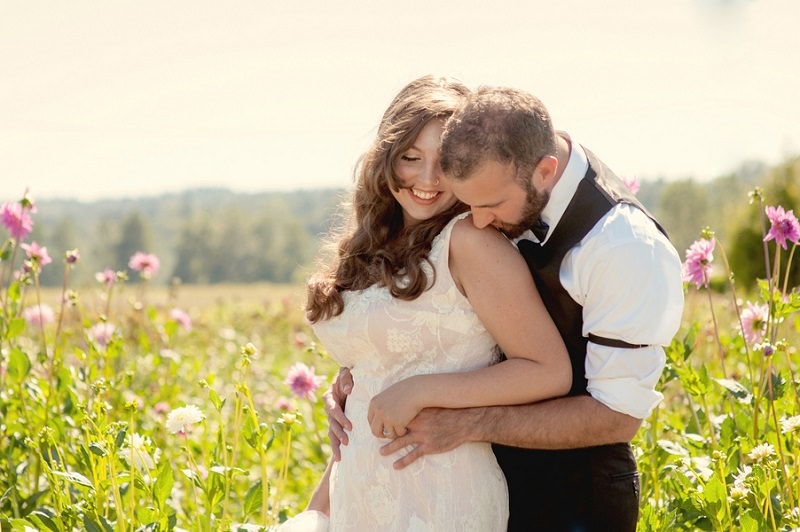 Chris and Rachel are the epitome of modern day star-crossed lovers. They met online and though hundreds of miles separated them, they knew they had a connection like no other. Even their first conversation was about the stars. Their wedding, held on the grounds of Craven Farm overlooking the Washington state landscape, illustrated this recurring theme throughout their relationship with telescopes, a constellation guest book and a DIY moon photo booth.
[raw]
[/raw]
The Love Story
The Texas beauty met her Washington-based soul mate in a chatroom when they were 16, resulting in nightly five-hour conversations during the next 10 months. "Eventually responsibility caught up with us and we both got really busy with work and education," says Chris. "But we always sized up our next relationship to what we found in each other, and no one could really compare. It's crazy to say, considering the distance, but neither one of us  resonated better with anyone online or in real life."
[raw]
[/raw]
Eight years later, Rachel finally decided to meet the man whom she compared every one else to. "I decided that I was going to fly up to Washington by myself and meet this guy who for all I knew, could have been an axe murderer," laughs Rachel. "It was time to validate all the feelings I had for the person I had never met." They spent the next 10 days climbing behind waterfalls, exploring caves and falling in love. "I left for Texas knowing that I was leaving the best thing that ever happened to me, in Washington."
They spent the next eight months in a long-distance relationship until they were able to save up enough money to fly Chris down to Texas … and they drove back to Washington together with all of her belongings in the back of the truck.
[raw]
[/raw]
The Engagement
Chris surprised Rachel for her "birthday" with a trip to an observatory, one of only two in the entire state of Washington where they now shared their home. "In the first few months of us living with each other I had reached out to an astronomer in Goldendale, Wash., and was in touch with him for about a year trying to arrange when we would go down to the Goldendale Observatory," Chris explains. "We took turns looking at the stars through the massive telescope. The astronomer—the same one I had been in touch with for so long—pointed the telescope at a nebula and excused himself from the room. It was just me and Rachel at that point. Paying homage to the first conversation we ever had, I proposed to her as she was looking at a nebula light years away."
[raw]
[/raw]
"The craziest thing about it was that he had found the ring! A year or so before the proposal, Chris had been praying a lot about marrying me … he wanted God's blessing," says Rachel. "During this same time period, on the walk he took everyday to and from work, he found an engagement ring in a little Ziploc bag on the ground. He didn't think it was real but a trip to the jewelers revealed that it was."
"I had no idea about the ring but in a normal conversation, he asked me what kind of ring I wanted and I described the ring he had found exactly," she continues. "I could not have asked for a more perfect proposal or a more perfect man. All the planets aligned for us!"
[raw]
[/raw]
The Venue
Nestled in Snohomish, Wash., Craven Farm's pastoral property is highlighted by the beautiful mountain backdrop and rustic barn in the middle of a cornfield. "We wanted something that was a good combination of Texas and Washington," says Chris of their choice. "It had an awesome barn to house the reception and during the ceremony there was a righteous view of the Cascade mountain range. The venue also had enough real estate to set up a bunch of activities and had the open land feeling of Texas but also had the great views that Washington can offer."
[raw]
[/raw]
The Fashion
Rachel made her wedding dress out of lace curtains that her grandmother had gifted her. Cream lace graced a blush pink knit with intricate silk roses sewn onto the bottom half. "It was comfortable and jaw-droppingly gorgeous!" she exclaims. In keeping with their heavenly navy and gold color scheme, her bridesmaid all wore navy blue lace dresses. "Since they lived all over the country, and they all had a different price range, I decided that there was no need for them to all buy the same dress. As long as it was navy blue lace then it was okay with me. It worked out great!"
Chris and his seven groomsmen wore classic black pants and waistcoats, incorporating dark blue bow ties and boutonnieres made of flowers and feathers. To give himself groom-worthy flair, he added black arm sleeve garters and a classic pocket watch. "The most expensive part of my getup were my shoes with soft leather and a slightly eclectic shape," he adds.
[raw]
[/raw]
The Ceremony
Their outdoor ceremony took place in the middle of one of the farm's cornfields, underneath a beautiful wooden altar decorated with tulle, handmade paper flowers and hydrangeas. "There was a beautiful view of the Cascades and the weather was perfect," says Rachel. "I mean perfect."
They also incorporated ceremonial wine that the bride's sister brought back from a recent pilgrimage to Cana, Israel for a communion.
[raw]
[/raw]
The Party
The barn was strung with twinkly lights and homemade flower arrangements were tucked into mason jars that topped the tables. Rachel and Chris truly put themselves into the details from the guest book designed by Chris who spent hours illustrating a classic-looking map of the heavens—"guests got to draw their own constellations!"—to the moon flower seed favors, which Rachel created a custom stamp for and packaged. "We were up to our necks in crafts for months before our wedding. It was really awesome to see it all in use."
The grounds were set up with a telescope as a nod to their theme as well as lawn games such as croquet and badminton. Another DIY hit was their homemade photo booth. "We designed it so that it looked like you were floating into the night sky on the moon," says Rachel.
[raw]
[/raw]
Dinner was catered by Veraci, Seattle's award-winning traveling wood-fired pizza company. Served buffet-style, they offered a medley of ultra thin artisan pies pulled steaming hot from the portable oven with salad as a side. The newlyweds had their own mini lemon raspberry cake with sugar sparkles and guests chose from chocolate or white chocolate raspberry cupcakes.
Chris had spent hours creating the perfect mixes for dining, visiting and dancing. For their first dance, they swayed to "In My Life" by the Beatles. "I kicked off my shoes and he twirled me around barefoot," says Rachel.
[raw]
[/raw]
Memorable Moments
Rachel: Oh man, the speeches were great. My sister performed a rap about Chris and I to the Fresh Prince of Bel-Air beat. It was hilarious! I will say, I have never felt so loved in all my life. Having all your family and friends together, in one room celebrating the love you have for your partner, is a mind blowing feeling.
Chris: The speeches were really moving for me. A lot of guests had something to say and it was all really heartfelt and loving. The collective of all the guests was really unforgettable as well. It's really awesome to have so many people that have been a part of your life come together for one life event. It was also overwhelming and memorable when Rachel and I sat down on our moon booth for some pictures. We looked up and before we knew it we were surrounded by cameras. It felt like the paparazzi with all the flashes going off.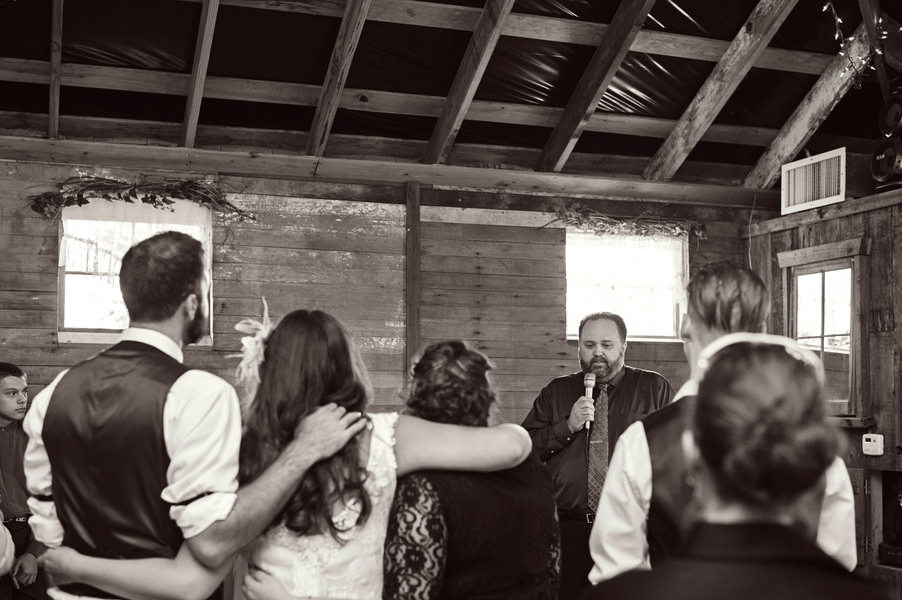 Vendors
Photography: Suzanne Rothmeyer Photographer
Venue: Craven Farm
Floral design: DIY, ordered from FiftyFlowers.com
Cake Design: Macrina
Catering: Veraci Pizza
Wedding Gown: Kim McCormick
Makeup/Hair: Colleen Harun
MC: Joey Clift