Every once in awhile, we come across a wedding we would have given anything to be a part of — and not just because it took place on a sandy private island just steps from tropical crystal blue water. Vicky and Ricky's wedding day looks like one of the most fun, authentic and joyful experiences, everything that a wedding should be! SV Photograph captured this fun-loving couple who set out to have a traditional Polynesian wedding in Moorea. They were brought in by boat to the private island where the ceremony was held, and while the rest of the wedding guests waded through the water to get to shore, the couple of honor was carried to dry land by Polynesian men. We love the vibrant colors of this wedding and the Polynesian traditions, but nothing quite compares to the joy on Vicky and Ricky's faces on their unforgettable wedding day.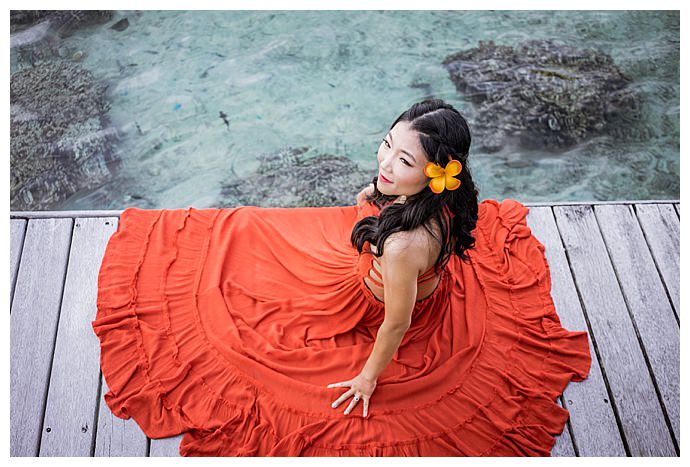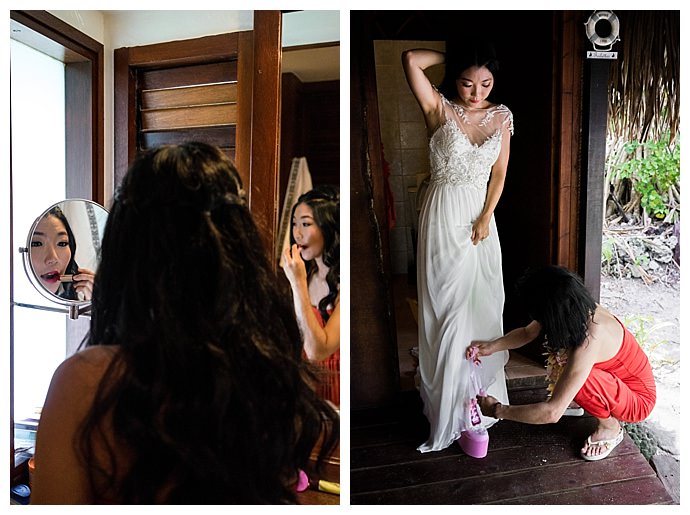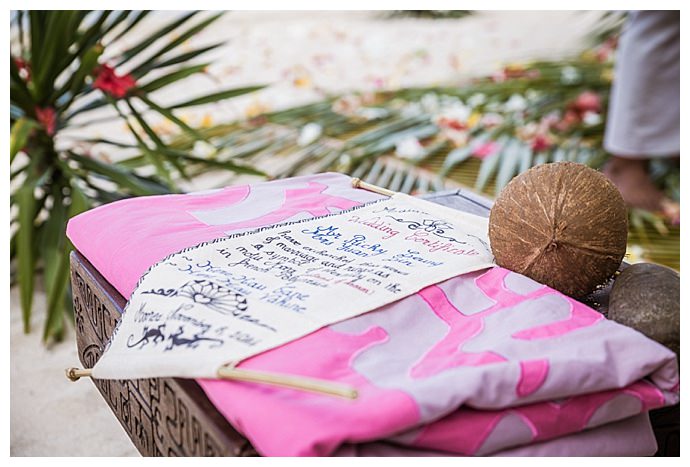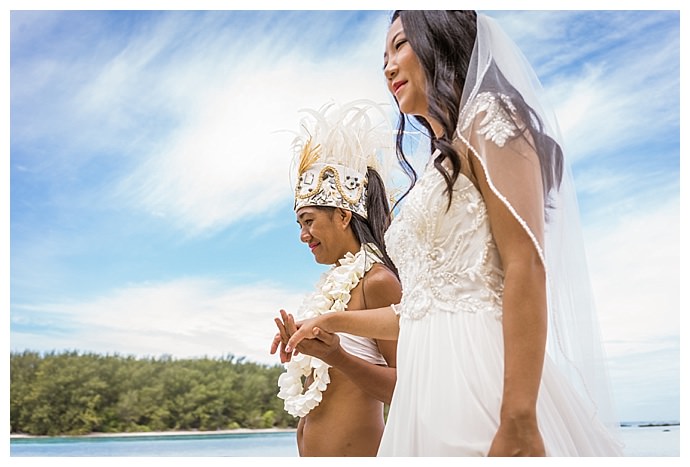 The Love Story
Vicky and Ricky never should have matched. When Vicky signed up for eHarmony, she was careful to set the distance to connect with those who didn't live more than 100 miles away. So when Ricky contacted her and struck up a conversation, she was eager to meet him. Two hours before their third date, Ricky called to let Vicky know he was running about 15 minutes late. Vicky couldn't hide her annoyance, and Ricky apologized, reminding her of how far he had to drive in order to see her. But Vicky had no idea that Ricky lived in a town 140 miles away from her and had been driving three hours from Ridgecrest to Los Angeles. "I always joke about how eHarmony messed up," Vicky says. "I got to call customer service to get my money back for sending me a match that was out of my distance range." A glitch in the algorithm might have been a mistake, but their connection was fate, and that match was the beginning of their happily ever after.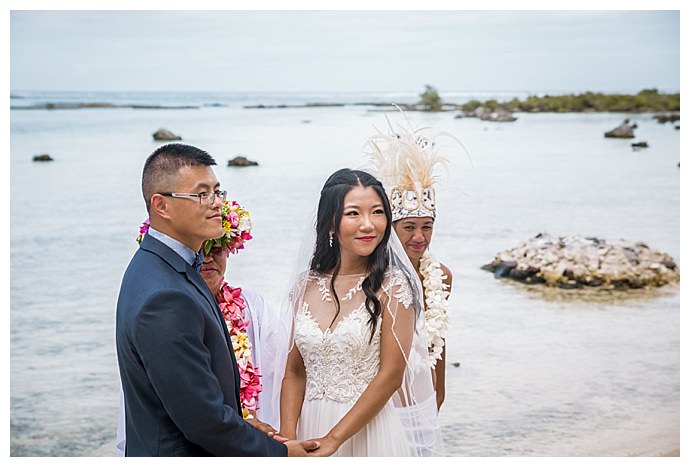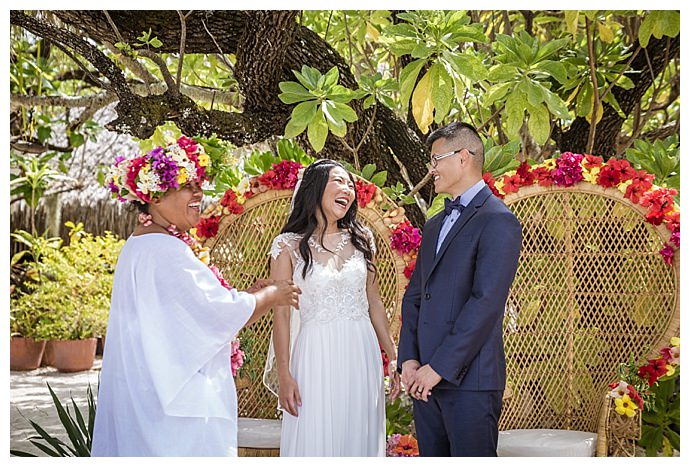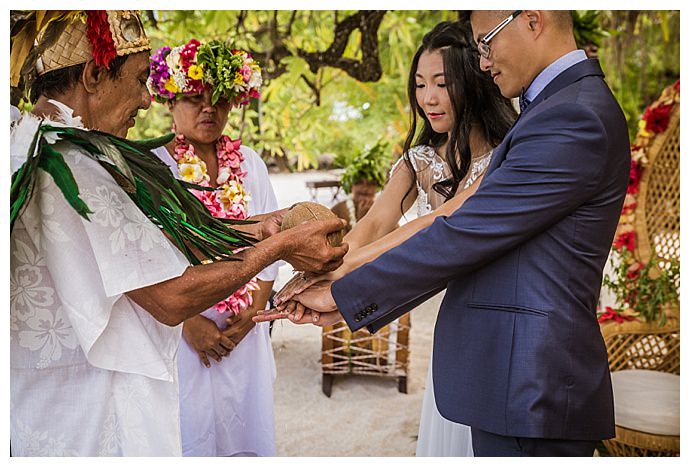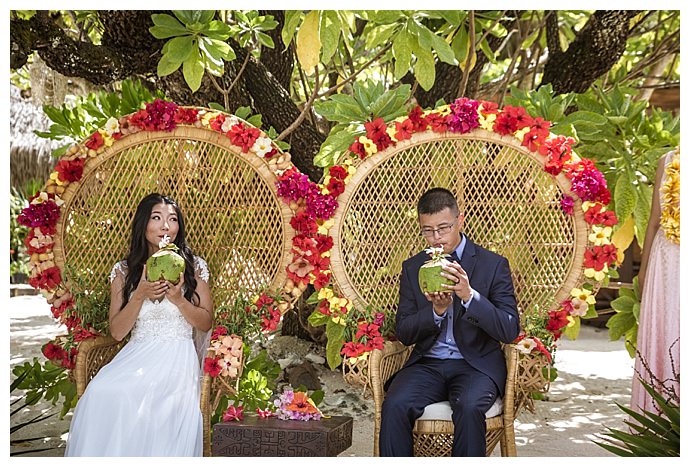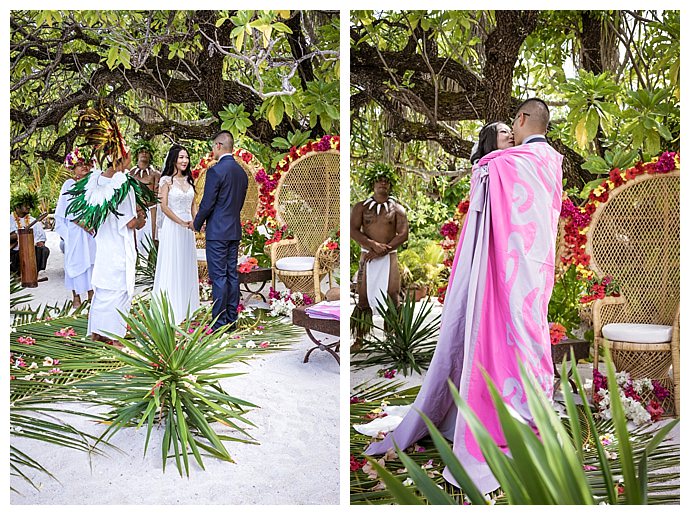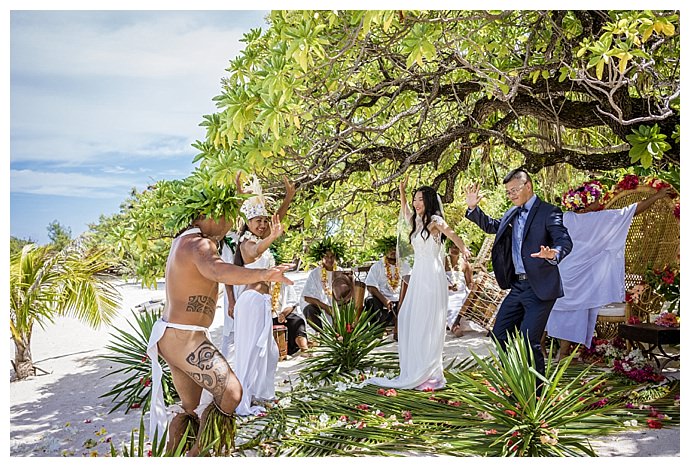 The Ceremony
Vicky always dreamed of having a Polynesian wedding – but unlike a destination wedding at a resort hotel with a fancy wedding package, she wanted an authentic Polynesian experience. "I was looking for something natural on a beautiful private place with a lot of fun," she says. On a private beach on Moorea, Vicky and Ricky were married in a traditional Polynesian wedding ceremony, which included a coconut blessing, a unity ceremony and plenty of dancing. Vibrant tropical flowers lined the peacock chairs where Vicky and Ricky sat during the ceremony with fresh palms at their feet. For the unity ceremony, Vicky and Ricky were wrapped in a tifaifai, a colorful Tahitian quilt, to signify their unity and the beginning of their family. "The celebration was a dream come true," Vicky says. "It was special and fun in a beautiful place."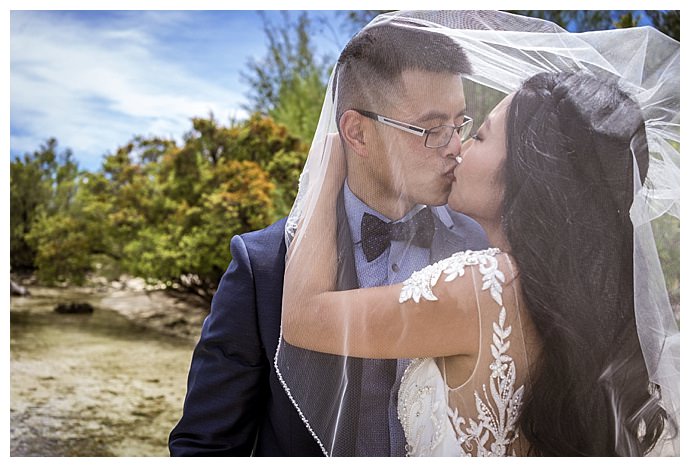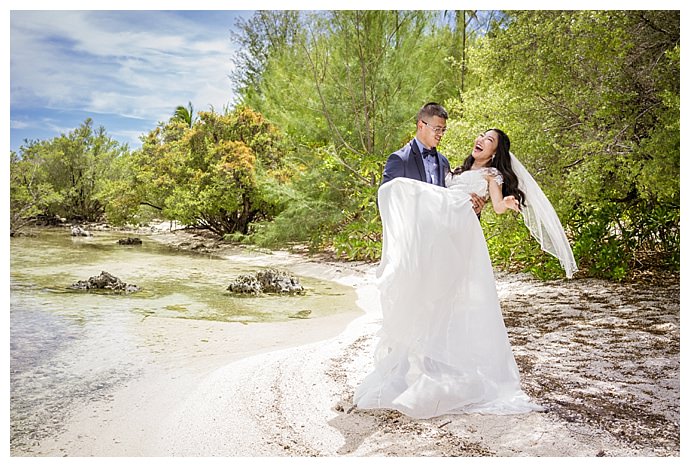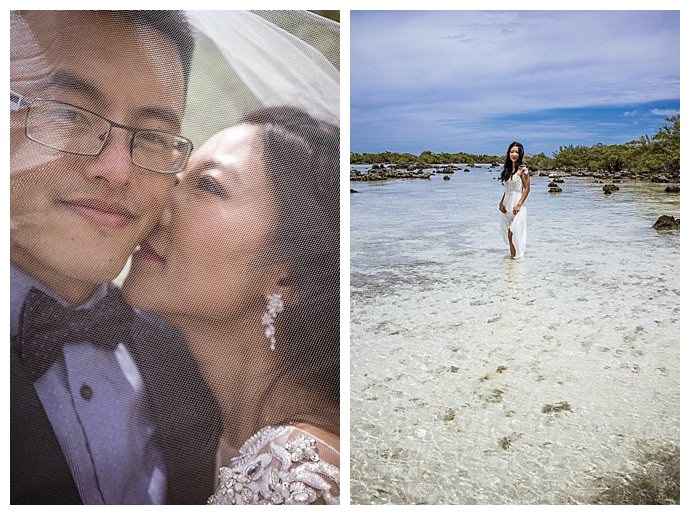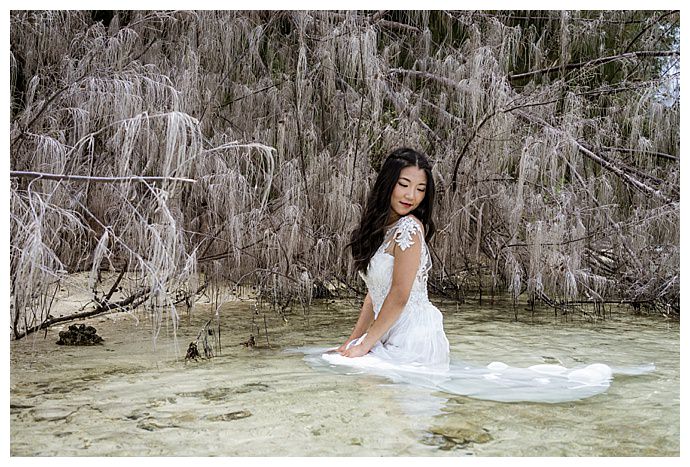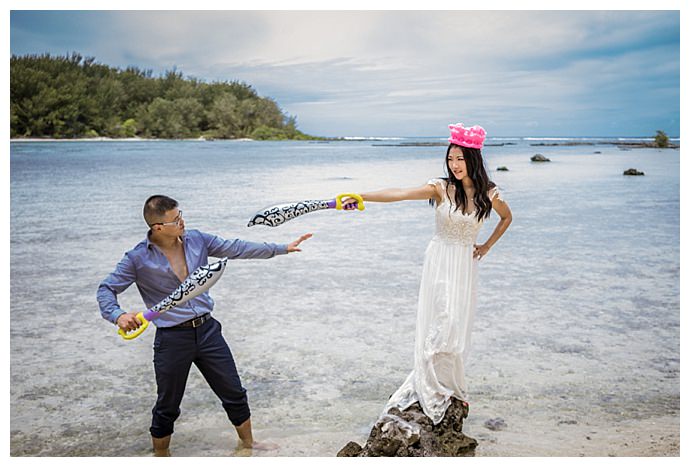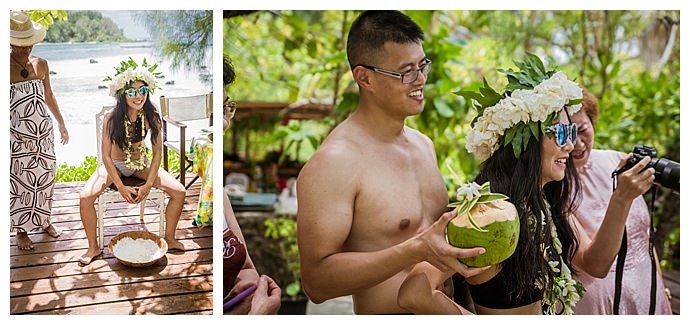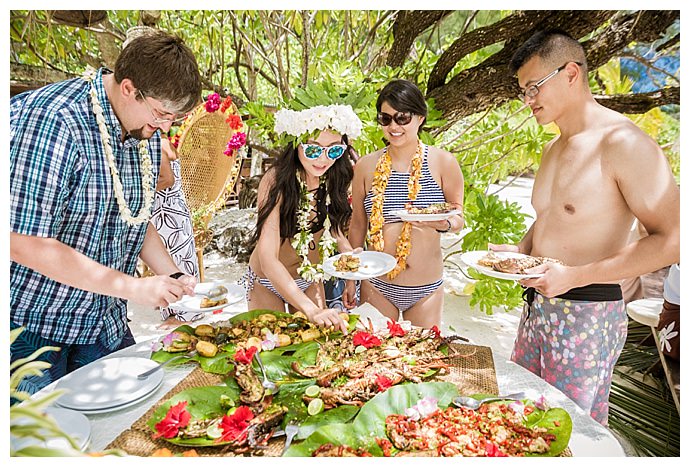 The Party
Vicky and Ricky opted for a morning ceremony, leaving the rest of the day for jubilant celebration and exciting activities, which for this fun-loving couple, meant swimming with  stingrays, sword fighting and, of course, more dancing. The newlyweds brought an inflatable pretzel pool float and some inflatable swords for a dip in the water and friendly sword fight after they said "I do." They fueled up on delicious grilled veggies, lobster and plenty of coconut milk, which Vicky helped make herself! And instead of cake, they enjoyed a fresh fruit salad filled with colorful local fruits. After their wedding day, Vicky and Ricky headed north to Bora Bora for an unforgettable honeymoon, where they enjoyed the crystal blue water just outside their romantic bungalow.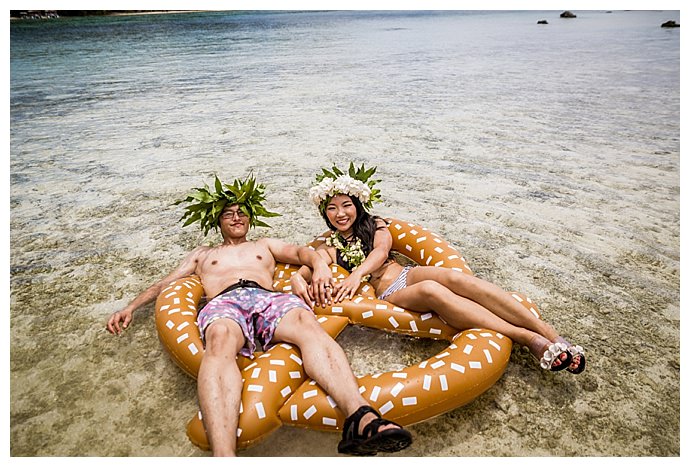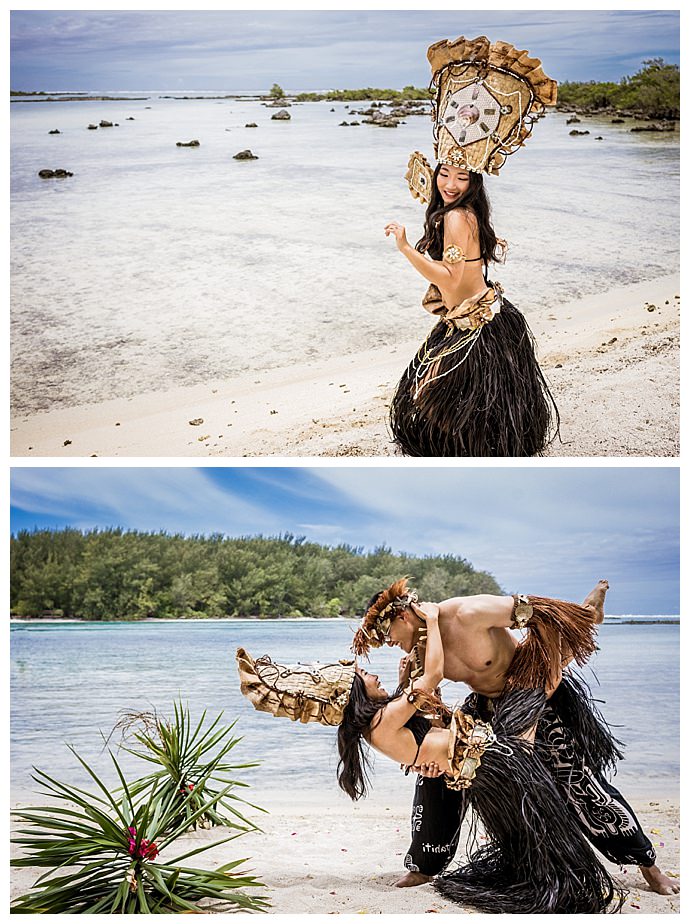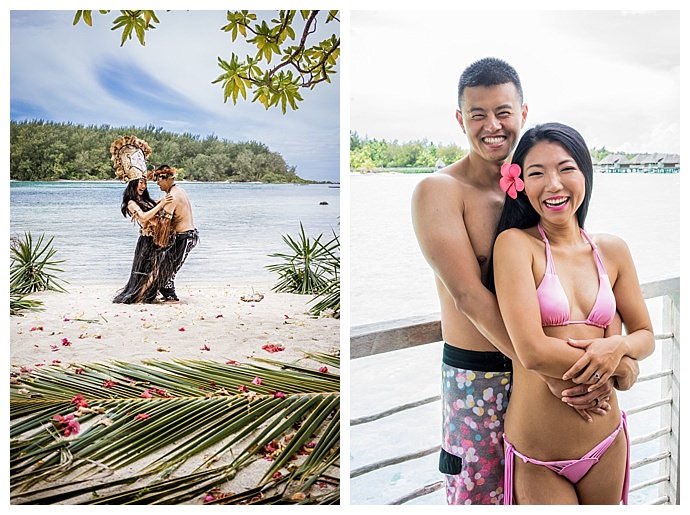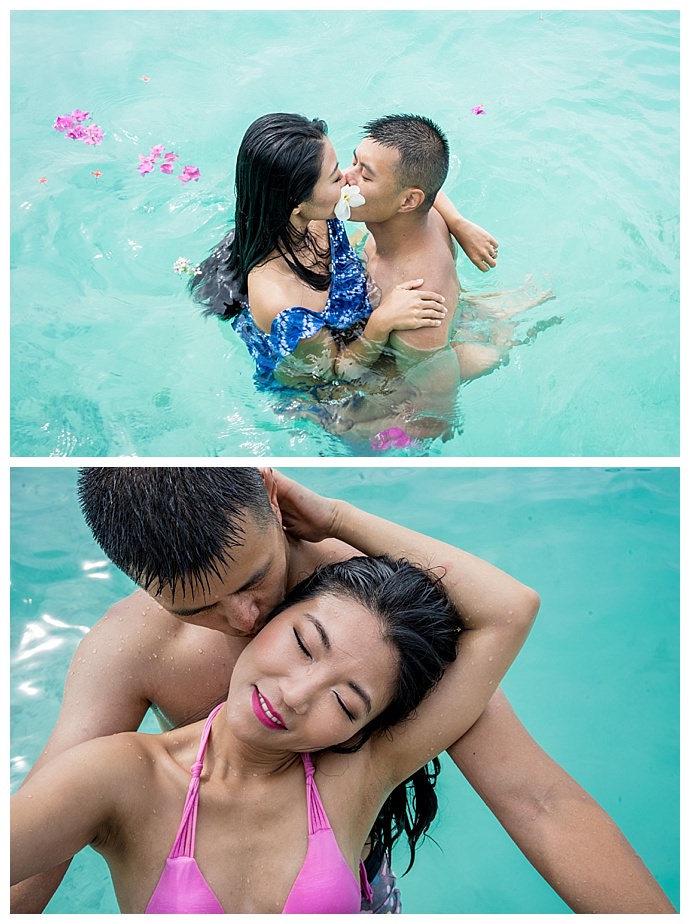 Team of Talents
Photography: SV Photograph
Event Planning: Wedding Polynesia