When it comes to designing a wedding, it's easy to get caught up in the trendy ideas that saturate social media, but we're firm believers that the best weddings have details that are unique to the relationship they're celebrating. And today's gorgeous wedding is perfect proof of that. One of our favorite details from Hannah and Patrick's ballet-inspired wedding was the vibrant, lush florals and the unique way the bride chose to style the bridesmaids bouquets in particular. 
"The floral design was inspired by my background in ballet as well as a romantic, ethereal feeling that I wanted for the overall day," Hannah says. "For the bouquets, I wanted to evoke the end of the ballet performance where dancers are presented with a bouquet of flowers. The bridesmaids carried hand-tied garden roses in a variety of pinks and greenery, wrapped in brown paper." Behind the lens, Jessica Jaccarino Photography captured all the divine details and captivating moments of Hannah and Patrick's wedding day. With portraits on the beach and touches of metallic decor for the reception, this wedding was nothing short of a dream.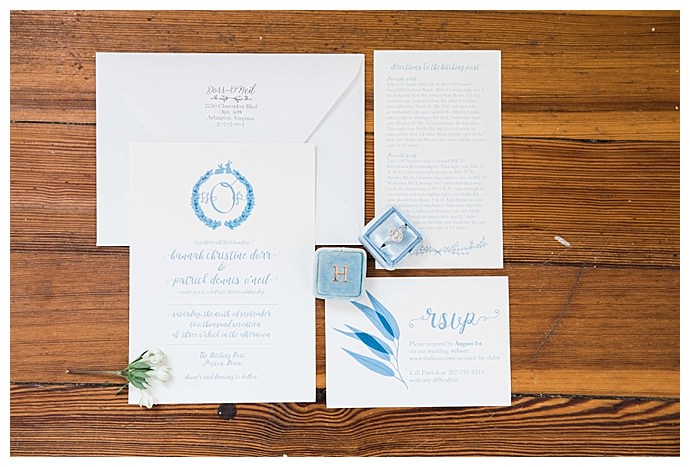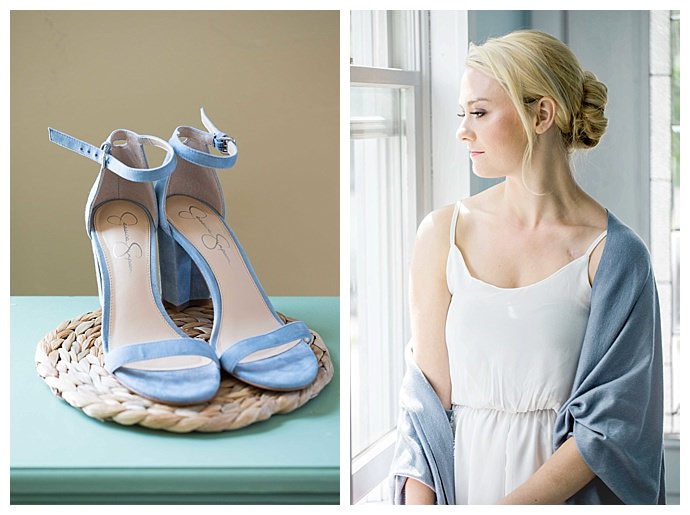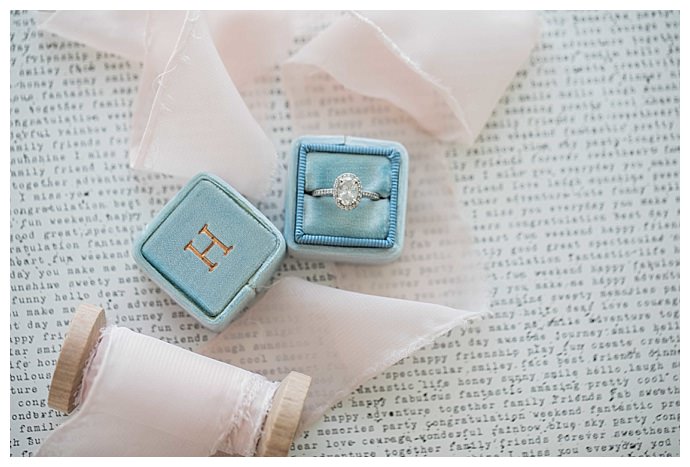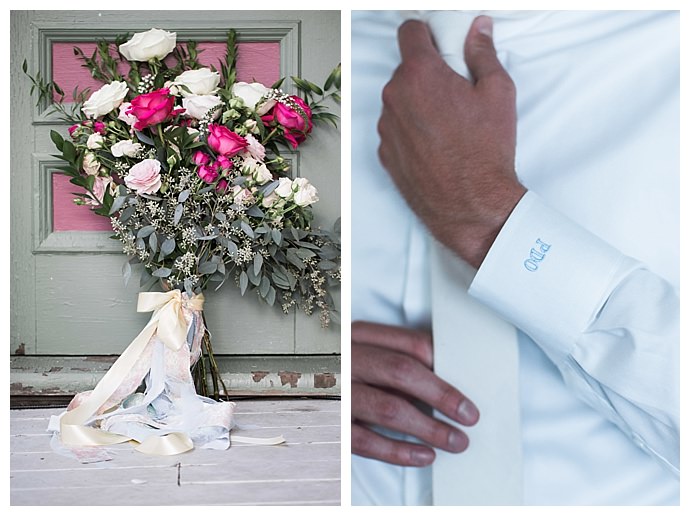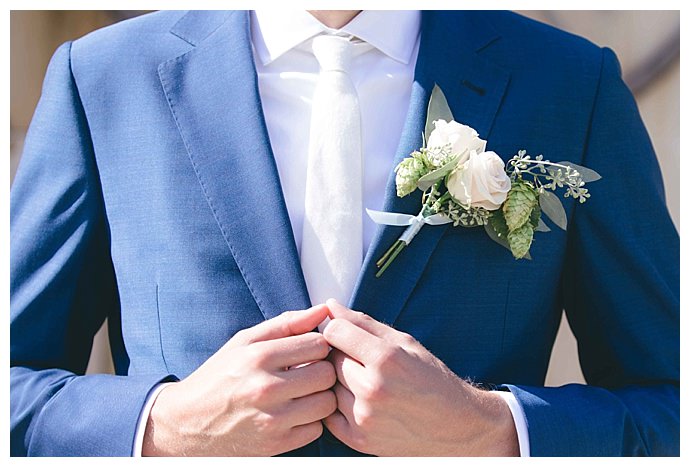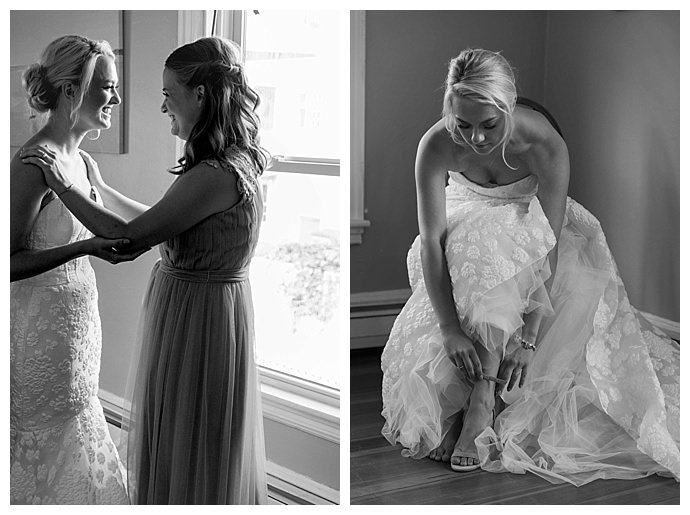 The Love Story
Some say love and politics don't mix, but for Hannah and Patrick, politics is what brought them together. "We met while working on a U.S. Senate campaign in 2012," Hannah says. "Although there is some disagreement as to who was working on health policy first, we fell in love over policy discussions and trips to Lola's burrito truck." Hannah and Patrick were blindsided by their feelings for each other although their friends knew there was something special between them. Eventually, their policy discussions turned into talks about the future and moving abroad until they finally started a life together in D.C. And later, Patrick got down on one knee to ask Hannah to marry him in the same spot they had their very first kiss.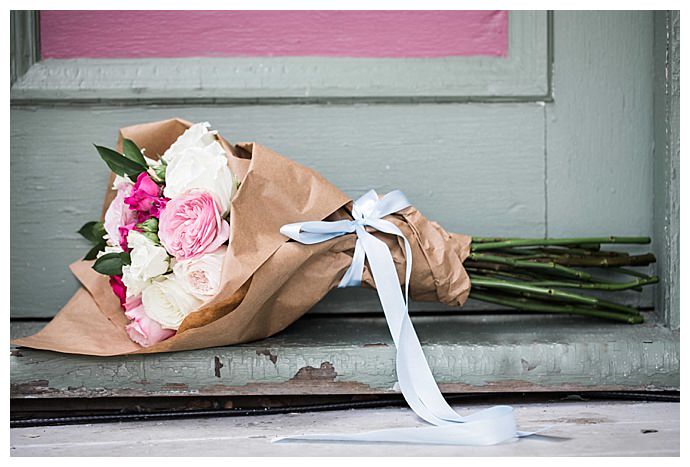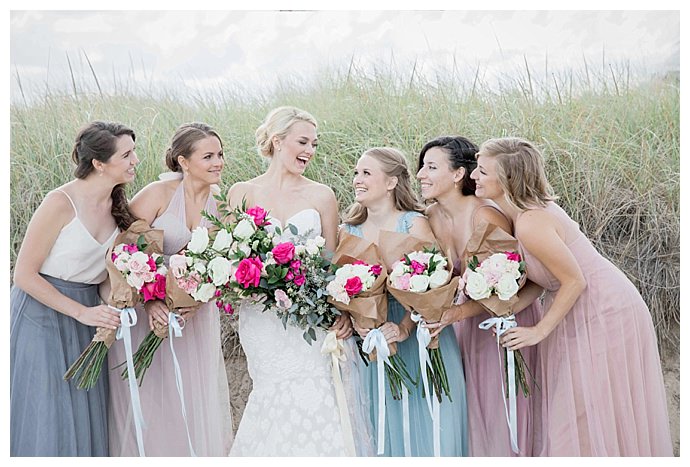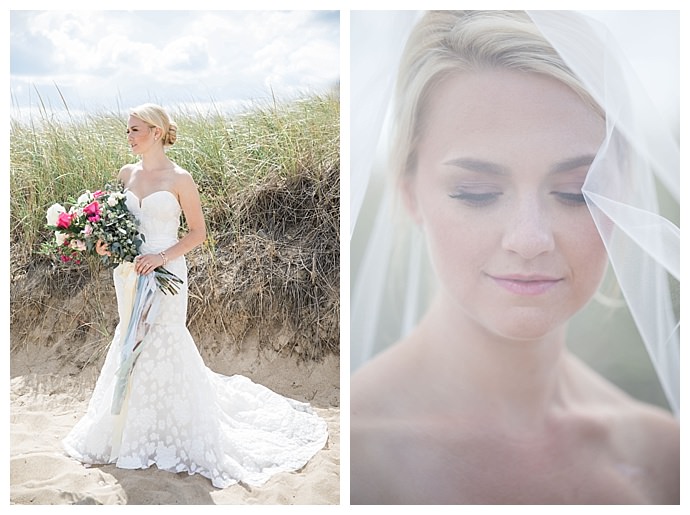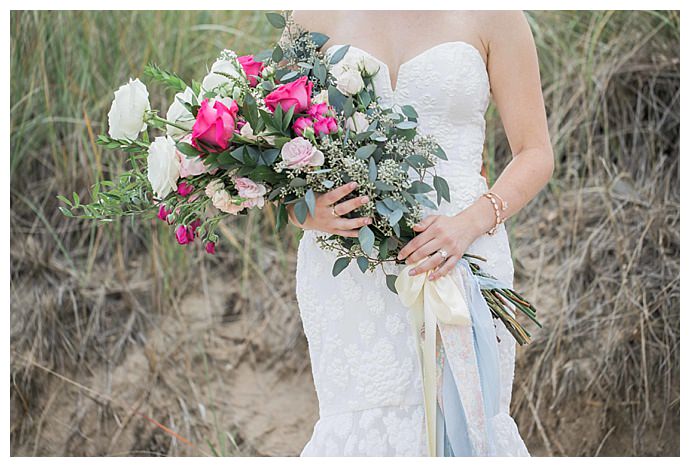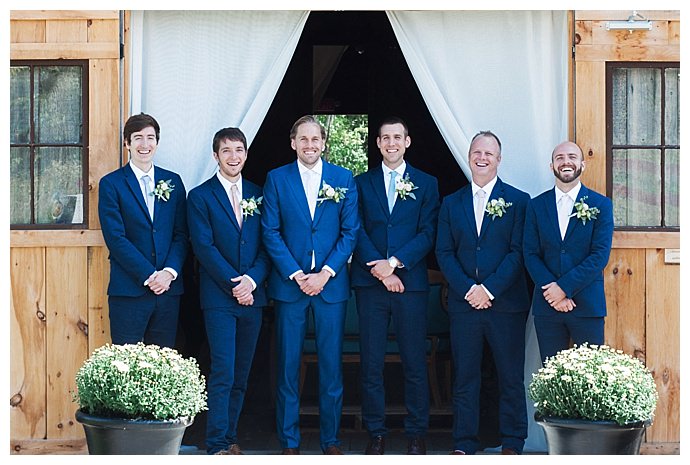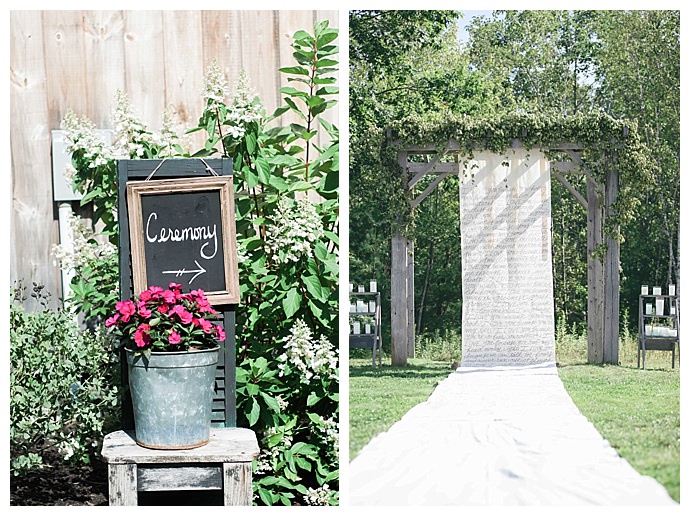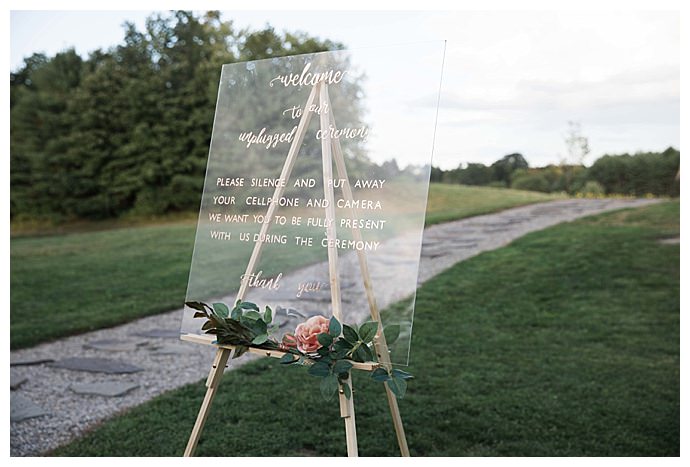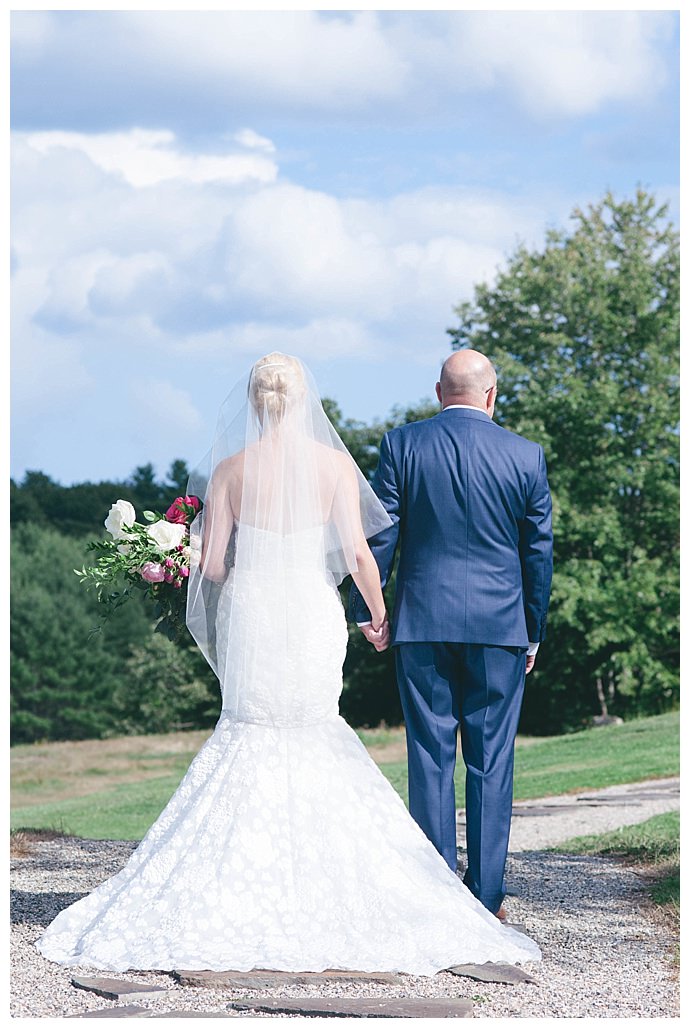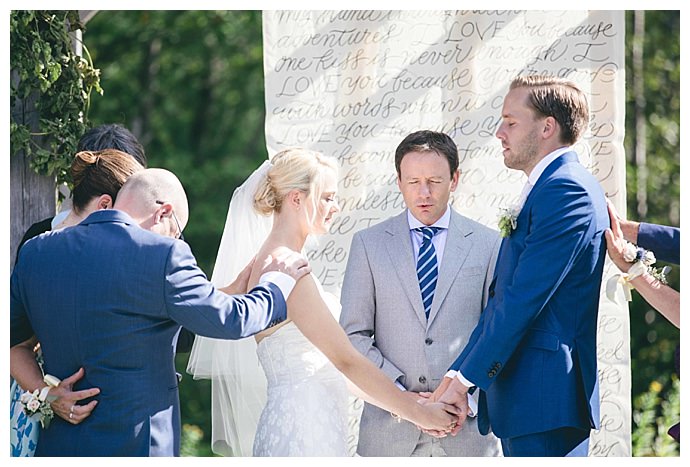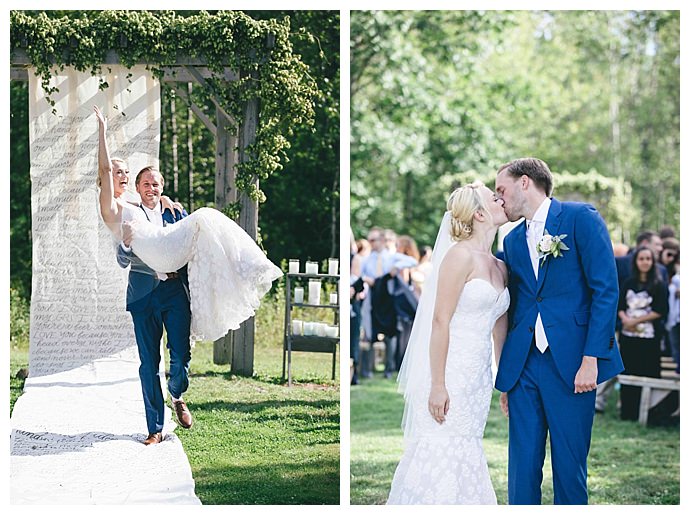 The Ceremony
Behind the rustic barn on The Hitching Post's quiet farmland in Dayton, Maine, Hannah and Patrick wed in a beautiful ceremony led by two pastors from the churches they each attended growing up. Tchaikovsky's "Waltz of the Flowers" played as a nod to Hannah's former ballet days as she walked down the aisle escorted by her father. "The aisle runner was one of my favorite details," Hannah says. "Every night we say one reason why we love each other. It doesn't have to be a huge revelation, just a moment of appreciation for your partner at the end of the day. Janice from Handmade Letters in D.C. was able to capture this special ritual on our aisle runner so that we could be surrounded by the words we say to each other every day as we began our marriage." The ceremony began with their parents surrounding them for a special prayer before they exchanged self-written vows and then rings. And after they kissed, Patrick swept Hannah off her feet and carried her back up the aisle as Joshua Radin's endearing, upbeat "When We're Together" played.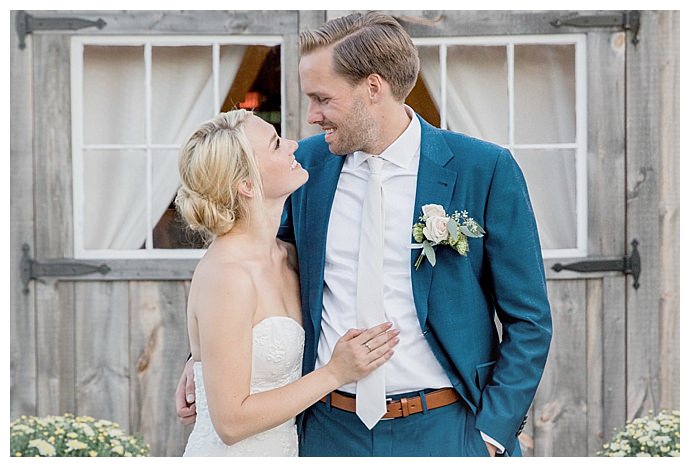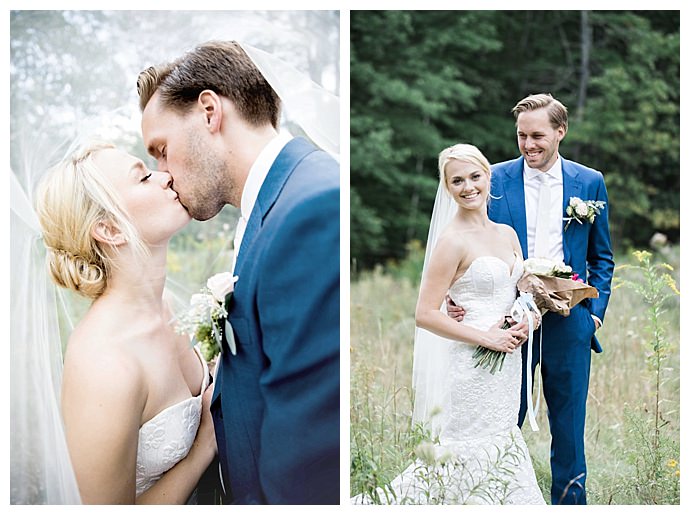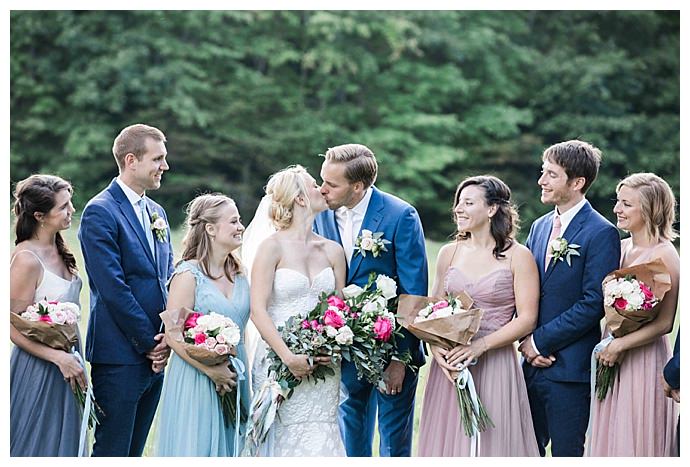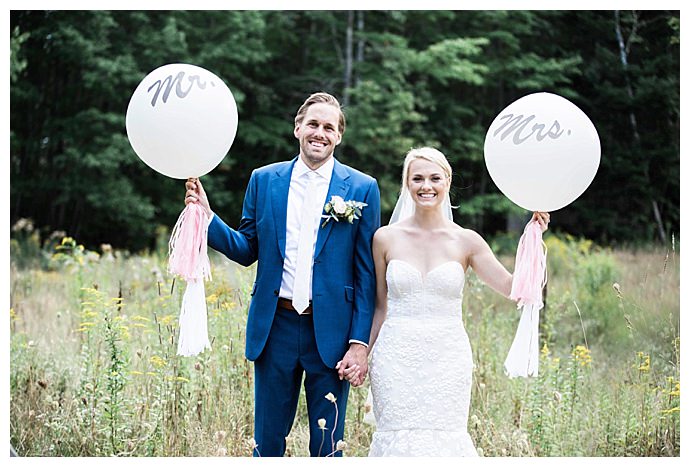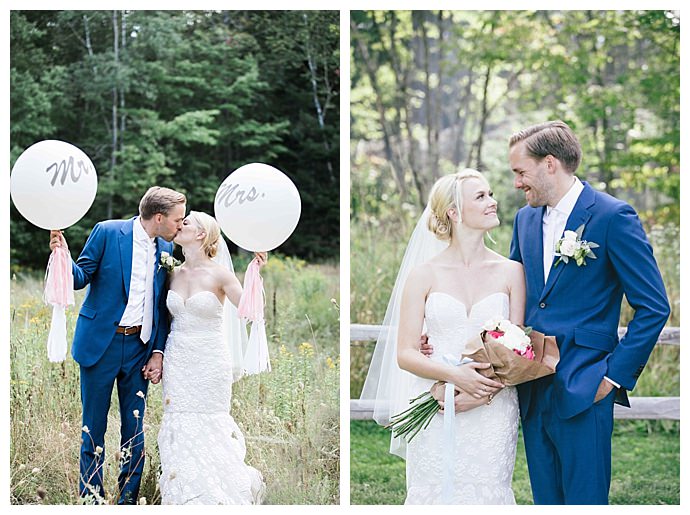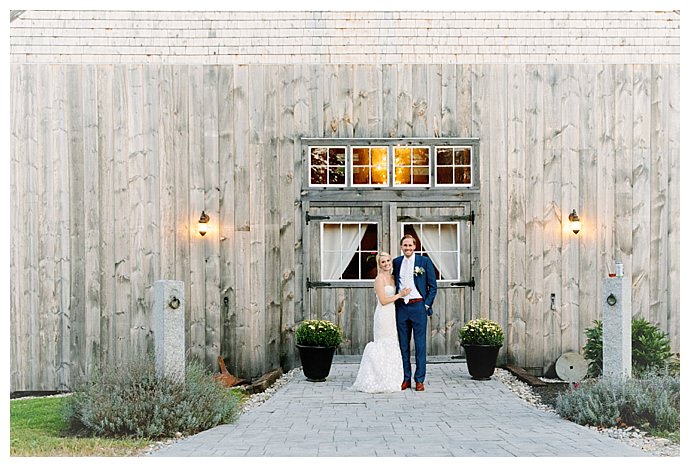 The Party
In keeping with the ballet-inspired theme, the reception space inside the barn was beautifully decorated with a neutral color palette accented by hues of dusty blues, pinks and rose gold. Hannah died the silk gauze table runners a beautiful shade of blush that were topped with garlands of seeded eucalyptus. And as a favor for the guests to take home, she crafted white paper flowers for each place setting. At the front of the room, the newlyweds' sweetheart table was draped in a garland filled with pink and white roses, and they sat on an antique settee that Hannah's family and friends had refurbished for the occasion.
Dinner was served buffet-style with barbecue pulled pork, split chicken, ribs, brisket and, at Hannah's request, mac and cheese. For dessert, the flavors of Hannah and Patrick's two-layer cake paid homage to "The Nutcracker" and the many times Hannah performed it throughout her childhood. The top layer was a scrumptious chocolate hazelnut while the bottom layer was a plum basil flavor. They also offered chocolate chip cookies, brownie caramel whoopie pies and mini blueberry pies along with a classic Maine treat, mini strawberry rhubarb pies.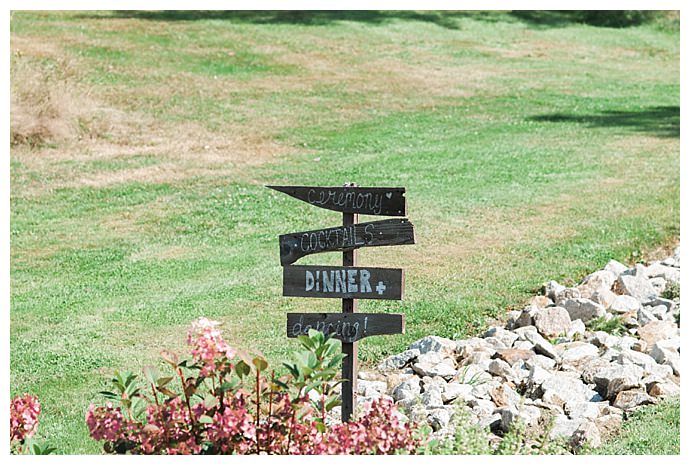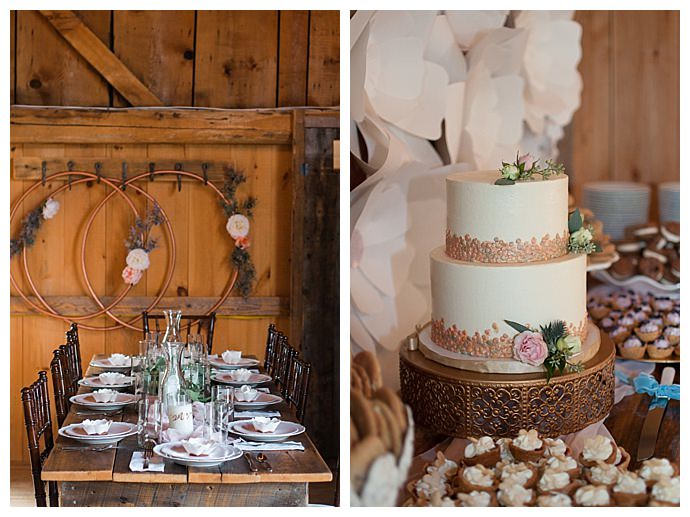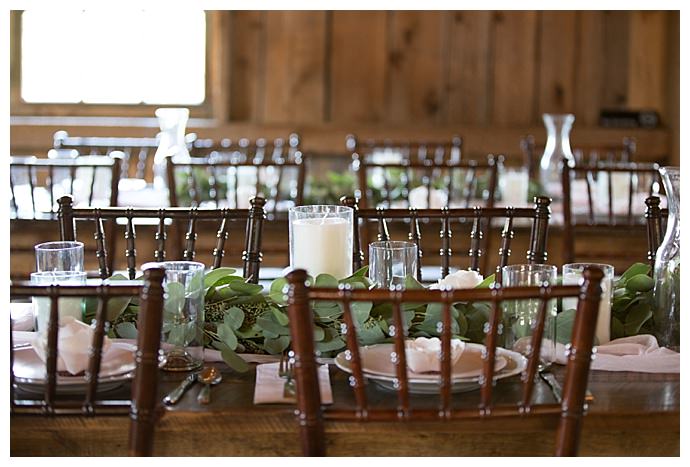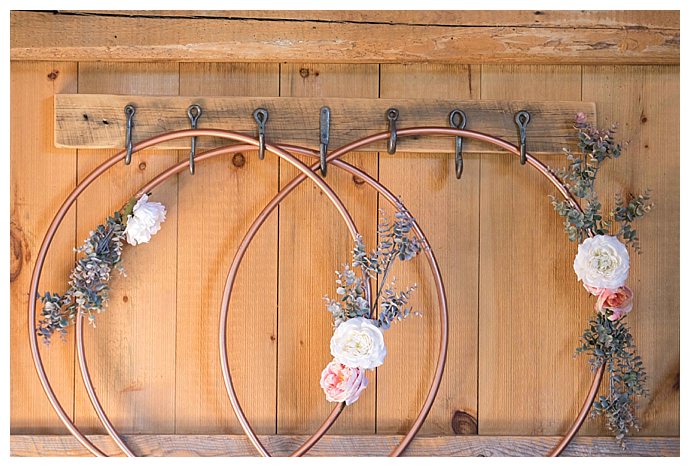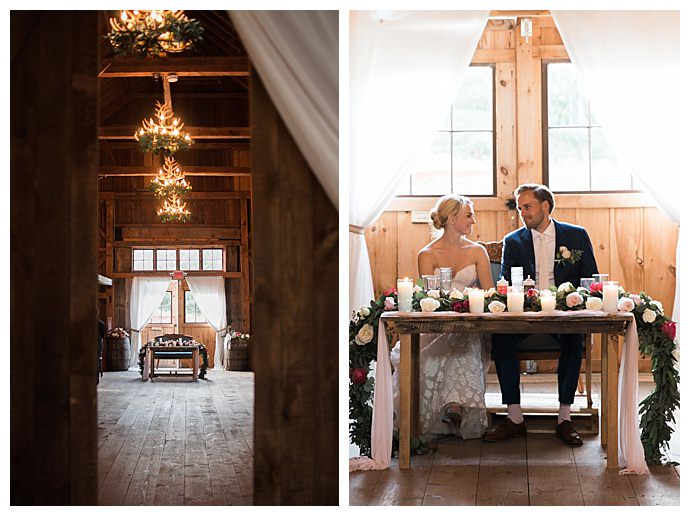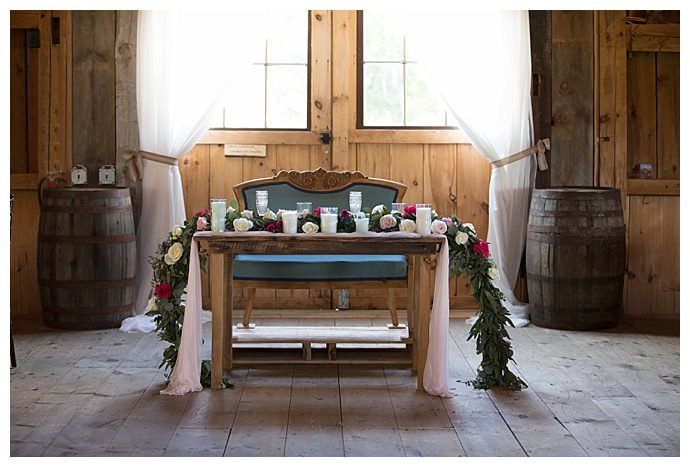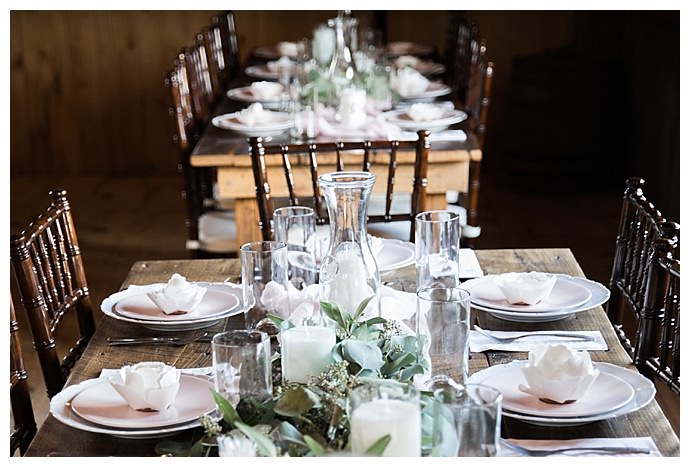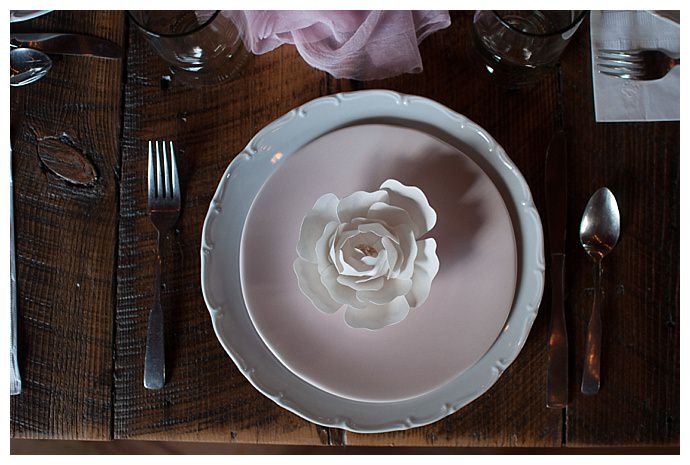 Memorable Moment
Although the day was filled with memories Hannah and Patrick will never forget, the same moment stands out among the rest for the both of them. "As I was walking down the aisle with my dad, we crested the small hill, and the sun was shining on our family and friends and where Patrick was standing there waiting for me," Hannah says. "It was so beautiful it felt like I had stepped into one of  my daydreams about our ceremony. I couldn't believe it was real." For Patrick, that exact moment was one of his favorites, too. "While it's hard to choose one moment, my most memorable was probably the moment I saw her coming down the aisle," he says. "She had worked hard to keep her dress a secret and we had spent so much time anticipating that day it was hard to believe it had finally arrived, and I got to see my beautiful bride walking up to the altar."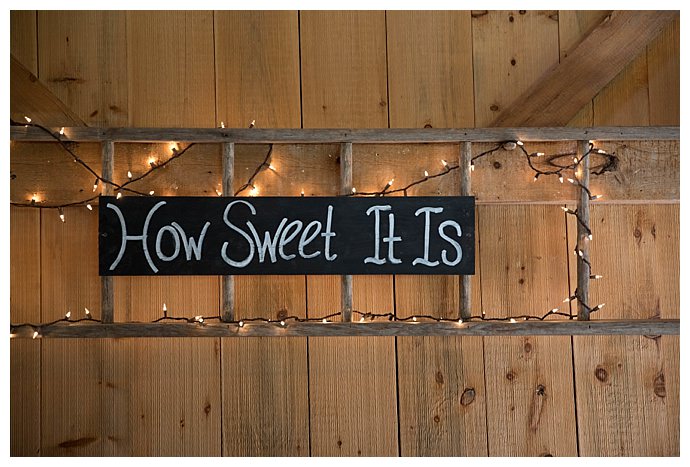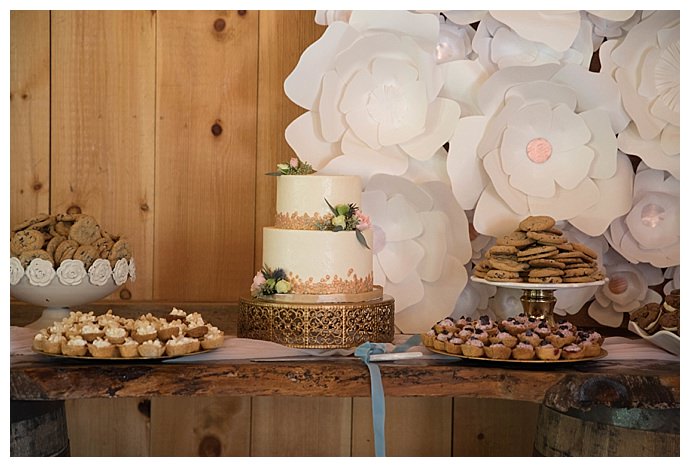 *Editor's Note: This post contains affiliate links. Each time you purchase an item via our affiliate links, Love Inc. is receiving a small percentage of the sale, thus you are helping our small, equality-minded business grow and allowing us to provide more content for YOU! Isn't that just fantastic?