By Kaitlynn Moquet | Photography by Green Blossom Photography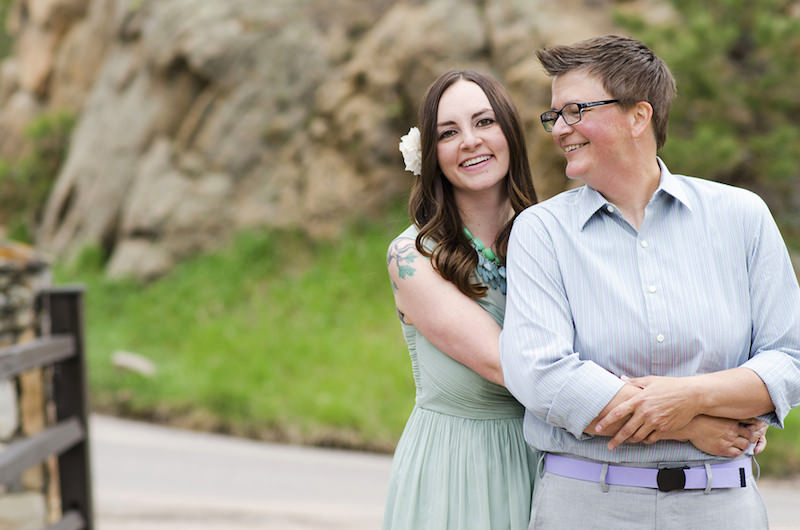 Seven family members and friends surrounded Nellie and Theresa in celebration of their eternal commitment to one another on May 9, 2014. At this intimate wedding in the beautiful mountains of Colorado the couple laughed, cried and most importantly, honored their new life together. "It was reflective of us and what was truly important to us," Theresa says.
The Love Story
Nellie and Theresa met three years ago while working together at a treatment facility helping at-risk youth. "We began as friends and finished as life partners," Theresa says.
Nellie remembers that although the couple dated for three years before marrying, she was captivated with Theresa from the moment she met her. "As I spent more time with her, it didn't take long for me to realize I wanted to spend my life with her," Nellie smiles.
The Engagement
Like many other things in the couple's relationship, the proposal between Nellie and Theresa was far from typical. Originally, the couple planned on waiting until same-sex marriages were legal in the state of Colorado before saying "I do." However, one night that plan changed.
"We were just sitting at home talking and realized that we were taking for granted the rights for gay and lesbian couples that our state offered us," Nellie says. "We decided we didn't want to waste any more time and to have a civil union ceremony."
No ring or bended knee was needed — November 1, 2013 was an evening that they'll never forget. That evening the couple made a commitment to spend the rest of their lives with one another and began their wedding planning process!
The Venue
Nellie and Theresa tied the knot near a small, quaint creek under the soaring pine trees of Evergreen, Colo.
"We chose our venue because it was quiet and peaceful and had a wonderful rustic outdoor area to have our ceremony," Nellie remembers, who found this incredible hideaway spot.
Theresa was very pleased with the venue and said some other benefits of the location were that it was close to Denver and happy to host a civil union ceremony.
The Fashion
Nellie was dressed in a simple yet beautiful sage green dress while Theresa wore a pair of gray dress pants, a light green button-down shirt and a pair of colorful lavender Chuck Taylors.
"I absolutely loved my dress," Nellie exclaims. "I looked everywhere for a dress that would represent me well and make me feel beautiful. I was lucky to find the perfect dress in my favorite color, sage green."
Both Nellie and Theresa matched their special day attire perfectly to the sage green and lavender color scheme that they incorporated throughout their ceremony and reception.
The Ceremony
The lovebirds kept their ceremony short and sweet. In fact, Theresa says their wedding theme was "simple and stress-free!" The actual ceremony only lasted about 15 minutes in its entirety.
Although the officiant was non-denominational, Nellie and Theresa incorporated prayer into their ceremony. They also wrote sentimental, personal vows for one another and exchanged them in front of their friends and family.
"We also exchanged rings and had Nellie's three-year-old nephew as our ring bearer," Theresa giggles.
The Party
The reception was covered with beautiful blue hydrangeas and white and lavender tulips as table centerpieces. Since the wedding ceremony and party were more intimate, the couple did something more personalized and unique for their reception.
"We decided to not have dancing and instead have a casual dinner for our guests after the ceremony," Nellie explains. "We spent the last few weeks leading up to the wedding putting together a song list of songs we liked to play at the dinner."
Theresa added the songs played at the reception were ones that are meaningful her, Nellie and their loved ones.
The newlyweds served guests with barbecue dishes including turkey and brisket sliders, pork hot links, mashed potatoes, coleslaw and cornbread. The cake for the reception also sounded absolutely delicious.
"We chose a honey jasmine tea-infused cake with a honey butter cream icing from a local bakery that specializes in tea-infused cakes. It was cream colored with a floral pattern and a dark purple ribbon tied around the bottom. We used a sage green cake topper that spelled out our initials," Theresa says.
The couple sent each guest home with a cupcake that replicated the design of the wedding cake so everyone could have one last taste of this magical evening.
 Memorable Moments
Nellie: My most memorable moment of the day was when Theresa was reading her vows to me and began to get very emotional. The magnitude of what we were doing and what it meant to me really hit me then and I will always remember how blessed I felt to be able to marry Theresa.
Theresa: One of the most memorable moments for me was the few minutes before Nellie and I walked up the aisle and thinking we are about to get married and thinking I am committing the rest of my life to the most beautiful woman I have ever known. 
Vendors:
Photography: Green Blossom Photography
Floral Design: City Floral
Cake Design: Leaf & Crumb
Catering: Jim 'N Nick's BBQ
Wedding gown/suit: J.Crew