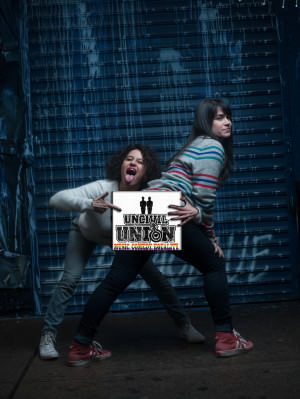 While we thoroughly enjoy all of the wedding eye candy that we feature, the heart of Love Inc. comes down to marriage equality, and this week, New York City has turned into a rainbow flag-sprinkled playground for Pride Week and we just had to get in on the fun.
Tomorrow night, we'll be showing our support for The Ally Coalition at the national debut of UNCIVIL UNION Benefit Concert. The Ally Coalition was created by Grammy-winning band FUN. and designer Rachel Antonoff to inspire people to take action for LGBTQ equality through education, awareness and advocacy. The lineup for the evening reads like a Who's Who of stand-up comedy — W. Kamau Bell, Cameron Esposito and Nikki Glaser are just a few of the names we'll drop — headlined by lana Glazer and Abbi Jacobson of the hilarious Comedy Central show "Broad City" and featuring indie-pop acts Jillette Johnson, Mates of State and Wakey!Wakey!. 
"UNCIVIL UNION combines two of our favorite entertainments — music and comedy — to celebrate equality. Even better is that we can support terrific local organizations tirelessly working for equal rights," says Antonoff.
Along with raising awareness for equality, the evening will also be supporting Broadway Impact, a grassroots organization of theater artists and fans mobilized in support of marriage equality and NEW ALTERNATIVES for LGBT Homeless Youth.
Interested in attending this jam-packed evening, showing your pride and supporting some amazing causes? Here are the deets:
Location: Le Poisson Rouge, 158 Bleecker Street
Date: Wednesday, June 25
Time: Doors open at 7 p.m., event starts at 8 p.m.
Price: $35 for regular, $98 for VIP
Click here for ticket purchases and more info.