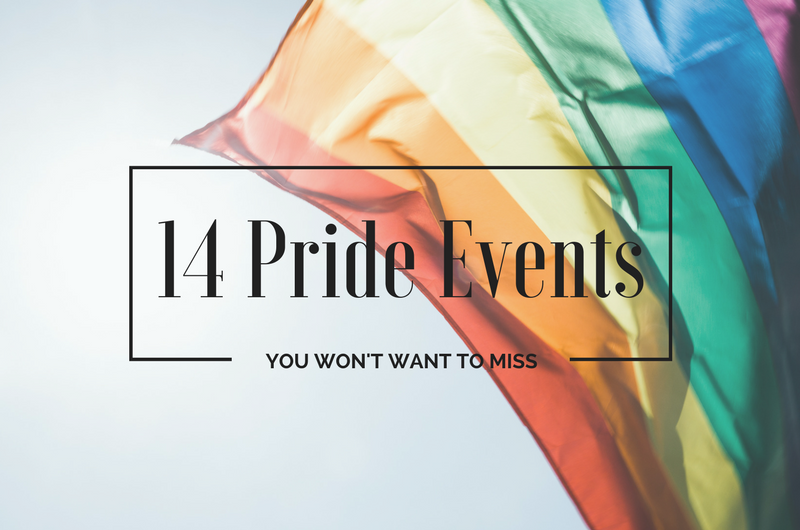 New York Pride Events You Won't Want to Miss Before the Annual March
I'll never forget my first Pride. I was new to the city and didn't yet know anyone, so I grabbed my headphones and snuck down to the West Village, near where the March wraps up on Christopher Street. A thick layer of humidity blanketed the city, but the streets were crowded, and uproarious cheers filled the space between the buildings blocks away from where the parade was making its way down 5th Avenue. Suddenly, I rounded a corner, and I was consumed by a colorful explosion of energy. I'd never seen anything like it. It was as if the entire city was squished between one avenue, oozing with enough pride to reach every corner of the island.
It was 2014 — one year before the SCOTUS ruling, and that day, as marchers and spectators waved flags with enthusiasm, I learned what Pride was all about. I felt it in the air, and I saw it on the determined yet jovial faces that were smothered in rainbow paint, making their voices heard. I was by myself, but I wasn't alone. And that's the incredible thing about Pride. It's an entire month of celebration and activities dedicated to the people who make the community so great and inviting. The iconic March in New York City, which takes place on June 25th at noon this year, is only one of many celebrations between now and the end of the month, which is why we've rounded up 14 events taking place all over New York City that celebrate Pride in a myriad of ways. From Family Movie Night and a Trans Day of Action March to the first ever Youth Pride Event, there's something for everyone! So check out these events, and if you're not in New York, don't fret. For the first time ever, the March is being televised live so you won't have to miss out on any of the fun!
Family Movie Night
This is one event that's always been near and dear to our hearts. At Family Movie Night, children and LGBT families can come together for a special screening of "The Lion King" at Hudson River Park. The hilarious Miss Richfield 1981 is returning to host, so don't miss this chance to lounge in the grass and cherish time together as a family while watching one of Disney's greatest films!
Date: June 20
Time: 7:30 p.m. – 11 p.m.
Location: Pier 45 Hudson River Park
Price: Free general admission, $50 for premium seating
Rainbow Dumpling Workshop
What's better than a steaming basket of delicious dumplings? Rainbow-colored dumplings, of course! "Top Chef's" Frances Tariga is hosting a dumpling-making workshop at Megu with a portion of the proceeds going to The Center in support of the LGBT community. After this workshop, you'll have no choice but to wow your friends with rainbow dumplings for the rest of the month.
Date: June 20
Time: 6 p.m. – 8 p.m.
Location: Megu
Price: $135
Village Voice Pride Awards
Pride is getting its first ever awards show, hosted by the Village Voice and emceed by the lovely Alan Cummings. With a special performance by Tegan and Sara, the inaugural awards show will honor those who have lent their voices, advocated for the community and paved the way for LGBTQ rights both locally and around the world.
Date: June 21
Time: 6:30 p.m.
Location: Capitale NYC
Price: $550 – $5,000
LOL: A Queer Comedy Event
It wouldn't be Pride with an outrageous amount of laughter, and this comedy show turned fundraiser is sure to be one for the books. Benefitting the Callen-Lorde Community Event Center, a leading healthcare provider for the New York LGBT community, the lineup is set to include Josh Sharp, Patti Harrison, Pat Reagan and Pop Roulette with a friendly lip sync competition scheduled for after the laughs.
Date: June 21
Time: 7 p.m. – 11:30 p.m.
Location: Liberty Hall at Ace Hotel
Price: $15
Black Queer Brooklyn on Film
Spend the last two Thursdays in June indulging in films by Brooklyn-based artists and filmmakers at the Brooklyn Museum. The lineup highlights work from a diverse group of young, black, queer, female-identified and GNC artists and is free with general admission into the museum.
Date: June 22 and 29
Time: 10 a.m. – 11 p.m.
Location: Brooklyn Museum
Price: $16 for Adults, $10 for Students, Free for 19 and under
WQXR's Opera Party: Pride Without Prejudice
It's WQXR's first Pride, and they're celebrating with a special night of opera. Bask in live performances by trans cabaret artist Justin Vivian Bond and Anthony Dean Griffey while sipping cocktails and indulging in a delicious treat by the talented cake maker, Elizabeth Hodes. This might be WQXR's first Pride, but it certainly won't be their last.
Date: June 22
Time: 7 p.m. – 8:30 p.m.
Location: The Greene Space
Price: $30
13th Annual Trans Day of Action March
Organized by the Audre Lorde Project, this march for trans and gender nonconforming people of color is part of an ongoing effort to fight for visibility for a group that's often left out and prone to violence and discrimination. Head to Washington Square Park on Friday to promote unity and march in solidarity.
Date: June 23
Time: 2 p.m. – 5 p.m.
Location: Washington Square Park, Garibaldi Plaza
Price: Free
Pride Island
Another brand new addition to the lineup, Pride Island, a music festival on Hudson River Park's Pier 26, is sure to stake its claim on Pride for years to come. With music from Nelly Furtado, Tegan and Sara, Patti Labelle, Deborah Cox and many more, Pride Island promises three full days of a wide variety of music that celebrates and reflects LGBT culture.
Date: June 23-25
Time: Friday at 5:30 p.m. – Sunday at 10 p.m.
Location: Hudson River Park: Pier 26
Price: $35 – $2,000
NYC Drag March
Don't miss out on one of Pride's most decorated marches! Glitter beards, neon wigs and inclusive yet snarky banners are just a taste of what to expect during the Drag March. All are welcome to join in the fun and dance through the streets in this body-positive march from Tompkins Square Park to where it all began at the Stonewall Inn.
Date: June 23
Time: 7 p.m. – 11 p.m.
Location: Tompkins Square Park, 9th Street entrance
Price: Free
Teaze
Don't miss "Orange is the New Black's" Taryn Manning at Pride's event exclusively for women! Manning is putting on the DJ hat and will be turning the tables all night long on The DL's rooftop. Expect celebrity drop-ins and a night filled with surprises.
Date: June 24
Time: 4 p.m. – 10 p.m.
Location: The DL
Price: $48 – $80
Siren
Henrietta Hudson and Girl Pride NYC have teamed up to once again throw an epic Girl Pride party for gay gals and their LGBT friends and allies. Last year, GO Magazine named Siren the best Pride party of the year, and we're expecting no different from this year's event co-hosted by Anna Hauptmann, Out With the Gay Girls and Crazy Maria Cherry Lips at Watermark Bar at the South Street Seaport.
Date: June 24
Time: 9 p.m.
Location: Watermark Bar
Price: $25 – $200
Youth Pride
We're so excited to see that this year's festivities include an event specifically for LGBT teens. This pivotal event will provide a safe space for teens to celebrate all things Pride with their friends with exciting games, interactive experiences and endless entertainment! It's free to go, but registration is required, so don't forget to sign up before you head out!
Date: June 24
Time: 12 p.m. – 6 p.m.
Location: 14th Street Park, between 10th Avenue and the West Side Highway
Price: Free, but register online here.
Harlem Pride Day
Harlem's Pride celebration has grown so large over the years that this year they've expanded to a brand new location. Now in West Harlem, you can expect to see epic musical performances, an abundance of activities and vendors as far as the eye can see. You won't want to miss this 8th annual celebration co-hosted by Dave Bridgeforth and Miss Peppermint from Season 9 of "Ru Paul's Drag Race."
Date: June 24
Time: 12 p.m. – 6 p.m.
Location: 12th Avenue between West 135th and West 138th streets
Price: Free
PrideFest
We're all familiar with New York's charming yet monotonous street fairs, but we promise, this special Pride street fair is anything but average. In its 24th year, PrideFest brings LGBT vendors together for a day filled with food, activities and music, spanning six blocks along Hudson Street. Country music star LeAnn Rimes is set to headline for what's sure to be the best street fair of the year.
Date: June 25
Time: 11 a.m. – 6 p.m.
Location: Hudson Street between Abingdon Square and West 14th Street
Price: Free