'Tis the season for giving but there's no reason the gifts you give (or put on your own wish list!) can't inspire you for your wedding. For our 2015 Holiday Gift Guide, Love Inc. editors have curated a series of gift ideasthat can also serve purpose for the big day.
Whether you're shopping for newlyweds with a new home or you just have that friend who has the v. best taste (and appreciates yours, as well), it's a fun and exciting challenge to be able to choose something gorgeous and fitting for their amazing abode. From small rustic touches to larger pieces that make a legit impact, here are some super stylin' gifts for the décor darling on your list.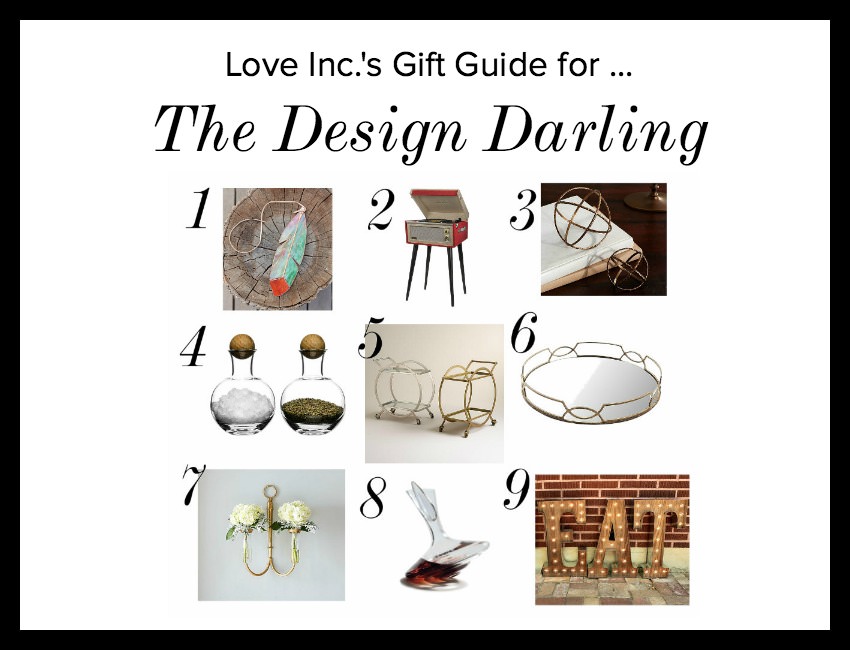 1. Stained Glass Cedar Waxwing Feather: Your bohemian buddy will flip at the chance to display this stunning stained glass piece in his or her window. With its copper patina and green glass body tint, the opalescent plume will look gorgeous in any space. Available at Scoutmob.com for $30
2. Santa Monica Turntable: Music lovers and design darlings will have a fit over this vintage-y furnishing. It's a no brainer that vinyl makes everything sound better, but your pal's home will also look better with the addition of this stylish turntable inspired by popular 1960s design. Available at Dot & Bo for $200
3. Textured Metal Spheres: We love these! One of our favorite design elements from The Big Fake Wedding this year were metal orbs used to decorate the tables, so natch these spheres are tugging at our gift-giving heart strings. Simple but with a huge visual impact, these would look perfect in any home in need of a simple touch. Available at Pottery Barn for $8.50-$12.50
4. Oval Oak Spice Jars Set: Plastic bottles and heavily-branded jars have no place in a design-lover's home. Help your foodie decorator up their kitchen ante with these beautiful and visually appealing spice jars. No longer will the flavor boosters have to be sequestered to the pantry or dank cabinet – they can jam out in the open for all when they're presented in a fashion this amazing. Available at Fab.com for $24.95
5. Asher 2-Tier Rolling Bar Cart: Sure, thanks to Don Draper and Co., bar carts are having a moment. But why shouldn't they? They're gorgeous and functional. Whether used for actual bar goods or as a catch-all for plants and other knick-knacks, bar carts add a beautiful design while also being a solid storage area. Available at World Market for $169.99
6. Elana Mirrored Tray: Trays can be a dime a dozen, but when you find one as stylish as this modern, mirrored piece then you've really hit the jackpot. Useful for toting drinks to lounging guests or as a home for flowers and tchotchkes, trays help break up the clutter while still catching your eye. Available at Pier 1 for $89.95
7. Arlington Wall Mount Vase: This sleek, non-intrusive vase subtly shows off fresh cut flowers without overpowering their pretty. The simple design lets the blooms do the speaking while its look can be altered simply by adding new stems. Available at Pottery Barn for $69
8. Peugeot Variation Aerator Decanter: Any host or hostess with an eye for décor knows that a decanter is the way to go when it comes to vino. Gift your friend with a penchant for parties this gorgeous and visually striking decanter that pulls double-duty, letting that amazing wine she got in Argentina breathe while acting as a conversation piece and visual focal point. Available at Sur la Table for $80
9. Eat Marquee Sign: Marquee signs are just the best. They make a huge statement (like, literally) while also being pretty versatile as far as the overall design aesthetic of the home. They fit well on a wall, on a table or nestled onto a mantle and they look great whether turned off or on. Available at Etsy for $249.99
*Editor's Note: This post contains affiliate links. Each time you purchase an item via our affiliate links, Love Inc. is receiving a small percentage of the sale, thus you are helping our small, equality-minded business grow and allowing us to provide more content for YOU! Isn't that just fantastic?  
By Christen Moynihan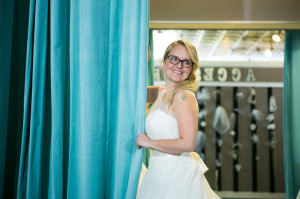 I'm from a small mountain ski town and now live on the outskirts of a big Texas city. By day, I edit The Broke-Ass Bride, own Bourbon & Sparkle and generally ogle all things tulle and shiny. By night, I'm a cat cuddler, bourbon drinker and voracious high-fiver. Follow along on Twitter and Instagram (@brokeasschris10).