The Big Fake Wedding, one of Love, Inc.'s very fave industry events, hit New York on August 25 in gorgeous and grandiose style. This summer's event was so full of intriguing, inspiring and innovative details and I couldn't be more thrilled to share the deets with you guys.
For those that have never heard of The Big Fake Wedding, here's the lowdown: It's a wedding show unlike you've ever experienced (thank goodness, right?). Rather than being bombarded by booth after booth of eager vendors, event goers fill the role of "wedding guest," witnessing vendors in action as faux nuptials take place complete with ceremony, reception and a big ol' dance party. You get a firsthand look at how the event's vendor participants take the time to set up and implement fun wedding schemes given a predetermined color palette and inspiration board which they then interpret on their own table or in a designated space. If a couple falls in love with a vendor, they get the chance to meet them in a more traditional "booth" space, aptly named the "Tunnel of Love." Can I get a collective "awwwww"?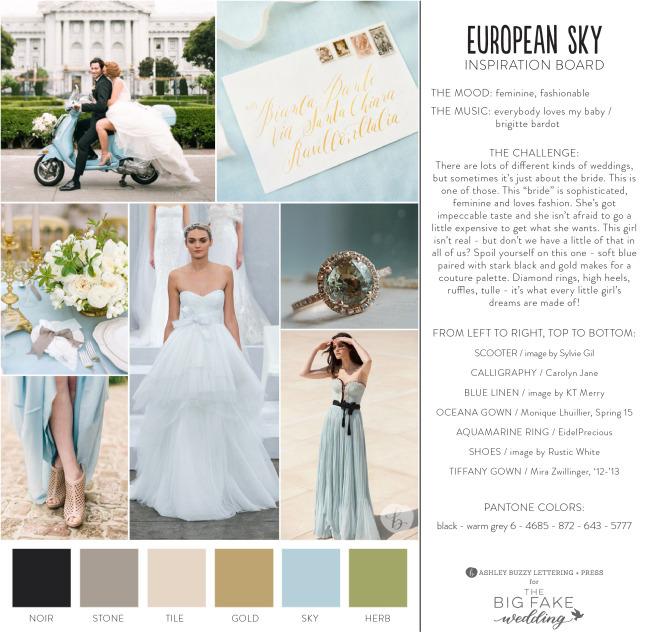 While the theme of event may have been bride-focused, the color palette and ideas implemented could span a multitude of weddings. With soft colors, strong accents and a unique vision, "European Sky" can translate to a gorgeous wedding no matter the budget or locale, especially in a stunningly raw venue like Houston Hall, this event's venue.
Things We Loved
Suspended Installments
The sailboat over the head table at the reception space and the hanging flowers make such a good use of empty vertical space and create an alluring visual without being intrusive. Suspended visuals also add a whimsical allure to spaces with exposed beams and ductwork.
Photos: Sophie Kawalek Photography
Sailboat (Head Table): White Elephant Events
Hanging Flower Installation: Ashley Peraino
Metal Orbs
OMG, right? I love these so hard. They have a stunning visual appeal and soften up the rawness of the exposed brick and industrial feel of the space. I kind of can't stop obsessing.
Photos: Laura Lee Photography / Sophie Kawalek Photographie / Laura Lee Photography
Metal Orbs: White Elephant Events
Gold-Dipped Veil
If you're going to go gold, go gold. And all-white ensemble is made even more alluring with a gilded touch, equally as stunning blowing in the wind as it is loosely draped down the back of the wearer.
Photos: Samantha Lauren Photographie / Sophie Kawalek Photography / Samantha Lauren Photographie
Gold Dipped Veil: Kerry Ann Stokes
Frames for More than Just signage
Don't get us wrong — we love a good frame repurposing. But in WeddingLand, we mostly see them reused for sign. We're absolutely obsessed with this idea of installing some wire and using it to frame (literally) flattering fauna. The oval frames used here are the perfect flank for the rectangular sign frame.
Photos: Laura Lee Photography
Ceremony Backdrop: LVR Events
Invitations with a Different Feel
Though the intricate detailing caught our eye, it was the feel of the linen invitations that made us linger. Regular cardstock is great and all, but there are few things as luxe as linen invitations.
Photos: Laura Lee Photography / Samantha Lauren Photographie
Invitation Suite: Engaging Papers