It's that time of year again! Pi Day is here, and the only reasonable way to celebrate is with the holiday staple and delicious dessert so beloved that even Warrant, James Taylor and The Beatles couldn't help but dedicate a song to it. Whether it's cherry pie, sweet potato pie or wild honey pie (or, you know, the classics like apple and pecan!), this delicate labor of love is known for its flaky, buttery crust baked to a crisp golden brown and stuffed with delicious creamy fillings bursting with flavor. Although today is a mathematical holiday, we'd be remiss to skip out on the opportunity to showcase a dessert that's providing some healthy competition to the traditional wedding cake.
Weddings take place all year round, and one of the best things about pie is that there's one for every season: citrus flavors for spring ceremonies, berry pies for summer soirees, creamy pumpkin for fall affairs, and warm apple pies for chilly winter weddings. So in honor of Pi Day, the math holiday celebrating a number that we most likely can no longer recite past the fifth decimal, we're paying homage to one of our favorite wedding cake alternatives and all-around favorite desserts. Here's 11 wedding dessert tables and displays that are sure to leave you pie-eyed! Happy Pi Day!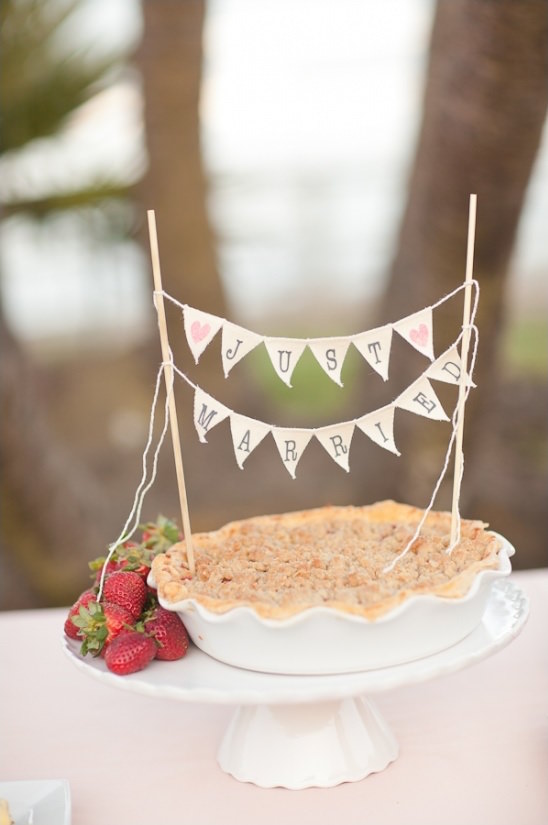 Just because you skip the cake doesn't mean you have to ditch the cake topper, too! This classic crumbly crust pie with a pennant banner cake topper and strawberry garnish is adorably chic! | photo by Annie McElwain | via Wedding Chicks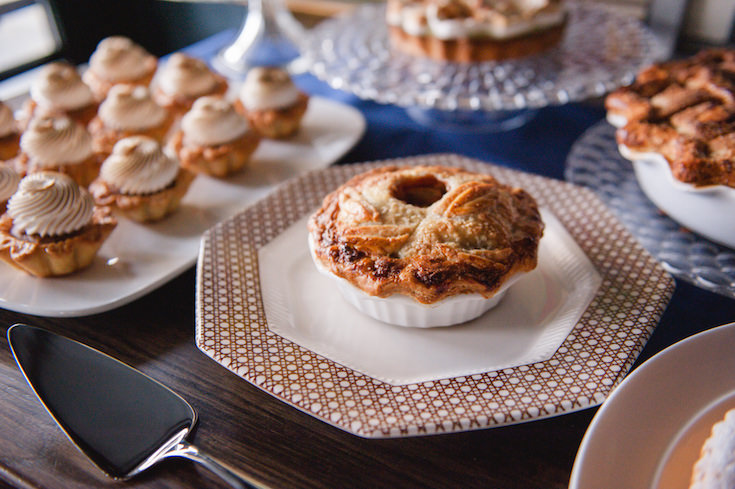 A styled shoot inspired by Chicago World's Fair offered an epic spread of savory treats, including mini and traditional-sized apple and pecan pies as well as blueberry almond and lemon meringue tarts. | photo by Root & Life Photography | via Love Inc.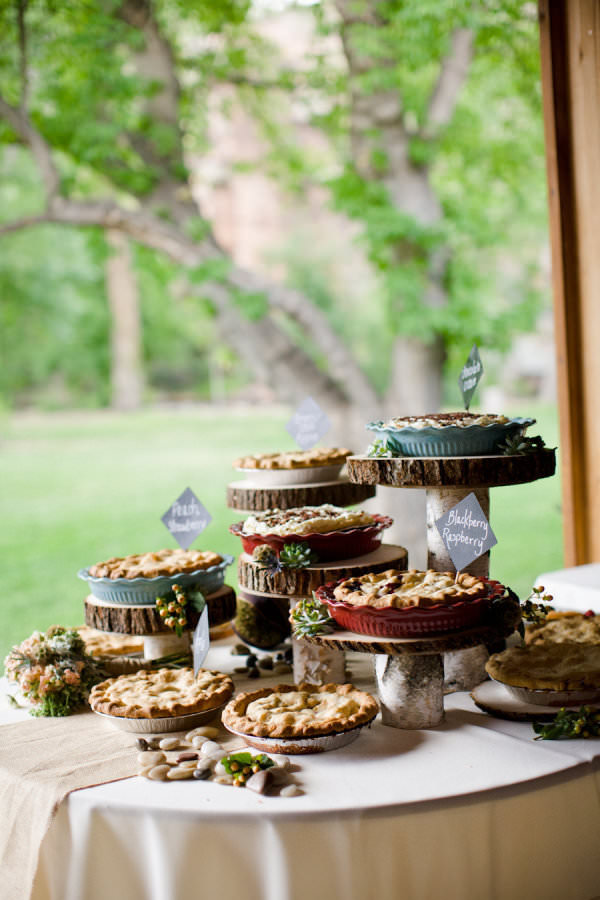 We love this rustic tiered display featuring golden brown pies in decadent flavors such as blackberry raspberry and peach strawberry. | photo by Angie Wilson Photography | via Style Me Pretty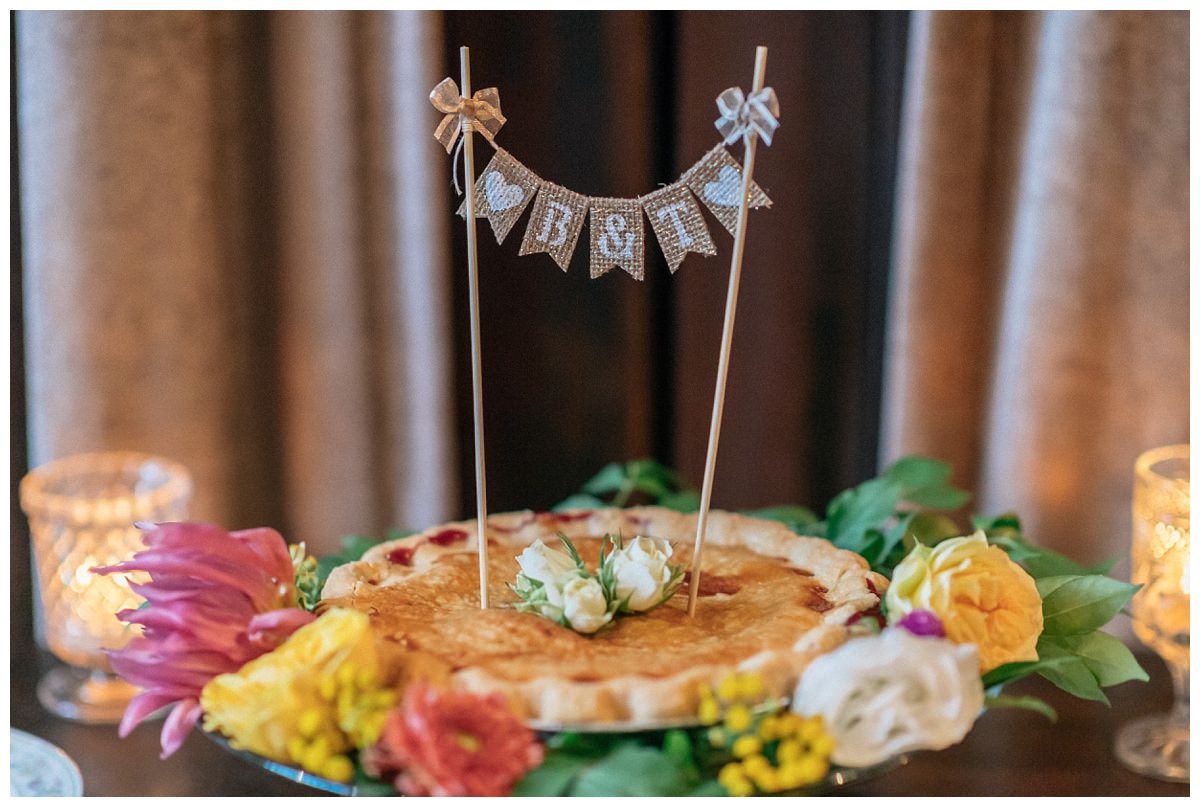 Pie was the delectable dessert for an intimate wedding held at Brooklyn Winery. We love the sweet pie topper with the newlywed's initials and the way they decorated the pie with the same flowers that filled the bride's bouquet. | photo by Susan Shek Photography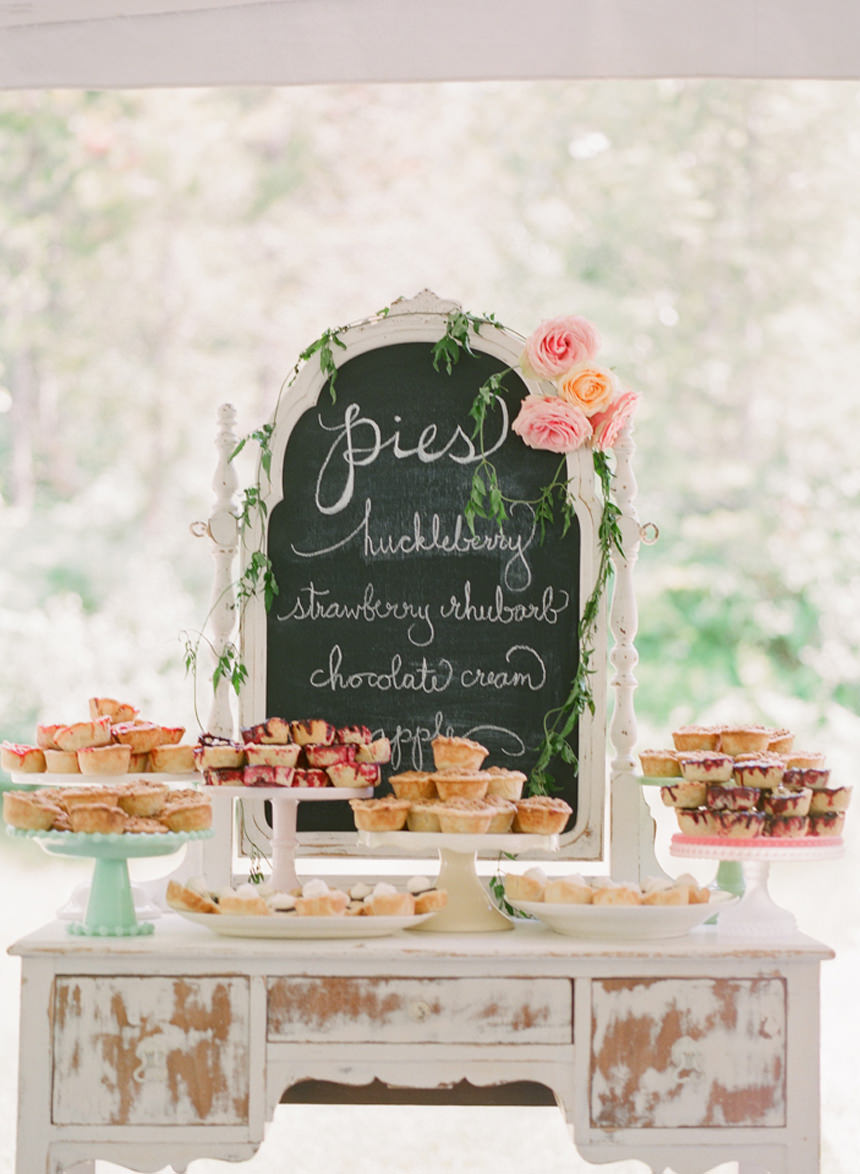 Mini pies are as cute as they are deliciously practical for wedding desserts! Not only can you forego the fuss of cutting and serving slices, but you'll also have the chance to create a yummy display that will blow your guests away! | photo by Cluney Photo | via Glacier Park Weddings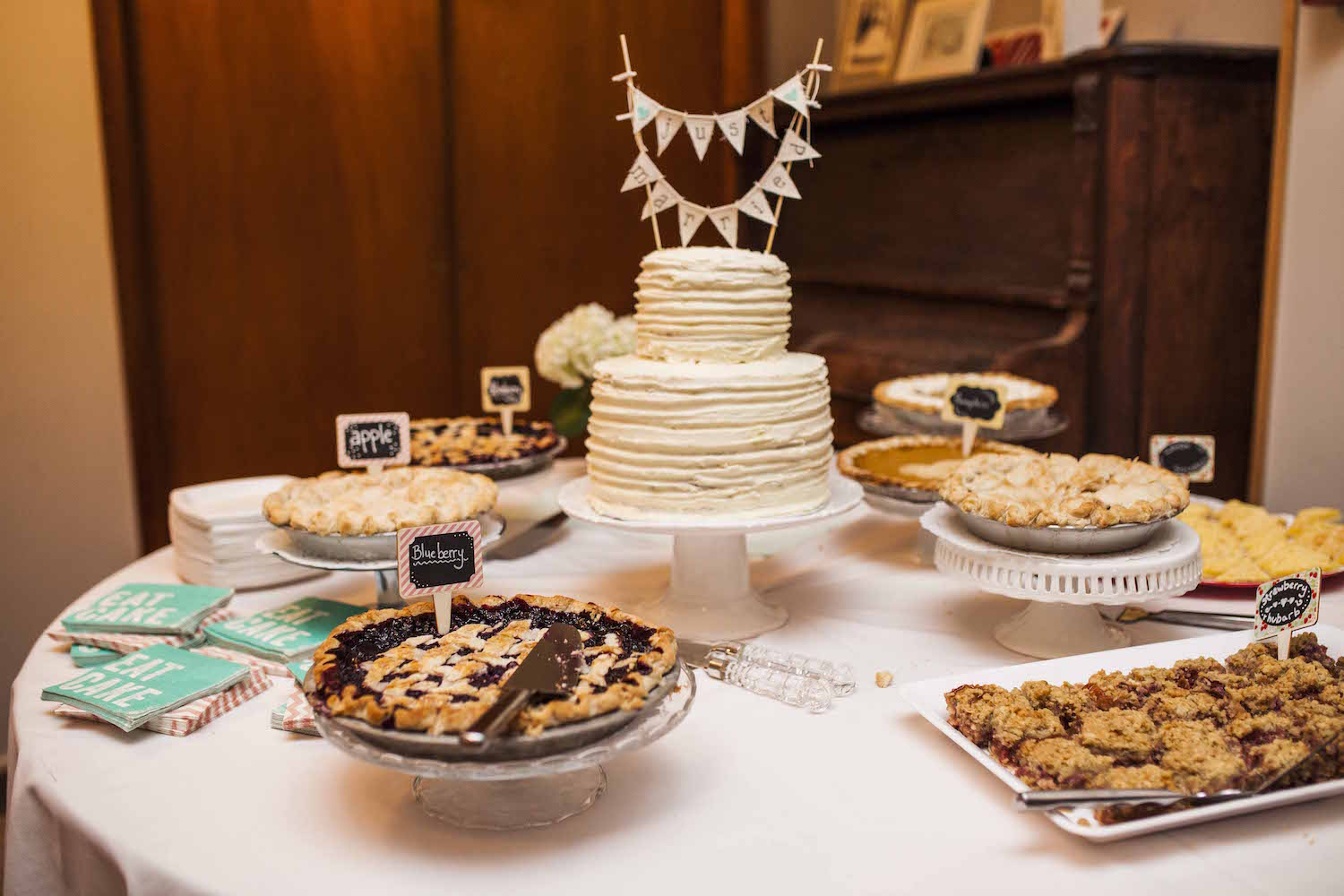 This dessert spread has a little treat for every palate. Because the bride doesn't fancy cake, she baked blueberry, apple and pumpkin pies instead! | photo by Jono & Laynie Co | via Love Inc.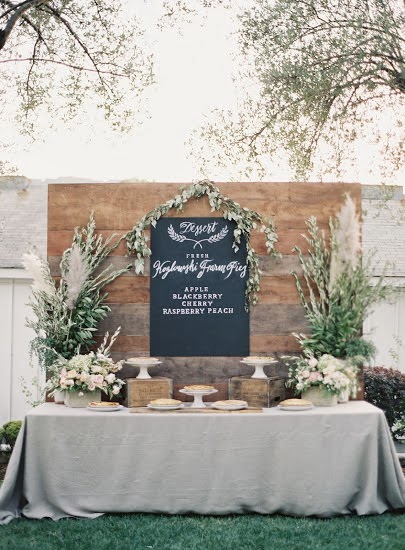 We're in love with this whimsical pie table flanked by grand greenery. This pie table is the ultimate wedding dessert table goals! | photo by Rylee Hitchner Photography | via Events By Satra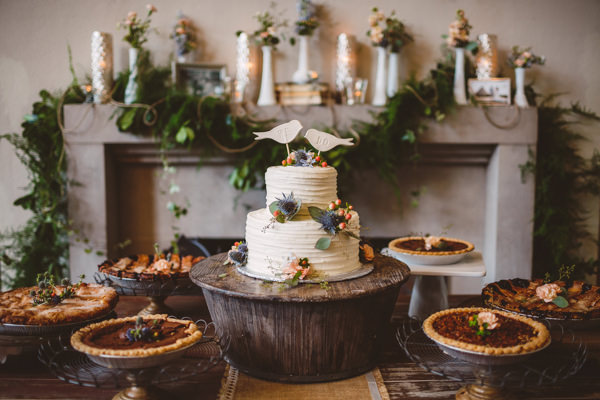 Cake no longer holds a monopoly on wedding desserts! Pies adorned with peach roses and blue thistle perfectly complemented this adorable wedding cake as a celebratory confection after the couple said "I do." | photo by Mary Margaret Smith | via Ruffled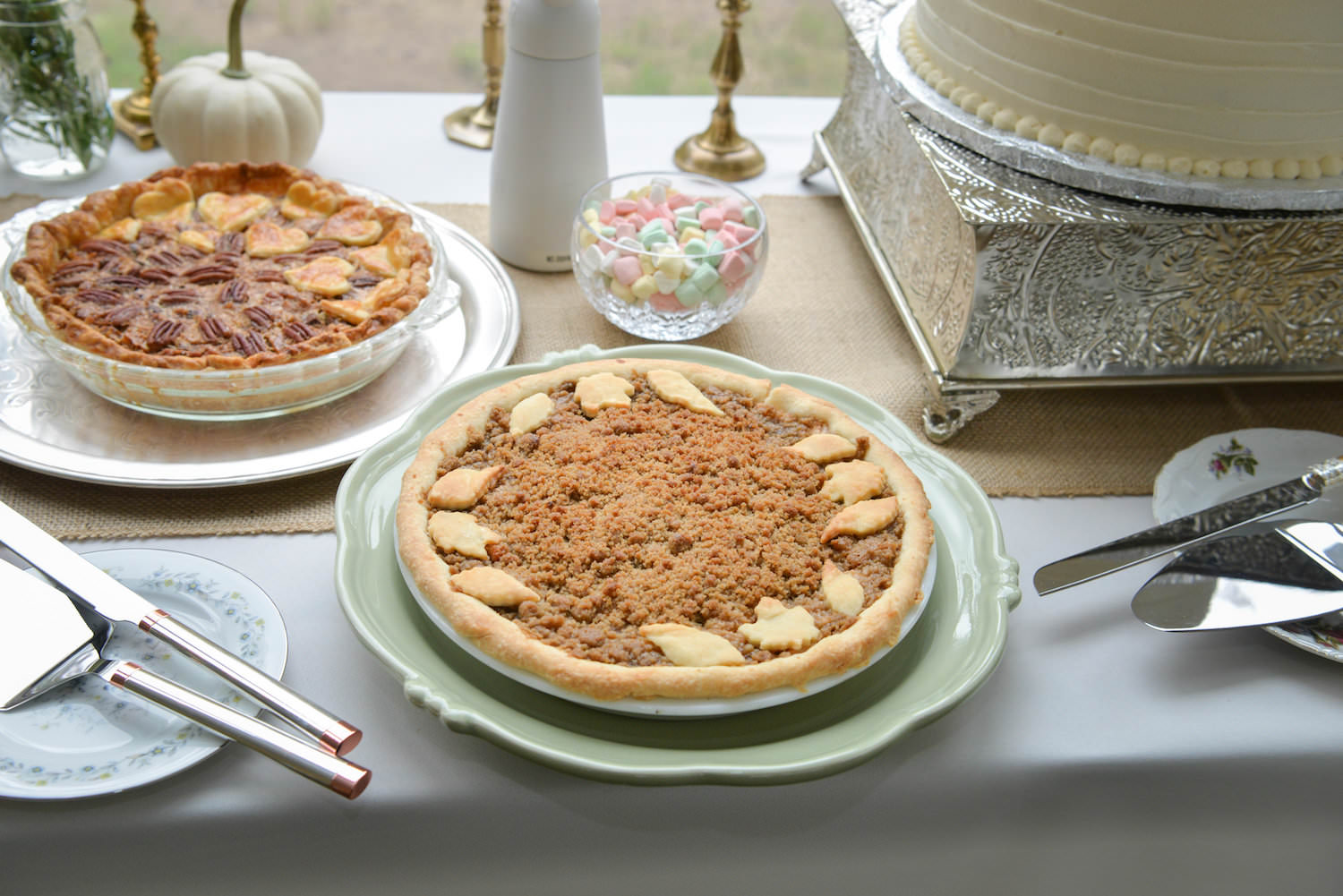 Fall weddings and pies were meant to be. Surrounded by by colorful trees at the peak of fall, wedding guests enjoyed apple and pumpkin pies with sweet heart and leaf detailing in the crust. | photo by Andrea York Photography | via Tanya Costigan Events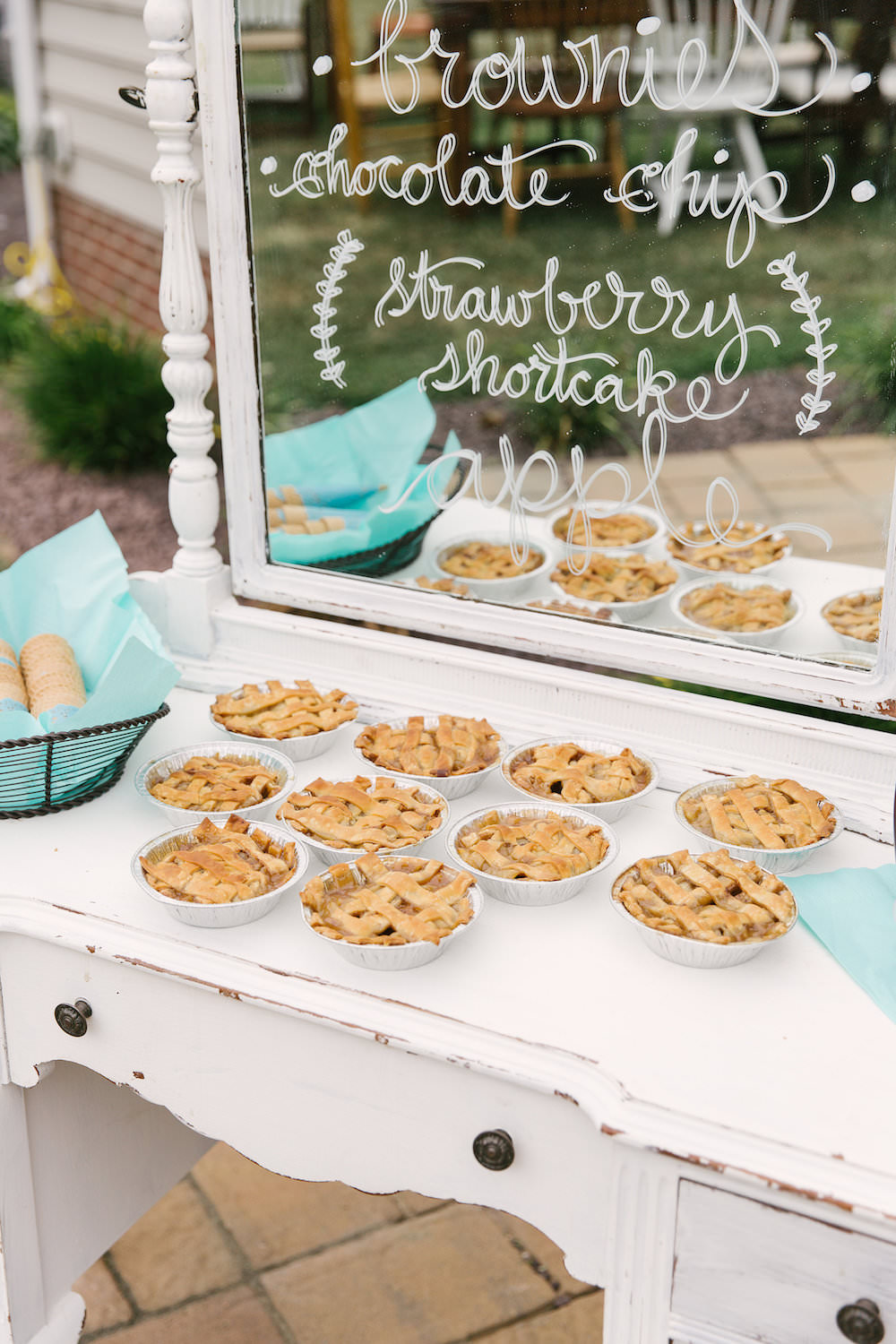 These delicious-looking pies with a lattice crust were baked for a backyard rehearsal dinner and displayed on a vintage vanity with the mirror suitably serving as a menu. | photo by Kerry Renee Photography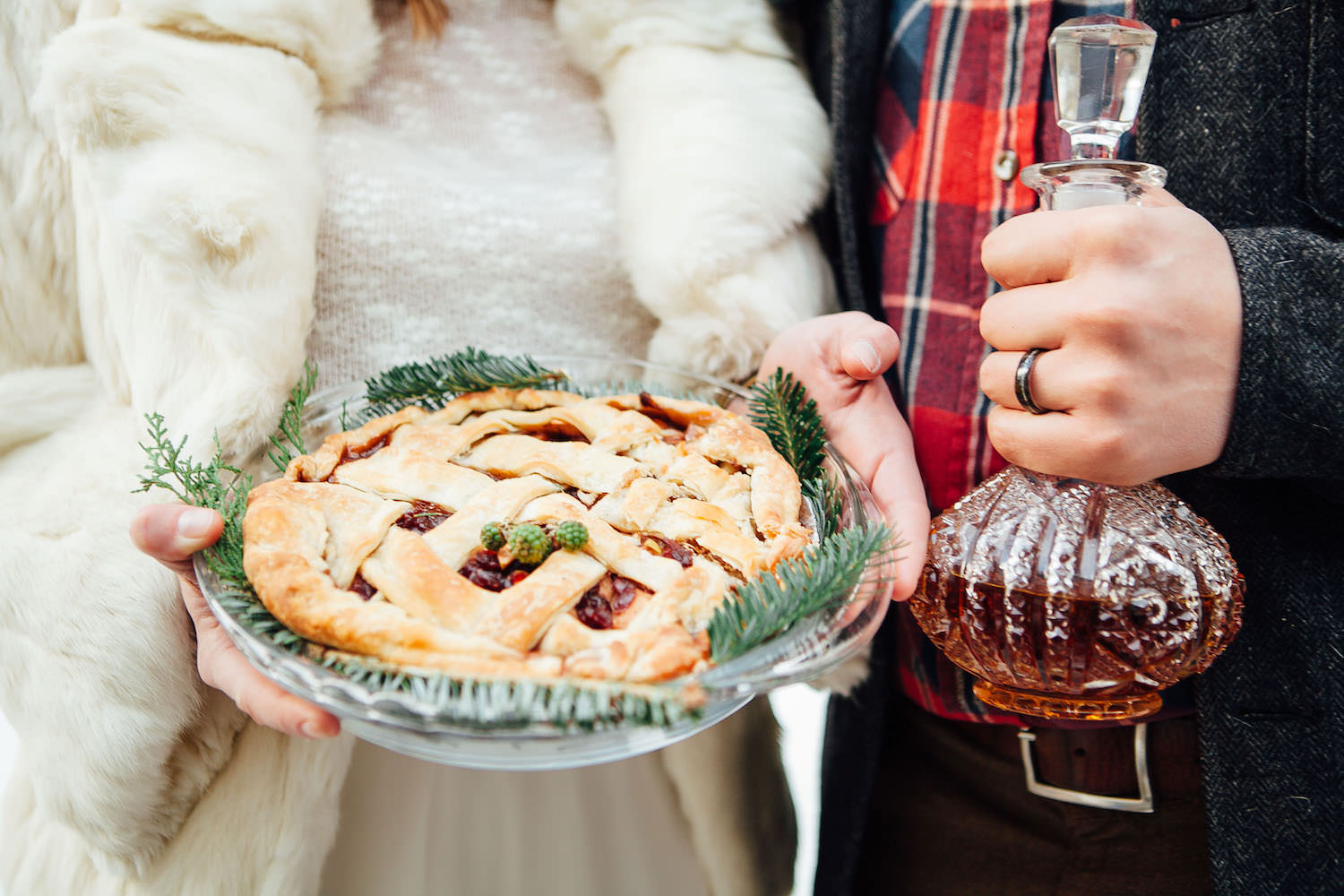 For this wonderful wintry styled shoot, evergreen needles surround the flaky crust of this charming pie, a warm dessert fit for a wedding on a snowy day in the mountains. | photo by Kate Salley Photography | via Love Inc.