Sarah and Josh's long distance love story was celebrated on a perfect September day in front of 60 of their closest friends and family in York, Ontario. Their handcrafted wedding was the perfect combination of charming DIY elements and elegant vintage details, and the whole family worked together to make it a celebration to remember. Lucky for us, we get to relish in the inspiration-filled photography this Monday morning thanks to the gorgeous documentation of Jono & Laynie Co.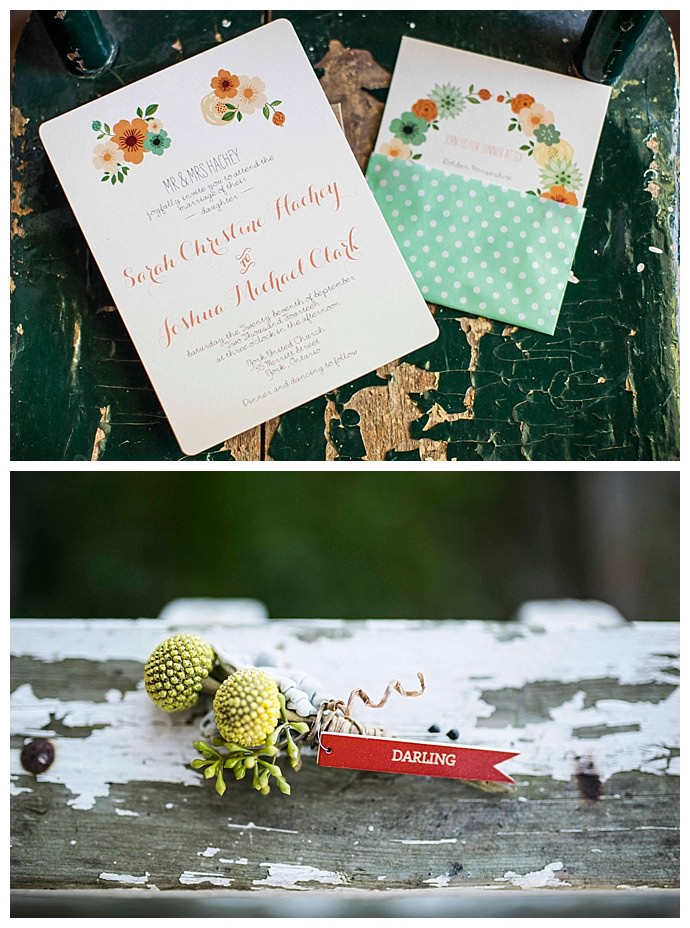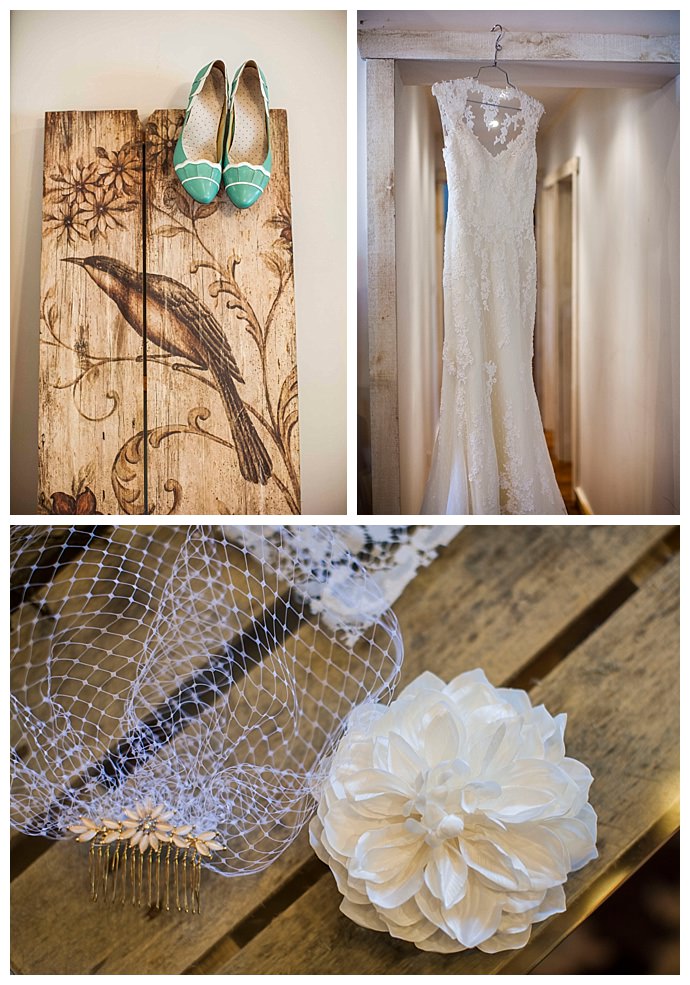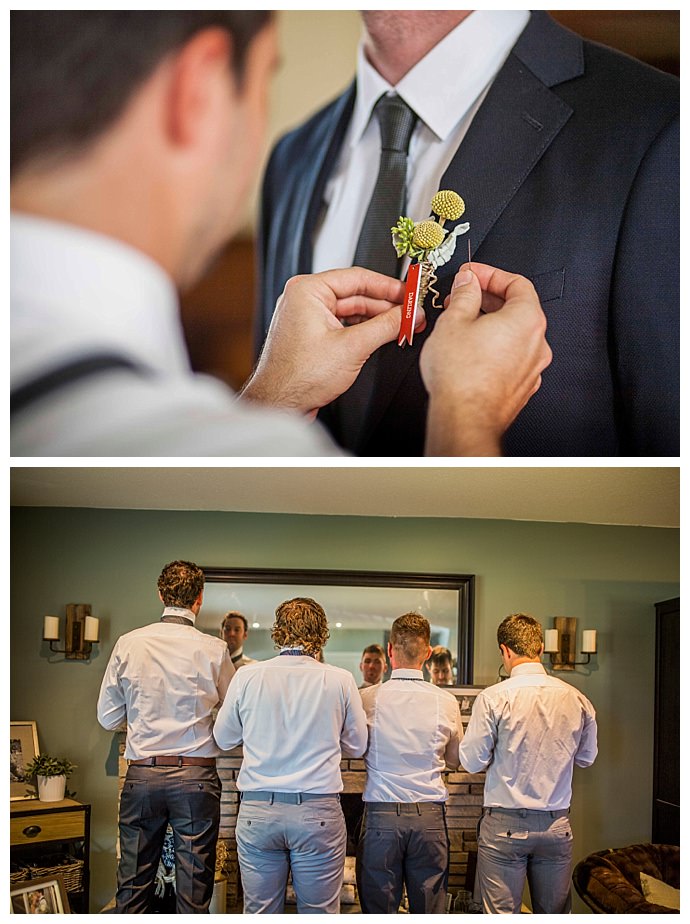 The Love Story
"My brother's fiancee couldn't make it to our friend's wedding in July of 2011 so he invited me to come with him to the reception. Josh was one of the groomsmen at the wedding and after my brother introduced us we talked the whole evening, it was like we had known each other for years," says Sarah. "The night we met, our friends were making jokes about how we would be next in line, and they weren't wrong!"
Josh flew back to British Columbia the next day and Sarah moved to Montreal for school, and so, their long distance love story began. "Long distance was really hard at times but we got creative with skype movie dates, playing games online together and serenading each other as we are both musicians. I'm so glad we have had the story that we have, being so far away made us so strong and confident in our relationship and we had so many silly times together even miles apart!"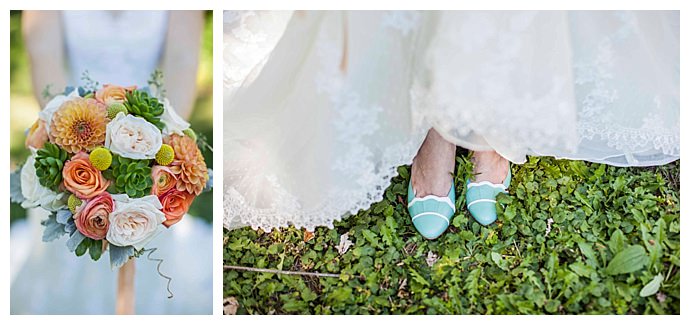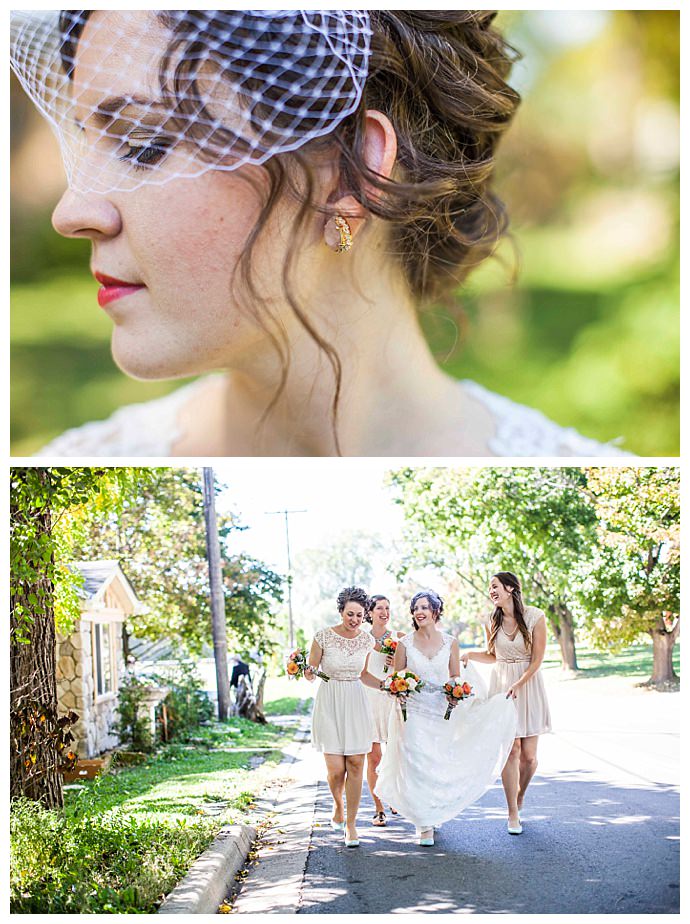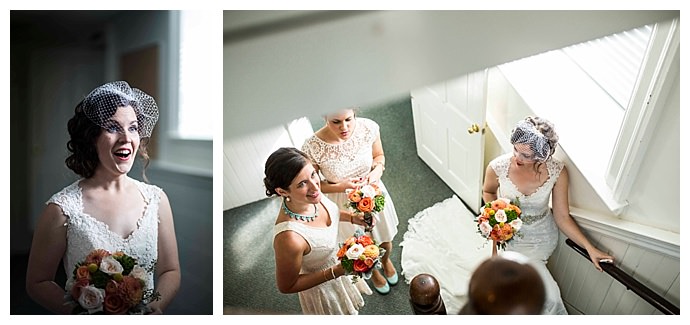 The Venue
It was the location that drove the venue decision. "The church and venue were located within walking distance of my brother's backyard. We wanted to have a bonfire so people could roast marshmallows! They live right by a lovely river and we knew it would be a great spot for photos."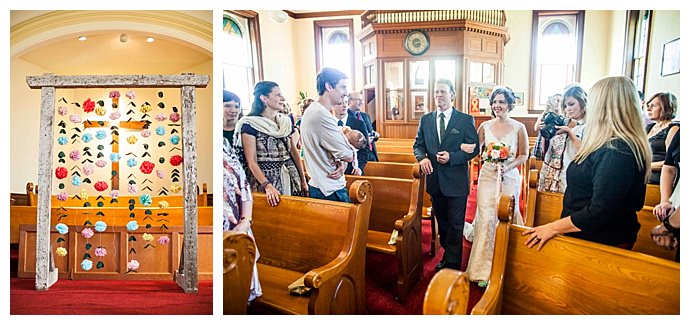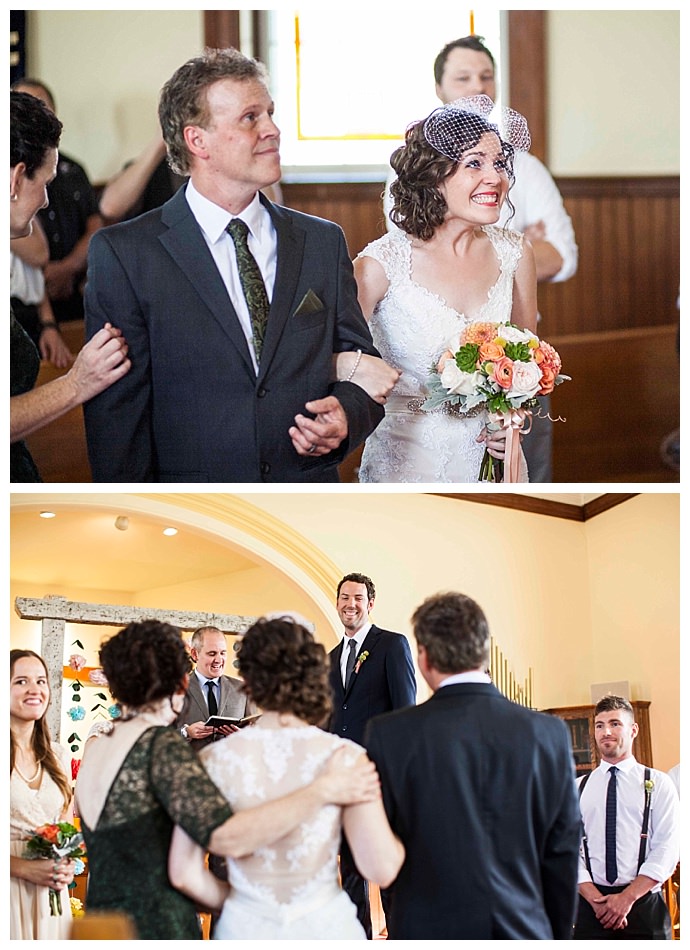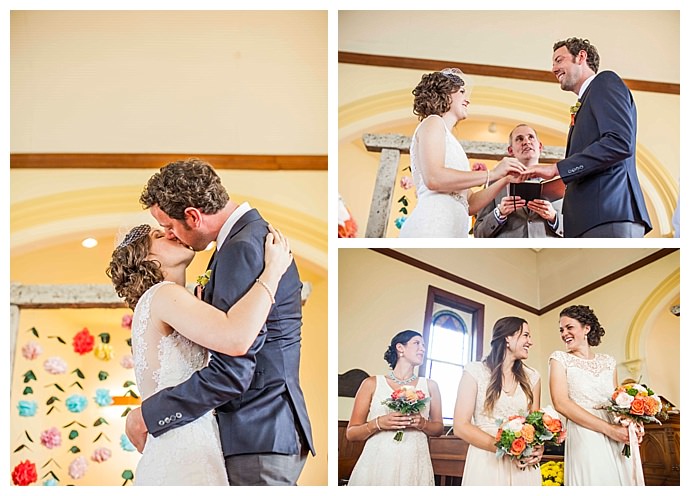 The Fashion
Sarah personalized her wedding look with a birdcage veil she made herself and adorable blue shoes. "My dress was a Pronovias, Josh secretly had my best friend fly out after we were engaged so I would have someone to dress shop with! It was one of the first dresses I tried on," exclaims Sarah. "My shoes … oh my shoes, such beautiful shoes, my mum found my dream shoes online! They were made by Hey Lady."
The groom, dapperly dressed in a Calvin Klein blazer, picked out the suspender for the groomsmen. "He wanted a very sharp look for the men with navy and gray," explains the bride.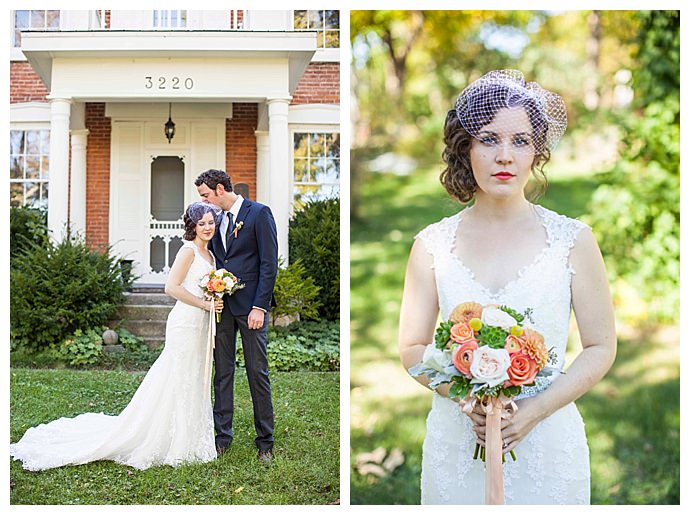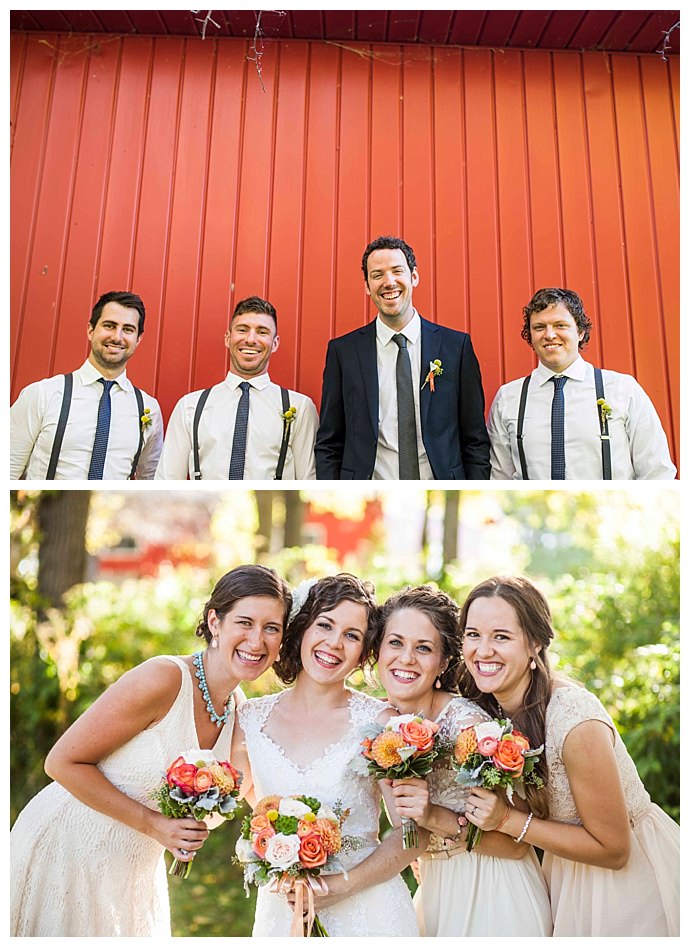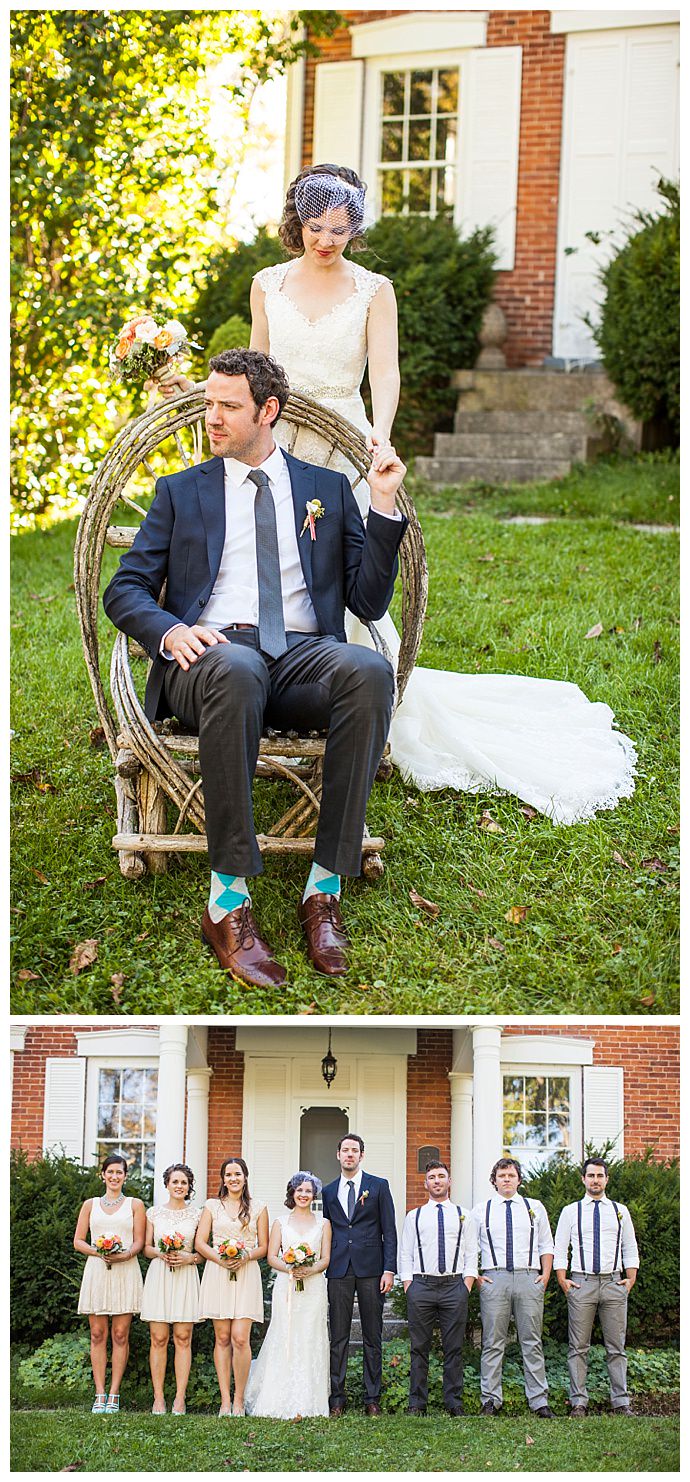 The Ceremony
The musical couple crafted the perfect playlist for the day, beginning with "Sit Down Beside Me" by Patrick Watson for the bridesmaids' entrance, "Godless Brother in Love" by Iron and Wine for the groomsmen and "Postcards from Far Away" by Coldplay for the bride's entrance. "Josh and I both teared up during the song. It's so very beautiful and perfectly represents our long distance love."
They exchanged vows in front of an archway made by Sarah's brother, on which they strung pom pom flowers that the soonlyweds crafted to bring a pop of color into the ceremony. They sealed the deal by signing the marriage license while her brother sang a song he wrote for the bride and groom.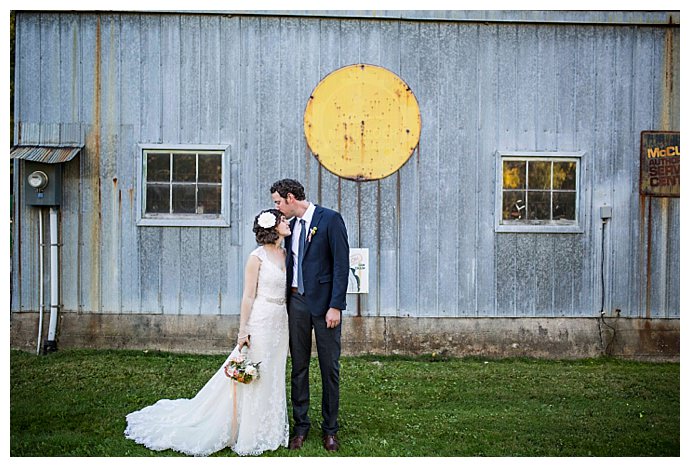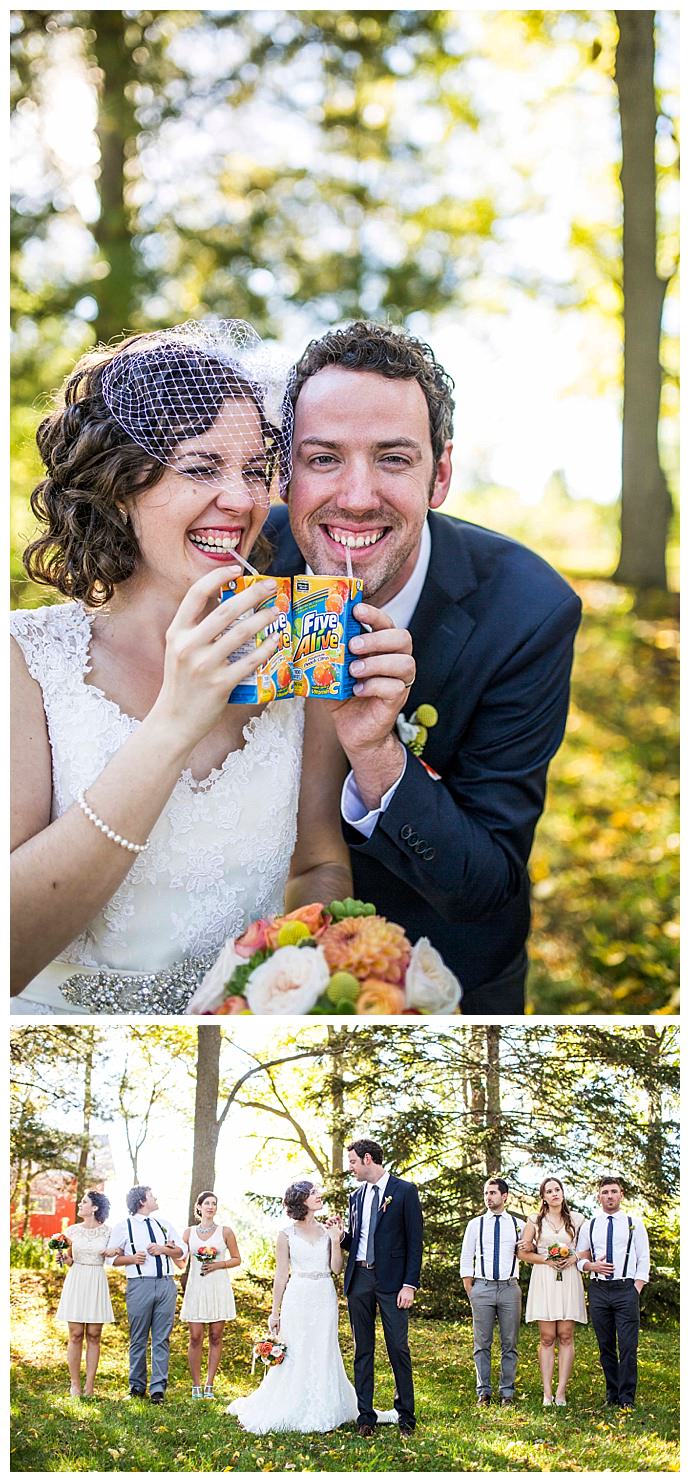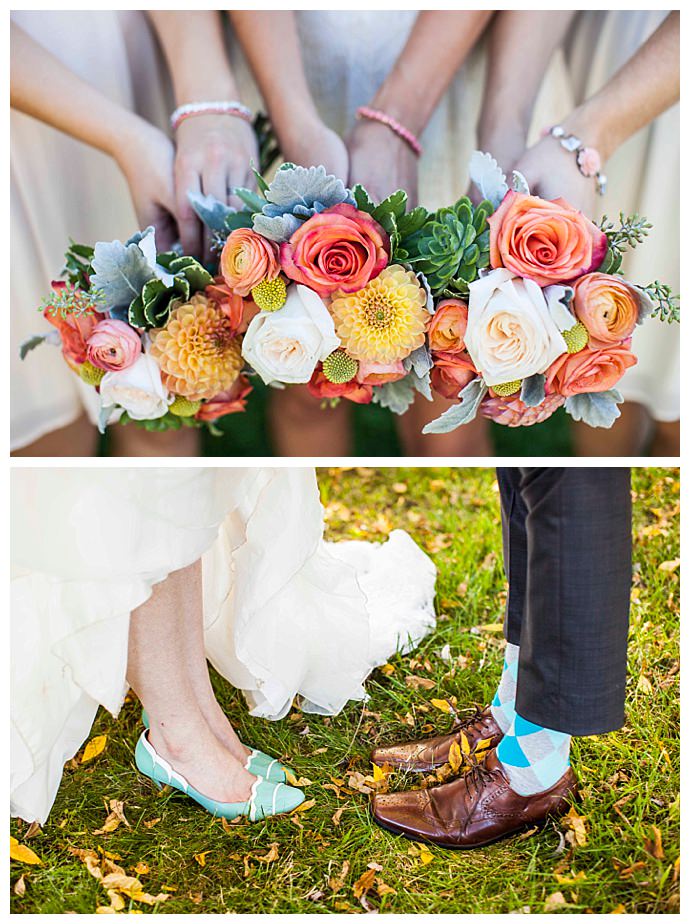 The Party
Handmade details were sprinkled throughout in a bright mustard, mint, coral and blush palette. Colorful pennants, tissue paper flowers and twinkle lights were strung while tables were topped with the bride's antique books and teacups filled with yellow mums and white hydrangeas. 
Their buffet-style dinner was cooked by Sarah's amazing and multi-talented mother. "We made the menu together and tried some things out ahead of time to make sure they would freeze okay." The menu featured the couple's favorite foods: strawberry and spinach salad with feta and a poppyseed dressing, classic caesar salad, roasted herb potatoes, steak with a horseradish sauce, Greek chicken with tzatziki and roasted peppers, tomatoes and green beans.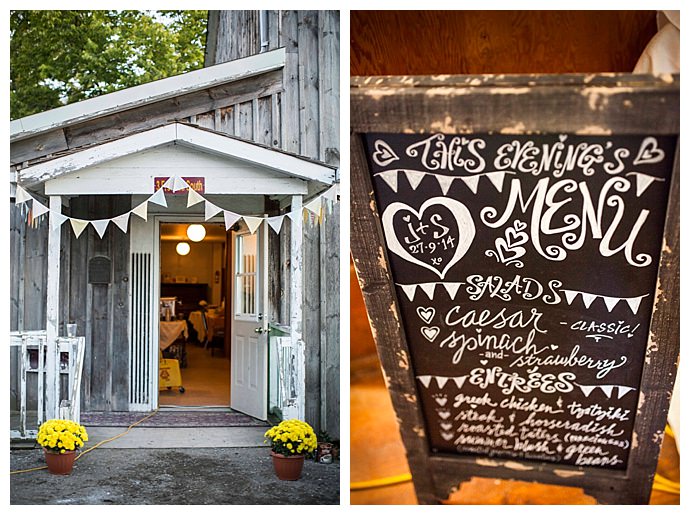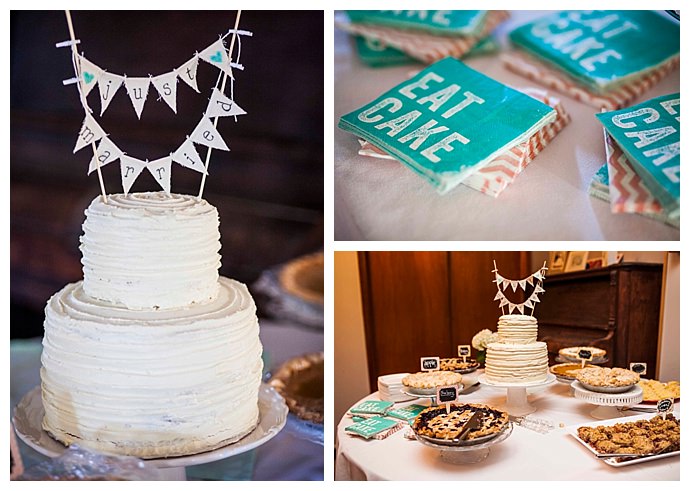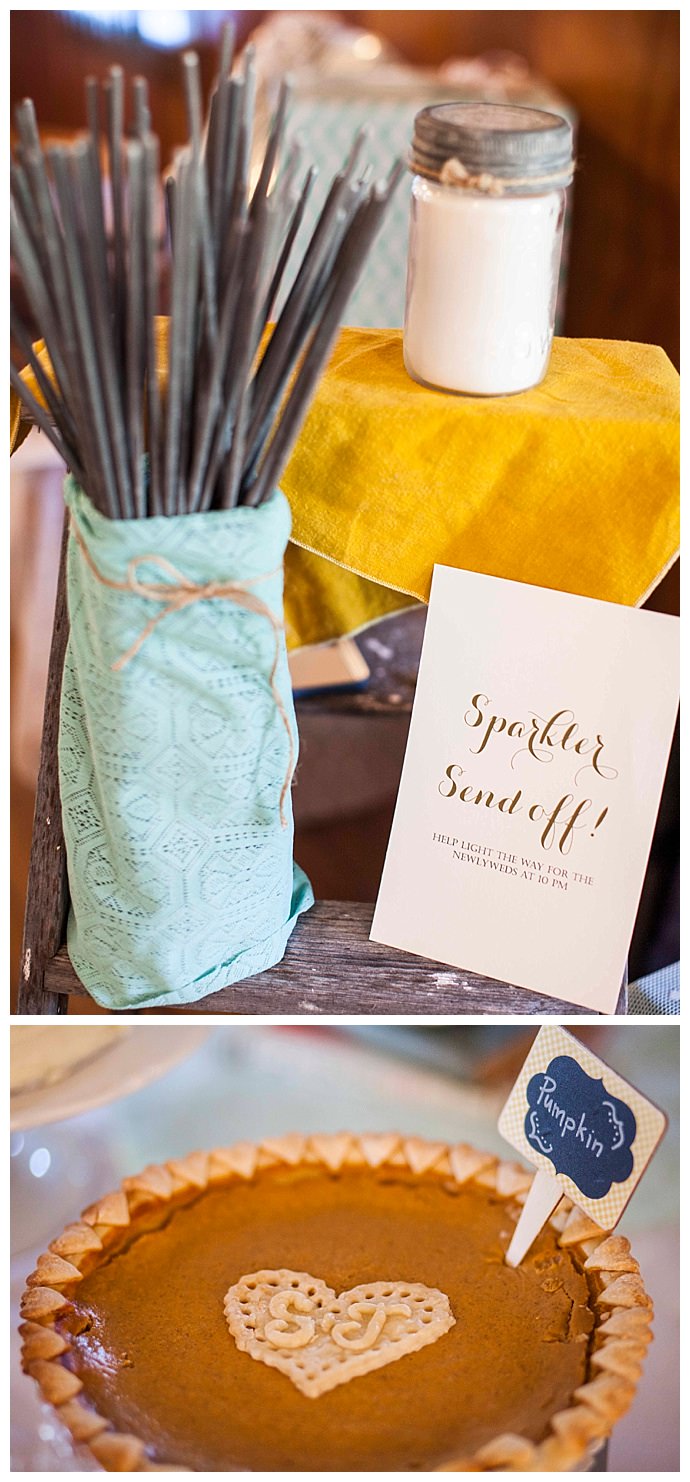 The sweethearts chose a classic tune for their first dance and parents' dance — "I Only Have Eyes for You" by The Flamingos and "When You're Smiling" by Louis Armstrong. "Our parents are real cryers so we needed a lighthearted happy tune!" laughs Sarah. "Josh and I chose all of the music together ahead of time, crafting the perfect playlist of some jazz, classical, motown, and indie/folk music from our favorite artists."
Along with the tasty meal, the mother-of-the-bride also made a chocolate mocha cake with white chocolate icing and, because Sarah's not a huge cake fan, an assortment of pies were offered. "We baked blueberry, pumpkin and apple pies and froze them before the wedding. We had fun designing the pie crusts with little hearts and mine and Josh's initials."
For favors, they gave s'mores kits with thin ginger snaps in place of the graham crackers, encouraging their guests to head over to the bride's brother's house for afterparty bonfire.
"It was a stressful few months, I had no idea what I was doing but I had so much help from friends and family and because of them it really came together in the end."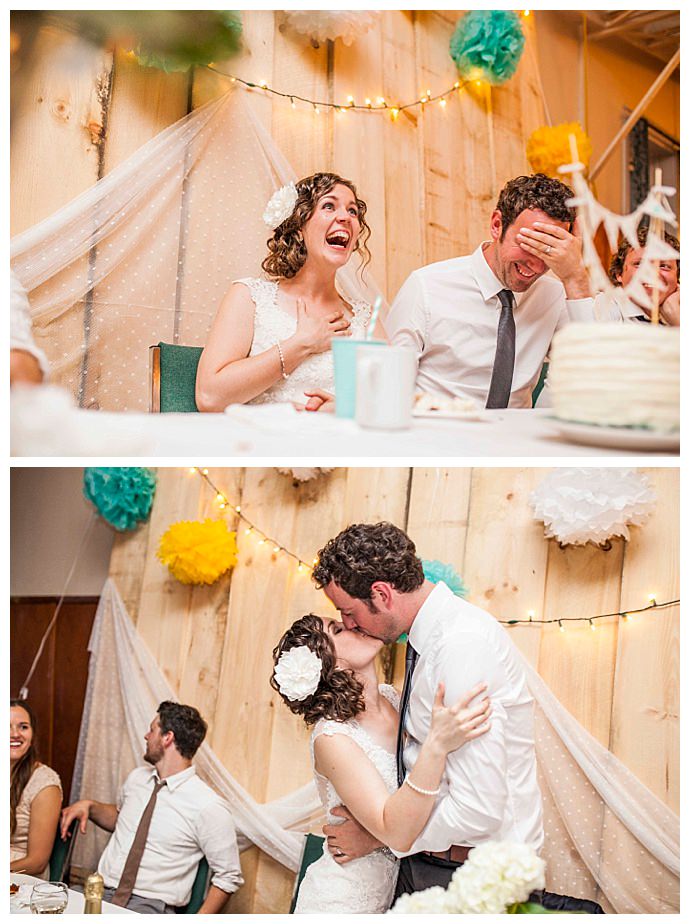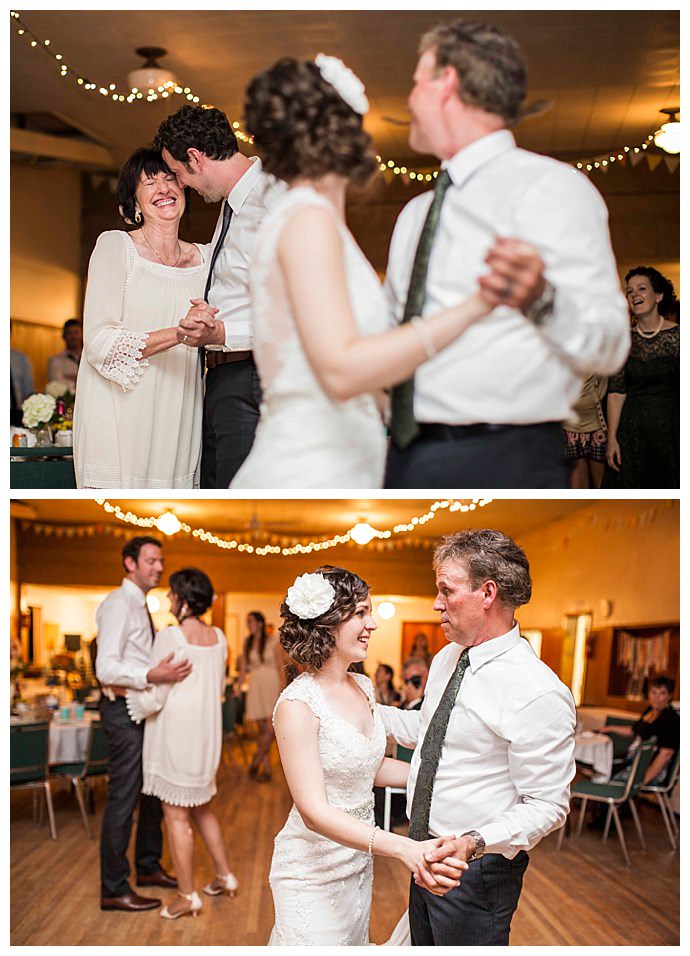 Memorable Moment
Seeing Josh's face when I was walking down the aisle was so wonderful, seeing him smile helped me to calm down and focus on enjoying every moment. Also, when we were finally along together driving away from the venue as husband and wife — teamed up forever at last!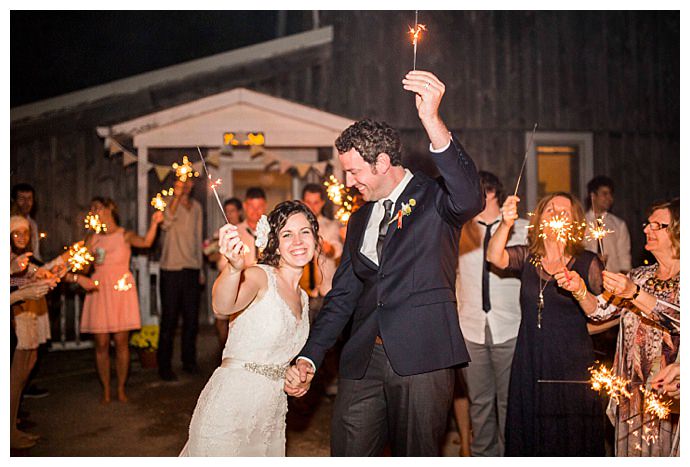 Wedding Vendors
Photography: Jono & Laynie Co.
Venue: The Golden Horseshoe Antique Society
Floral Design: Fortino's House of Flowers
Wedding Dress: Pronovias
Bridal Shoes: Hey Lady
Groom's Suit: Calvin Klein blazer, Express pants, Aldo shoes
Makeup/Hairstylist: Patrick's Hair