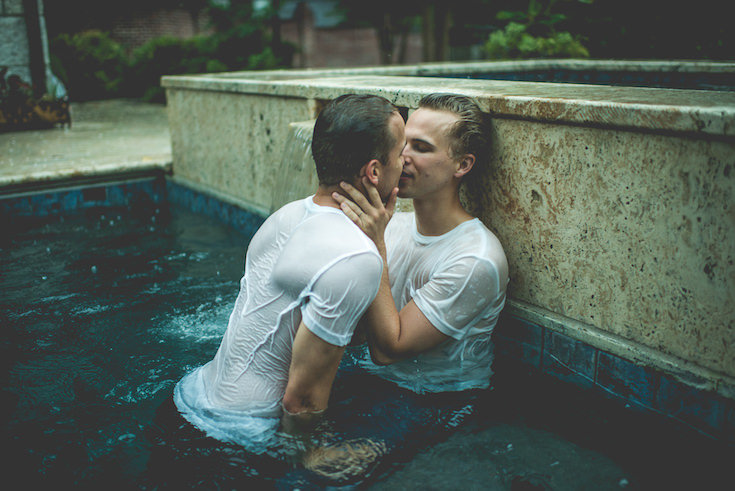 We're bringing sexy back on this Friday with Peter and Tommy's sultry swimming pool engagement session captured by Virginia Reese Photography.
The New York couple had their session photographed at Tommy's family's home in Atlanta. "Their household happens to be very central to family and friends — a gathering place for so many of the closest people in our lives," says Peter.
After a few snaps around the garden, they plunged into the pool with their clothes on, followed by going full au natural, letting their inhibitions (and clothes) fall and their love and playful personalities take centerstage. "It was liberating and so much fun. Virginia is such a great photographer and so easy to work with. We felt incredibly comfortable with her and were able to put our stamp on the shoot, while she offered guidance and suggestions for best results," adds Peter. "It happened to be raining that day, as well. Initially we thought it was kind of a bummer, but quickly realized that it would add a very interesting ambience to the shoot. The raindrops hitting the water created a super-cool effect in some of the photos."
The incredible colors and textures that Virginia expertly recorded with her lens, not to mention the raw passion that these two clearly have for each other, results in a jaw-dropping engagement shoot.
The Love Story
Peter and Tommy first caught eye of each other while hanging out with mutual friends. Though their encounter was brief, it was then that the stars to their ever after began to align. When the same friends threw a housewarming holiday party, they finally had a chance to explore their instincts and sparks flew. "I walked in, stepped into the kitchen/living area and put down the bottles of wine I brought. Not long after, Tommy and I made eye contact. He beelined to where I was standing and both of us commenced intense flirting," reminisces Peter. "We hung out for a while, exchanged numbers, laughed, danced, had a phone conversation entirely in emojis. It was silly and it was a blast. I remember feeling very attracted to him and knew instantly how special he was … and still is. Tommy has since confessed that when he left the party early to go to a job he had later that night, he got in a cab with a friend and told her 'I'm going to marry that guy.'"
"I honestly knew from the minute I looked at him," confesses Tommy. "I know, that sounds crazy, however it's true. I've never had such an electric and deep attraction to a single person in my life from the moment he walked into that apartment."
The Proposal
"April 23, 2015 was turning out to be a beautiful, fairly normal day. I got up at 6:30 a.m. to go for a run in our neighborhood because I'm one of those crazy morning people," laughs Tommy. "On my way back to our apartment in Clinton Hill, Brooklyn I was filled with thoughts of how much I love Peter and how I wanted to spend the rest of my life with him; how sweet he'd look sleeping when I got home and how something in the air felt right. It was one of those moments where life takes you by surprise and completely out of your self, then propels you into a hyper-sensitized, focused, dream-like state of being effortlessly present."
Tommy made his way into the bedroom as Peter groggily awoke from his slumber. "I laid in bed, nowhere near committed to getting up at that point. Then Tommy barged in. He had a big smile on his face and jumped into bed with an energized and giddy glow. He wrapped his arms around me and snuggled as I transitioned from my twilight state into a full awareness," explains Peter. "As I stretched and yawned, I returned the snuggles. We spent awhile hugging, kissing and looking at each other. Evidence would suggest that we both felt that was the moment. We were already aware that each of us had procured a ring on our own. We simultaneously reach back to our night stands, took the ring boxes out and held them in our hands. Still on the bed, staring at each other, we uttered some words of love, then opened the ring boxes, both inquiring if the other would grant the honor of marriage."
As Peter slipped the blue diamond ring onto Tommy's finger, he felt something was missing. Still in his birthday suit, he leapt out of bed and onto one knee. "The down on one knee in the buff was pretty awesome," exclaims Tommy. "I cried and laughed a lot and then we went downstairs to our favorite café and had some celebratory breakfast. The response was incredible, as well! We heard from so many people we love; it was truly humbling and such a blast."
"I can't pinpoint an exact moment when the marriage lightbulb went off," says Peter. "The reality is that it illuminated gradually — getting brighter and brighter as time went on. Living together and building a life together continually shed light on the beauty that comes with sharing a life with the person you love and adore so much, as well as sharing a life with their family, making friends together, etc."
The Rings
Tommy bought a beautiful, thin gold band from Mociun with notches etched into it for his soulmate. "I love it — it's chic and subtly different," notes Peter. Meanwhile, inspired by their favorite colors, Peter also headed to Mociun and purchased a gold band with six blue diamonds flanking a small white diamond. "This one particularly jumped out at me because the blue diamonds present in this beautiful blue-green color, since the color underlying the blue is the yellow gold. In addition, it was a one-of-a-kind piece, so I jumped at it!"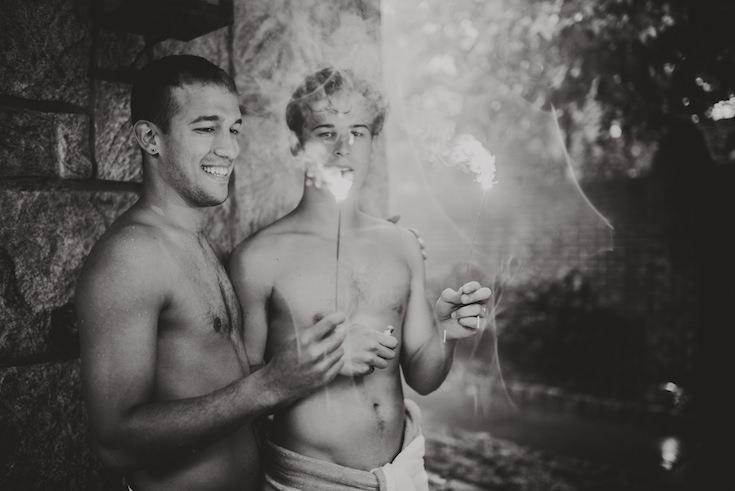 Wedding Date: October 2016