Engagement photos are like a trial run — you get comfortable in front of the camera, get to know your photographer, and in the process, get some fantastic professional photos of your newly engaged glow! Whether you simply want to document the time for remembrance, share your love with friends and family or you want pictures for wedding announcements or invitations, engagement pictures serve a myriad of purposes. But just as choosing a venue for your big day, picking the right location or activity for your pictures can be a daunting task. Do you want to be outside in a beautiful setting, or is it important to take pictures in a meaningful or symbolic place? The options are truly endless, which is why we've rounded up nine different and wonderful settings for you to take your engagement shoot to the next level.
At Home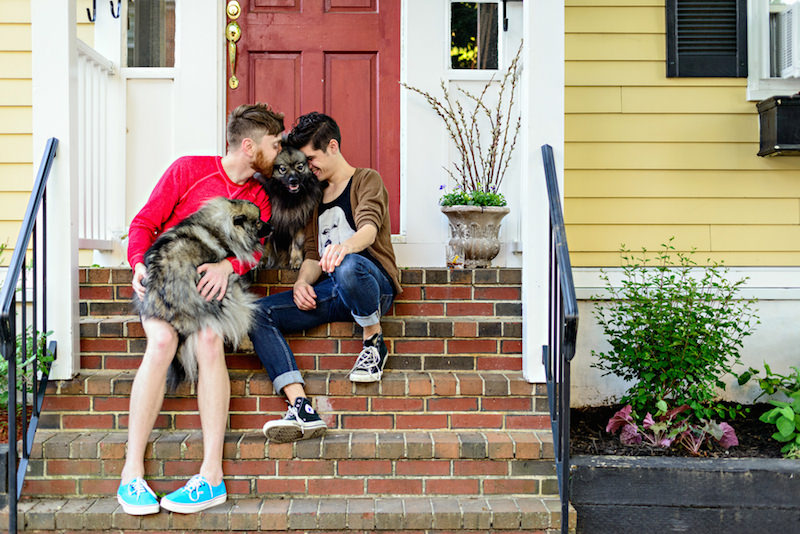 At-home engagement shoots continue to be some of our favorites. They offer a relaxed, familiar setting that allows the photographer to capture the essence of a couple in love. We love being able to see a peek into the life they've begun to build together, and it also provides an opportunity to include fur babies, which we can't get enough of! Ryan and Kirk spent an enjoyable afternoon lounging on the couch in their cozy, vibrant home, mixing cocktails and sharing laughs as their photographer snapped away, seizing some of the sweetest moments between these two love birds.  
College Campus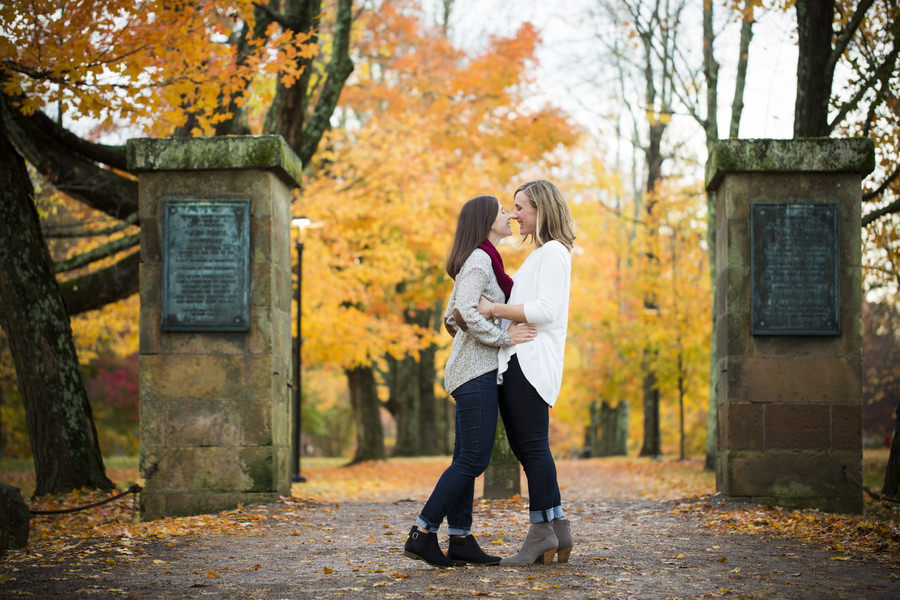 You don't have to be overflowing with school spirit to have your engagement pictures taken on a college campus. Colleges are rife with history, intriguing architecture and beautiful, cured landscapes that provide a perfectly serene backdrop for an engagement shoot. Dana and Alisha had their shoot at the peek of fall foliage in Ohio at Kenyon College where they first met. We love that they played homage to the place where their relationship bloomed, but we are absolutely swooning over the stunning setting that the campus provided for their pictures. 
Your Favorite Bar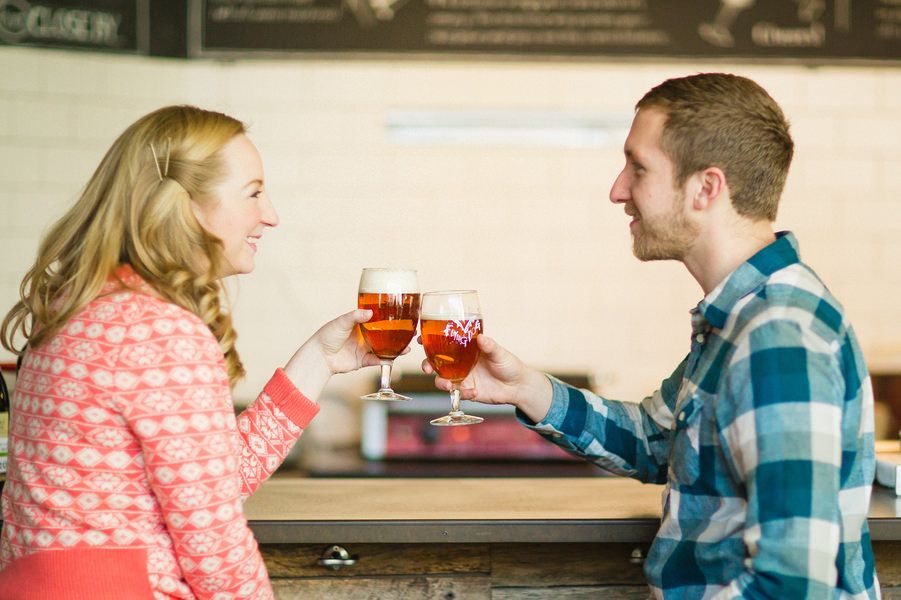 We love the idea of seeing you and your beau grabbing drinks at your favorite local bar for your engagement session. It showcases a natural setting, possibly a place that harbors great memories between the two of you, and some bars have unique decor that might fit the aesthetic you're going for or that best reflects who you and your partner are. In this adorable session, Sarah and David wanted to get their pictures to reflect something that Sarah said to David throughout the time they were dating: "I love doing life with you."
Around Town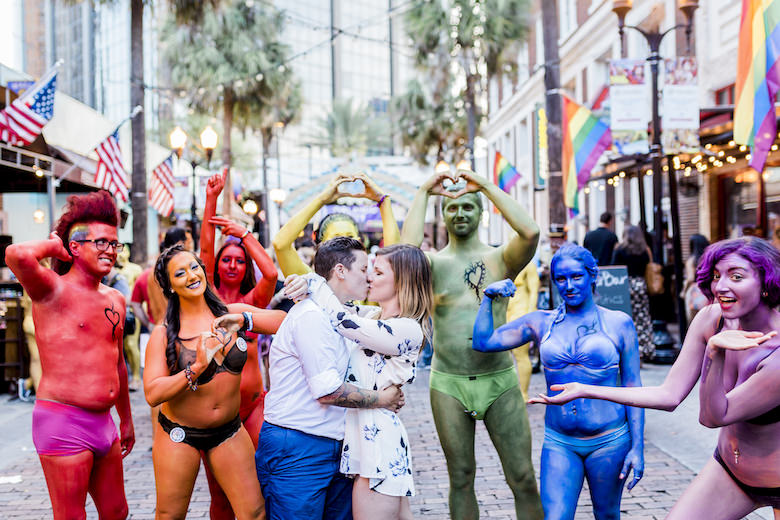 One of the best things about taking engagement pictures around your town or a nearby town is the chance to show off the place where you live or fell in love. Often there are places you've spent time together that have played an important role in your relationship, and there's no better place to take the pictures that celebrate your love. It also provides unique or historical settings, something that Chelsea and Christina weren't expecting as they planned their shoot in downtown Orlando. Six days after tragedy struck Orlando nightclub Pulse, Chelsea and Christina continued with their shoot as scheduled and found a city bursting with rainbow-colored pride. Their photographer also captured the couple as they rode around Orlando on a tandem bike and played with their 4-year-old son.
In the Water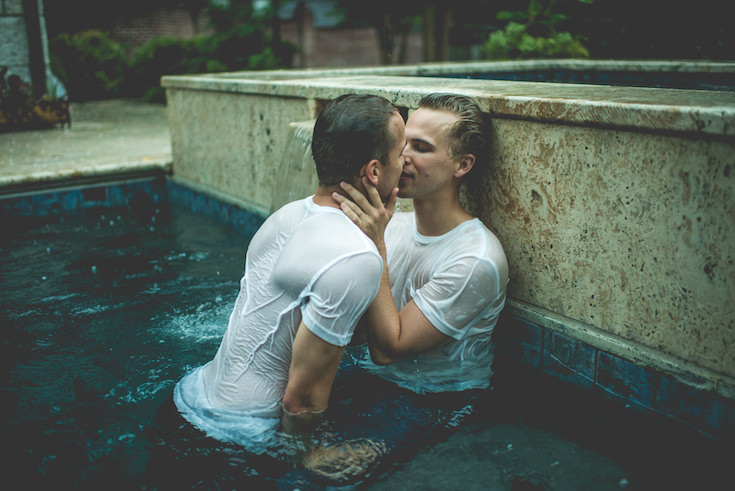 If you're looking to stray from traditional engagement pictures, dipping into the pool for a sexy shoot is definitely the way to go. Tommy and Peter plunged into Tommy's parents' pool for an incredibly fun, one-of-a-kind engagement session. There's something so romantic about being enveloped in the water with the one you love, and it makes for some unique pictures that you'll cherish forever.
Arcade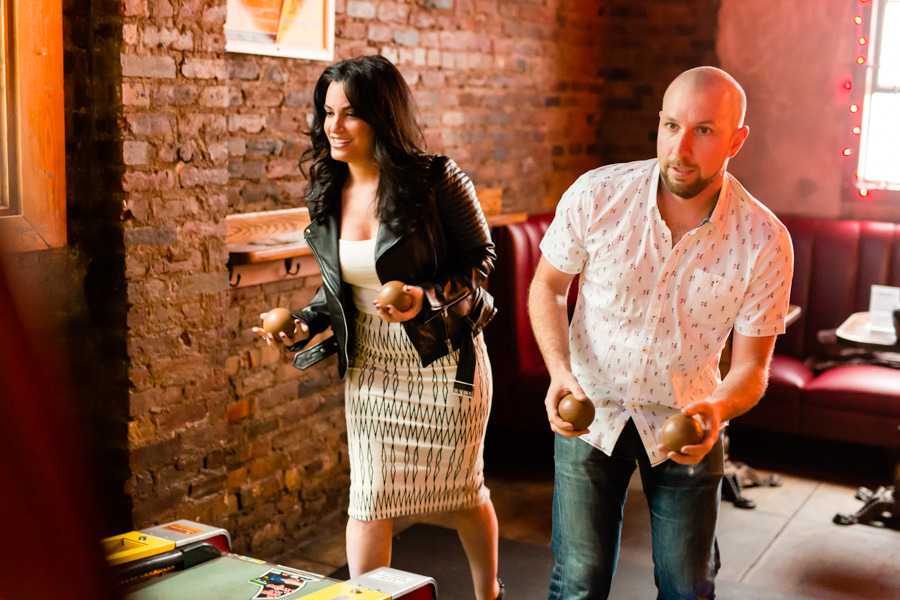 We've seen a lot of engagement shoots, and one of the things that resonates is how well engagement shoots where the couple is engaged in an activity translates in photographs. Pick an activity or something that you love to do together, such as playing games at an arcade or in Chiara and Andrew's case, a competitive game of skee ball over beers, and bring your photographer along to capture some beautifully candid moments between you and your love. 
Day in the Life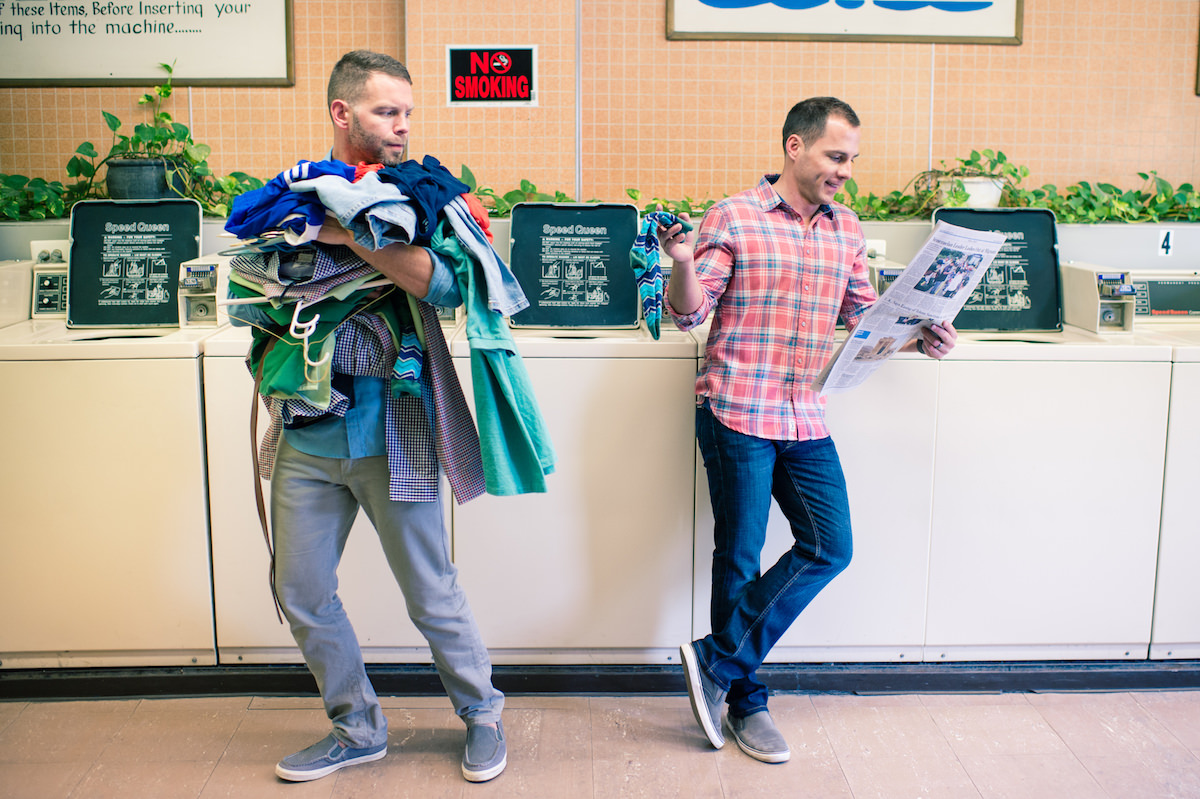 For Michael and Whit's engagement, their photographer followed them through a typical day where they grabbed their morning coffee, did laundry at the local laundromat and then got ready together for a night on the town. We love the idea of day-in-the-life engagement shoots because they provide a snapshot of everyday life. Sometimes it's fun to get all dressed up and do something new for engagement pictures, but we love the charm of seeing a couple in their natural habitat navigating just another routine day. There's a special kind of beauty in that.
National Park or Arboretum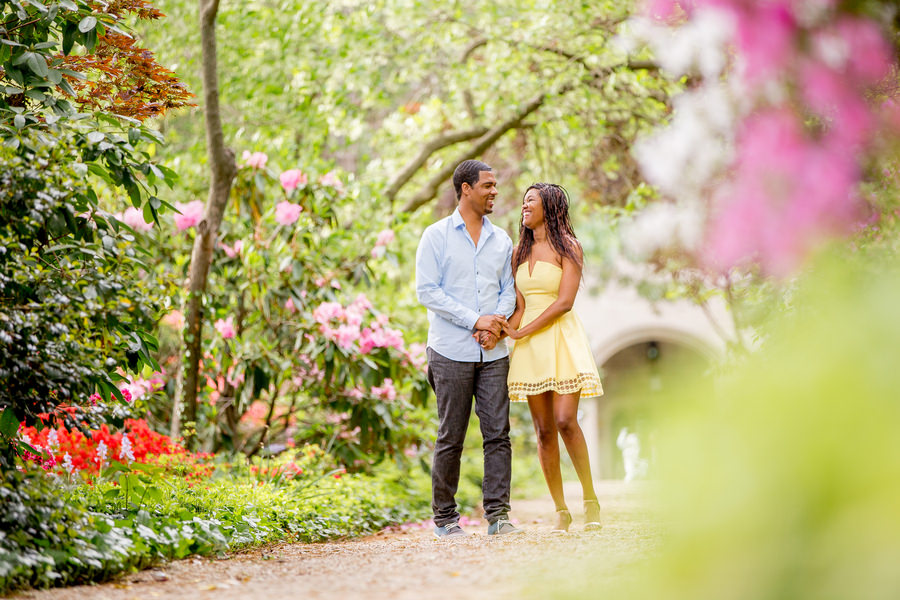 Most engagement pictures are taken outdoors in gorgeous settings. But narrowing in on a the perfect outdoor location can be tough, which is why we love the idea of a national park, botanical garden or arboretum, a space that is guaranteed to be filled with lush landscape for your engagement pictures. And Shawna and Jeremy's engagement shoot at a local arboretum when the flowers and trees were in full bloom is proof of that.
Library or Bookstore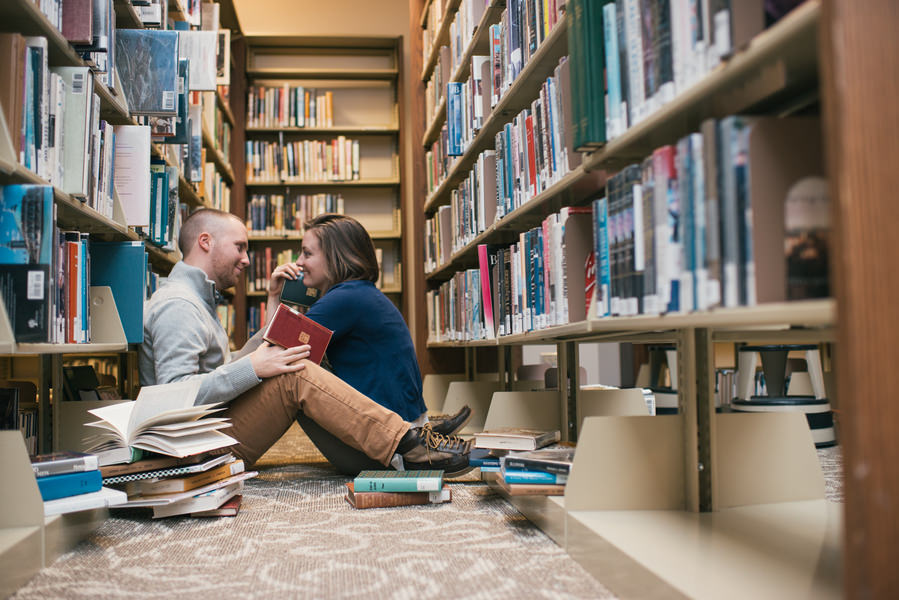 Library engagement sessions are few and far between, but each one we've seen has been cuter than the last. Adam and Tiffany are as lost in the stacks as they are lost in each other's eyes, and the shelves of books provide a fun, unique backdrop. They had to quickly change gears after the rain ruined their plans to shoot outdoors, but we love the outcome of their cozy engagement shoot between the stacks even more.