In today's day and age, when important events are often seen through the camera screen on cell phones thrust into the air for the perfect shot, Sara and Michelle wanted to do something different. In order to foster an intimate and memorable ceremony, the brides encouraged their guests to turn off their phones during the wedding, which was held on a warm, sunny day in Sara's parents' backyard. "We made our ceremony an unplugged ceremony," Sara says. "It allowed everyone to be connected to the experience for the whole ceremony. People are still telling us that they really appreciated being present the whole time without phones and other individual recording devices."
Cari Courtright Photography captured Sara and Michelle's stunning backyard wedding as they created a beautiful and personalized day that celebrated their relationship and the joining of their two families.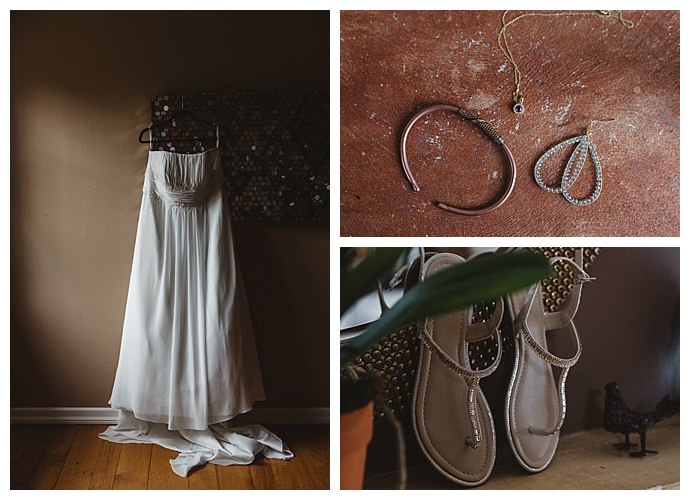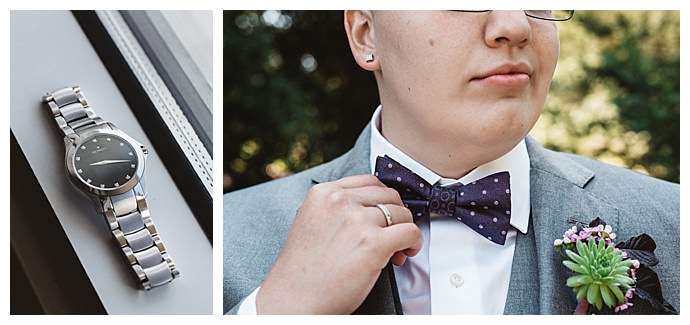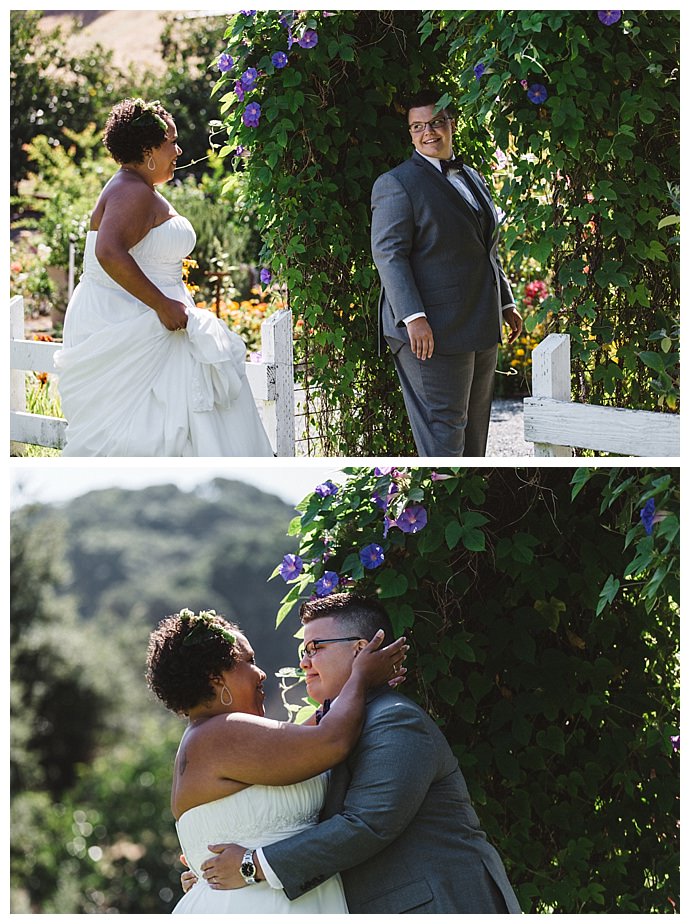 The Love Story
The first time Sara and Michelle met on the University of Vermont campus where Sara was enrolled in a graduate program and Michelle was in search of one, Michelle says Sara was snarky and rude. The second time they met, Sara almost dropped a large sheet cake all over the floor after laying eyes on Michelle across the room. It was nearly a year later from their first encounter, and this time, everything was different. Sara's heart fluttered in her chest as their mutual friend asked her to give Michelle a ride home. She excitedly accepted, and a short drive later, Sara hurried out of the car to give Michelle a hug goodnight but was distracted and went tumbling to the ground. "I swear there was black ice," Sara says. "But Michelle totally does not believe me." That night sparked hours of late-night phone conversations, trips to visit each other and weekend getaways.
"Two years later, I enlisted the help of our friends and surprised Michelle with a diamond ring held by a small Lego Buzz Lightyear," Sara says. "Michelle is obsessed with Buzz Lightyear and Legos, so it made perfect sense to pair the two." Sara asked Michelle to spend the rest of their lives together, to which Michelle responded with a tearful yes. A couple months after Sara's proposal, Michelle took a routine moment to propose to her bride-to-be. "I came home and asked Sara if she was ready to go to the store for a grocery run, and as she was leaving the apartment, I turned around, got down on one knee and asked her if she would still love to spend the rest of her life with me," Michelle says.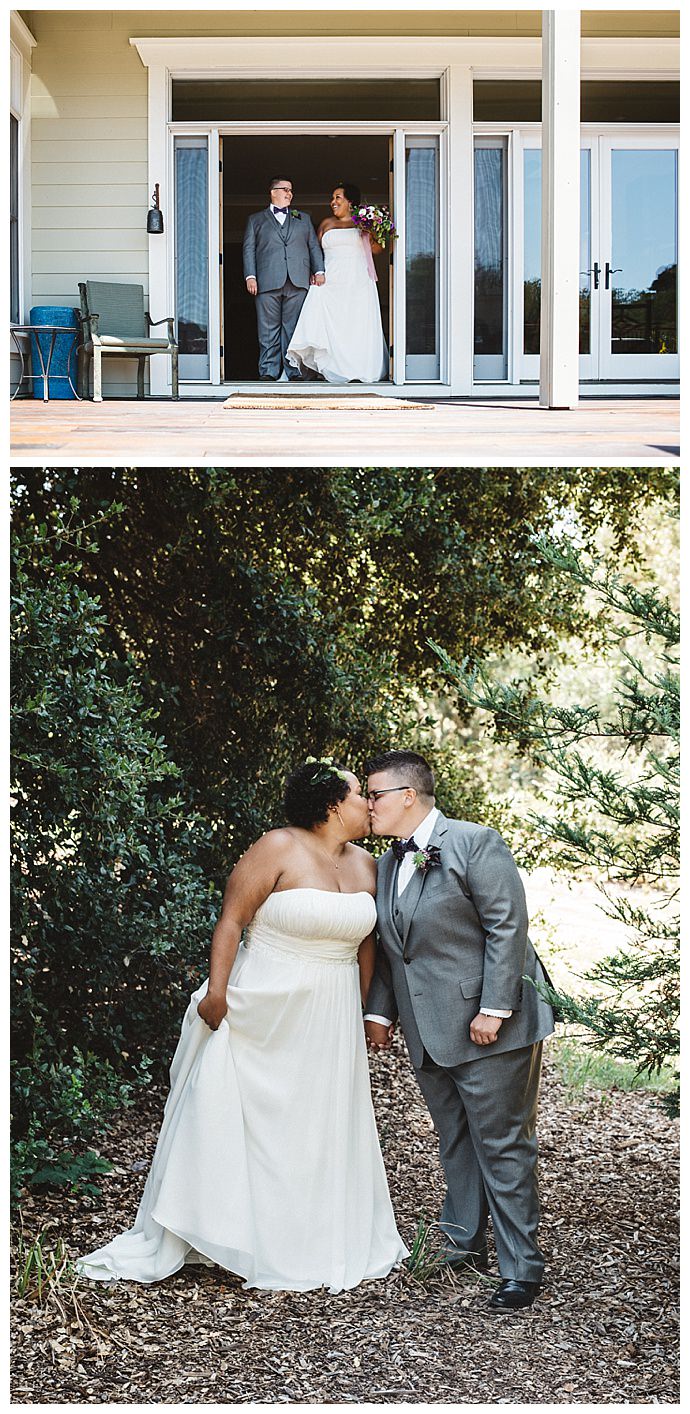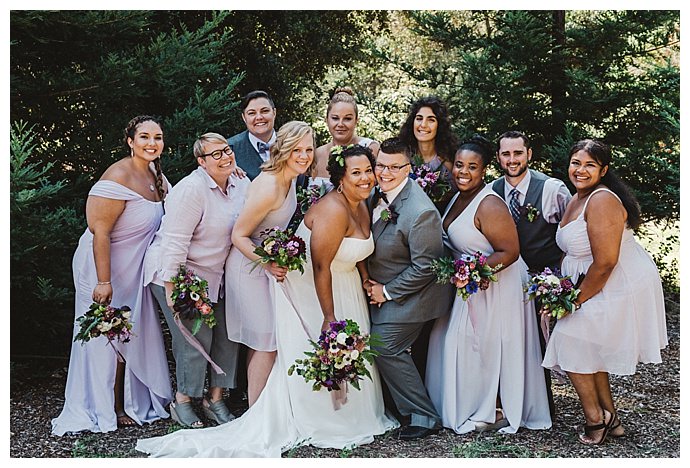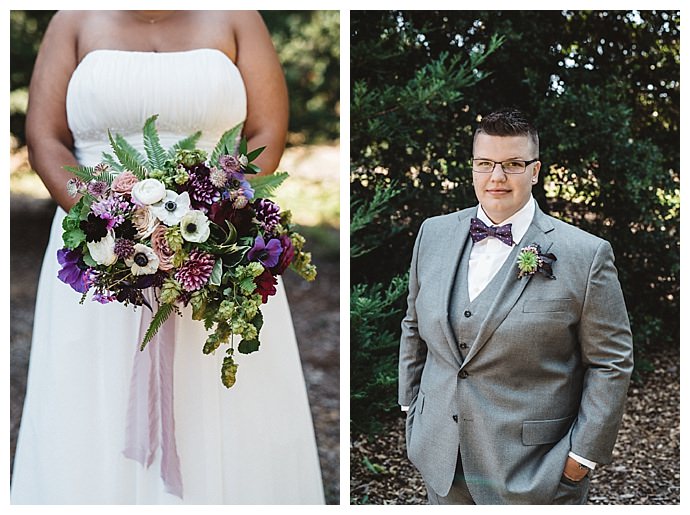 The Ceremony
Sara and Michelle's beautiful wedding took place in Sara's parents' backyard, a large outdoor space with a beautiful garden and lush landscape. "My parents' home is an important place for both of us," Sara says. "I did not grow up there — my parents moved after I graduated from college — but it was a place where my parents were able to bring my whole family together, including Michelle."
For the ceremony, Sara wore an off-white, strapless A-line dress from David's Bridal with a ruby necklace that Michelle gifted her the morning of the wedding. Michelle wore a three-piece custom suit from Saint Harridan. "This is a company who specifically makes suits to fit masculine women and/or transmen," she says. "The suit fit phenomenally; it was a dove gray suit jacket with deep royal purple lining, dove gray pants and a dove gray vest that had a deep royal purple back."
To kick off the ceremony, the brides' parents walked each other down the aisle, followed by Sara and Michelle. "We walked down the aisle together, as it was so important for us to enter into this chapter together," Michelle says. Their ceremony was filled with personalized moments that referenced their theme: to infinity and beyond. They then exchanged self-written vows underneath a Chuppah and included a signing of the Ketubah and breaking of the glass before dancing back down the aisle as a married couple to "Girls Just Want to Have Fun" by Cyndi Lauper.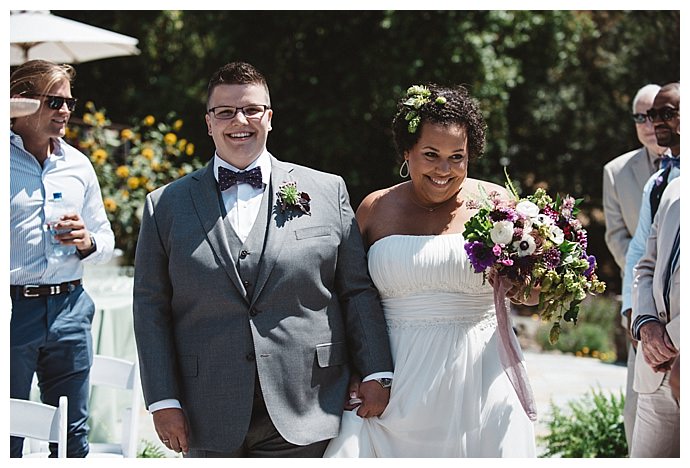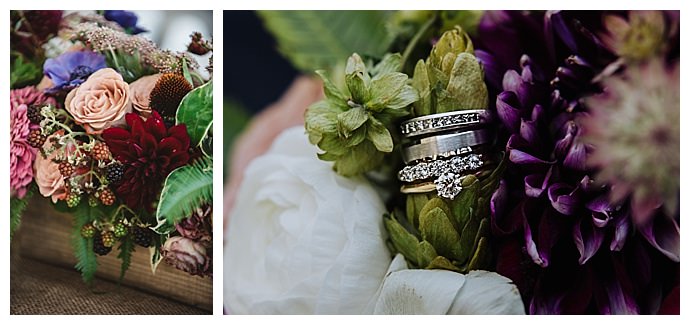 The Party
Underneath a white tent in the large backyard, long tables were lined with burlap and low-lying flower arrangements. Guests enjoyed a beautiful barbecue buffet-style lunch starting with a plated apple escarole salad, pork ribs with a Sriracha apricot glaze, brined barbecue chicken, potato salad, garlic bread and fresh grilled veggies that the chef hand-picked from Sara's mother's garden days earlier. "The chef picked over 100 pounds of produce that was used in our lunch," Sara says. "We were able to say that it truly was a home-cooked meal, cooked in my parents' outdoor kitchen using vegetables grown with my mother's love and hard work." For dessert, Sara and Michelle cut a stunning three-layer naked vanilla cake with a Bavarian vanilla mascarpone cream, Yuzu lemon and fresh raspberries.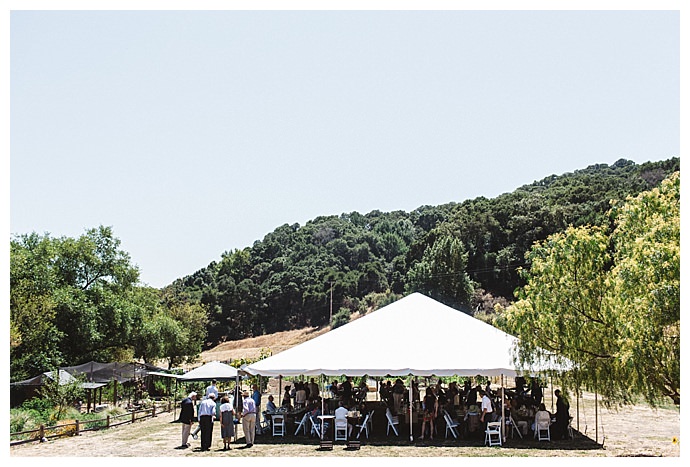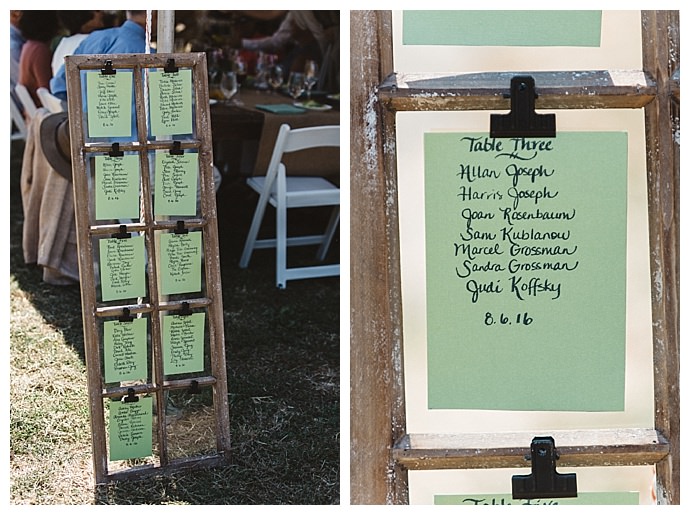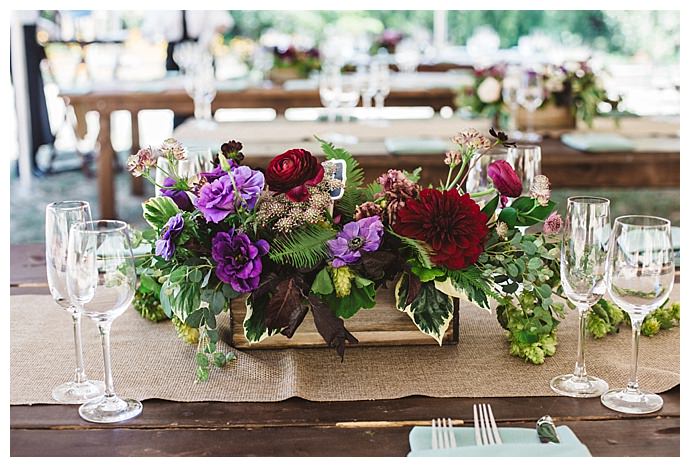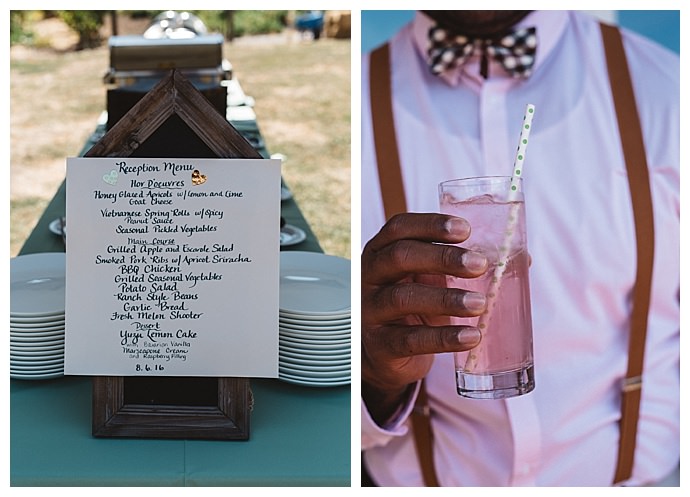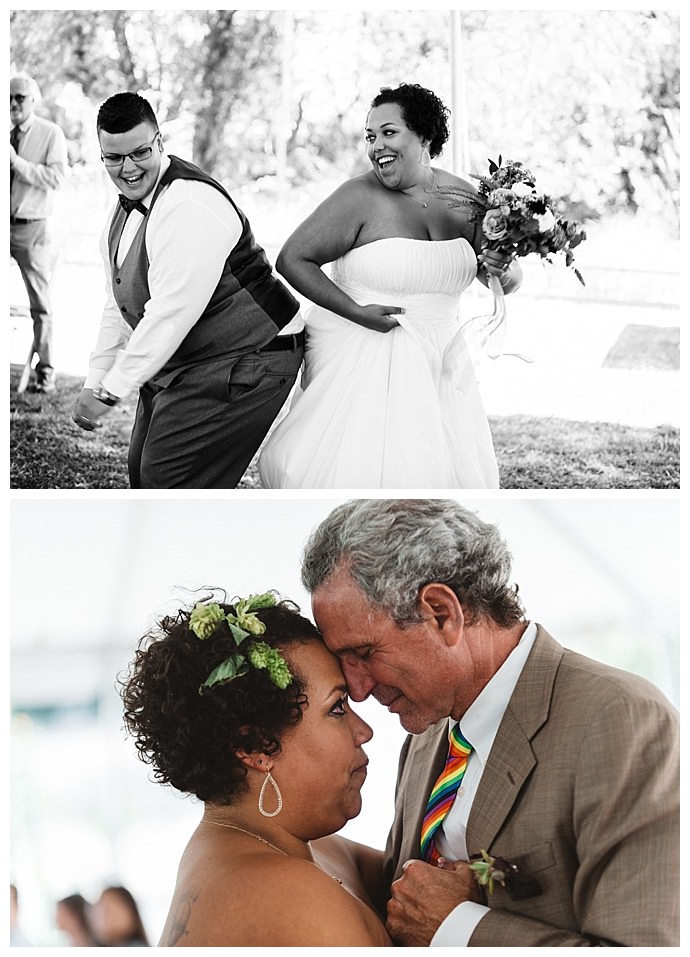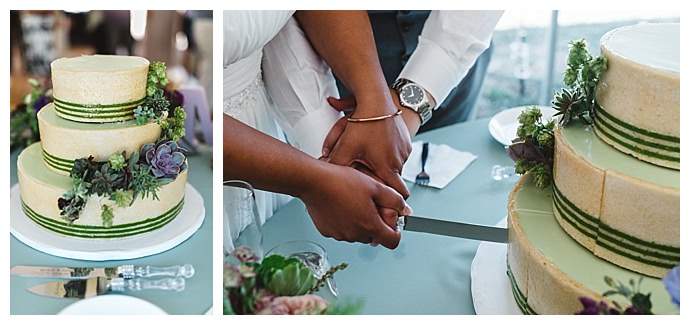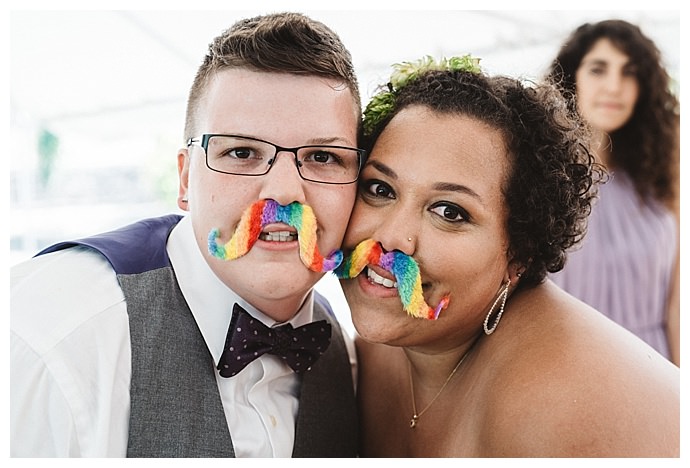 Memorable Moment
"Starting our journey together by walking each other down the aisle was beautiful," Sara says. "Our first look will be a moment I will never forget. Dancing with Michelle for the first time as a married couple was such a fun moment that was so us. Our florals were to die for, and I stare at them in our amazing photos. Honestly, everything was absolutely perfection."
Team of Talents
Photography: Cari Courtright Photography
Second Shooter: Miki Vargas Photography
Floral Design: Laura's Floras
Stationery: Wedding Paper Divas
Cake Design: Masse's Bakery
Catering: Handheld Catering
DJ: JustINtertainment
Makeup: Nadia Qabazard
Hair: Future Vanity/Novelty Hair Salon
Rentals: AM Party Rentals
Wedding Dress: David's Bridal
Wedding Suit: Saint Harridan
*Editor's Note: This post contains affiliate links. Each time you purchase an item via our affiliate links, Love Inc. is receiving a small percentage of the sale, thus you are helping our small, equality-minded business grow and allowing us to provide more content for YOU! Isn't that just fantastic?