Halloween is my absolute favorite holiday, and I personally love costumes that have incredibly creative hair/makeup looks to bring them to life, and if they have a tie to weddings, even better! Point in case, this incredible twist to The Flower Girl, imagined and executed by the talented team at Betsy Elisa Beauty.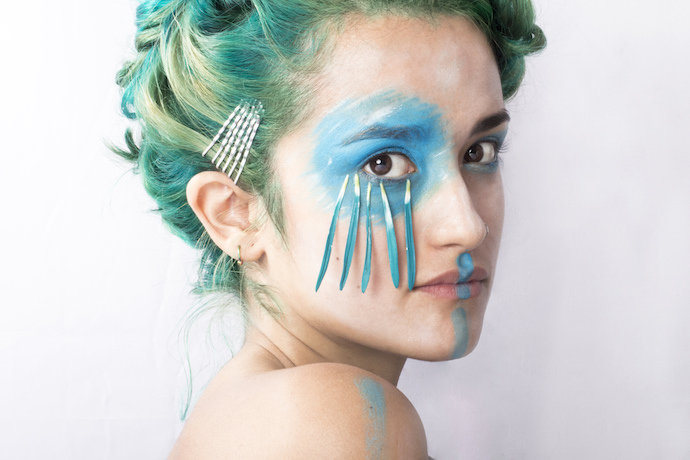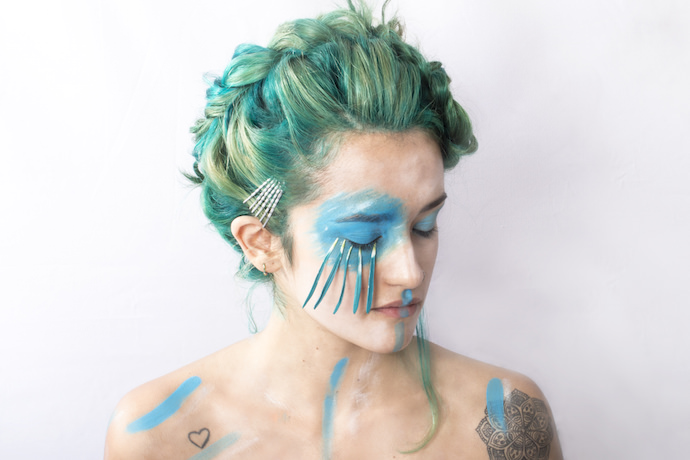 This look proves that you can create an entire costume from beauty alone. "The goal was for the look be inexpensive, and not time consuming; Ideally, to create a look that could be created from the makeup you already have at home," says Elisa.
Inspired by a flower in their studio and the gorgeous shade of Cyan from MAC Cosmetics' Chromacake line. "They were very similar, and so vibrant. So I went with it and started to make the model into my interpretation of that flower, and that's how the look was created. It was free-styled, and that was the fun part, in that there was no wrong or right. It was all about creating what was felt in that moment," she says.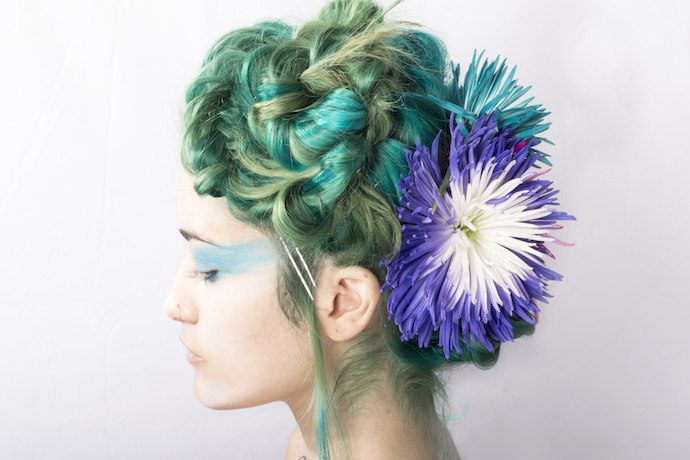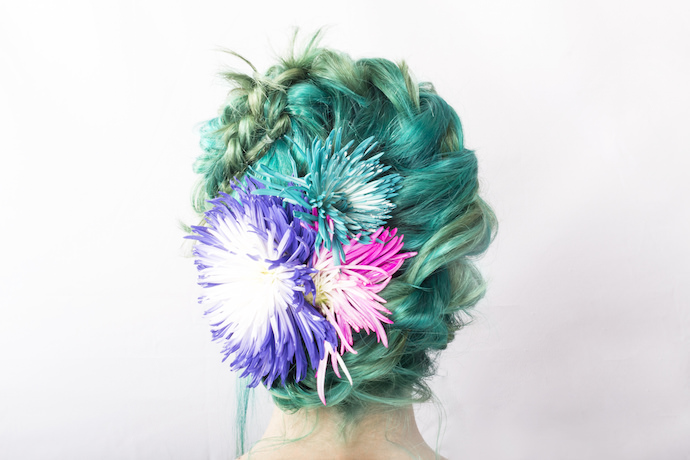 For the whimsical hairstyle (which would look incredible as a bridal updo, by the way), stylist Mia was inspired by the various twists, turns and textures flowers take on as they grow. "As we are entering into the fall, with the cold and wintery months ahead, I wanted to take time to remember the spring, and the curvature of blossoming fern fiddle heads. I used the hair to mimic those plants by wrapping a pulled-out twist around the right side of the head, which linked with a series of half-pulled braids," she explains. She then finished off the look with a balancing arrangement of three painted spider mums.
Team of Talents:
Photography: Tan Brown for Betsy Elisa Beauty
Hairstyling: Mia for Betsy Elisa Beauty
Makeup: Elisa for Betsy Elisa
Model: Martina Gomez