By Shannen Hofheimer | Photography by Hay Alexandra Photography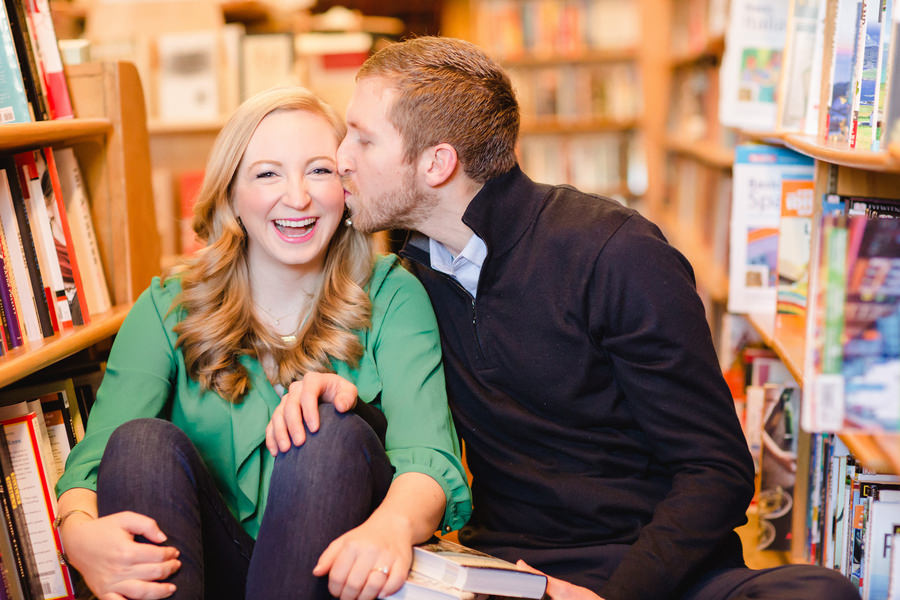 The happiest moments in a relationship are often the simplest, and Hay Alexandra Photography hit the nail on the head with the spot-on portrayal of this adorable couple in their everyday lives. "Throughout dating, I would say 'I love doing life with you' when we would be checking out at the grocery store, at the dry cleaners or leaving someone's house after dinner," Sarah shares with us. "It means more than 'I love you' — it means 'I love my life with you.'" These engagement photos taken in Dupont Circle not only capture the pure love that Sarah and David have for taking what they call "urban hikes" around their city at places like Glen's Market and Krammer Books, but beautifully depict them "doing life" together.
The Love Story
Sometimes, true love can infiltrate your life when you least expect it, and for Sarah and David, that's exactly what happened. At a mutual friend's birthday dinner, Sarah, accustomed to being the life of the party with her hysterical stories, began her side-splitting tales of the single life, the online dating world and the lack of fish in the sea. "If I had noticed the cute man sitting across from me, I might have censored myself, been a little more lady-like or maybe worn makeup and not a Patagonia pullover. The first words David ever said to me as I took a break for food and water were: 'You, I like you.' I remember going home and telling my mom how horrifically unlady-like I was and how maybe I shouldn't have been talking about single life around this new cute guy at church — that I should practice taking my foot out of my mouth instead of putting it in!" Evidently, Sarah needed no censorship. Her real personality shined through, and that's what David was drawn to the most.
After their first date, Sarah and David were engaged five-and-a-half months later in October of 2014. "I knew she was the one when I went on a two-week backpacking vacation in the Sierra Nevada Mountains at the end of August," David shares with us. "I planned this trip with a friend before Sarah and I had met and looked forward to it all summer, but I never looked forward to being away from her. It was in the wild where I was unable to communicate with her for over a week that I began to think, after one mere day, that I never wanted to be without this woman."
The Proposal
On a trip to New York City for David's 29th birthday, Sarah and David found a romantic restaurant atop the Museum of Art and Design, overlooking Columbus Circle and Central Park. Unbeknownst to Sarah, David had called a few weeks in advance to get the best seat in the house and had also asked her father for her hand in marriage. Once Sarah and a suspiciously un-chatty David sat down at their table, the waiter brought over two dozen beautiful long-stem roses. "I was floored! They were beautiful," Sarah tells us. "I was all gussied up in New York City and my boyfriend had just gotten me flowers after he promised he wouldn't. I kissed, hugged and thanked him for being the sweetest man. We ordered and I tried to talk about our trip but David wasn't back to his chipper self. It wasn't more than a few minutes later that he took out a card. He had memorized what he had written inside and recited it. The very end of the card read: 'You know how you say you love doing life with me? I want to do every day and the rest of my life with you. Will you marry me?'"
"I thought I said yes right away but David says it was nearly 10 to 15 seconds. The rest of dinner was just us and Champagne," the bride recalls fondly. "I remember going up to a newspaper vendor and proclaiming that I just got engaged, demanding every wedding magazine he had! David bought me all four he had there, and we looked through them on the way back. I also kept looking at him periodically asking: 'You want to marry me? You want to have littles with me? You want to live with me?' Each time, he would answer 'yes' with a huge smile."
The Ring
"My diamond is a 1.1 carat round and brilliant diamond on a simple yellow gold band. David picked it out completely on his own and went to the jeweler describing me as 'beautiful, traditional and classy.' When he gave it to me he kept telling me nervously that I can change it, get it bigger or smaller or change anything you want, all before I even said yes. I would never change one thing about it. It looks very similar to my mother's ring which I used to slip on my finger as a little girl. It's a dream come true."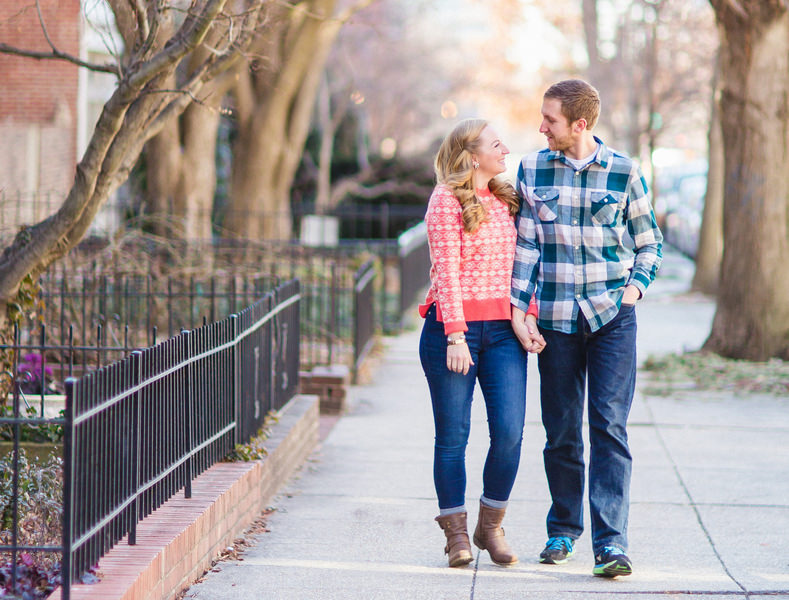 Wedding Date: April 11, 2015