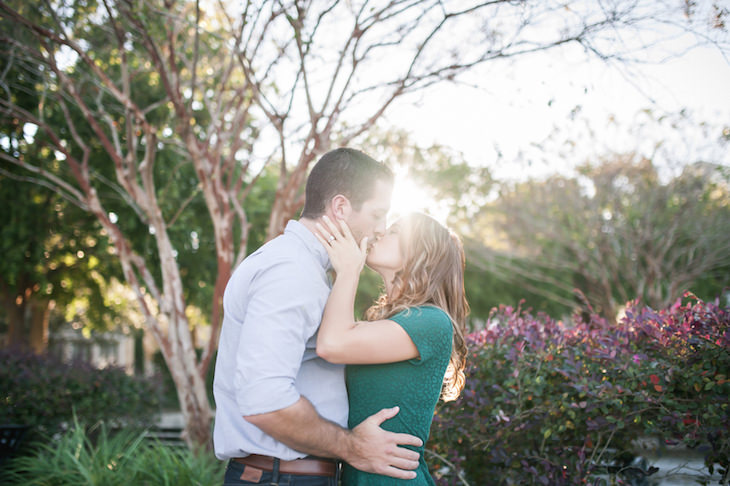 Photographer Alex Thornton admitted that she didn't need to give much direction to these two during their engagement session at Charleston's I'On Village and Sullivan's Island. The love they have for each other just comes out full throttle (and once you read their love story below, you'll get it). That paired with Alex's use of light and angles make this e-sesh swoon-worthy from first snap. 
The Love Story
"I knew Christina was The One the night of our first date. I had asked her out on July 4, 2011 and our first date was just a few days later, July 7. We met at Bonefish Grill at around 6:00 p.m., and were the last two customers to leave the restaurant when it was closing that night. I was on Cloud 9, admiring her beauty and personality. We connected on so many levels it was hard not to acknowledge that I was on my first date with my future wife."
"I knew a couple of months after we started dating. My day was off to a rough start, so I emailed Brad at work, letting him know things just were not going my way. Within an hour he replied back with a stream of positive affirmations, letting me know that he was here for me and I was going to get through this particular struggle. He poured his heart into this email, and reading his words tears filled my eyes and my heart filled with joy. I stood up right there in my chair, threw on my coat, hopped into my car and began the 45-minute drive in the rain to thank Brad personally for his sweet email. I really had no clue where I was going. I knew his office was in Herndon, VA, but had to look up the exact address online. As soon as I arrived in the parking lot, I immediately called Brad and told him to come outside. To his surprise, there I was standing outside my car in the rain. He ran over to me, 'I can't believe you're here!' and I replied, 'Thank you so much for your sweet email, I just had to come down here and thank you in person and also tell you that I am in love with you. I love you.' Brad stood white as a ghost with the biggest smile on his face. I knew."
The Proposal
After a few hiccups — closed beach, hiding from potential beach patrol, racing the clock, just to name a few — Brad and Christina finally found themselves on the beach at sunrise in a moment that would change their lives. "I think it was at this point that I reflected on the situation and tried not to laugh. Of course it would be going like this. Everyone I had talked to about this moment had said, 'It never goes according to plan.'  Well, all those people were right," laughs Brad. "We walked down to the edge of the water together and I knew this was just a few minutes before I proposed and for whatever reason I felt completely relaxed. It was a sign that this was meant to happen then and there, with her. At first we sat in silence. I was thinking about how much I love her and how I'm about to ask her to be my wife. It's the kind of thought that makes your heart race and puts a big smile on your face all at the same time.  That's when the sun started to rise …
The sunrise was one of the most beautiful I'd seen and certainly the largest, but I could hardly take notice to it given my next move. I turned to Christina and said, 'Do you know what today is?'
Christina responded, 'The 4th.'
I said, 'Well, yes… But do you know what today is for us?'
Exactly three years ago to that day I asked Christina on our first date. I told her how much my love had grown for her since that first day together and that I wanted nothing more than to spend the rest of my life with her. I then asked her to stand up. I got onto one knee and pulled the ring box from my bag. She turned and looked down at me as I opened the box and asked, 'Will you marry me?'
I remember her holding her hands over her mouth and tears filling her eyes. She began crying and threw her arms around me saying 'YES!' We sat there holding each other with the sun coming up to our side, waves crashing behind us, on an empty beach — just the two of us taking the next step in our lives together. It was the most wonderful moment of my life. The feeling of that moment, hearing Christina say, 'Yes!' and placing the ring on her finger … nothing can ever compare."
The newly engaged couple celebrated with photos before heading back to a beach closer to their home, where they popped Champagne and started the celebration. And Brad had a few more surprises up his sleeve. "I had made reservations ahead of time for us at High Cotton in downtown Charleston. We enjoyed wine, lobster, steak, veggies and more — all so delicious.  When we finished dinner we walked over to the park just down the street where crowds of people were gathering and waiting to watch the fireworks that go off from the harbor. We still had a few hours before they went off, so I told Christina that we should go home to change before going to watch them. She agreed without question. When we arrived home from dinner I opened the door so she could walk through first. While in mid-conversation Christina suddenly stopped talking as she noticed a balloon in the front hallway with a 'CONGRATULATIONS' banner behind it, along with tons of other decorations. She sprinted past the balloon to find her friends all gathered in the living room to surprise her. She screamed and fell to the floor laughing, obviously not knowing what to do with herself. I had invited them all down weeks in advance and had left a key under our welcome mat for them when they showed up while we were at dinner. We all caught up on the day's events before heading down the street to Mount Pleasant Waterfront Park & Pier to watch fireworks. We watched the firework show and I remember standing there holding Christina, watching the fireworks, thinking how in love I am and how lucky I am to one day call this wonderful woman my wife."
The Ring
Christina's engagement ring splits as it connects to the emerald cut diamond resting atop the band. The stone is set a tier above the surrounding smaller diamonds in a halo, adding some dazzle to the ring!
Wedding Date: October 25, 2015