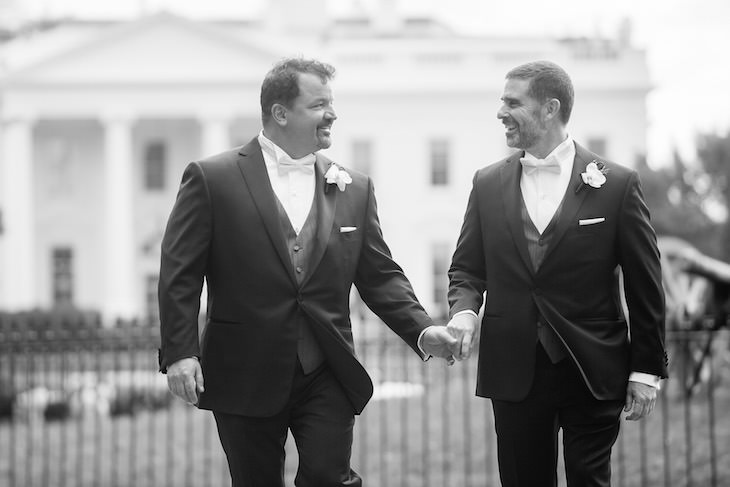 From the gorgeous religious ceremony at St. John's Episcopal Church to their chic, luxury reception at the iconic Hay-Adams Hotel, A. Dominick Events made sure that John and Scott's Washington D.C. wedding was of the highest of tiers.
The couple had been together for 17 years before they decided to tie the knot and they pulled out all the stops for their celebration — cascading floral designs, a giant ice sculpture and one of the best views in the city. 
The Love Story
Even though their love story has 17 years worth of memories, officially becoming husband-and-husband elevated John and Scott's relationship. "Being married actually does feel different despite having been together for 17 years … the understanding that one has committed to a life of love and support to another person," the newlyweds exclaim.
They were both recent home owners when they met in a furniture store 17 years ago. "We were looking for just the right furnishings but ended up catching each other's eyes instead! We talked for about four hours that day and our dialogue has never ended over the many years," says John. "We decided to get married as the U.S. marriage laws evolved to include gay couples. We knew that we wanted to share our love for each other with our family and friends and most importantly, we wanted to acknowledge our commitment for a lifetime together."
The Ceremony
It was important for John and Scott, both devoted Christians, to have a religious ceremony and the couple decided to exchange vows within the Episcopal Church. "We were both raised as Roman Catholics, but it was clear that there was no place for us in that tradition. We were drawn to the Episcopal Church because of its similarities with the faith tradition of our childhood and the beauty and inclusiveness of its ceremonies."
They chose St. John's Episcopal Church in Washington, D.C., for its beauty as well as its rector and vibrant community. "We lucked out when a new young priest, Father Andy Olivo, joined St. John's and agreed to perform our wedding. He, even more than the beautiful and historic venue of the physical church, made our day so very special," adds Scott.
Magnificent music from a full choir and string chamber orchestra vibrated through the church that was decorated with florals in the grooms' blue and white palette.
The Style
The grooms wore matches Zegna tuxedos and diamond cufflinks made by Mozafarian, a Los Angeles-based designer. Mozafarian also created their custom wedding bands that were embellished with Irish flourishes as a nod to their backgrounds.
The Reception
Their grand reception was held at the classic Hay-Adams Hotel, a five-star luxury hotel in the heart of the nation's capital. "It's a Washington, D.C., classic with a storied history and amazing exterior and interior design," says Scott. "We wanted our family and friends to experience the very best of D.C. as a part of their day with us. The staff at the Hay-Adams became friends over the course of time and the food was amazing. And it is hard to beat the Top of the Hay space with its unmatched views of the monumental core of D.C. for an entertaining venue." 
Guests were greeted at the cocktail reception by an oversized ice sculpture of the Greek god Triton, who presided over large raw bar stocked with oysters, ceviche, crabs and more. A. Dominick Events transformed the Top of the Hay, the hotel's crown jewel event space that boasts breathtaking views of the White House, into an extravagant setting with modern lounge furniture, black dance floor and crystal centerpieces filled with cascading orchids, hydrangeas and delphiniums.
The grooms served up a multi-course seated dinner. They worked with the chef to create a menu that included family recipes and dishes to represent their home states of Maine and Maryland. "But the most talked about dish was the lemon and rosemary sorbet served on a large block of crystal clear ice – the dining room lit up in blue as everyone posted the dish to social media!" exclaims John.
For their first dance, the grooms did a choreographed dance to Leona Lewis's "First Time I Ever Saw Your Face." "We chose that song because we both love it and it never fails to bring a tear to our eyes. We worked with The Wedding Dance Specialists to choreograph our dance and made sure that it would be memorable — we hope in a good way! — and not the usual swaying back and forth that so many couples do. It was an excellent experience and many of our guests raved afterwards that they had never seen such a beautiful dance at a wedding."
The live band Sound Connection quickly had guests onto the dance floor that was casted with nightclub-inspired lighting, where they continued partying late into the night. "We had our friend the Triton brought upstairs to share in the revels and he presided from the top of the bar!" laughs Scott. When the evening came to a close, they offered guests gingerbread cookies from the Czech Republic. "We had vacationed together in the Czech Republic a couple years ago and fell in love with Cesky Krumlov near the Austrian border," says John. "We particularly loved the extravagantly designed gingerbread cookies that are made in the town so we ordered large, highly decorated, hearts for our guests." 
Team of Talents
Event Design: A. Dominick Events
Photography: Greg Gibson
Ceremony Venue: St. John's Episcopal Church
Reception Venue/Catering: The Hay-Adams Hotel
Floral Design: Amaryllis
Lighting: Frost Lighting
Stationery: The Dandelion Patch
Band: Sound Connection Band
Cake: Kendall's Cake
Ice Sculpture: Hot Ice
Videographer: Video Express Productions
Cocktail Music: String4 String Quartet
Dance Choreography: The Wedding Specialists
Tuxes: Zegna
Linens: DC Rental