When Paul and Julie's wedding day finally arrived, they could hardly wait to walk down the aisle and exchange vows in the lush gardens at Scheig Center. But as the ceremony time inched closer, inclement weather along with a nearby noisy outdoor concert threatened to derail those plans. But nothing could stand in the way of these two saying "I do," and after a couple of laughs, they were pronounced Mr. and Mrs. Captured by Elizabeth Haase Photography, this romantic Wisconsin wedding is filled with vibrant colors, vintage details and heartfelt moments that will make you swoon!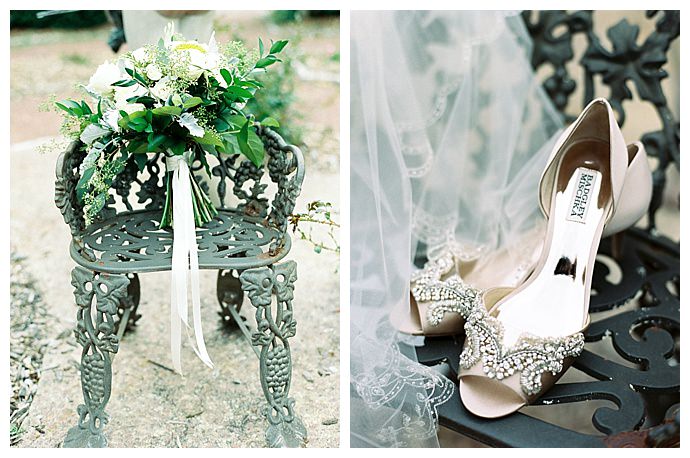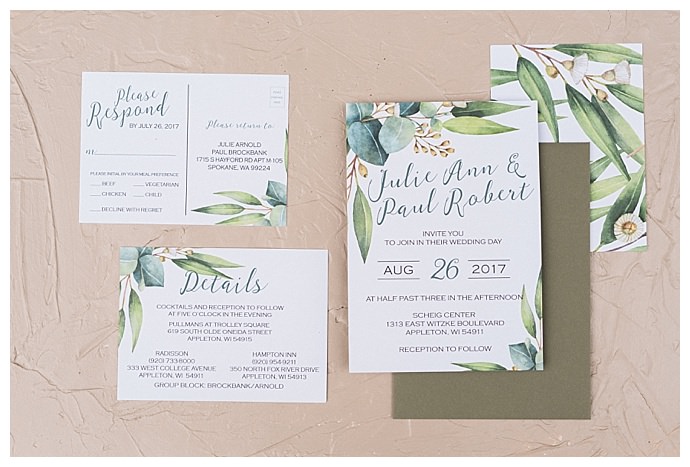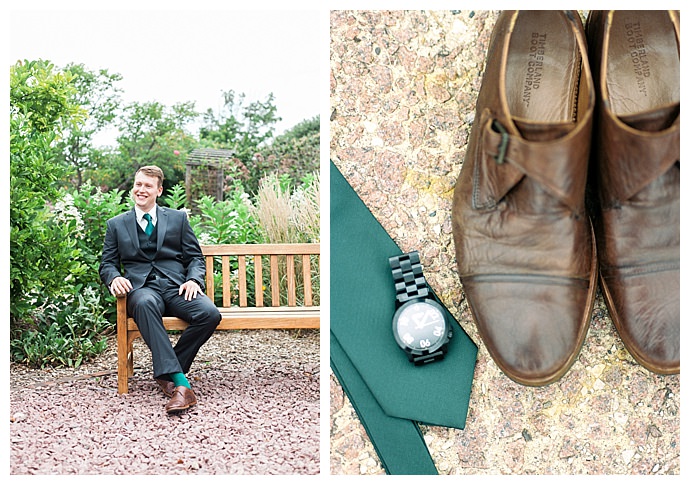 The Love Story
Julie had just packed up all her belongings and moved across the country to Utah for a new endeavor in travel nursing. Meanwhile, Paul was on leave from the Air Force and was visiting his family in Salt Lake City. For their first date, Paul brought Julie to his grandmother's house and she met some of his family over a tasty cup of hot chocolate. Afterward, Paul and Julie took a romantic walk along a nearby river, and even though Paul had to go back to Washington after their first date, they both knew there was something there.
One year later, on the anniversary of their first date, Paul and Julie took a trip back to Utah to recreate their first date. They started with dinner at the exquisite French restaurant, La Caille, before heading to Paul's grandmother's house for dessert and hot chocolate with his family. Then, while on a stroll along on the river, they came to a bridge that was decked in lanterns and twinkling lights. "In the dark of night it was glowing so bright," Julie says. "As we reached the middle of the bridge, Paul had flowers waiting where he got down on one knee and proposed, and his family, unbeknownst to me, were all waiting at the end of the bridge to congratulate us!"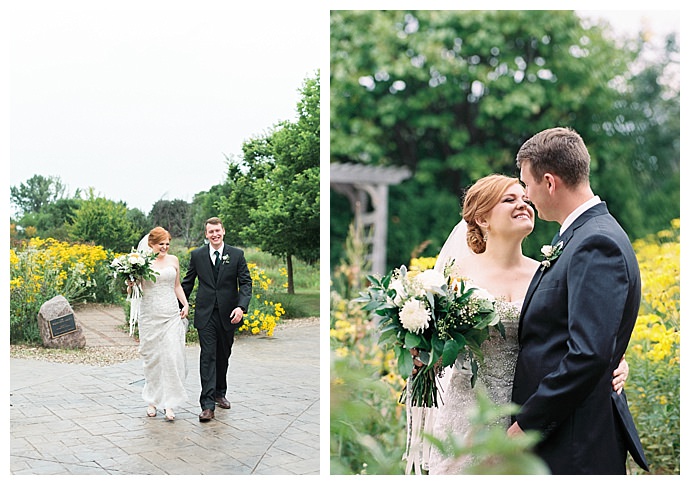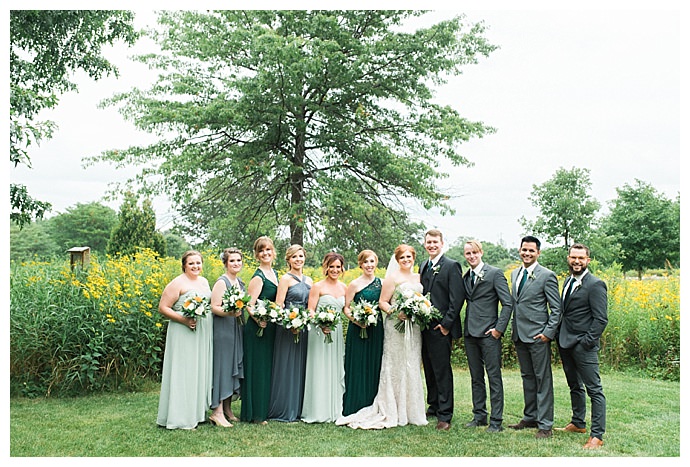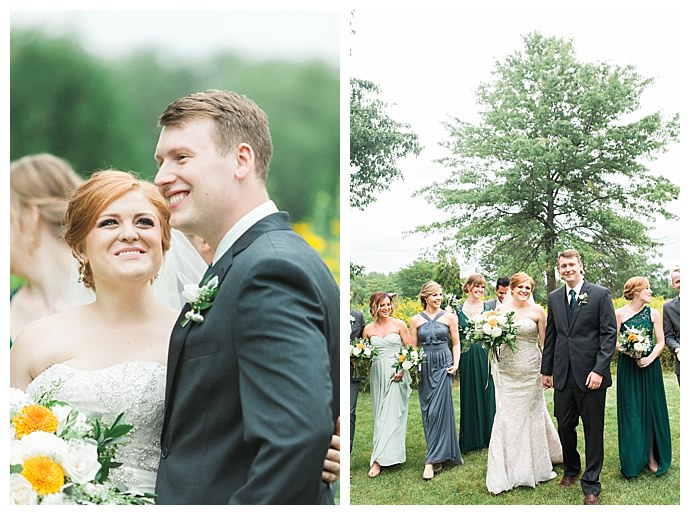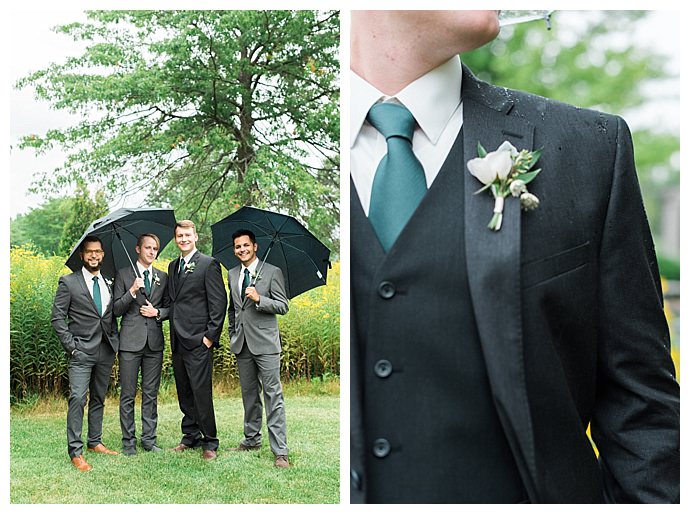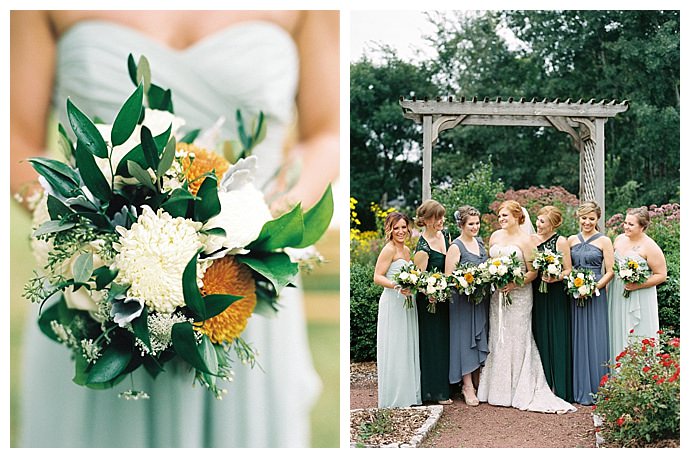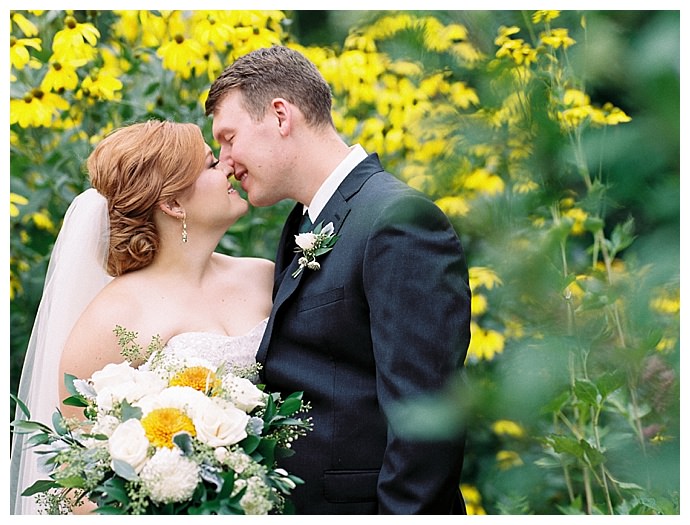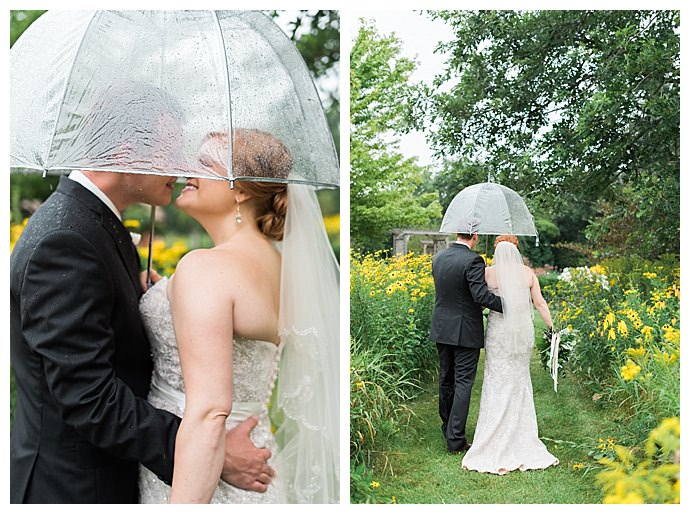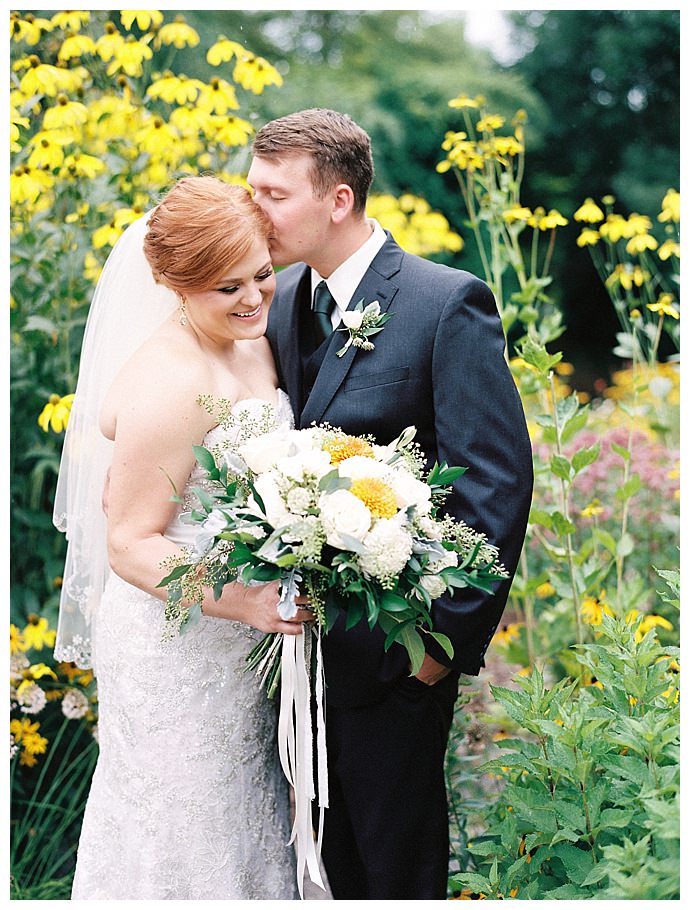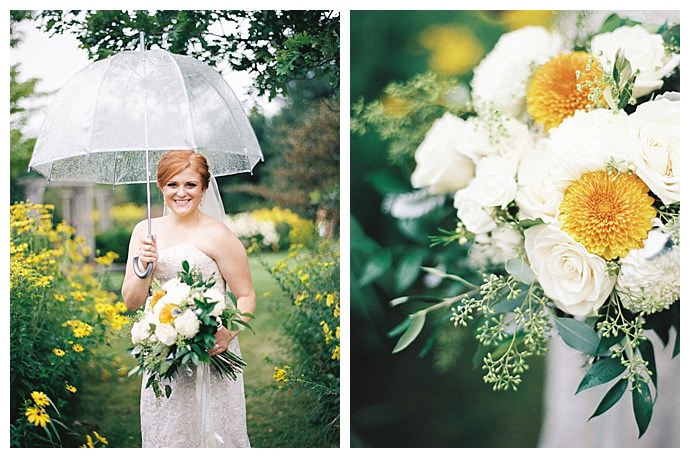 The Ceremony
Both Paul and Julie are fond of the outdoors, so an outdoor ceremony was at the top of their must-have list when wedding planning. They came across the gardens at Scheig Center, which fell perfectly in line with the vision for their big day. But little did they know, there would be a few elements that were out of their control that would make for a very memorable ceremony. "It was raining the whole time prior to the wedding, and we were not sure if we would have to move the event inside to avoid the rain," Julie says. "But, as soon as it was time for the ceremony to start, the rain stopped, all of our guests put their umbrellas down and the sun came out!"
With the original plans back in place, Julie was excited to walk down the aisle and exchange vows with Paul. "But as we began the ceremony, there was a live concert taking place on the other side of the park," the bride says. "It was very hard to go through our vows when 'Takin' Care of Business' was being blasted. After taking a minute to pause, address the elephant in the room and have a good laugh, we were able to continue with the ceremony — it was perfect and memorable, and we couldn't have asked for anything better."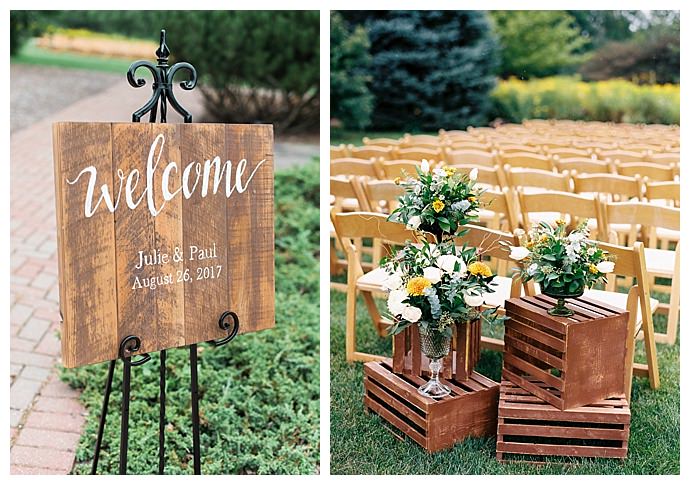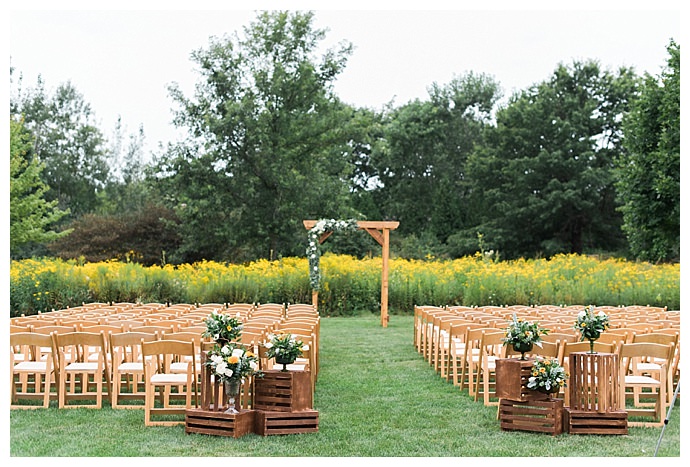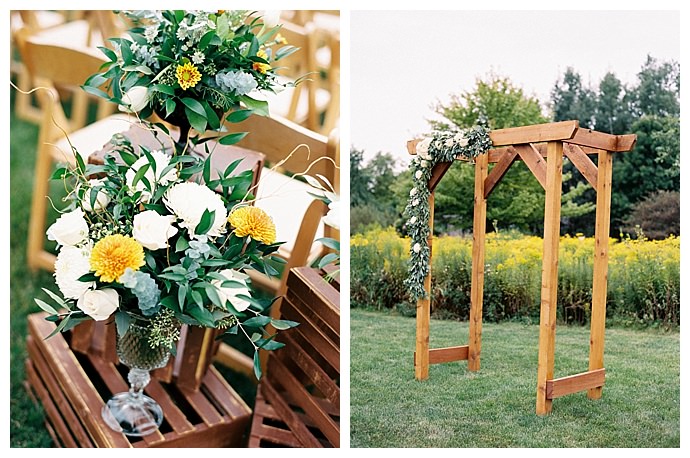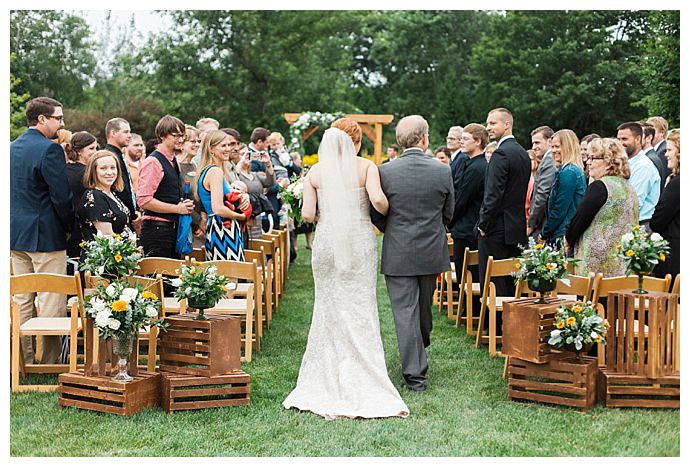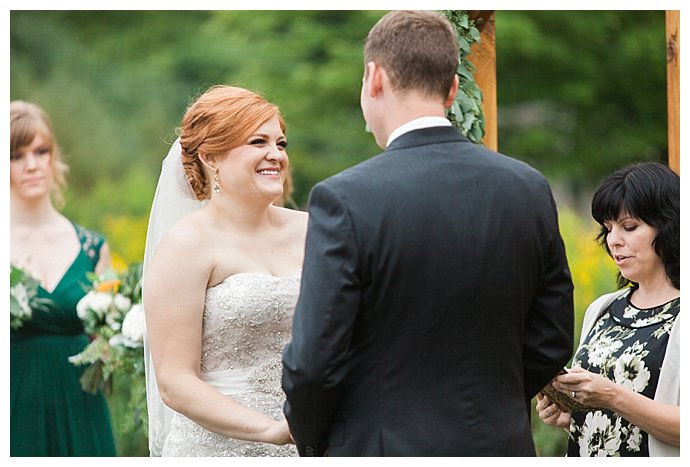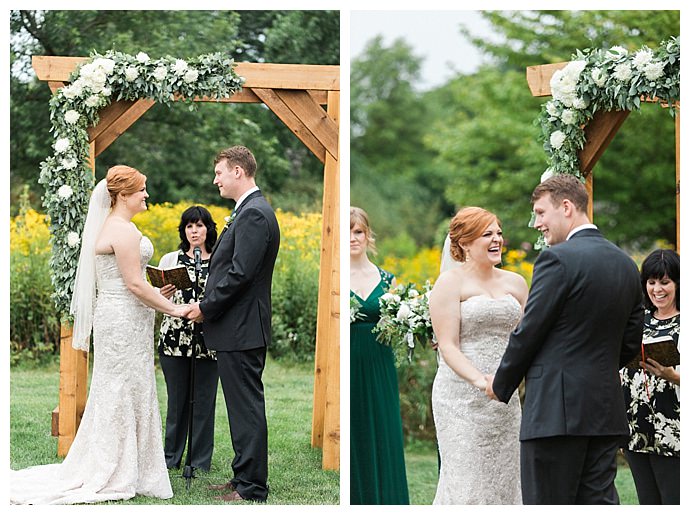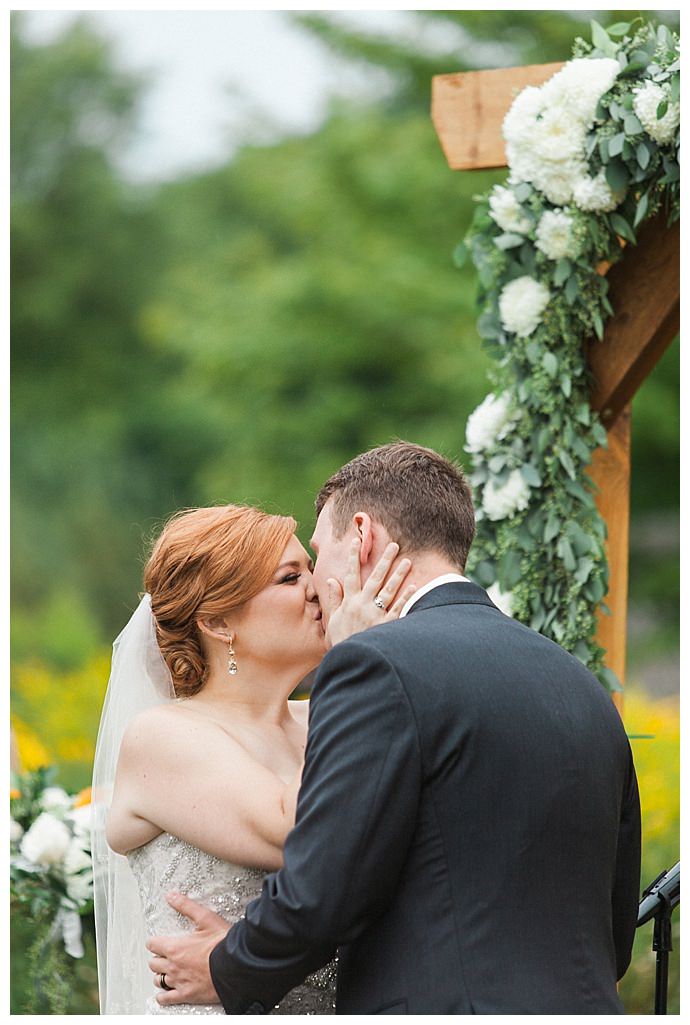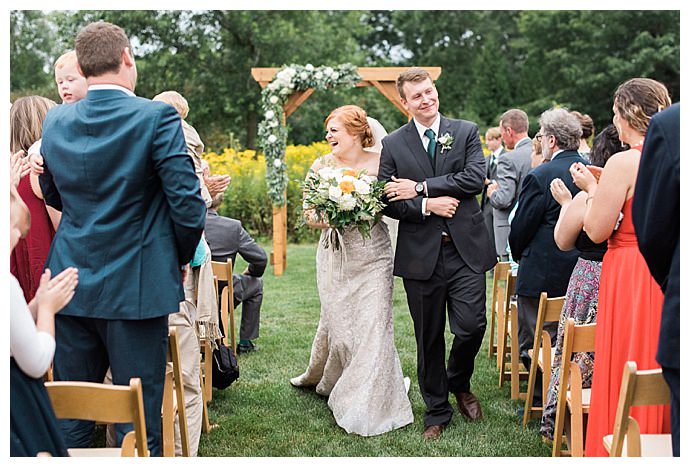 The Party
After the ceremony at Scheig Center, the newlyweds and their guests headed south to a restaurant along Fox River, Pullmans at Trolley Square, for the reception. The tables were decorated with the same gorgeous florals from Julie's bouquet — we love that bright pop of yellow! — along with vintage books and vintage glassware to complete the centerpieces. "I have a love for all things vintage and timeless," Julie says. "When I thought about our wedding style, I wanted it to be simple, classic and vintage, something you could look back on and still think is beautiful for generations to come."
The newlyweds collected all the glassware themselves in amber, brown and green colors, which fit perfectly with their color theme. They also incorporated natural wood elements to tie in with the ceremony decor and filled the room with garlands of seeded eucalyptus. As the night came to a close, Paul and Julie cut into their wedding cake, which was topped with an adorable cake topper personalized with their home states, before they headed out onto the patio next to the river for a romantic first dance underneath a string of twinkling lights.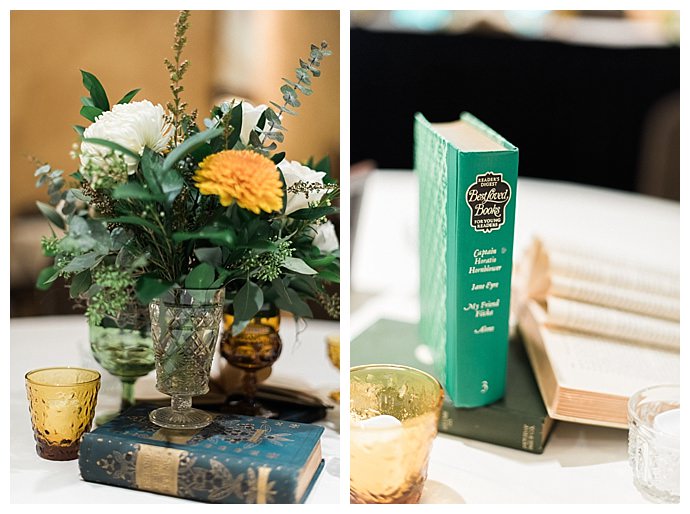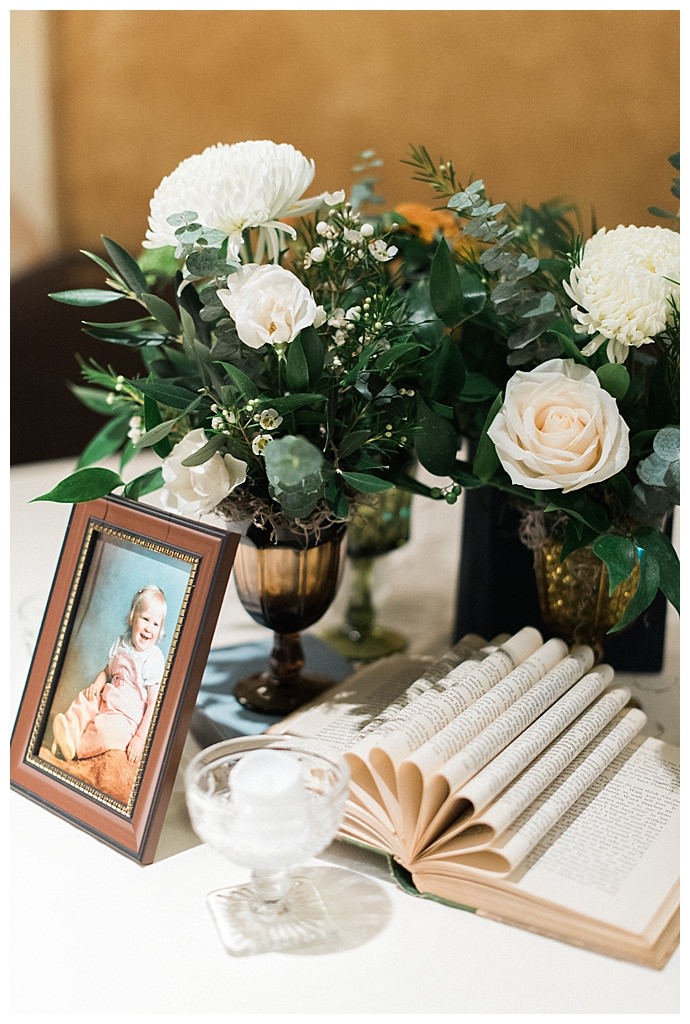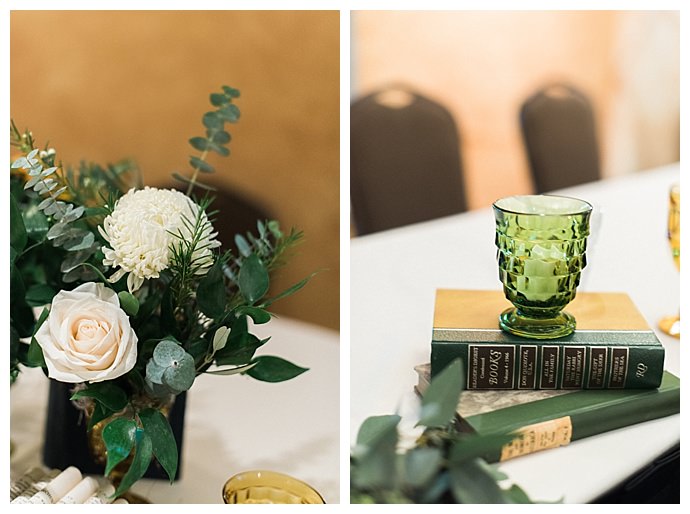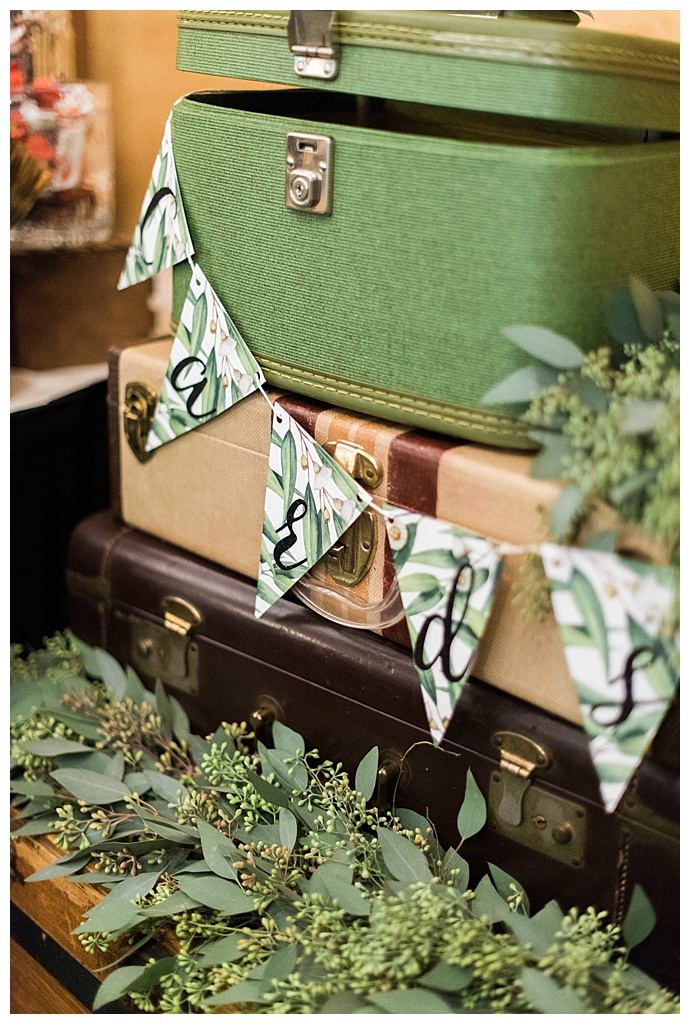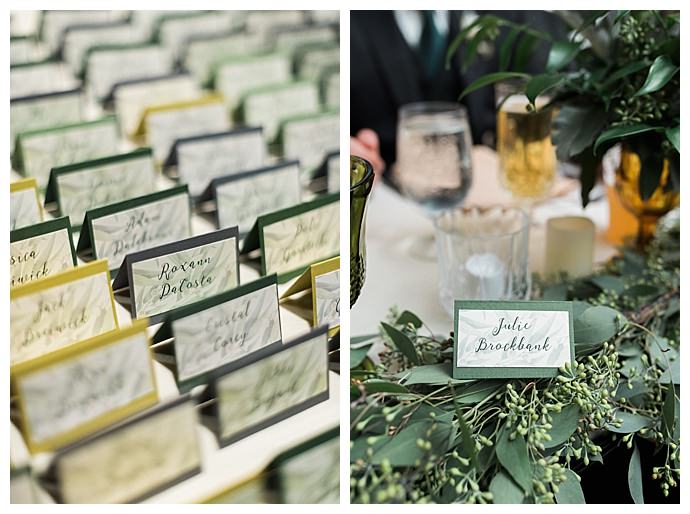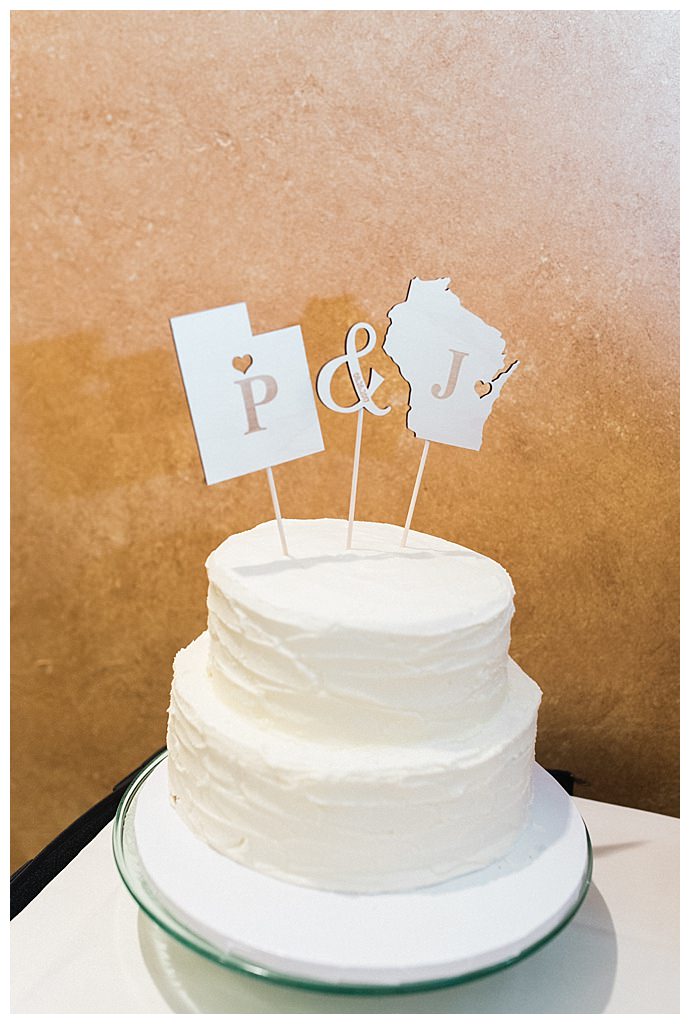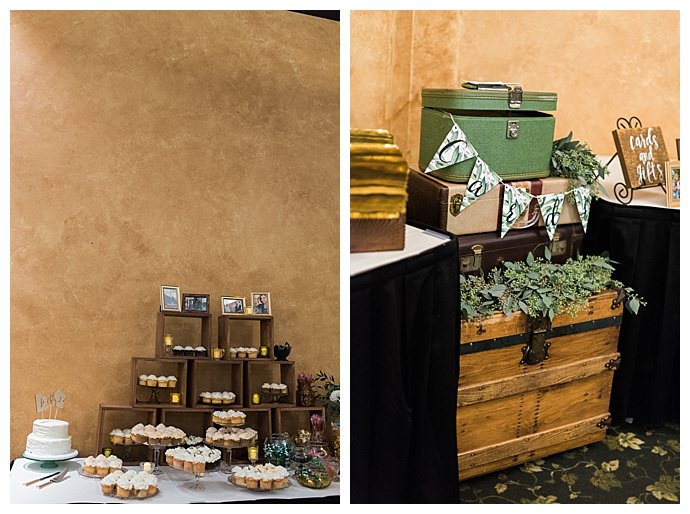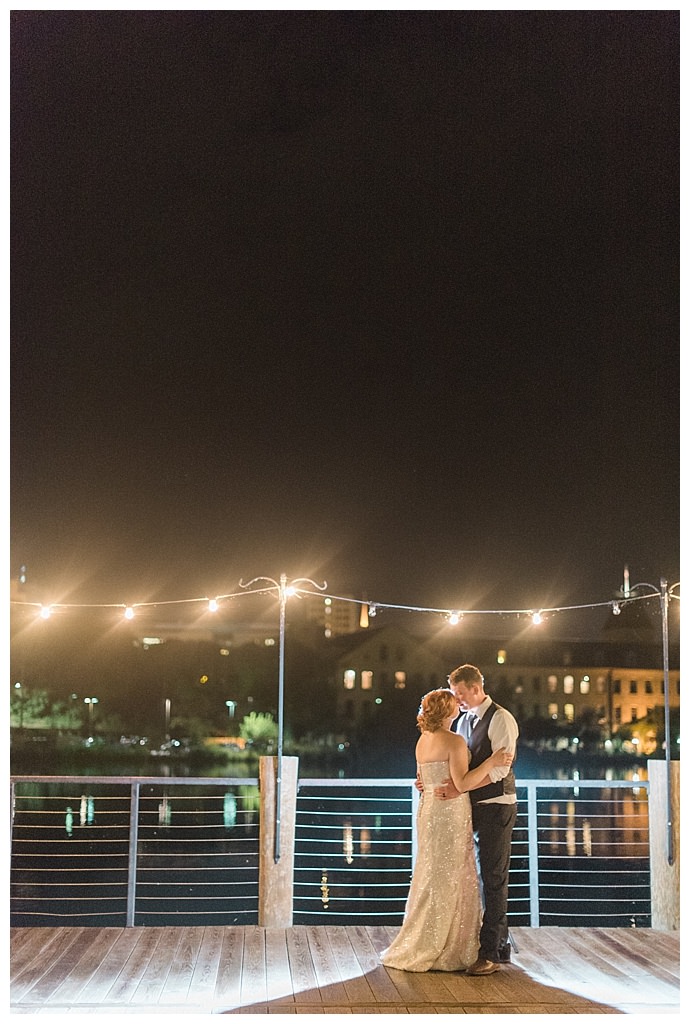 *Editor's Note: This post contains affiliate links. Each time you purchase an item via our affiliate links, Love Inc. is receiving a small percentage of the sale, thus you are helping our small, equality-minded business grow and allowing us to provide more content for YOU! Isn't that just fantastic?
Submitted via Matchology
Written by: