Avital always dreamed of getting married underneath a large oak tree, but when Avital and Monique came across Walnut Grove, they knew it was the perfect place for their ceremony. "It wasn't one big tree like Avital had imagined," Monique says. "But instead, we got a grove full of beautiful walnut trees."
The brides, who were united through a shared passion, designed an intimate ceremony that celebrated their one-of-a-kind love that left their guests inspired and hopeful. Behind the lens, Maya Myers Photography documented their beautiful wedding day, where Monique and Avital eloquently declared their love for each other in a unique and personalized way that truly reflected their loving relationship.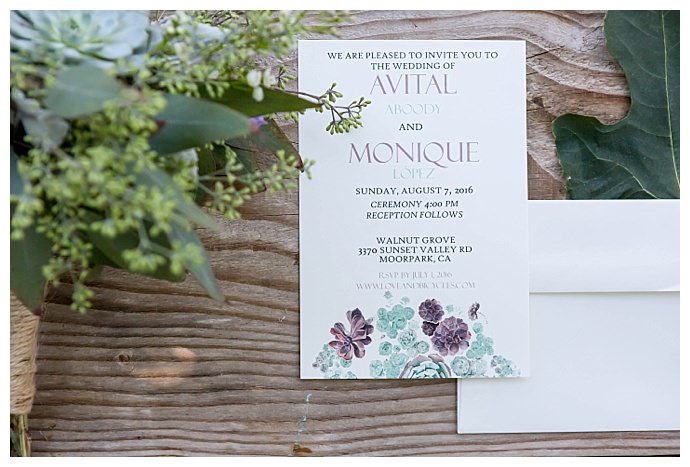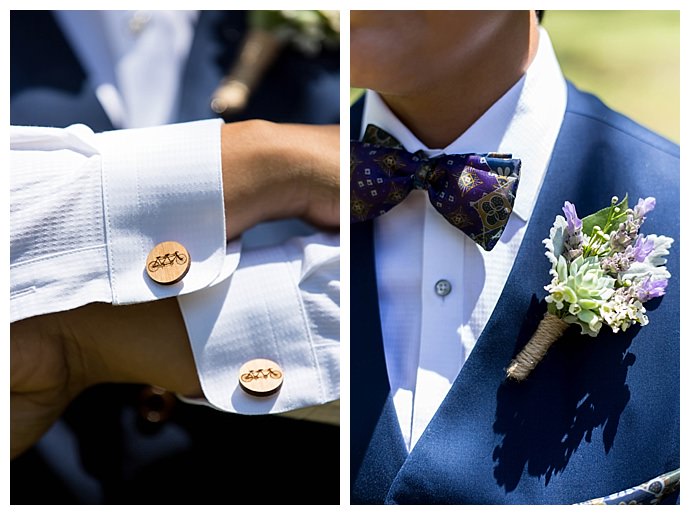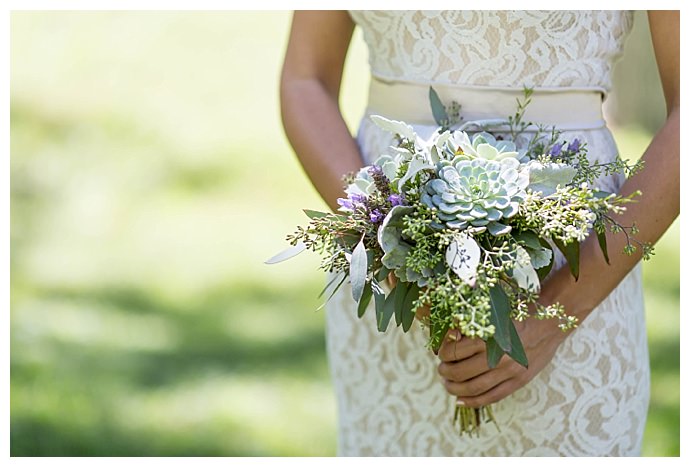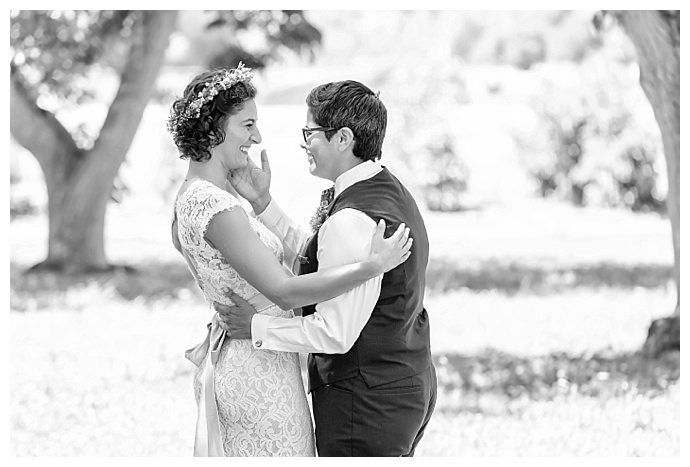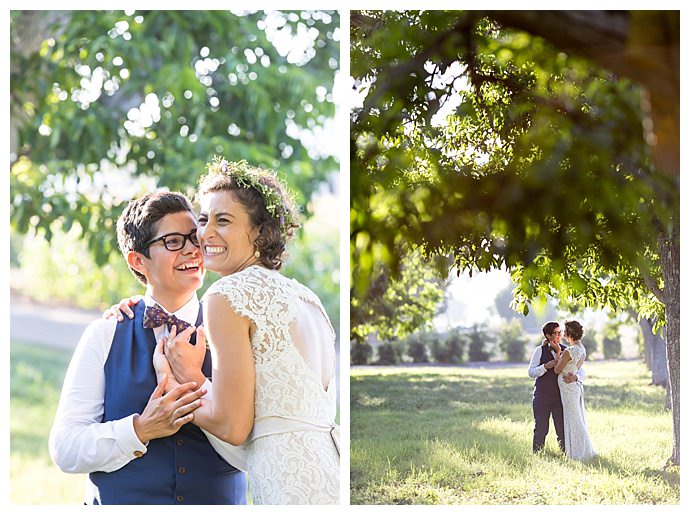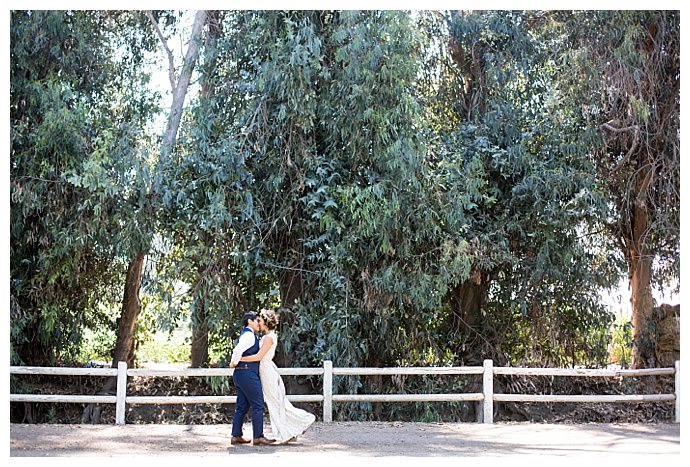 The Love Story
A shared love for community brought Avital and Monique together. For six months they sat across the table from each other at community meetings, not exchanging a single word, but silently admiring each other's hearts, minds and passion for activism. Opportunity struck when Avital's organization had received a grant to participate in outreach for a new regional transportation plan, which Monique was heavily involved with. Avital invited Monique to coffee, and what should have been a one-hour meeting discussing business blossomed into a several-hour long conversation about their shared interests, values and details of their lives, which left them both feeling giddy and excited as they left. 
They were each harboring strong feelings for the other, but neither was sure if those feelings were reciprocated, so they continued to engage at work. Avital invited Monique to political and social events. Monique showed up early and always left late. And after a summer of uncertainty, Monique took Avital out for a birthday dinner, sparking the conversation that eventually led to a beautiful relationship. 
Farther down the road, one morning as the sun was streaming through the windows, Monique and Avital were enjoying a quietm relaxing moment in bed. Avital turned to Monique, looked her in the eye and said, "I want to marry you." But before Monique could say anything, she added, "We can talk about how fucked up the institution of marriage is later, but I want to marry you." Monique smiled and said, "I would like that very much."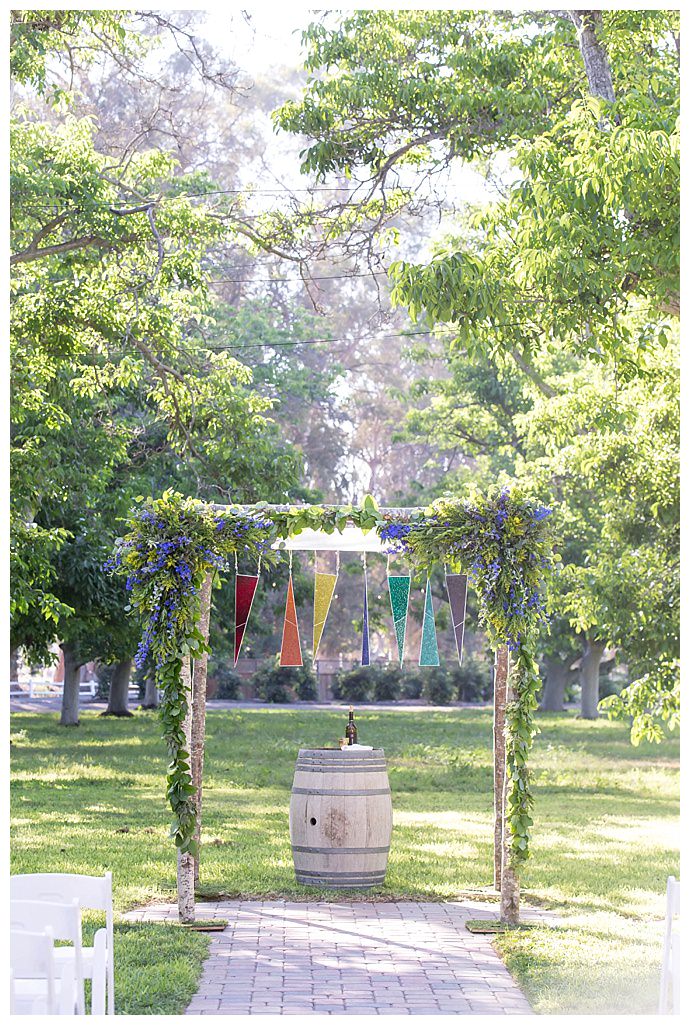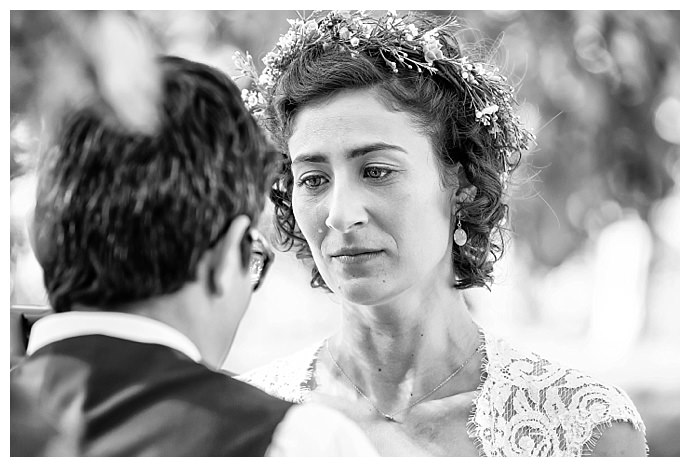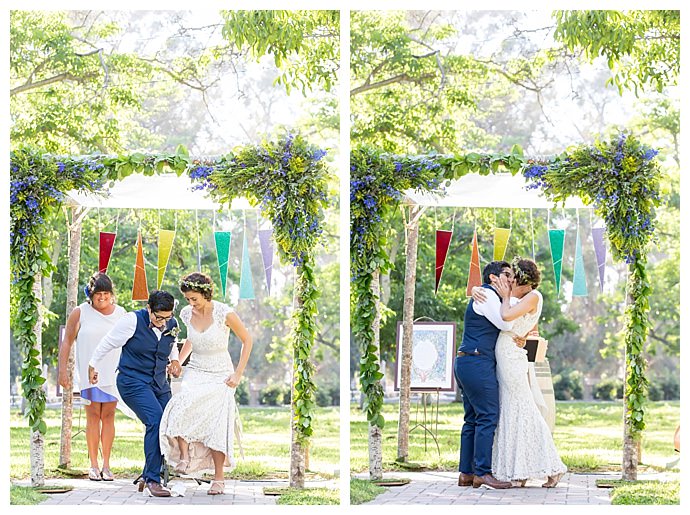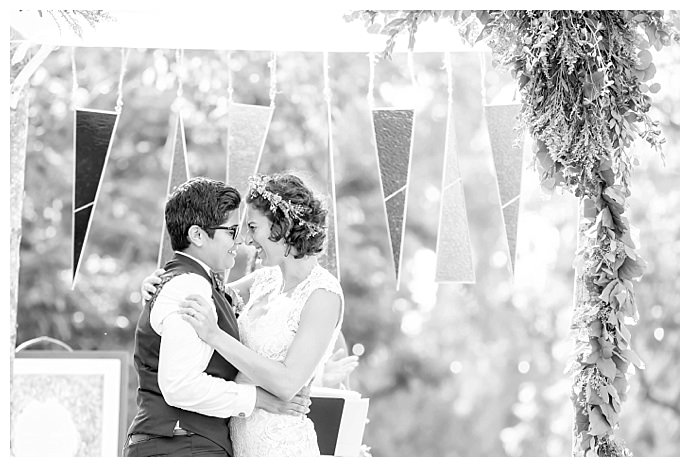 The Ceremony
Monique and Avital's faith-based, personalized ceremony was led by their close friend, Ann, who was given the title "Ringmaster" on account of their love for the circus and her overall comedic charm. So many important people in the brides' lives took part in their ceremony. It kicked off with family members walking down the aisle as friends sang "Singing to Me" by David Wax Museum, followed by a surprise processional where Avital and Monique walked down the aisle together. Before they reached the first row of seats, they split up and danced around the chuppah, meeting together underneath the birch-wood canopy beautifully decorated with lavender flowers and lush green vines. With their palms together, Monique and Avital walked in a circle seven times, a modern version of a gendered Jewish tradition. And instead of chanting the seven Hebrew blessings, another Jewish wedding tradition, Monique and Avital recited their own seven intentions for their marriage, which they wrote together. Close friends and family members hung seven triangular stained glass pieces onto the chuppah, creating a striking rainbow, and Avital's mom sang "Give Yourself to Love" by Kate Wolf before Avital's 90-year-old grandmother read Maya Angelou's "Touched by an Angel." Then Monique and Avital exchanged beautiful vows that resonated with their guests.
"As a queer couple, it can be scary to be so exposed and make unapologetic public declarations of love," Avital says. "This was a big deal. For the majority of people in attendance, this was their first queer wedding. We were both so nervous about what it would be like to be so incredibly vulnerable, but after the ceremony, so many people came up to us and talked about how powerful and moving our vows were. People were actually thanking us for inviting them to bear witness to true love."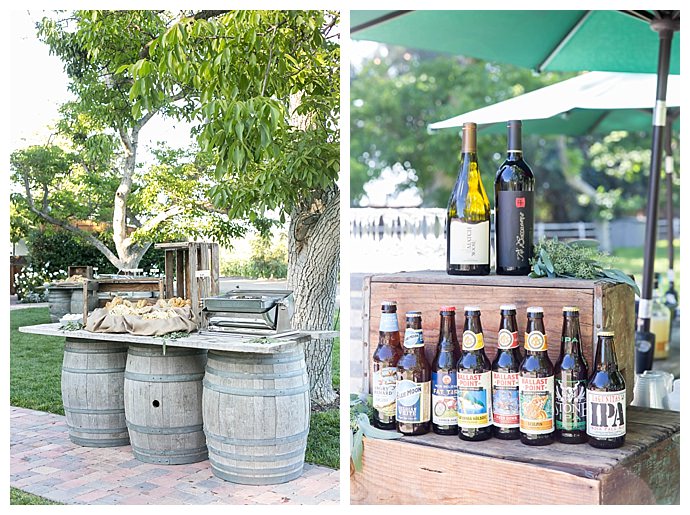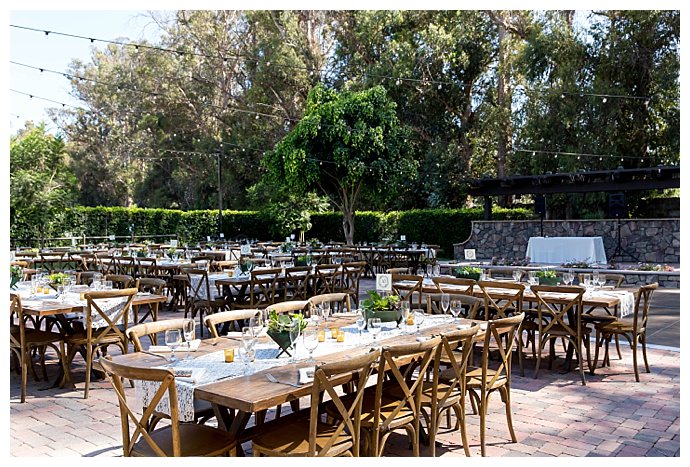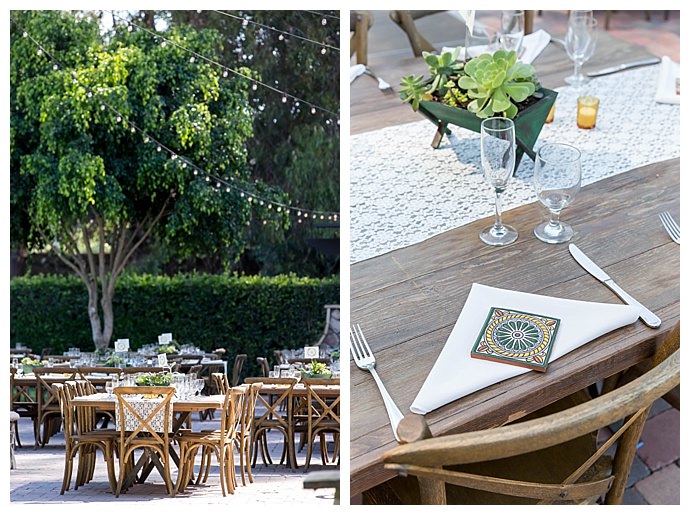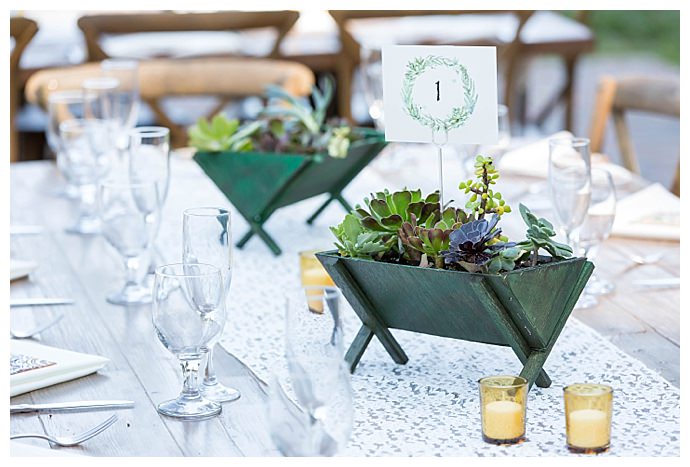 The Party
Long rustic tables were adorned with triangle flower boxes that Monique and Avital bought in Tijuana and were filled with succulents atop a lace runner with gold votive candle sprinkled throughout. A colorful Mexican tile decorated each place setting, a favor for guests to take home, that had a stamp designed by Monique and Avital with their names and wedding date. As passionate activists, Avital and Monique had a live son jaorcho band play some of their favorite music from Veracruz, Mexico, during cocktail hour. The band raises money to donate instruments and fund music education for schools in Veracruz. Guests enjoyed passed appetizers of Thai chicken sate with a peanut sauce, crispy artichoke hearts stuffed with cheese and lamb lollipops before a buffett-style dinner.
"Avital choreographed our first dance, which was to a Hebrew song called "Mei Nahar (River Waters)" by Idan Raichel," Monique says. "It's one of our favorite love songs. The chorus translates roughly to: If I drank the whole ocean, it wouldn't quench my thirst like another day close to you, another day in your arms. And if I sat under the sun, it wouldn't burn me as much as my heart burns with your love."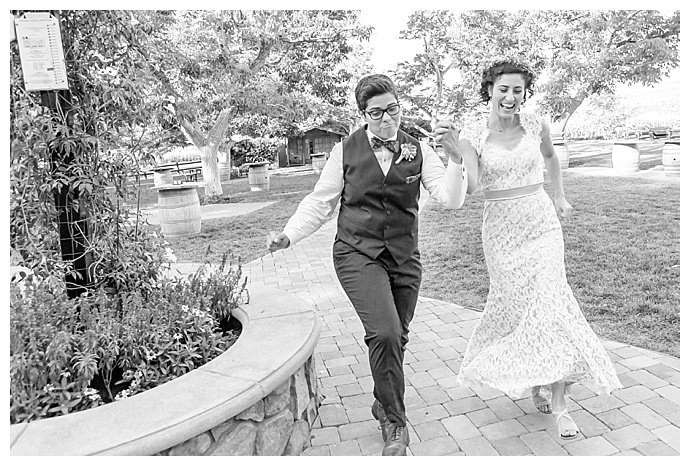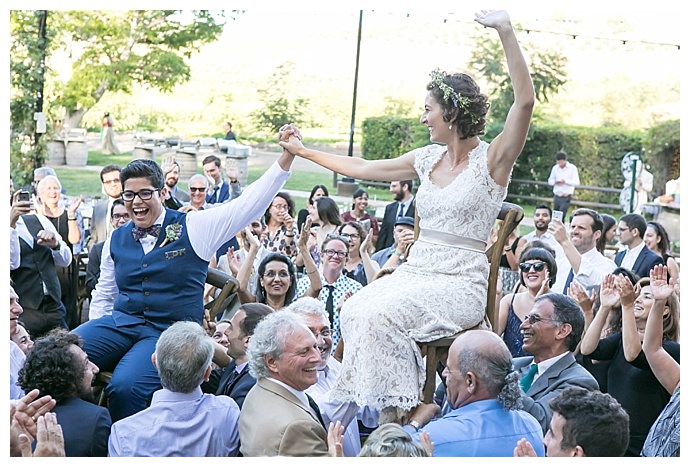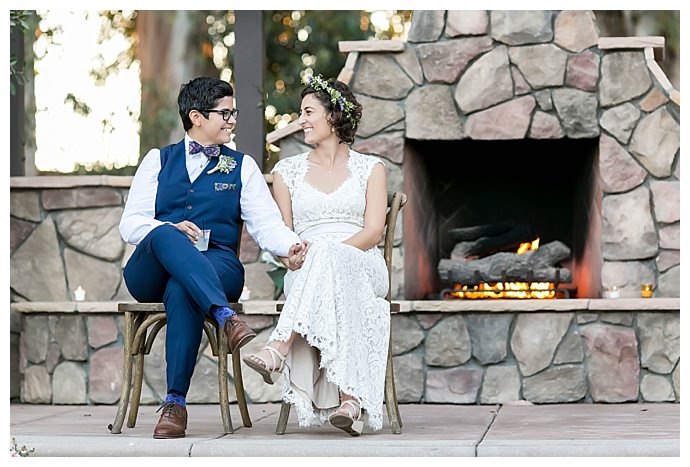 Memorable Moment
"Before the ceremony, I was waiting in the middle of the walnut grove, and my heart was beating fast as I could hear Avital rustling through the grassy field as she was approaching me," Monique says. "She touched my shoulder and I turned around. This was the first time I saw her as my wife-to-be. She was absolutely stunning as she smiled nervously at me. I had the biggest smile I had ever felt on my face, and my first kiss to her on our wedding day, during our first look, was electrifying.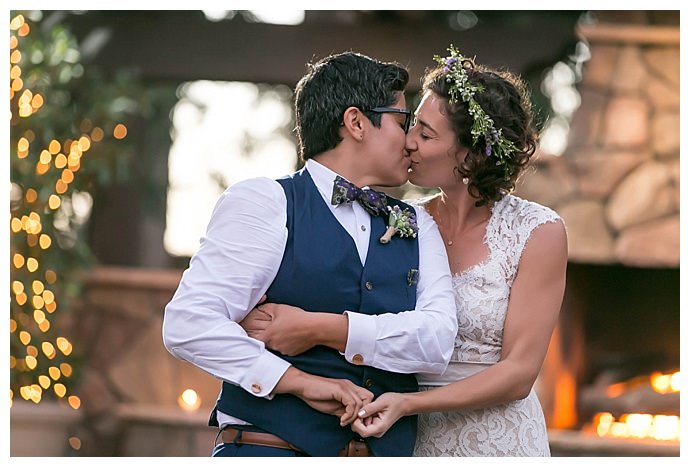 Team of Talents
Venue: Walnut Grove
Photography: Maya Myers Photography
Floral Design: Yamaguchi Nursery
Wedding Dress: BHLDN
Wedding Suit: Sharpe Suiting
Catering: Command Performance
Desserts: Karma Bakery
DJ: DJ Dosa
Band: Son del Valle
*Editor's Note: This post contains affiliate links. Each time you purchase an item via our affiliate links, Love Inc. is receiving a small percentage of the sale, thus you are helping our small, equality-minded business grow and allowing us to provide more content for YOU! Isn't that just fantastic?