By Shannen Hofheimer | Photography by Kevin Kelley Photography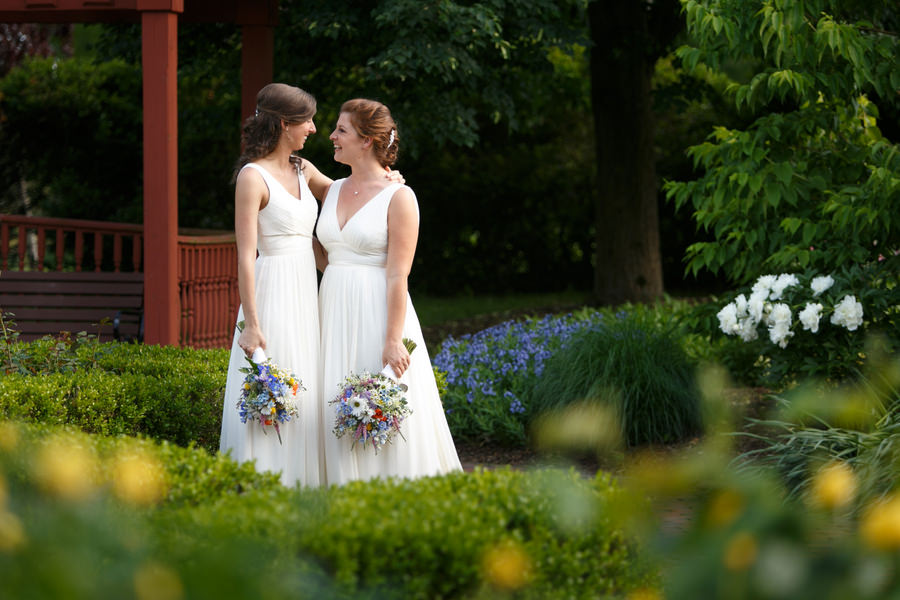 Provided with the backdrop of Hartford's cityscape and a perfect summer day on June 7, 2014, the sun shone brightly upon our two gorgeous, elated brides, Maegan and Chrissy, as they exchanged their vows at the Wickham Park log cabin in Manchester, Conn. Even amidst full-time jobs and Maegan's attendance at grad school, the two laid-back brides (who admit to being slight procrastinators) still managed to create a beautiful celebration full of warmth, family, friends and personal DIY elements that infused their wedding day with rustic sentimentality. Through the lens of Kevin Kelley Photography, we feel like we are right there with Maegan and Chrissy rejoicing in their love, feeling the sun on our skin and taking in the breathtaking views that Connecticut's nature has to offer.
The Love Story
Chrissy, an elementary school psychologist, met her soulmate once Maegan was hired as a full year program coordinator at the YMCA summer camp in February of 2011. Chrissy and Maegan immediately formed a fast friendship, but by the end of the summer, it was obvious that things were beginning to heat up in a serious way (and not just due to the sun beating down on them at camp). A year later, in October of 2012, Maegan planned a surprise party to celebrate Chrissy's 30th birthday where unbeknownst to Chrissy, she would (quite literally) "pop" the question to her beloved. Maegan, wanting to incorporate their love of silly camp games into the proposal, planned to end the party with Chrissy's favorite balloon game in which everyone gets a balloon and pops it at the same time, with each balloon containing a prize for the popper. Maegan and her mom had cunningly filled each of the "decoy balloons" for the other guests with little slips of paper proclaiming: "Sorry, this is a decoy balloon! Thank you for being here for this special moment!" However, Chrissy's balloon held the real prize, and one that would last a lifetime: a little slip of paper inside asking her to marry Maegan. Knowing that Chrissy would want a green balloon (her favorite color), Maegan purposely put Chrissy's in the only yellow balloon so it was easy to keep track of. Sure enough, upon receiving her yellow balloon, Chrissy complained and asked to trade with a green ballooned guest. As everyone popped the balloons, they all shared in the magic, suspense and surprise of Chrissy slowly coming to the realization of what was happening. Maegan knelt down on one knee in front of a crying Chrissy, produced the engagement ring that had been specially handcrafted from their birthstones and proceeded to accidentally put the ring on Chrissy's right hand as opposed to the left. Maegan's dad popped bottles of Champagne (we just love all of the "popping" going on during this proposal on so many levels) while the guests celebrated what Chrissy deemed "the best birthday ever."
"Wedding planning commenced, and thank goodness for Piece of Cake Events because we are both huge procrastinators," the happy couple tells us. "On June 7th, 2014 everything came together in the most perfect wedding we could have ever imaged."
The Venue
Being people that share a mutual love for the outdoors, there was no question that Wickham Park's log cabin was the perfect place for these brides to celebrate to their love and union. "We wanted to choose a venue that aligned with our love of being outside in nature with breathtaking views, beautiful trees and gorgeous gardens. The Log Cabin at Wickham Park was perfect for us, and we knew it from the moment we laid eyes on it."
The Ceremony
Being that Maegan and Chrissy's dear friend, Tony, had hired Maegan back in 2011, his long-lasting decision was technically what brought these two ladies to find their destiny in one another. "We had always joked from the beginning of our relationship that when we got married, Tony would be the wedding officiant. He is also an incredible friend to the both of us, so it made perfect sense that when the time came to actually plan the ceremony, he would have to be the one to officiate it," the brides share with us. Wanting their wedding plans to remain as stress-free as possible, the blushing brides chose close family members and friends as their wedding party, Maegan's including her sister and brother standing by her side, with Chrissy's including her sister and closest friend. Maegan and Chrissy were both escorted by both of their parents down the aisle as ushers and ring bearers consisting of Maegan's cousins looked on. Guests enjoyed two readings: one, an excerpt from "I Like You" by Sandol Stoddard Warburg read by Maegan's godmother, and the other, a quote read by Chrissy's close friend. "We wanted it to be very intimate and capture each of our personalities. Surrounded by our families and closest friends, we said 'I do' on a perfect summer day with the sun shining down on us. It was the most perfect day anyone could have ever dreamed of."
The Fashion
Wearing ivory dresses from J.Crew, both Maegan and Chrissy looked stunning and glowed with a natural beauty. The brides retained an element of surprise for one another, not knowing what the other's dress looked like until they met eyes at the altar.
The Inspiration
Most of the decor pictured in Kevin Kelley's stunning photographs was made by the talented, creative Chrissy, while Maegan's brother-in-law helped out by making the sandwich board and wooden signs. Maegan tells us, "She made the signs, all the table numbers and the lace wall hangings, as well as collected all the white milk jar vases. It was very much a do-it-yourself, rustic, outdoor, antique and laid-back type wedding." Accents of royal blue and vibrant green could be found in the wedding's details, infusing the decor with Maegan and Chrissy's favorite colors. The brides, incorporating the rustic garden ambiance that Wickham Park offered, held bouquets of bold and exotic wildflowers. With pictures hanging from twine, wildflower wreaths and centerpieces and burlap runners, Maegan and Chrissy did a fabulous job of accentuating the cabin's natural beauty.
The Party
Maegan and Chrissy's food sounds absolutely scrumptious, featuring a buffet from River House Catering that included summer-style steak and salmon barbecue, mac and cheese, salads and grilled vegetables, followed by an assortment of delightful mini pies. The brides shared a first dance to "You are the Best Thing" by Ray Lamontagne, while Maegan danced with her father to "Thank You" by Jennifer Nettles. For favors, Maegan and Chrissy cleverly treated guests to tree saplings wrapped in burlap labeled with tags that encouraged their guests to "let love grow".
Memorable Moment
"Standing at the altar and seeing the first glimpse of Chrissy walking towards the ceremony through the gardens was something I will never forget," Maegan gushes. Chrissy shares with us, "I can't decide between the first dance and the walk in the dark during the reception with Maegan to take more photographs. The whole day was incredible, it's nearly impossible to pick just one thing."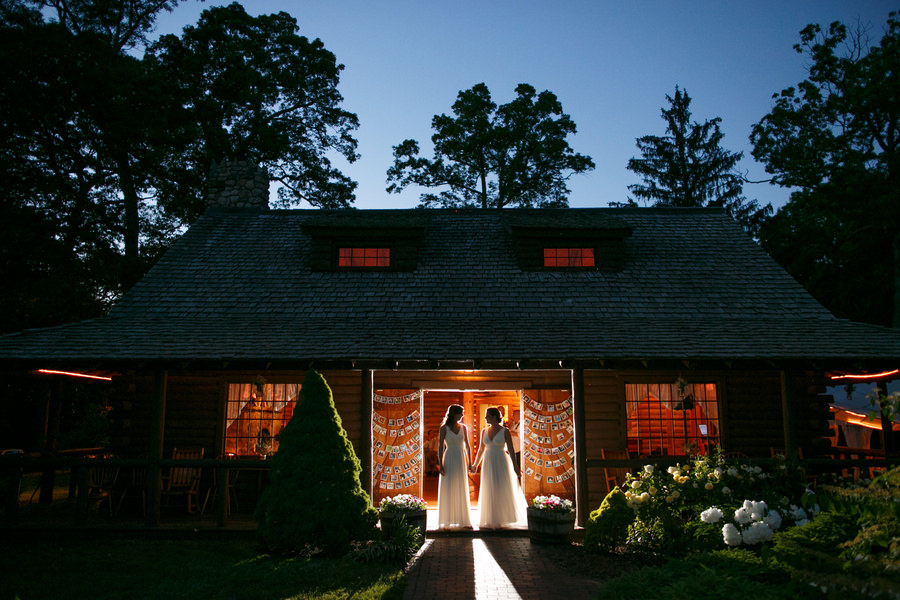 Wedding Vendors:
Wedding planner/designer: Amy Vigneux, Piece of Cake Events
Venue: Wickham Park Log Cabin
Photographer: Kevin Kelley
Florist: Flower Girl Weddings
Cake Designer/Catering: River House Catering
Wedding gown/suit: J.Crew Bridal
DJ/Band: FM Productions