By Meghan Kennedy | Photography by Timothy Faust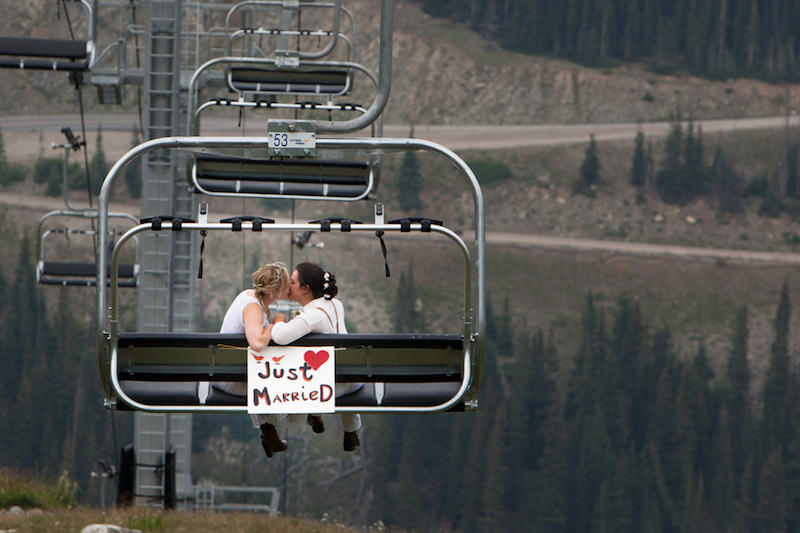 When your venue is only accessible via chairlift, you know the view is going to be amazing. Angie and Danielle tied the knot at the Colorado rustic ski resort Arapahoe Basin (one of the first couples to do so!) in a ceremony that was picture-perfect. Timothy Faust Photography captured heartfelt moments, from the guests arriving in true mountain style to their vow exchange with the majestic mountains in the background. 
The Love Story
Danielle and Angie's story goes back to 1998 … both fierce rugby players, Danielle played on a high school team and Angie played on a club team in Denver. The two met at a match where their teams were pitted against each other — Angie says that their local paper even printed a picture of the two of them in the heat of the game, albeit not such a nice one, as Angie was about to tackle Danielle for the ball. They kept their friendship going until 2012, when they began to take their relationship to the next level.
One bright fall day, Angie and Danielle took a motorcycle trip to Golden Gate Canyon to see the changing leaves. While hiking, Danielle proposed to Angie while overlooking the city. "I, of course, said yes," shares Angie, setting off planning for their gorgeous ski resort wedding for the following summer.
The Location
The lovebirds were married at the Arapahoe Basin Ski Resort in Colorado, with a reception following at the Kickapoo Tavern in Keystone. The ski resort, summery and green, gave the brides some of the most picturesque wedding photos we've ever seen. "The most unique aspect of our wedding would have to be our guests and us riding up the chairlift to the ceremony," the newylweds exclaim. "The experience and pictures were amazing."
However, being in the Colorado mountains poses some sort of a snow risk, even in August! Angie shares that a small snowstorm hit the resort the day of the wedding — something you wouldn't expect in the summer months, but luckily for the brides, the weather cleared up right before they had to load the chairlift for a ceremony. The snow held off for the entire time the pictures were taken — you would never know it had snowed even the tiniest bit.
The Fashion
Danielle belted a white Tommy Bahama outfit while Angie donned a white oxford Free People shirt with Ann Taylor pants and Frye boots — the perfect mix of casual and bohemian.
The Party
The reception was fun-filled and laid-back, exactly how Angie and Danielle envisioned it. Featuring an extended cocktail hour rather than a sit-down dinner, the brides and their guests shared an intimate celebration of heavy appetizers and an open bar, dancing the night away in the midst of the mountains.
Wedding Date: August 8, 2013
Vendors
Photography: Timothy Faust
Ceremony Venue: Arapahoe Basin Ski Resort
Reception Venue: Kickapoo Tavern
Florist: Neils Lunceford
Outfits: Tommy Bahama, Free People, Ann Taylor, Frye